I have to be honest with you guys.  I had a post planned in which I wrote all about what a great job I was doing at replacing the old, dated outlets in our house.  I had pictures, a mini-tutorial of sorts.  Goodness, but I was pleased with myself.  I didn't say it outright, but it was most definitely communicated.
And then, I blew out a breaker and lost all patience.  Every thought that I'd had about how "grateful" I was to be learning so many things, how many wonderful teaching experiences there are in an old house… pfbbt!  They went out the window.  Here's what happened…
I was thrilled at the progress I was making with replacing our outlets.  Below is a before and after photo: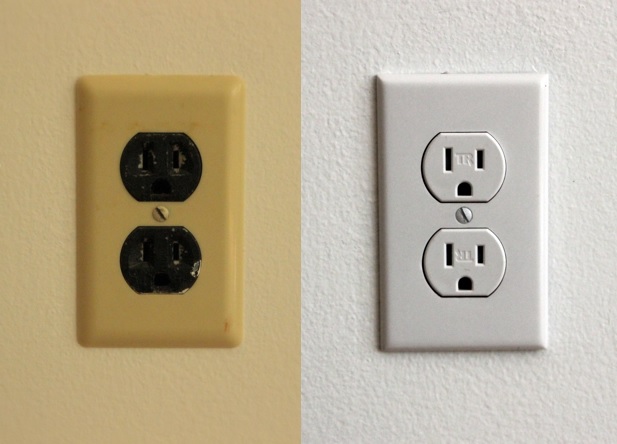 Out with the old, in with the new.  Good-bye mismatched, chipped outlets.  Hello white, updated outlets.  In addition to looking nicer, the new outlets do a much better job at holding the babyproofing outlet caps in place.  Even I have trouble removing them, whereas they basically fell out of the old outlets if you so much as brushed up against them.
But before-and-after photos aren't the main point of this post.  No, the main point is that I have learned some things while making updates around here, and those lessons haven't all come along in an easily spelled out format.  Some have them have been hard to learn and have required repeated instruction :-/
1. Don't do more than you can handle.  Seriously, with 2 little children I have learned through painful process that if you think you should call it a day, then for Pete's sake call it a day.  Don't be like me and say, "Oh, but I can probably squeeze one more thing in."  That sort of thinking leads to you standing in the dark holding a flashlight in your teeth while unscrewing breaker boxes and grumbling about your many trips to the hardware store.  You'll end up cranky and feisty and no one likes that.
2. Please, please remember that when you're new at DIY and home repair, it truly is a "one step forward, two steps back" kind of process.  I cannot tell you how many times I've stopped, admired my handiwork, then cocked me head to the side and thought, "Well that's not right!" and then had to take apart what I just did.  I feel like banging my head on the wall sometimes because, clearly, it takes a long time for me to get stuff through this thick skull of mine.
3. Buy quality products.  Did I tell you about the time that I painted the guestroom ceiling – two coats! – using the budget bin paint 'n primer combo that the salesperson recommended?  It was their store brand, naturally.  Total waste of money and time.  Same thing with tools.  Don't go cheap.  If you have to, save up your money and, in the meantime, find a handy neighbor who won't mind letting you borrow a few things.  Or maybe you're one of those lucky few who live near a tool library (if only they had one of these in Williamsburg… or a toy library… I'd take either one).  And when it comes to paint, go to a paint store, such as Benjamin Moore or Sherwin Williams, if you prefer that brand (I like Benjamin Moore).  I've gotten a lot of great advice from the salesperson at Benjamin Moore in our hometown.
4. Don't put home repair or home improvement projects before the relationships in your life.  I've been fussy and irritable with the boys and with Chris when things don't go according to my plans for where this house should be.  I have been irrational in my expectations and, while Jack hasn't really felt it, I'm sure that Joe has.  There will be lots of time for painting and updating.  There is a limited amount of time that Joe wants to crawl up next to me on the couch and have me read book after book to him.  Sometimes I forget that when working my way through my list of DIY items.
I'm sure that I'll learn a lot of other lessons as I continue to work on this place, but those are the 4 main things that I've taken away from the process thus far.  In the end, I think that a lot of it revolves around being patient