Today was Joe's second day of preschool and, since I was feeling pretty sick on his first day, it was almost like my "first day" of having a child in preschool.  And you know something?  It's nice.  Not gonna lie!
Joe is full of energy.  He is busy, inquisitive, a talker, a question-asker, and non-stop.  When we went to the preschool open-house and they had their first "circle time", Joe was the one child with ants in his pants.  I quietly and secretly smiled about this, because it was almost like a vindication.  Yes!  Joe is a busy kid!  When I felt overwhelmed at times and like maybe I wasn't keeping up with him enough, like maybe I wasn't a good mother for feeling a bit tired from all of his chatter, it was because I assumed that all kids his age were like this.  Nope.  Out of the 14 there in the circle, only one little guy was acting like he was seated on hot coals, getting up and pulling stuff out of bins, interrupting the teacher ("We had birthday cake today!" – not true, but he just had to add something to the conversation), and looking around him to see what was up.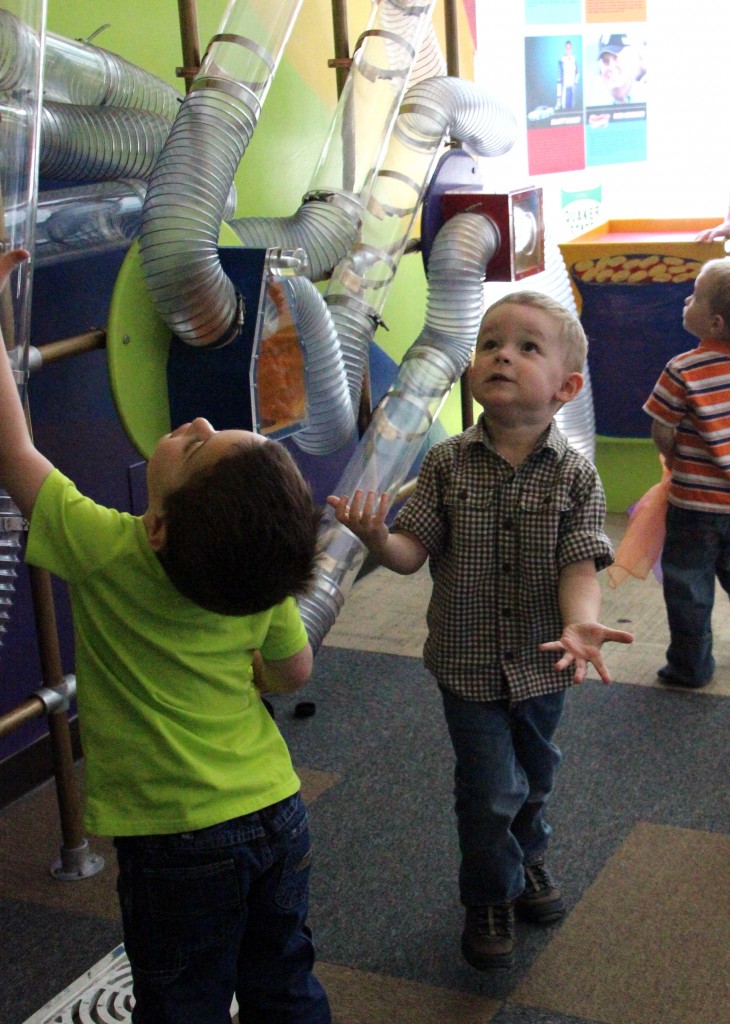 Burning energy at the Children's Museum of Richmond
There are times when I feel a little overwhelmed by how active Joe is, but almost every time I've felt that way I immediately call to mind the families who have children that can't run, whether it's for health reasons or a death or something they were born with.  I'm so thankful that my son is healthy and that we aren't facing a struggle like that at this point in our lives.  I love Joe's energy, and I know that it's going to be something that will drive him to success throughout his life. I have strong suspicions that it may also be something that proves a challenge, but we'll face it like we do any challenge in life.  I'm so glad that he's able to expend some of his energy in class and that he's around other kiddos his age.  I'm also looking forward to getting some insight from the teacher and attending a few of the parenting classes that the school offers.  Maybe they can tell me how to re-direct some of that intensity that flows through him in a way that doesn't drive me bonkers, ha ha!  I'm thinking Joe may have to start soccer here pretty soon just so he can RUN.
But today, well, today I just enjoyed being a parent-of-one for a few hours.  Jack is a quieter guy than Joe.  He's still busy, but not quite to the same level as his big brother and I love his more studied approach to exploring and learning about the world.
**********
What about you?  Anything that you noticed or learned about your child once they started formal schooling?