Before we moved to New Zealand, I wrangled a promise out of Chris that he would take me to Australia.  I even videotaped it so that he couldn't renege, and I was very specific.  And then I lost the video.
Darn it.
So, guess who's going to Australia?!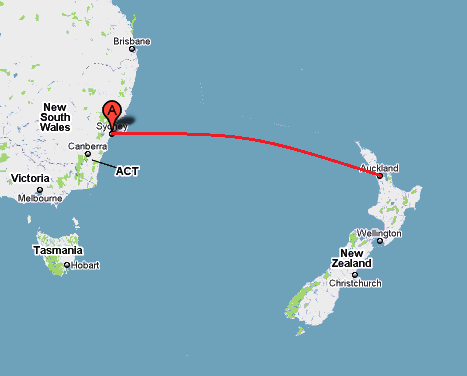 Not me 🙁  That would be my husband.  Yep, we've been in the country less than 2 months, and he's leaving it and me to go present a paper at a conference in the land down under, which oddly enough is slightly North of here.  I'm so jealous.  Curses on you, you all-expenses-paid academic conferences that are too attractive to turn down!
**In his defense, Chris did offer to bring me along. I just wasn't too keen on going to visit Sydney during winter while my husband was listening to conference talks all day long.  I'd rather wait!**
Image courtesy of Google Maps