I'm back from our little trip to Nashville, IN, and I'm so glad that we went.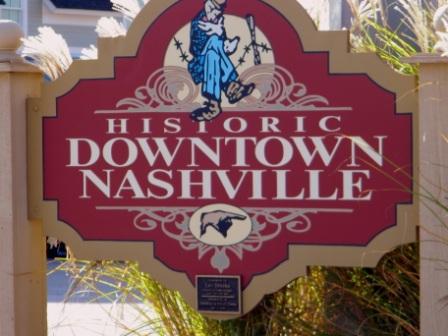 The weather was perfect – cool, sunny, hint of a breeze, and the slight smell of burning leaves in the air.  Aaaah, Fall.
We stayed at a Marriott hotel about 15 minutes east of Nashville, Indiana.  We left our house at 8am, stopped in Plymouth, IN to drop off Bear at my brother and SIL's (thanks again, guys!), and got to our hotel room around 11:45.
After checking in, we took some time to relax.  Three and a half hours in a car is a bit of a drive, and we didn't feel like hopping right back in one.  We arrived in Nashville around 1pm and went to Chateau Thomas Winery first.  For just under $5.00, we were able to split 5 tastings between the 2 of us.  The lady at the counter was so nice and friendly.  Since we were the only ones there, she gave us a few extra tastes.  I'm glad that she did (and I'm sure she's glad, too), because one of the "extras" ended up being the bottle of wine we purchased – Fleur de Peche.  Very sweet, but not too sweet.  I would recommend it if you're a fan of White Zinfandel or something even a bit sweeter than that.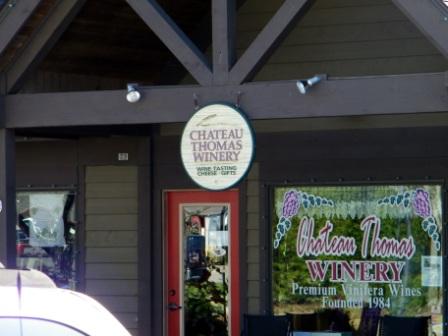 After the winery, we walked all over town.  We went to the Bone Appetit doggy bakery.  It was cute, but we decided against buying anything for Bear.  We also went into the Nashville General Store.  I was so impressed by the fact that they had persimmon pudding available by the slice.  I never see that, so of course we had to buy some to share.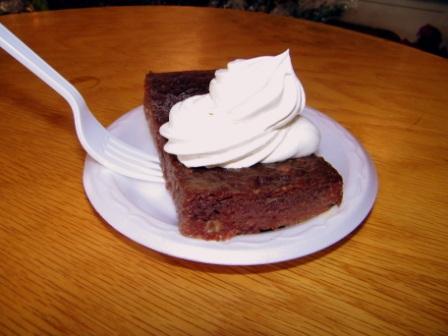 It was good, but Chris said that mine tastes better, and I'd have to agree.  The general store was cute, old-fashioned, and full of interesting things, but the owner (at least I think she was the owner) seemed irritated that we were there.  I don't know why she would be, but when we left the store, Chris said that he'd felt the same way.  I'm not sure that I would go back in there if I had to encounter her again.  That's too bad, because it really is a cute little place.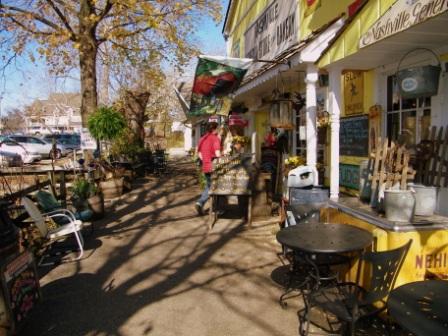 Chris walking into the Nashville General Store & Bakery
The rest of the day was spent just walking around, going in to various shops, buying candy for Chris, looking at the scenery, and admiring the leaves.  Here's a few of the "sights" around Nashville (it's a pretty small town!):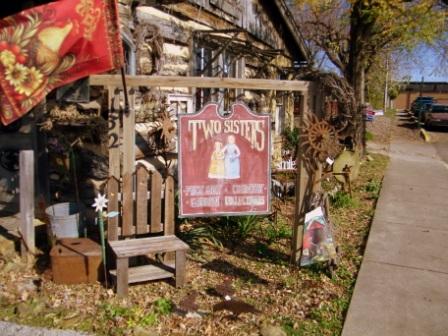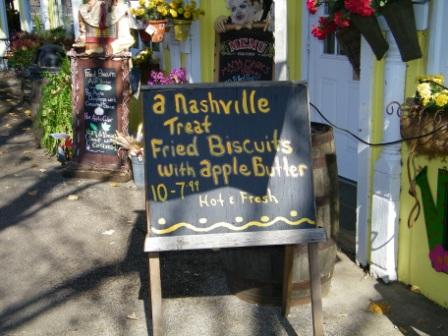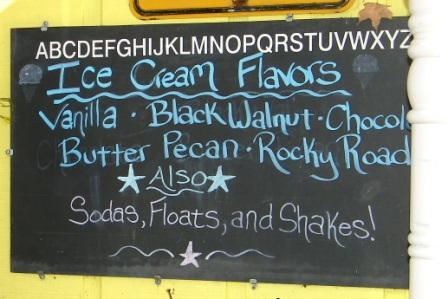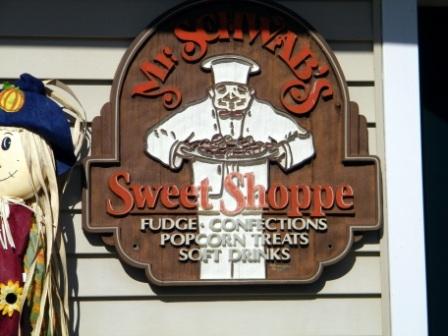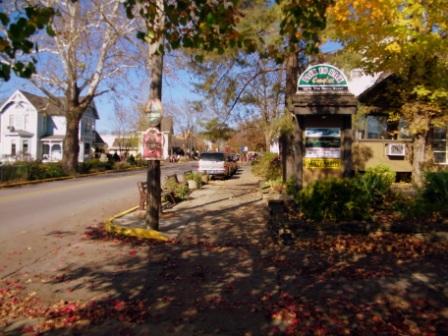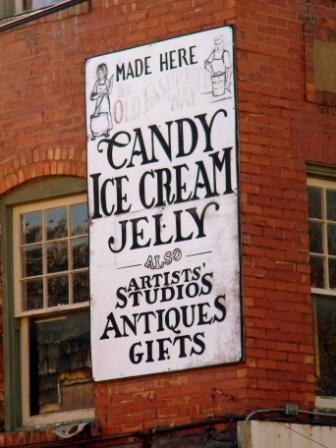 We were both pretty tired when we got back to the hotel and ended up taking a nap.  When we got up, we were starving and headed out in search of suggestions for restaurants.  The surrounding area didn't have much, so we settled on Carraba's.  We hadn't seen that a Carraba's was in the area based on our online search, but the concierge assured us that it was on 10th street.  Ha!
We drove up and down 10th street without any luck, following the concierge's directions exactly.  I finally called the hotel to double-check, and she said that we were going the right way.  I asked her if she'd ever been to the restaurant, and she said that she hadn't, but that friends had told her how to get there.  As soon as she said that, I pretty much disregarded all of her directions.  We ended up driving all over the town and way out of the way before we finally found the portion of 10th street she had been talking about (the way she sent us would've required going the wrong way down a one-way street).  Only it wasn't a Carraba's – it was a Johnny Carino's.  At that point, we just wanted to eat, so we went in.  Once we were done, I stopped in at the local mall to pick up a scarf for my scarf swap partner 🙂
I'm definitely glad that we went.  I hadn't been to Brown County since I was in high school, and I really wanted to see it in the Fall once more before moving to New Zealand 🙂  I hope that you've all had a great couple of days, too!