My sister-in-law and I are more alike than I thought: we both forgot our cameras when we went to Boston.  To make it even worse, Becca had told me that she forgot her camera and I was all, "Well, I'm going to be extra careful and make sure that I don't forget my camera!"  And then, I was sitting in the South Bend airport and realized that I had done exactly that.  Hmm.
Despite this inauspicious start, I had a wonderful time in Boston.  I flew from South Bend to Detroit, had a bit of a layover, and flew in to Boston's Logan airport.  I arrived on time, my bag made it, and I took a cab to the Park Plaza Hotel to meet Becca.  She was a saint and was waiting for me in the lobby, ready to usher me up to the room where I could crash for a good 4 hours before we did anything fun.
Park Plaza Hotel – image via hospitalityonline.com
Park Plaza Hotel – image via wikipedia.org
I was tired.  Pulling a 24-hour all-night/all-dayer (is that a word?) is terrible, and I'm glad that I don't have to do it  often.  We decided to walk around the area once I woke up.  We went up and down Newbury Street, as our hotel was nearby.  I love Newbury Street.  You can't go to Boston and not go to Newbury Street.  We had fun shopping, walking, watching people, and generally amusing ourselves.  While there, we stopped off at H&M where some sales were going on.  I bought this cute jacquard-like scarf:
Now, before you get on my case about buying a scarf when it's practically April, just remember – in less than 50 days we are moving to New Zealand, where it will be winter.  I'll definitely get some use out of this scarf (which also doubles as a wrap, as discovered during my chilly flight back home)!
We went back to the hotel after grabbing some munchies at Au Bon Pain.  Becca slept while I stayed up watching movies on my laptop.  I didn't want to mess up my schedule too much, so I tried to stay awake for as long as possible.  I slept in for several hours on Saturday as Becca had more conference sessions to attend.  Once she was done and I was awake, we took the T to Government Center and walked to Faneuil Hall Marketplace.  Faneuil Hall is an outdoor/indoor shopping area, and is another must-visit in Boston.  The weather was perfect and there are a lot of shops, restaurants, and things to see.
**image via cooltownstudios.com**
I was thrilled to find a Crabtree & Evelyn and was able to stock up on some Nantucket Briar body wash and hand lotion.
We decided to walk rather than take the T back to our hotel.  We went past the Massachusetts State House and through the park just across the way.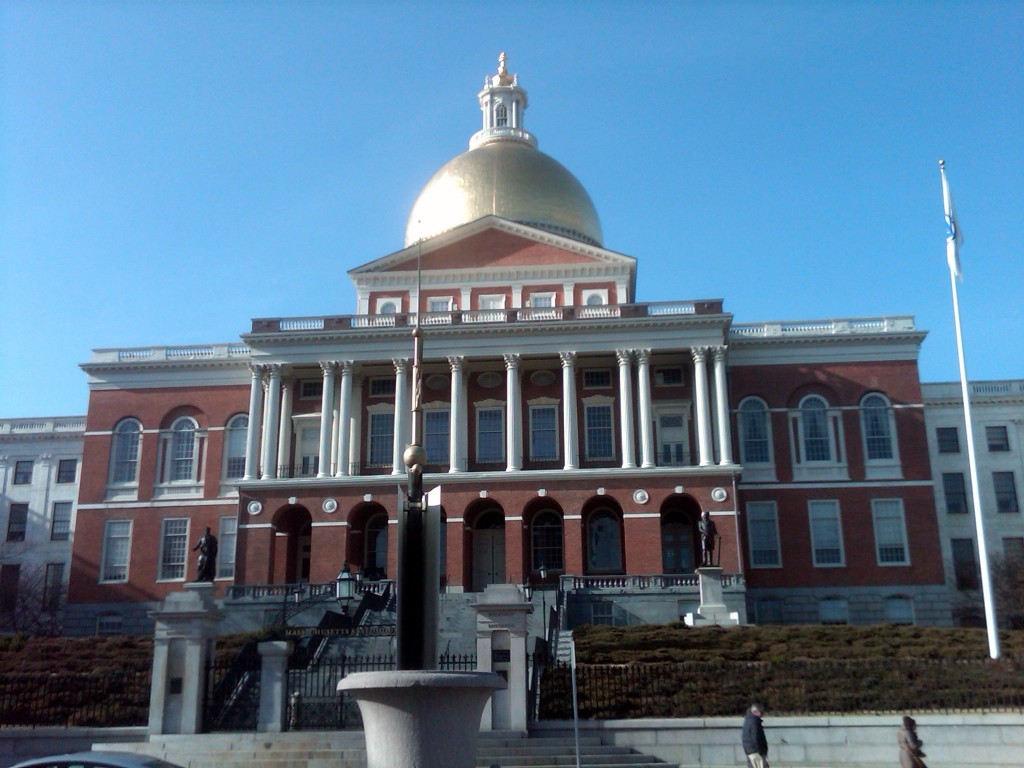 The Massachusetts State House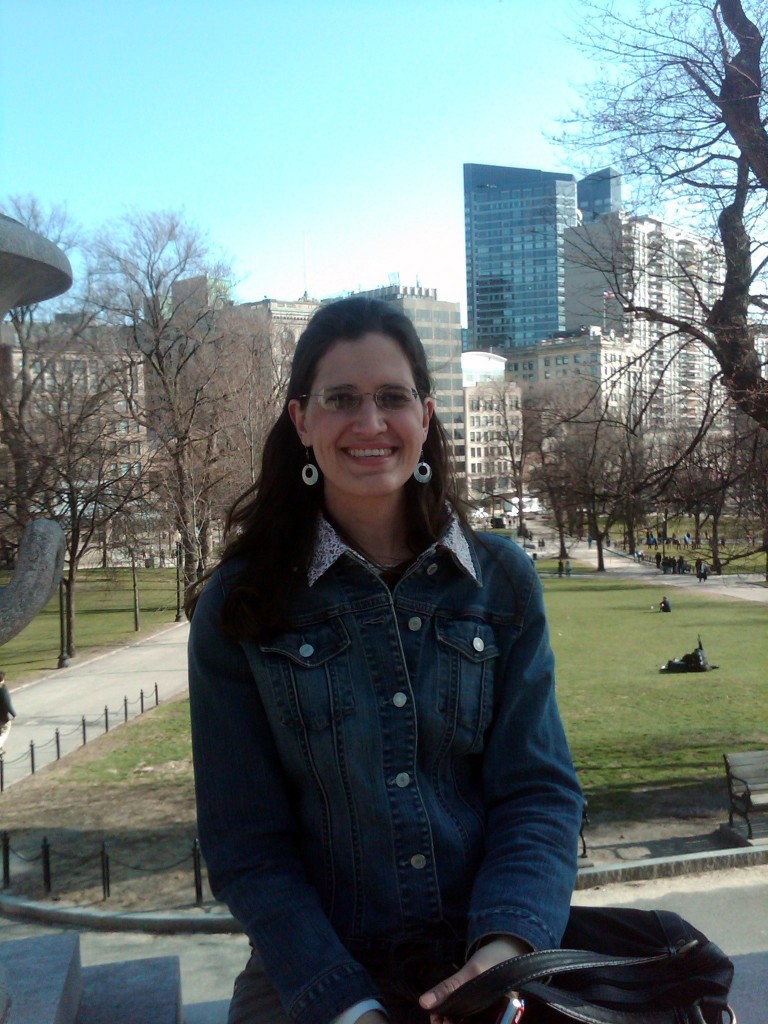 My lovely sister-in-law, Becca!
We arrived back to our hotel to get ready for dinner with my two friends, Obi and Keisha.  I missed these ladies so much!  They're the kind of friends that I can go a year without seeing, and once we're all together it's as though we just saw one another last week.  I love friends like that 🙂  Becca was a good sport and came along with the three of us chatty girls (she had a great time!).
The 4 of us walked to The Shops at Prudential Center, where we had more time to shop and look around before dining at The Cheesecake Factory.  The Shops at Prudential Center has some great stores: Ann Taylor, Crane & Co., Gucci, lululemon, Saks, Teavana, and Vineyard Vines, to name a few.  I ended up surprising myself by buying a dress from Ann Taylor (30% off!):
I couldn't find a larger photo.  Click here for a better image.
It was wonderful to see my friends, and I was sad to see them leave.  But, Becca and I had to be up early for my 6am flight out of Logan, so we all said good-bye and went back to our room.
All in all, I had a great time in Boston.  There was awhile there where I wasn't sure that I still wanted to go.  I kept thinking about all of the things that I have yet to do for our move to New Zealand, and how my work schedule is going to be so stressful over the next 4 weeks.  I'm glad that I went.  It wasn't the most relaxing trip and I ended up with a cold (that usually happens after I travel by plane), but it was wonderful to see my friends and Boston one more time.  I think that I would have regretted passing up the opportunity to see them before moving to New Zealand.
My trip home was uneventful.  Upon arriving back in South Bend, I was reminded of that old saying: "Be it ever so humble, there's no place like home".  It was great to prop my feet up on the couch with Chris and Bear nearby.  I'm glad that I went, but I'm thrilled to be home 🙂  I hope that all of you, my lovely readers, had a similarly great weekend!