We've been wanting to check out Metrolanes Bowling on Queen Street ever since it opened a few months back.  We finally made our way there this past Saturday and oh my, what fun!  They have a mezzanine level that is just perfect for little kids: shorter lanes, small bowling balls, and no bowling shoes required.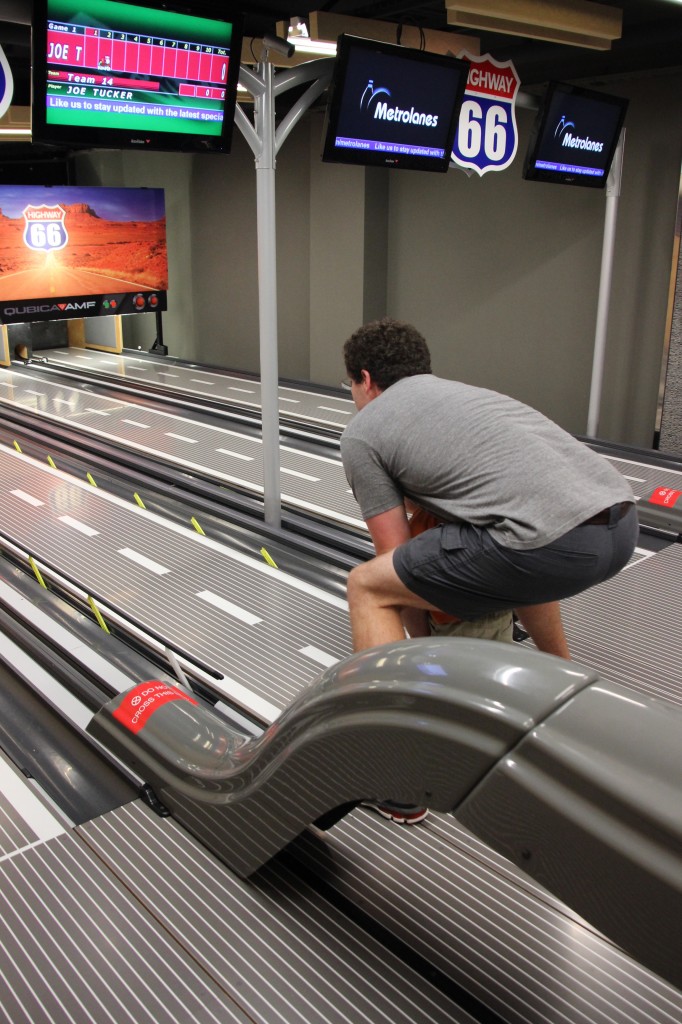 I'm not sure which of us had more fun – me, Chris, or Joe!  I was enjoying watching these two guys' facial expressions, Chris was having fun showing Joe how to bowl, and Joe was having a blast being a "big kid" and bowling by himself.  Anything with a ball that also involves knocking things down is OK in his book 🙂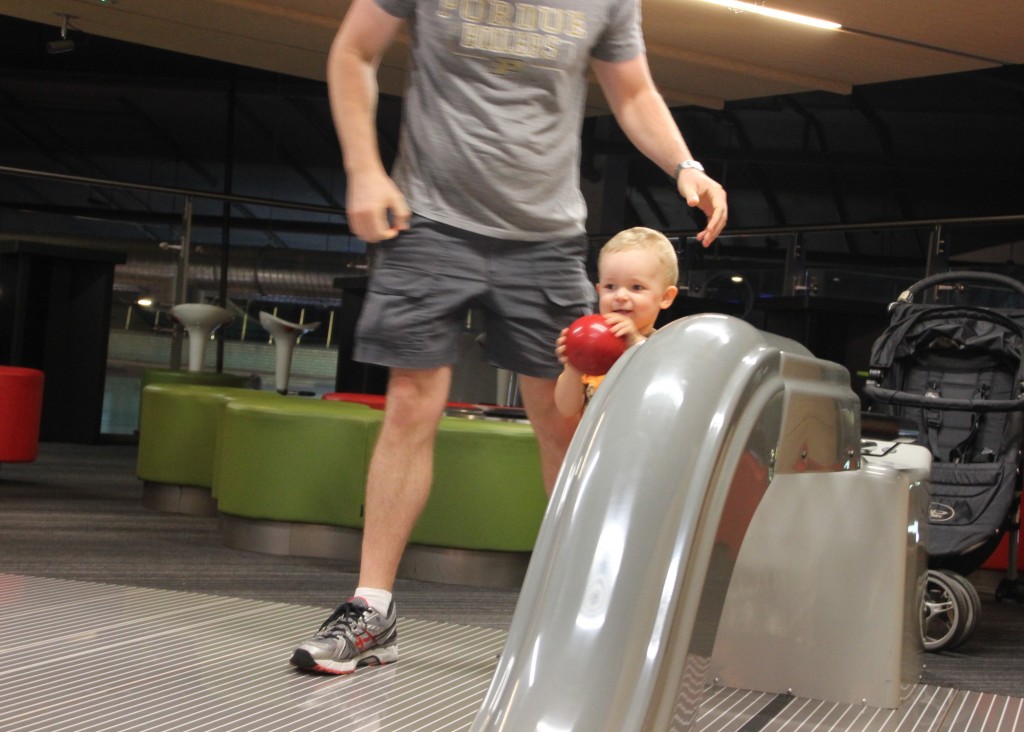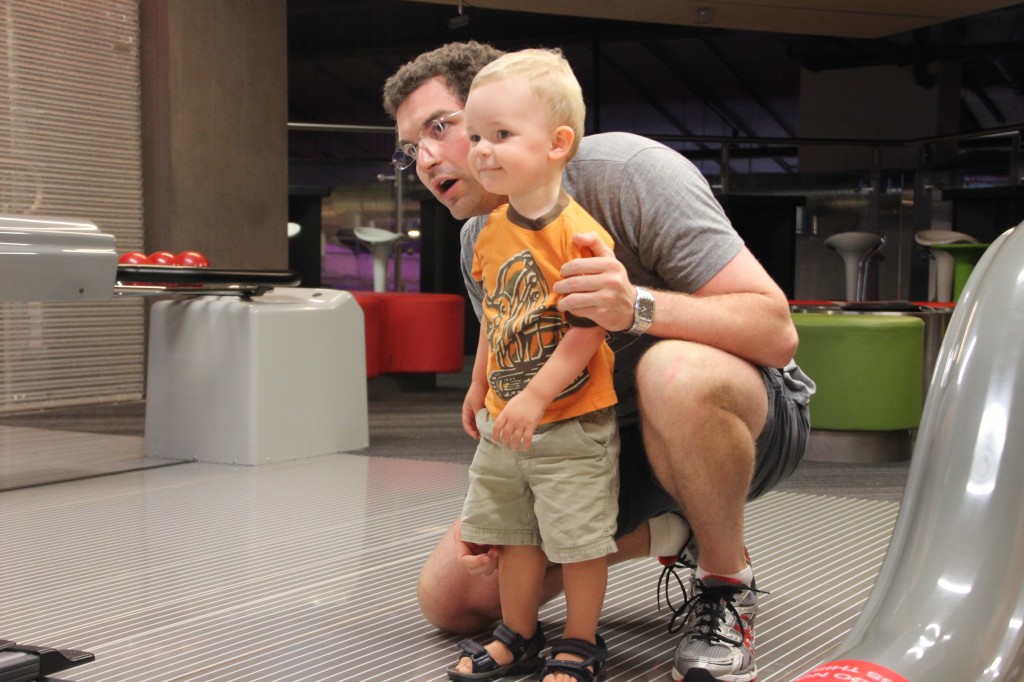 Metrolanes is open from 10am all week (till midnight Sun – Thurs, 1am on Fri & Sat).  Main bowling (before 5pm) is $13/1 game or $21/2 games.  After 5pm, main bowling is $15/1 game or $23/2 games.  The mezzanine level is $8/1 game or $14/2 games (before 5pm) and $10/1 game or $17/2 games (after 5pm).  Rates are per person and include shoe rental, though you don't need shoes on the mezzanine.  They will also put the bumpers up for little ones.  We were the only ones on the mezzanine level when we went on Saturday at 4pm.  There's stroller access to Metrolanes if you enter the Metro Centre on the Aotea Square side, then take the lift to Metrolanes, but there is a short set of stairs up to the mezzanine level.
After bowling, Joe and Chris hung out in one of the arcades within the Metro Centre (Time Out Game Zone, I think).  Again, I'm not sure who had more fun… 🙂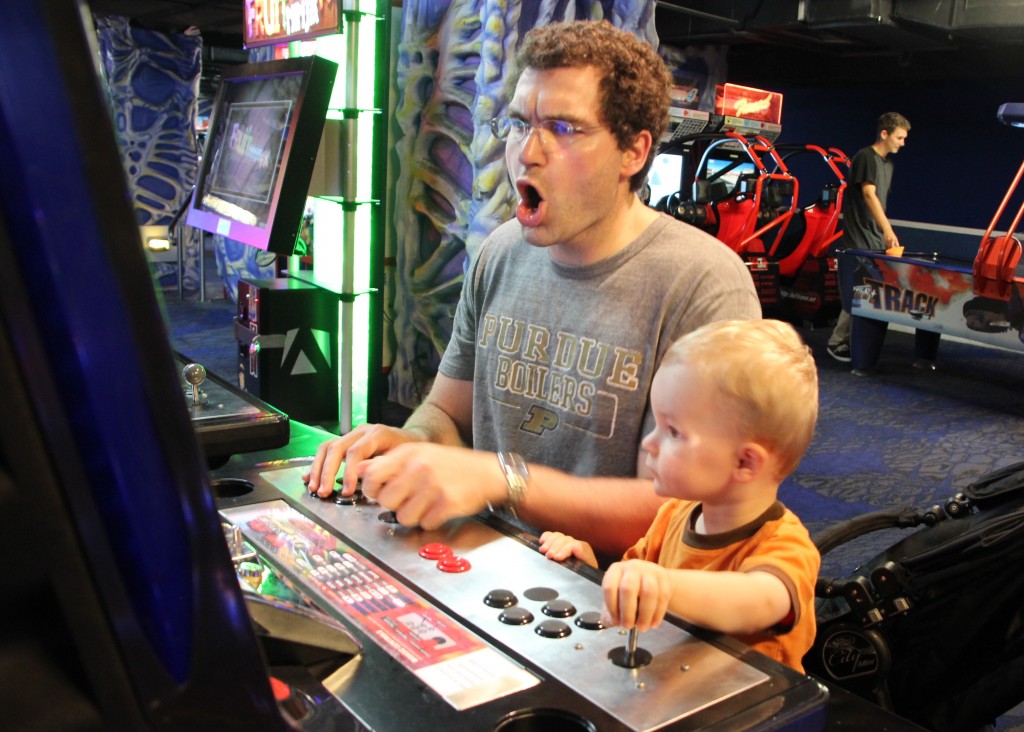 After they'd had enough of pushing buttons, we all headed out to Aotea Square, where Chris put Joe through some football moves: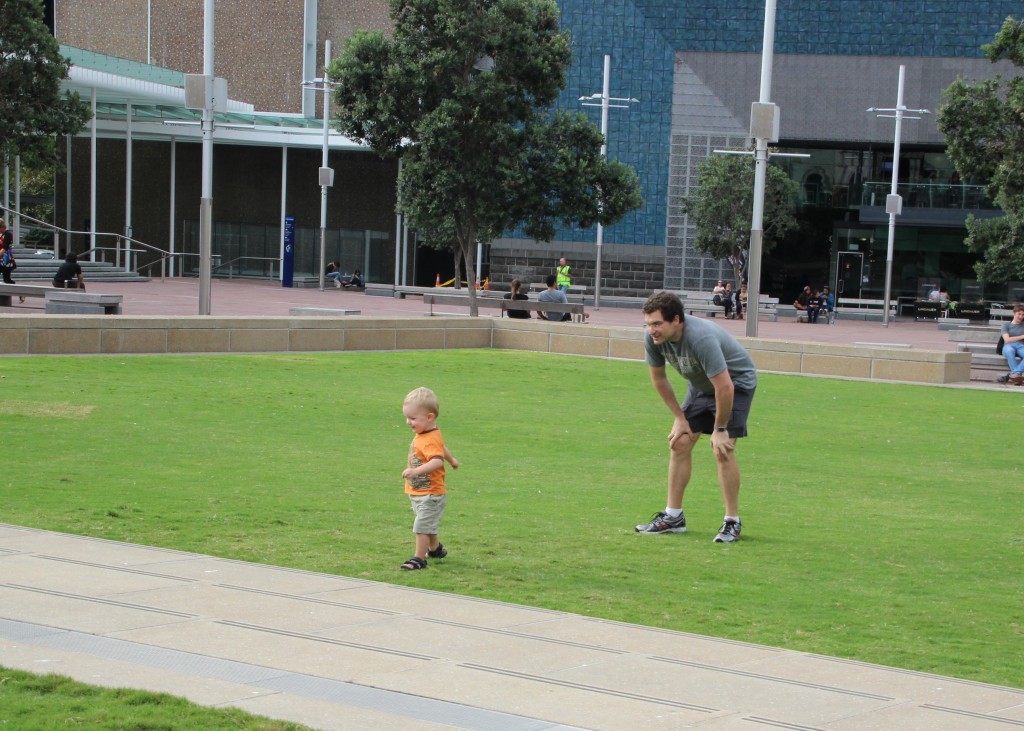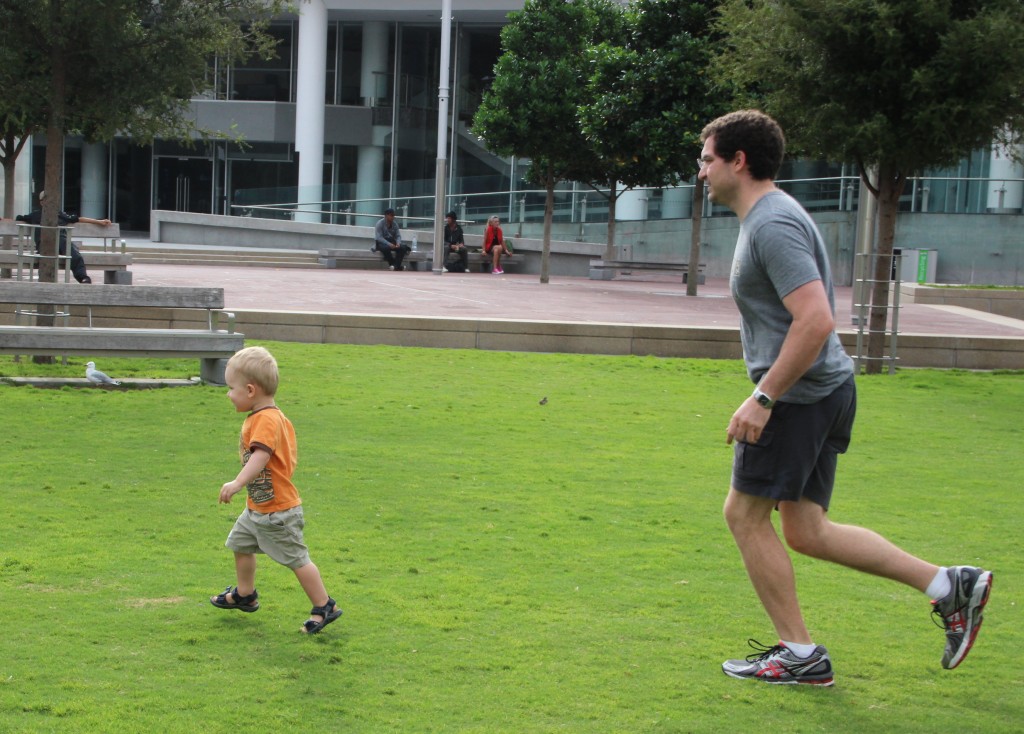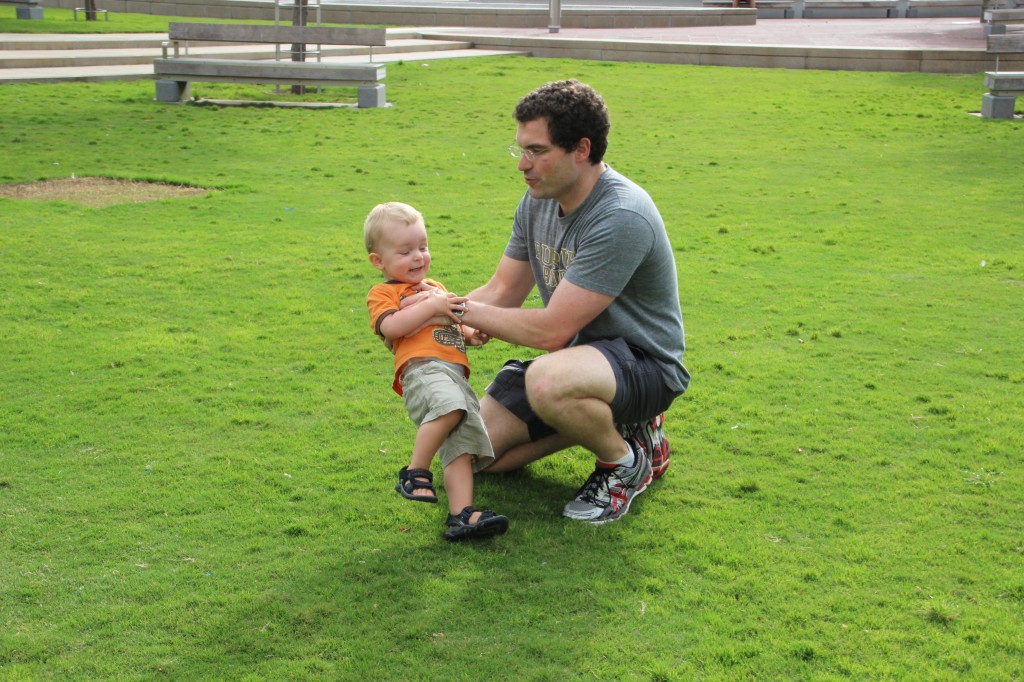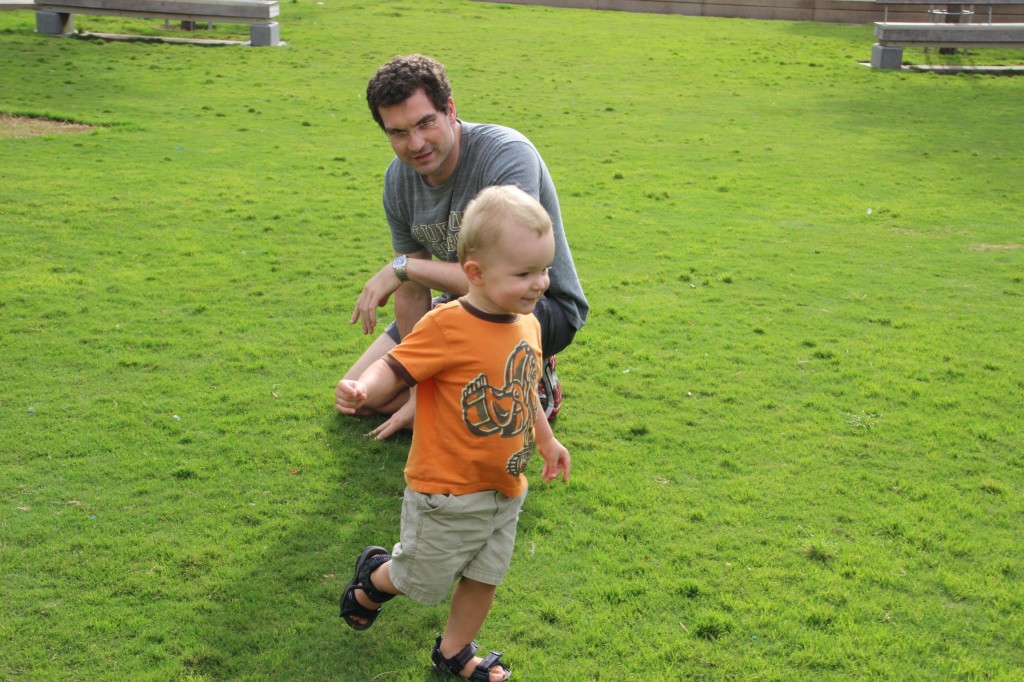 We weren't able to play outside for long.  It started raining pretty soon after I took that last photo, so we made our way back home.  It was a great way to spend $8 on a Saturday (they were going to charge us $16 – one for Chris and one for Joe – but we explained that Joe was the only one bowling with Chris there to help him and they were fine with it).  I wouldn't be surprised if we made our way there again sometime soon!