I was so glad to see butternut pumpkin squash at the grocery the other day (yes, I know that it's called "pumpkin" in NZ).  I scooped up two of them – one for a lasagna and the other to try out this new recipe.  I was in a rush when I made it.  I had already done the butternut squash lasagna that afternoon and put it in the freezer for a dinner party later this week, and was vacillating between making the bread pudding or just ordering a pizza.
Pizza… or Butternut Squash and Parmesan Bread Pudding.
Pizza is easier.  The bread pudding sounded yummier.
And it was yummier.  We ate it so fast that I didn't get a photo of it in the pan.  Here's what it looks like a day later, post-microwave but pre-lunch.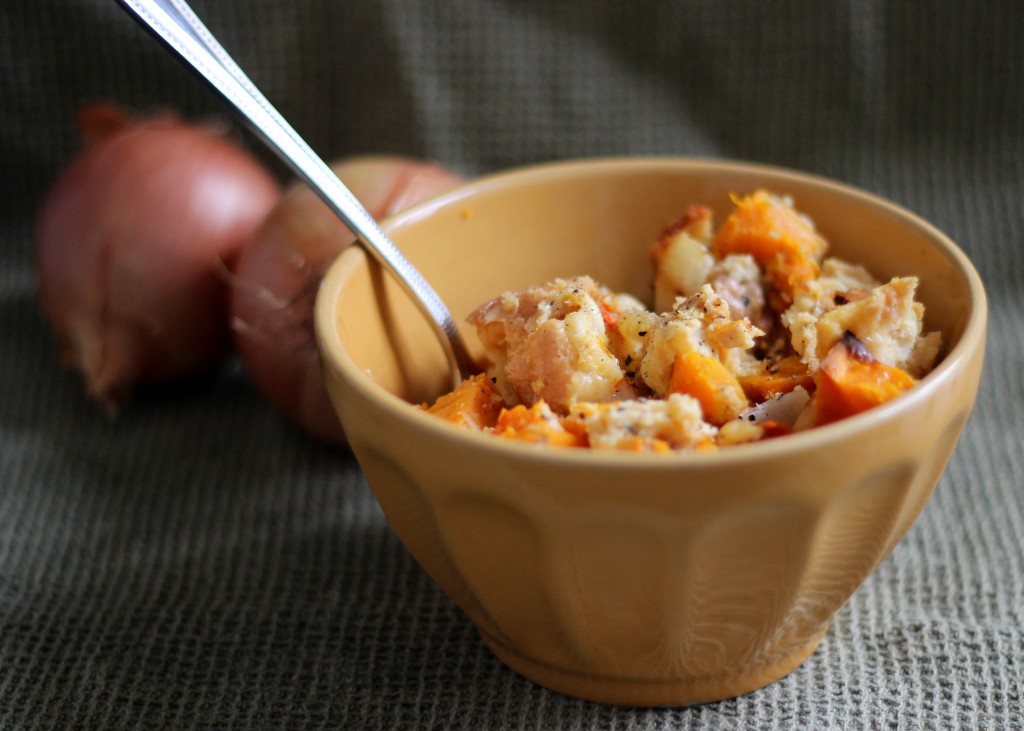 Don't you just love my attempt at doing an artsy food photo shoot?  Why yes, that is my kitchen towel hiding the messy counter-top!
It's delicious.  It's easy.  And it uses butternut squash.  Mmmm…
Butternut Squash + Parmesan Bread Pudding
Adapted from Cooking Light
6 C peeled and cubed butternut squash
Olive oil
1/2 tsp salt, divided (I left this out since I was feeding it to Joe)
2 C chopped onion (about 2 medium onions)
2 garlic cloves, minced
4 C skim/trim milk
1 1/2 C grated Parmesan cheese
1/2 tsp black pepper, ground
1 T rosemary
Few dashes of thyme
Sprinkle of chili flakes
6 large eggs, beaten slightly with fork
4 egg whites
18 C cubed French bread (better if it's a bit dry)
Preheat oven to 400F/205C.
Arrange squash in a single layer on a jelly-roll pan coated with cooking spray or olive oil.  Sprinkle with salt (if using) and bake at 400F/205C for 15 minutes, or till tender.  Remove from oven and reduce heat to 350F/180C.
While squash is in oven, heat some olive oil in a non-stick skillet over medium-high heat.  Add onion and saute for 5 – 6 minutes, or till tender.  Add garlic and saute a further 1 – 2 minutes.  Remove from heat and allow to cool slightly.
In a large bowl, combine all remaining ingredients, reserving 1/2 C of the cheese.  Stir with a whisk.  Add in squash, onion mixture, and then French bread cubes.  Allow to soak for a few minutes, then transfer to a large casserole dish coated with cooking spray (I used a 4.5 litre dish, which is just under 5 quarts and a bit bigger than your average 9×13 inch pan).  Bake at 350F/180C for 25 minutes.  Sprinkle with remaining 1/2 C of cheese and return to oven for a further 20 minutes, or till browned and pudding is lightly set.
This makes a lot of food, which is great for us since Chris eats a lot and likes to take the leftovers for his lunch.  I also like to use leftovers for Joe's lunch, if I can.  However, if you don't like leftovers, then I'd suggest halving the recipe.  Another suggestion: don't skimp on the spice!  I added in the rosemary, thyme, and chili flakes based on reviews I read for the orginal recipe, and I still thought it was just a wee bit bland, but that may also be due in part to leaving out the salt.