We decided to take a day trip this past weekend to Cathedral Cove in the Coromandel Peninsula.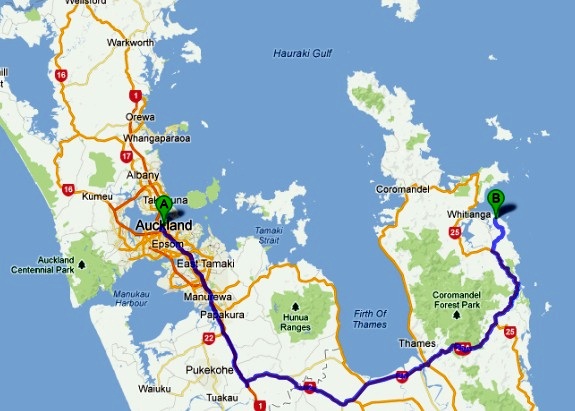 image via Google Maps
It was about a 2 – 2.5 hour drive from where we live.  Joe did so well in his car seat and Chris and I were able to enjoy the beautiful Saturday morning scenery.
You might recognize Cathedral Cove from the movie "Chronicles of Narnia: Prince Caspian".  This is where the Pevensey children return to Narnia via the London train station.
image via
Cathedral Cove can be accessed via boat or the way that we did it – hiking down the trail.  The trail really is a hike down, with several flights of stairs scattered throughout and a grand finale of 12 flights to get to the beach.  Of course, the review that I read didn't mention this.  What it did mention was that there were 5 flights of stairs and that 2 fit adults should have no problem bringing along a stroller, so I thought, "Great!  Let's bring ours."  We have a City Mini which isn't too big and folds quite quickly and easily, but I wouldn't recommend bringing anything larger than that.  In the end I was glad to have it, but a backpack carrier would have been the better bet.  The trail is unpaved and has quite a few uneven patches and exposed roots, not to mention all of the steps.  But I was bound and determined to push that stroller there and back, and it wasn't too hard for me at 28 weeks pregnant.
Here's Joe, waiting with me for Chris to get back from parking the car.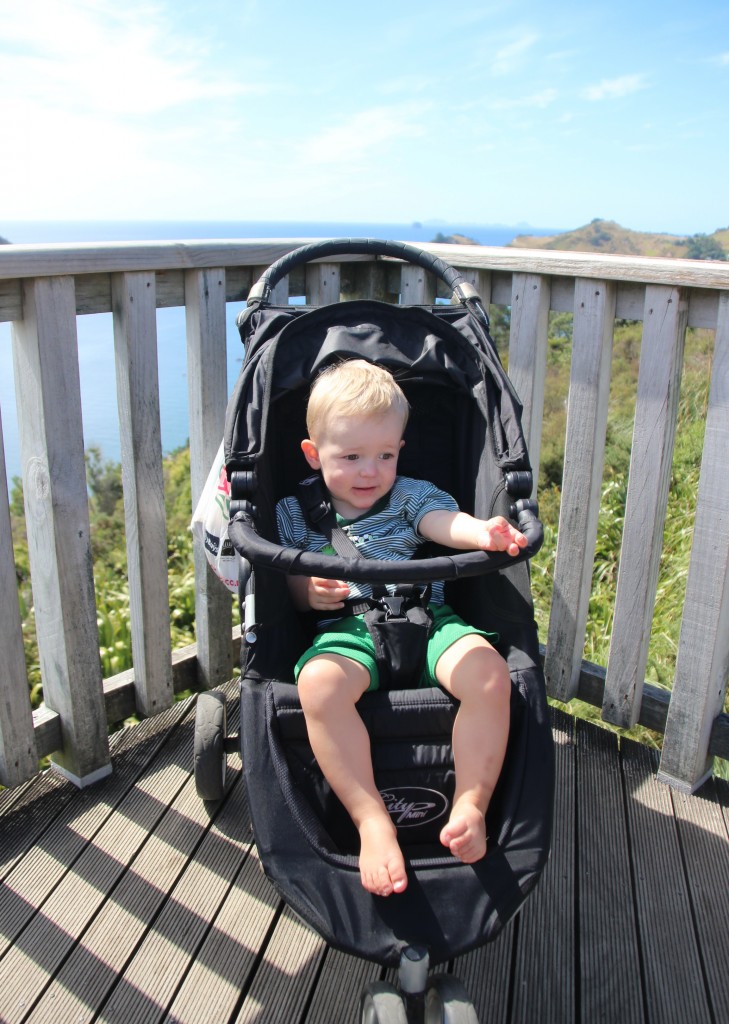 A word to the wise: arrive early during peak holiday season (December – March) unless you want to park at the bottom of the hill!  We got back from our hike and saw several cars whose drivers had decided to leave them on the Cathedral Cove carpark sidewalks… and they were all ticketed.  So don't do that, either!
Here are a few shots of Hahei Beach and Gemstone Bay.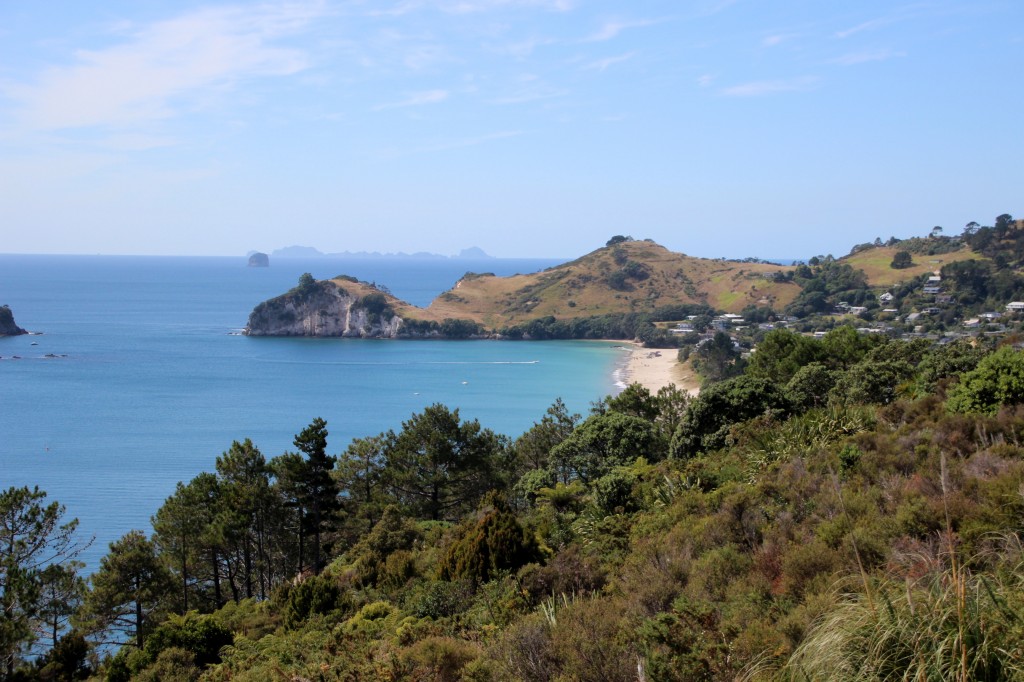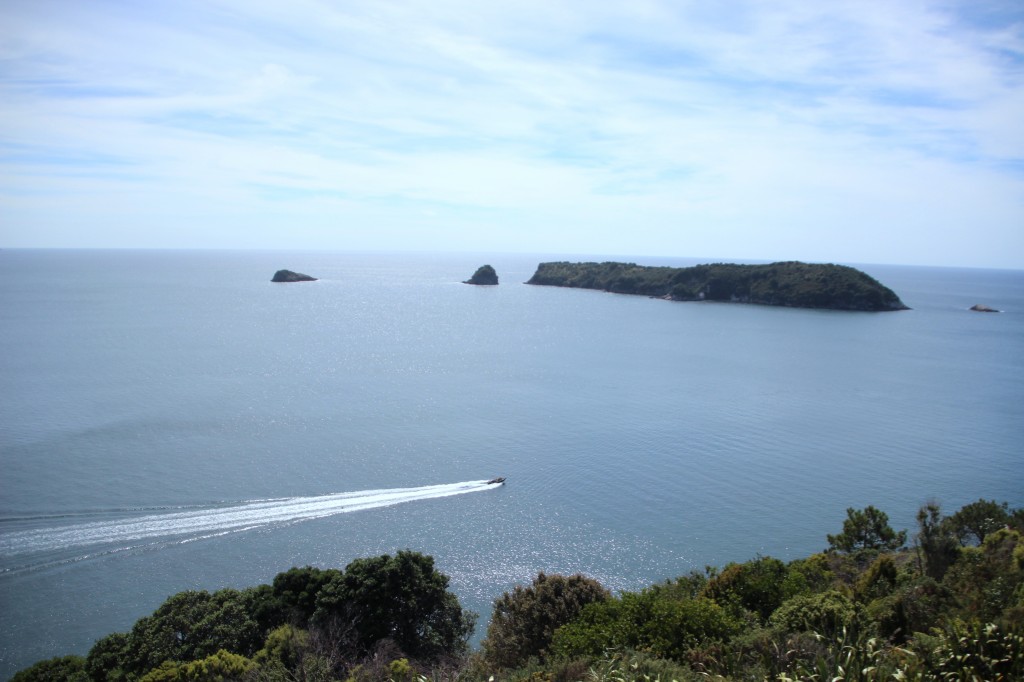 The nearest town is Hahei – you can stop there for food items from the market or pick up sandwiches from the local cafe, which is what we did, and bring them with you to Cathedral Cove.  Just be aware that it's a tourist stop, so you'll pay a bit more.  We anticipated that but if you're traveling with a large crew, it might bite into your budget more than you were expecting.
Looking down towards Gemstone Bay and Stingray Bay…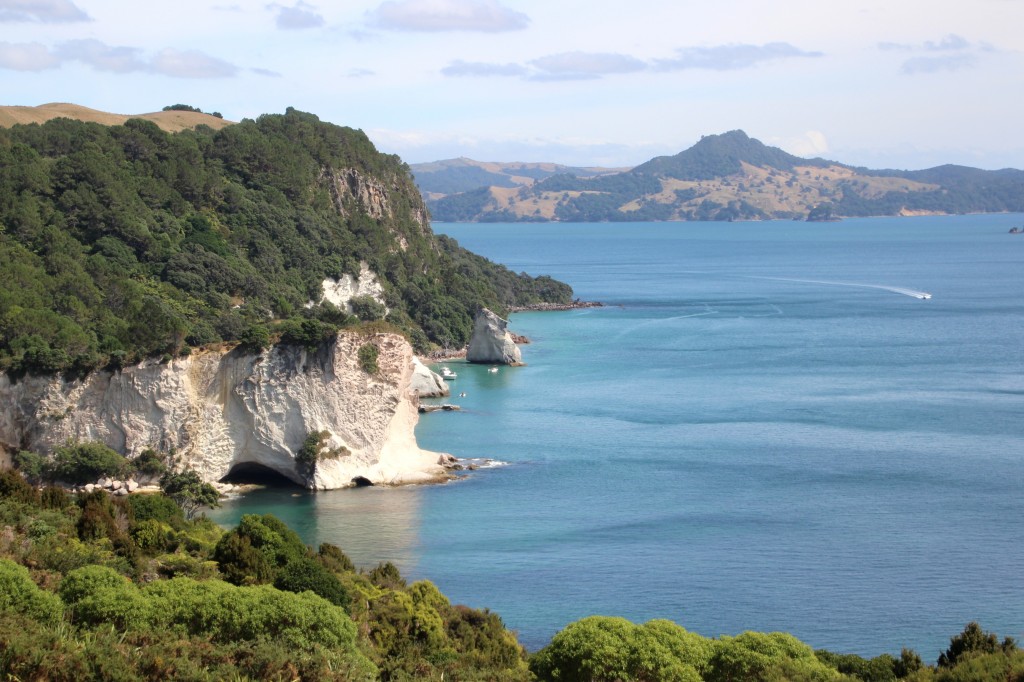 Chris came back from parking the car and we headed on our way.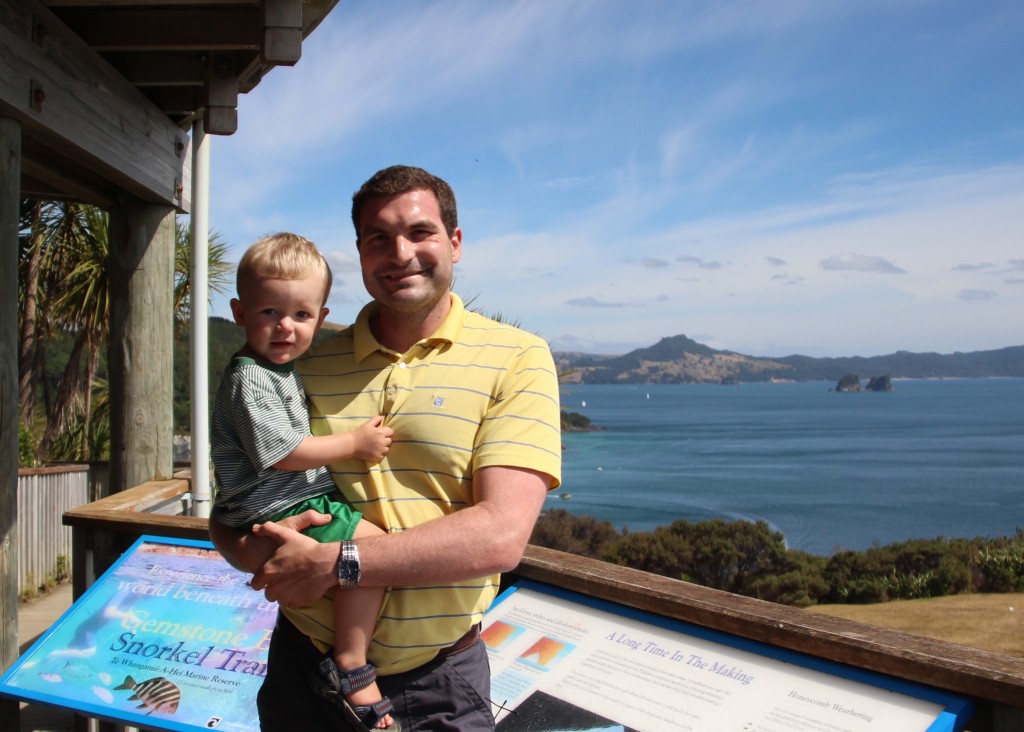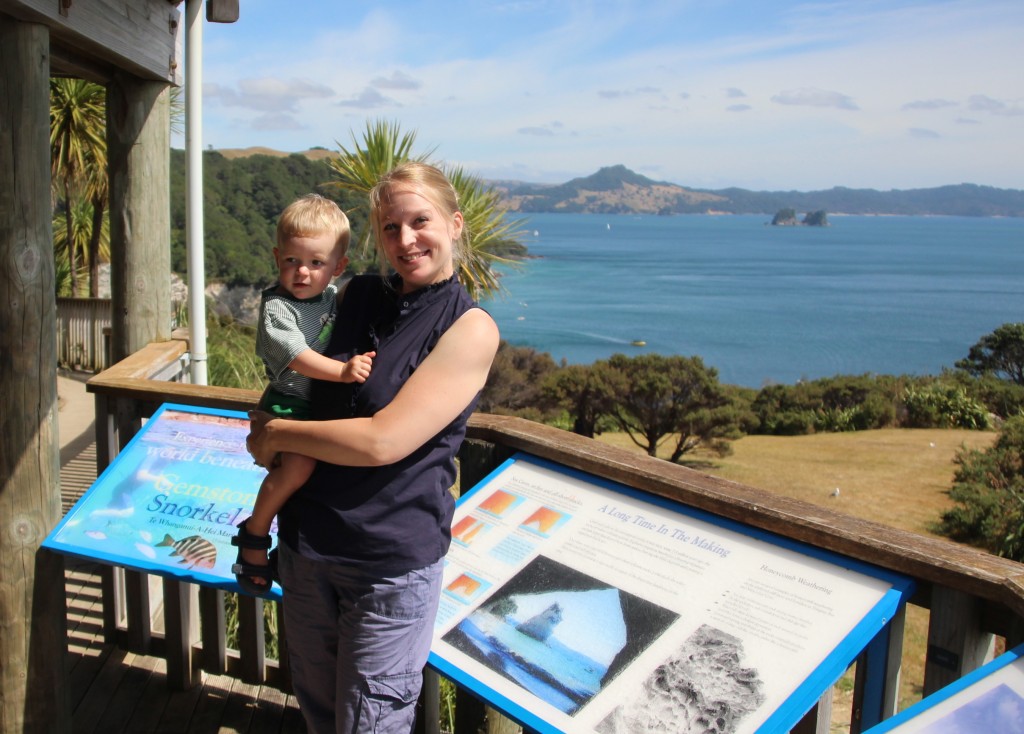 I think that I'm making a weird face in the above photo – this was about the 14th attempt from Chris to get a picture where Joe and I were both looking at the camera at the same time.  I think that I was smiling and saying "Just take the picture!!!".
We walked down the trail and there were a few moments of grumbling from yours truly when Chris hiked on ahead, leaving me to navigate over roots and rocks with the stroller, Joe, the nappy bag, and our beach bag.  I may or may not have done a Kate Gosselin and loudly yelled, "Chris!" at one point.  Whoops.  But he got the picture and waited for me, then kept a closer distance between us in case I needed help getting over stairs or roots.  The hike down was really nice and we were laughing a lot of the way.  At one point, 2 parents passed us on their way back up.  The dad was carrying a sleeping baby and the mom, who looked hot, sweaty, and tired, was holding a toddler's hand.  As they walked by, I heard the mom say to the dad, "Look Ron – another pram!" as if to say, "Wouldn't it have been a great idea if we had brought one (or at least a backpack carrier)?"  The dad didn't say anything!
We finally got down to the beach and wow – what a view.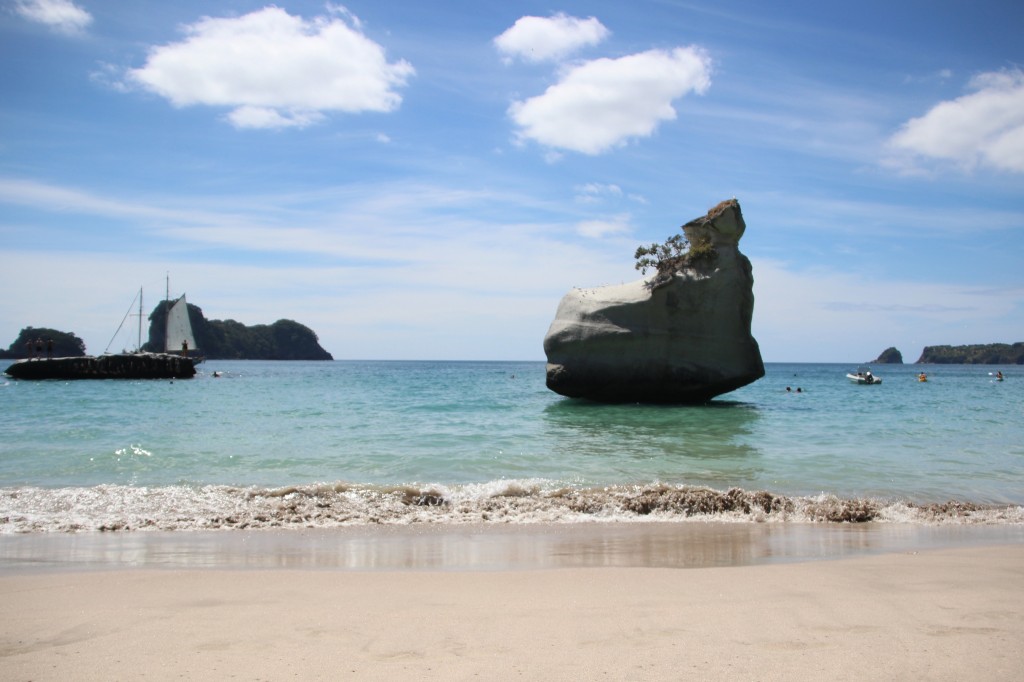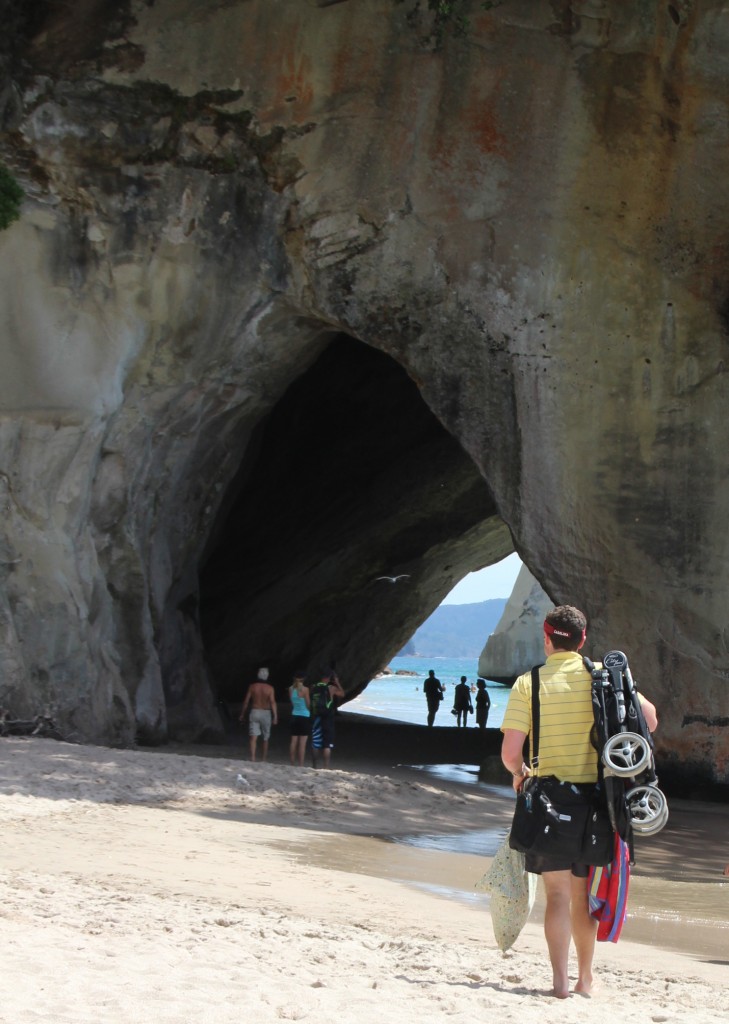 I let Chris take over baggage porter duties once we reached the sand, and he let me photograph to my heart's content while also keeping an eye on this little man, who was bound and determined not to be beaten by the waves.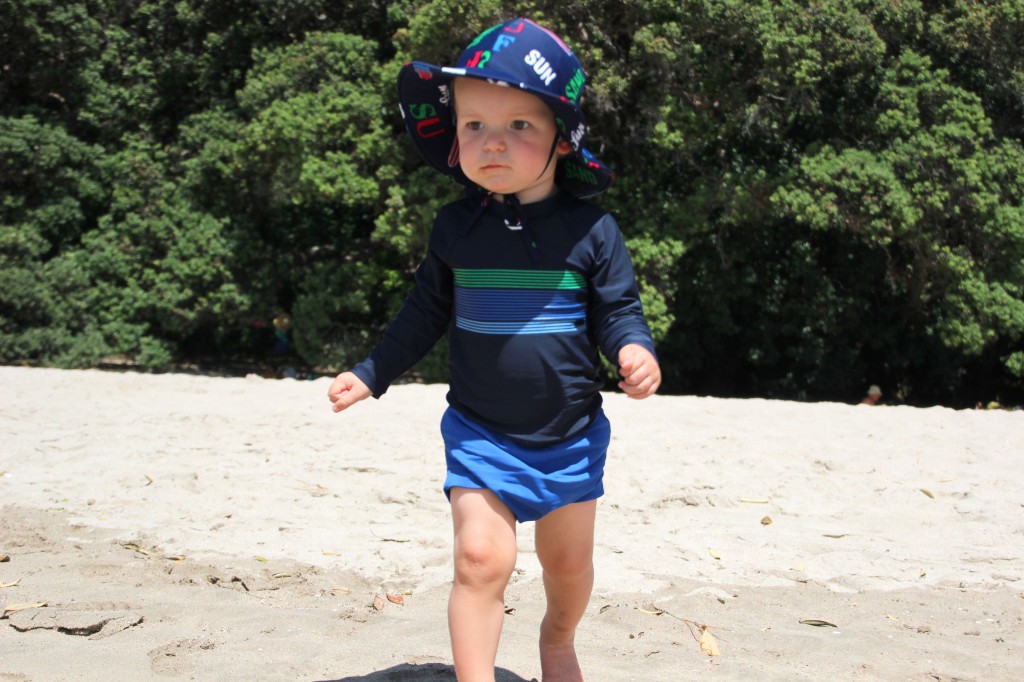 Joe is still not very comfortable around the ocean (I'm not either, truth be told) but he was a trooper and kept coming back to the water's edge to hold my hand and let the waves wash over his feet and legs.
After sitting in the shade to eat our lunch and me doing a bit of a search for the "long drop" toilets (aka, pit/vault toilets) and finding them (thank goodness!), we walked a bit further and I got to take more photos.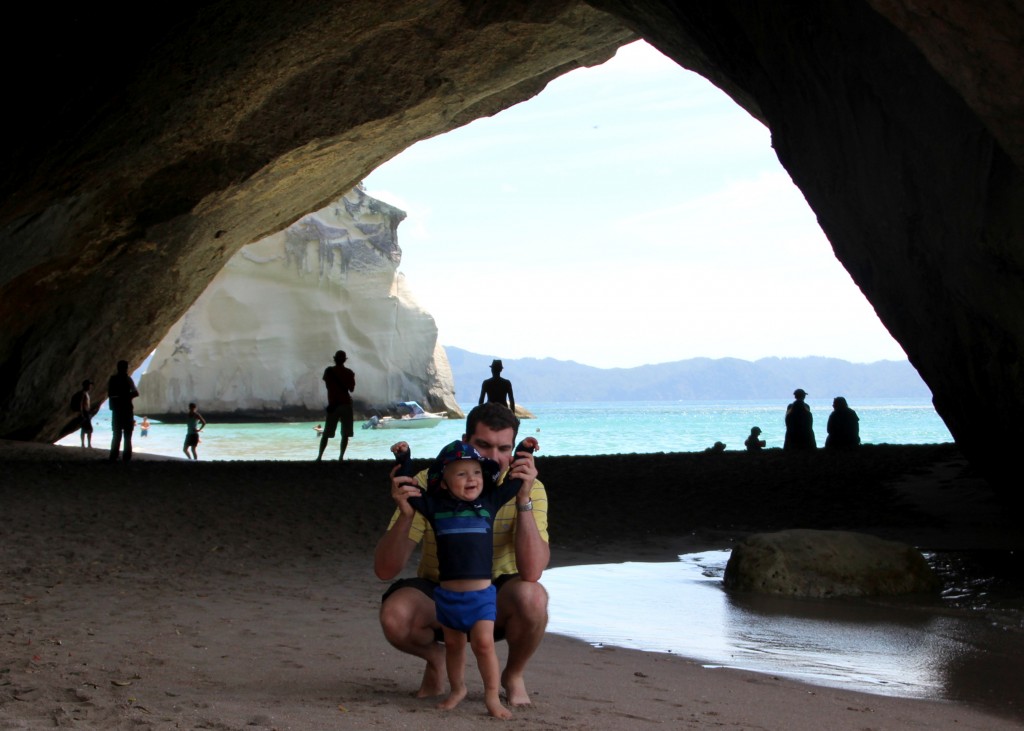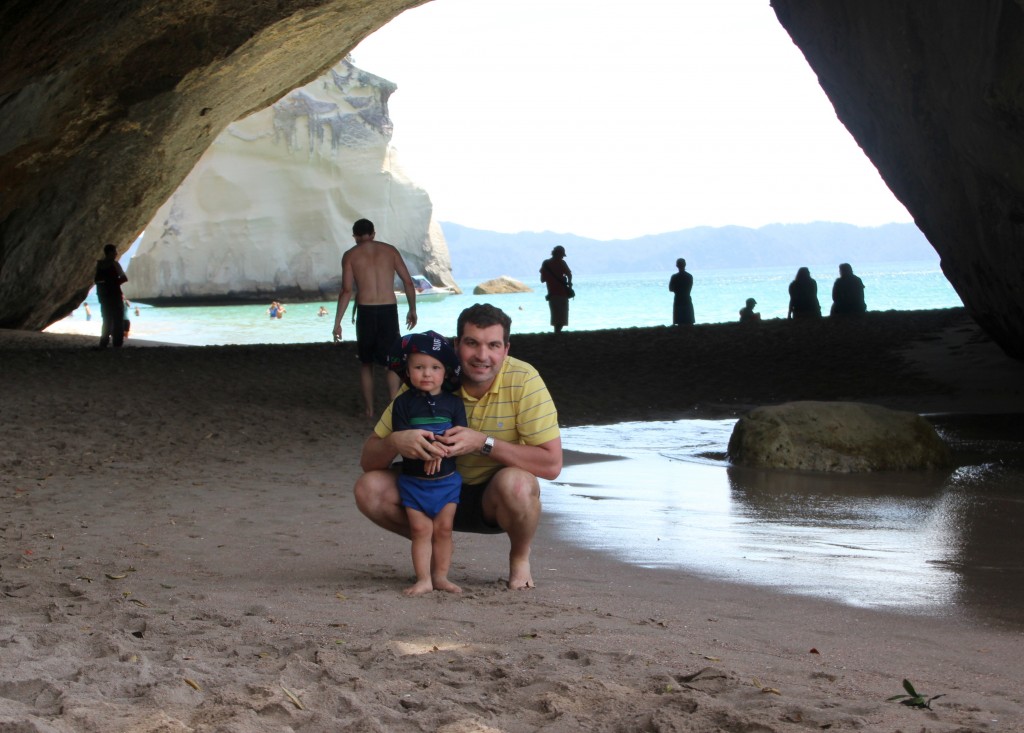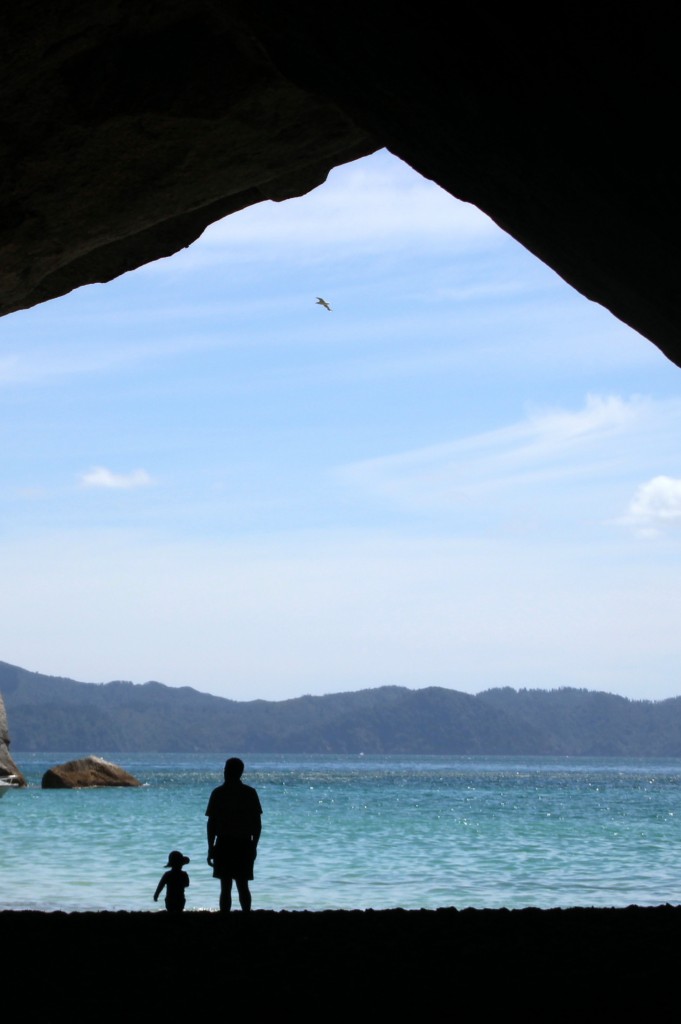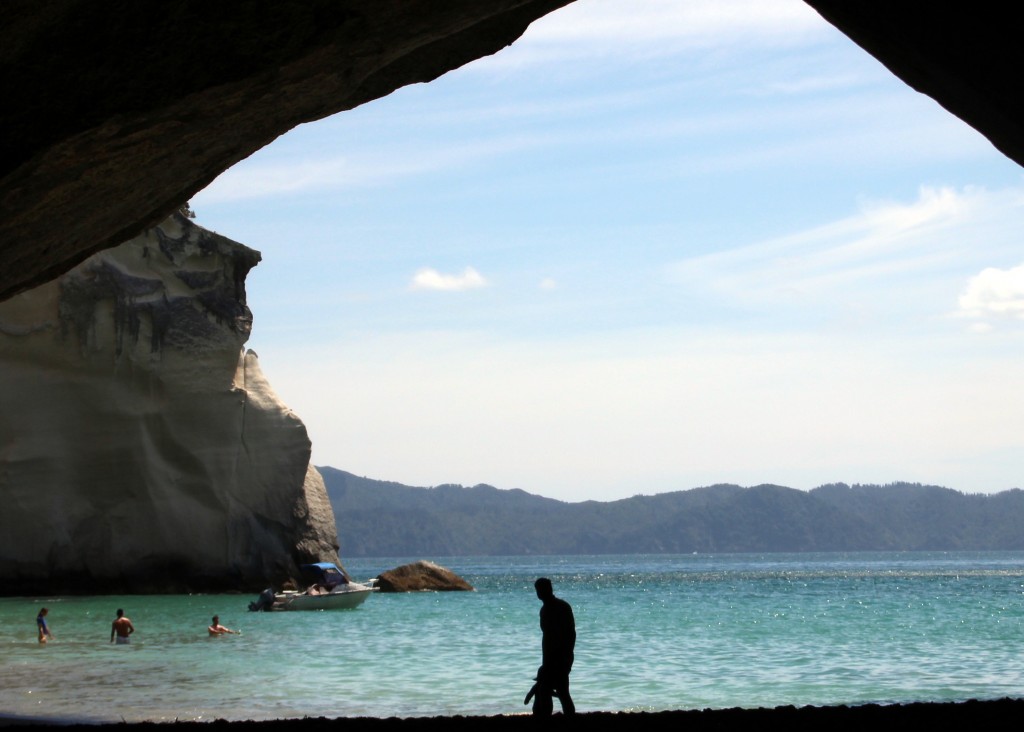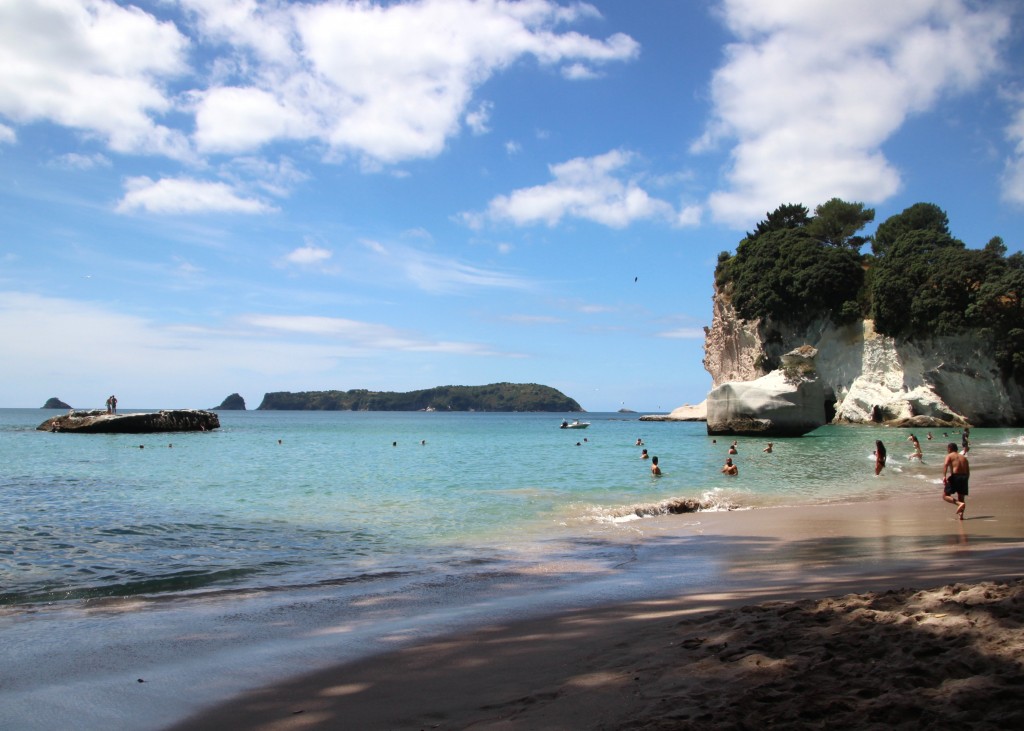 Chris and Joe came back from exploring the other side of the beach and took a few photos of Joe and I together.  Joe has started doing what I refer to as a "kisses attack" where he puts his hands on either side of my face and kisses me over and over again!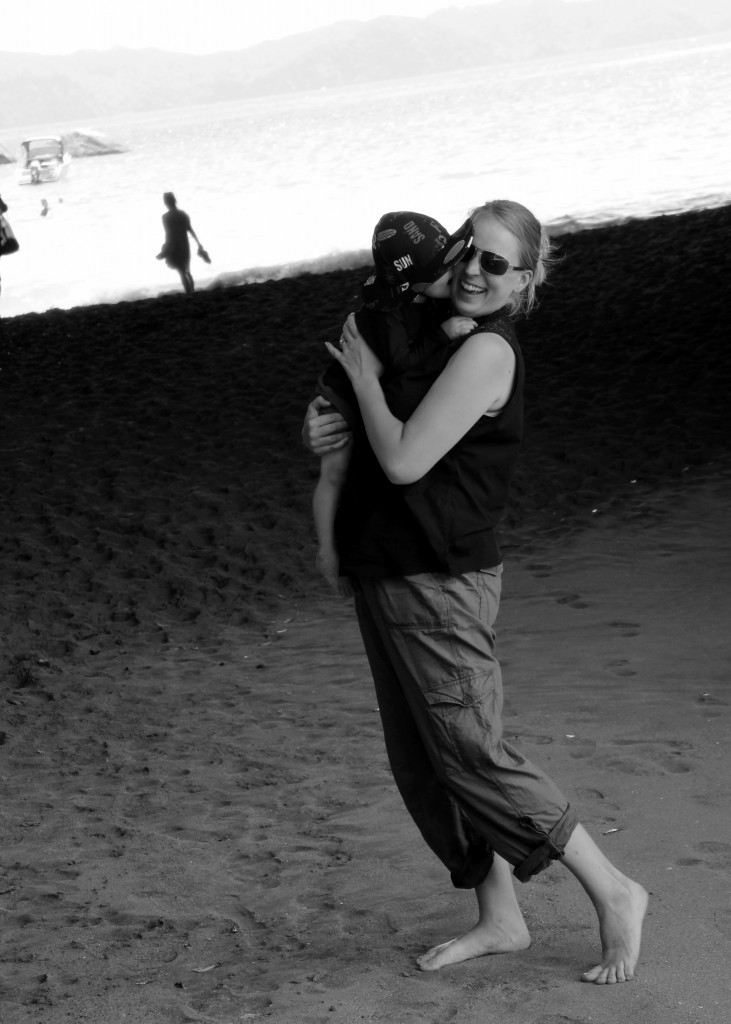 A little bit windblown…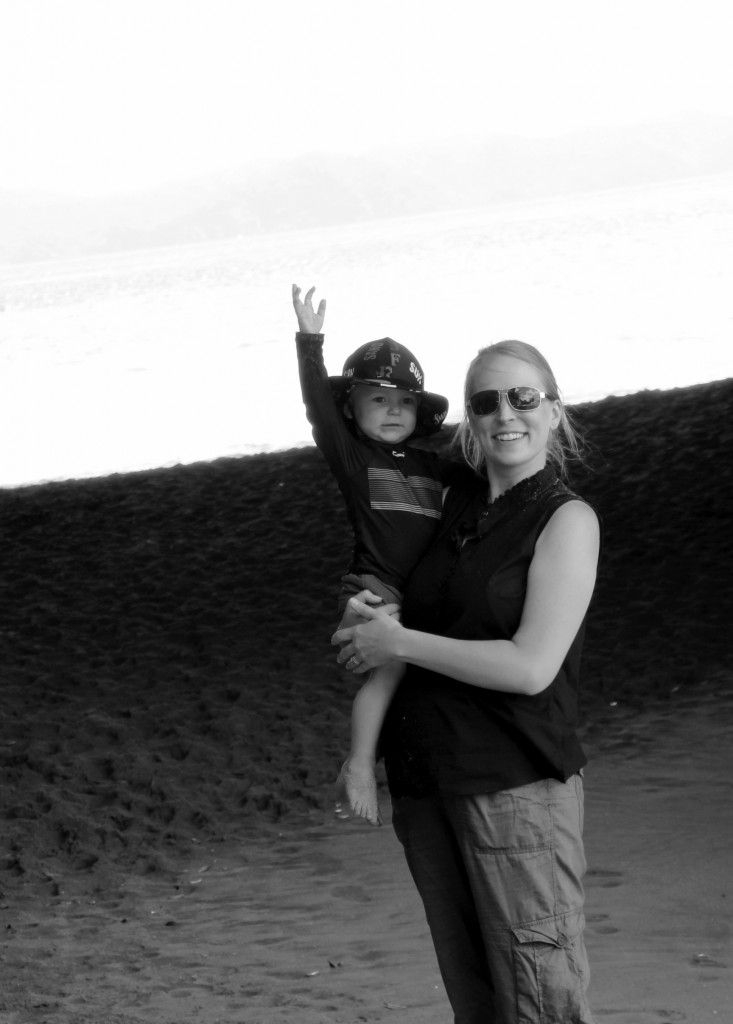 We had such a great time.  My only regret?  That we weren't there longer!  But eventually it was time to head back up the trail (and up those 12 flights of steep stairs) to the car and get on our way home to Auckland.  Joe was one sandy little guy.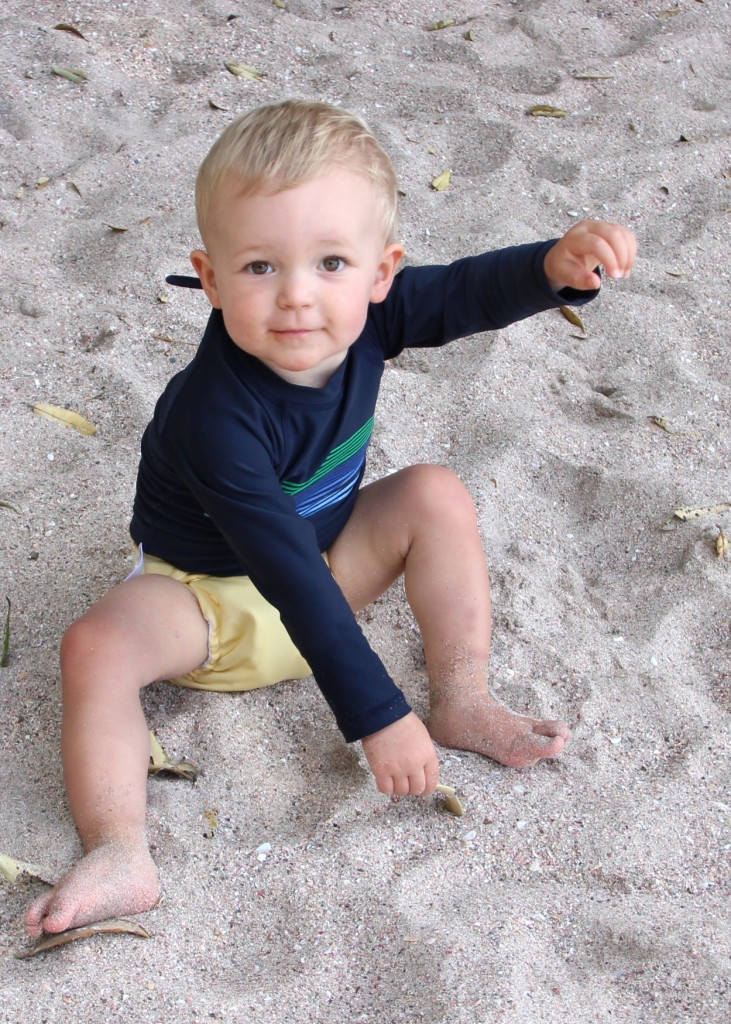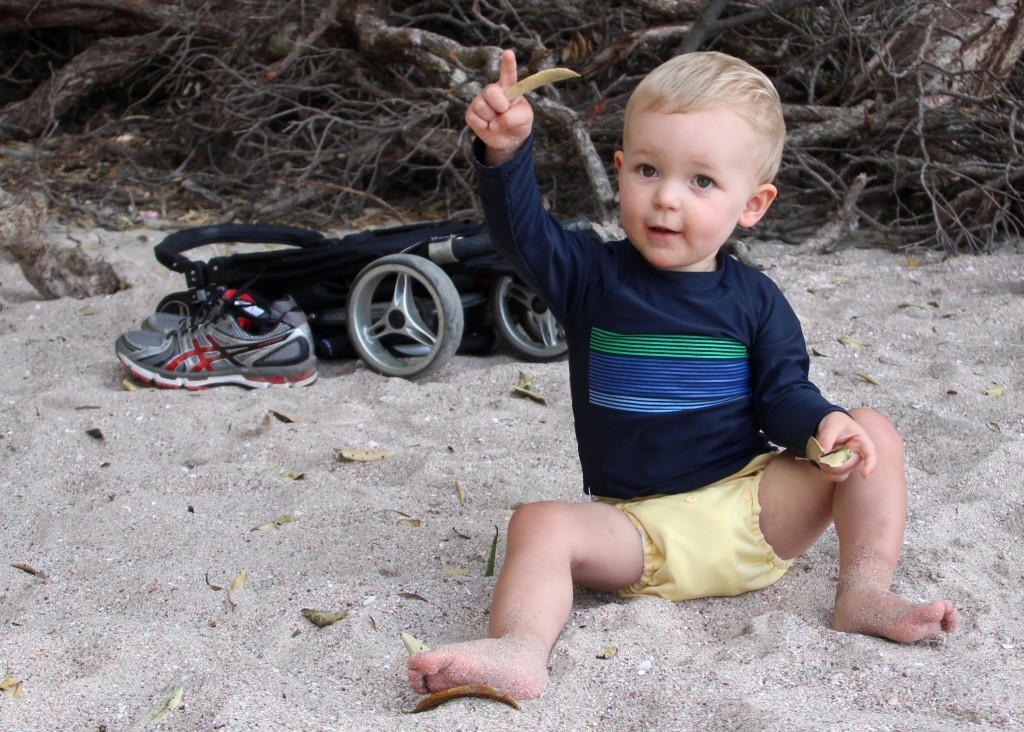 I'm really glad that we were able to visit Cathedral Cove.  It's so crazy for me to think that we'll be leaving NZ in about 4 1/2 months.  There are still so many things that I want to see and do here.