I'm currently sitting on the couch of our hotel in Dunedin waaaay down in the South Island of New Zealand.
Ah, Dunedin – the Edinburgh of Australasia.
Yes, I said Edinburgh.  As in Edinburgh, Scotland.  As in nowhere near New Zealand.  I'll spare you the super long history lesson, but the name Dunedin is actually inspired by the Scots Gaelic name for Edinburgh: Dùn Èideann.  Dunedin and Edinburgh apparently look a lot alike.  I wouldn't know for sure, but hopefully I'll be able to confirm that by the end of this October, once we take our trip to the UK.
So, yes – I'm in Dunedin, and very thankful to be here.  We'd been planning this trip for awhile, and then Joe got sick last Friday.  It's so hard to tell with kids, isn't it?  We thought that he was doing better but then he had a relapse.  Last night I said, "No way!" and Chris even went so far as to call the airlines.  They told us that we couldn't cancel or get a credit – all they could offer us was a change in ticket dates, but it would cost $75 and we had to make a decision within the next 20 minutes. My brain was already on overload because of Joe being sick, and I felt like we were being asked to randomly pick dates out of a hat.  We couldn't decide in that kind of time-frame, and so ended up holding on to the tickets (Chris had to come to Dunedin regardless) and decided to wait and see.  I said that if Joe went 24 hours, sickness free, then we would go.  That meant no throwing up, no diarrhoea, no fever.
It was touch and go, but we eventually went.  Here's a picture of Joe riding the airport shuttle from our apartment.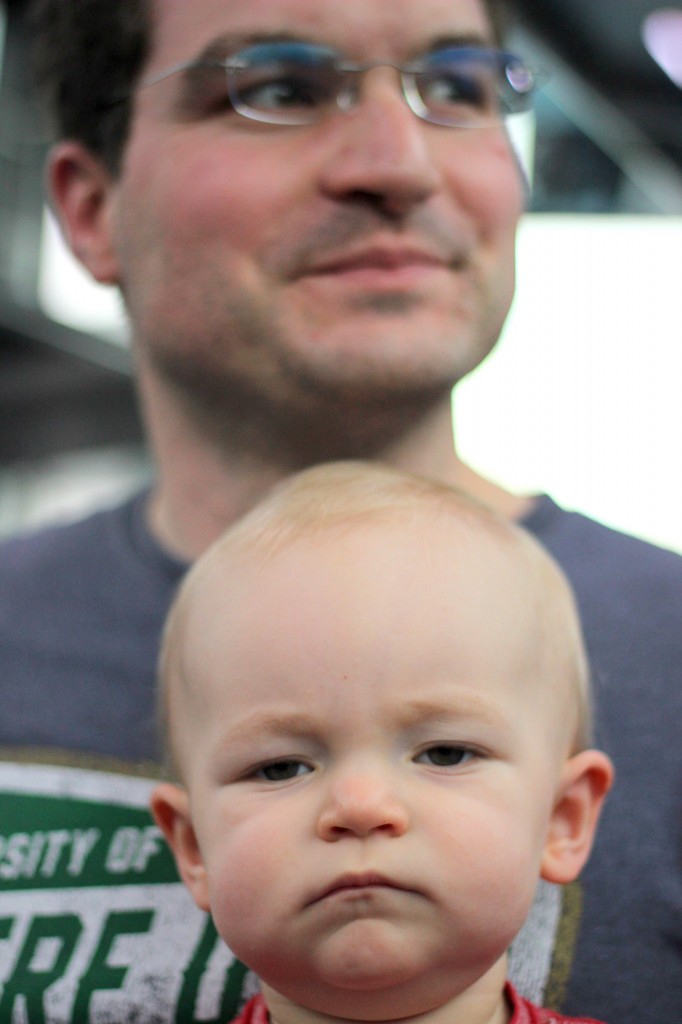 We waited till the last possible minute to wake him from his afternoon nap, and then dashed out the door.  He wasn't too keen on being woken up, but he traveled like a champ.  He dozed for the majority of the flight with a few tears, but I can handle that.  The only bad thing was that Joe had the worst case of gas that I've ever smelled. It was so bad that even my nurse's nose was seriously twitching, and the poor 20-something man sitting in the row next to us actually got up and moved.  You can always count on your kids to embarrass you, right?
Joe has continued to show no further signs of illness, something we'd been praying for and that will hopefully continue.  Chris will be busy with work the majority of tomorrow, so Joe and I are planning to go out exploring this lovely, lovely town.  One small hiccup: Chris left the stroller at the airport.  We had a pick-up arranged by the university.  Chris and the driver picked up the luggage while I entertained Joe, then got him into the car seat.  It wasn't till we were at the hotel and somewhat settled that I realized something was missing.  Chris has called the airline, but they don't open their lost luggage counter till 10am tomorrow :-/  We'll see what happens!