One of my favorite things about Fall is the food – pumpkin bread, pumpkin pie, apple dumplings, chai tea, chili during football games, turkey and cranberry sauce – the list goes on and on.  I'm looking forward to dusting off some of my seasonal recipes and incorporating them into our weekly menu.
I've already pulled out a few old favorites that I want to try, and prepared one of them a few days ago – carrot souffle.  Chris was a bit skeptical the first time he heard about it, but he's become a big fan and rates this recipe as an "A-".  To put it in more practical terms, Chris ate all but 2 servings of this dish without any help from me.  Yeah, I think that means he likes it.
If you're not a fan of pumpkin pie or of sweet potatoes, then you probably won't like this recipe.  I will say that compared to those 2 desserts, carrot souffle is much lighter, as a souffle ought to be.  I don't think it tastes a thing like carrots – just sweet, cinnamony-pecan-brown sugar goodness on a fork.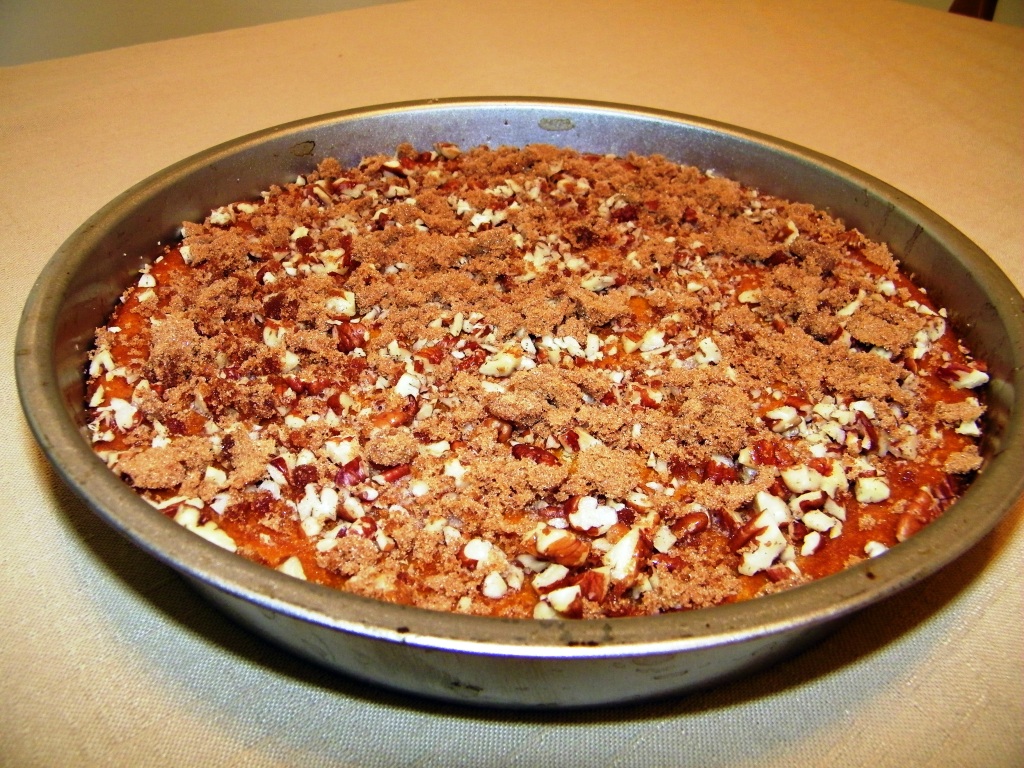 Unfortunately, I couldn't find a souffle dish in my kitchen, so I had to settle for an old cake tin.  Not as pretty, but it still tastes just as good.
If you're interested in making this delicious dish for yourself or for someone else, here's the recipe:
Carrot Souffle
1 lb carrots
3 eggs
1/3 C sugar
2 T flour
1 tsp baking powder
1 tsp vanilla
1/2 C + 2 T melted margarine or butter
3 T brown sugar
1/4 C chopped pecans
Dash of nutmeg and a dash of cinnamon
Place peeled and chopped carrots in saucepan of boiling water.  Keep at a rolling boil for 35 minutes or till carrots are soft and can be easily pierced with a fork.  Puree carrots in blender and pour into medium bowl.  Add eggs, sugar, flour, baking powder, vanilla, nutmeg, cinnamon, and 1/2 C melted butter.  Mix together till smooth, and pour into souffle dish coated in non-stick cooking spray.  Bake for 1 hour at 350 degrees.
In separate, smaller bowl, mix brown sugar and pecans.  When souffle is done, brush top with remaining 2 T of melted butter and sprinkle brown sugar mixture on top.
That's all there is to it.  It's tasty, easy, and you'll come off looking like a pro if you serve this dessert.
Alright, I've shared, and now it's your turn – what are some of your favorite Fall foods?