My parents, Bruce and Mary, flew into Norfolk Airport on Wednesday evening and I happily picked them up for their 3 1/2 day visit.  Such a short time, but so much was packed in while they were here.
For starters, my dad taught Chris about installing toilets…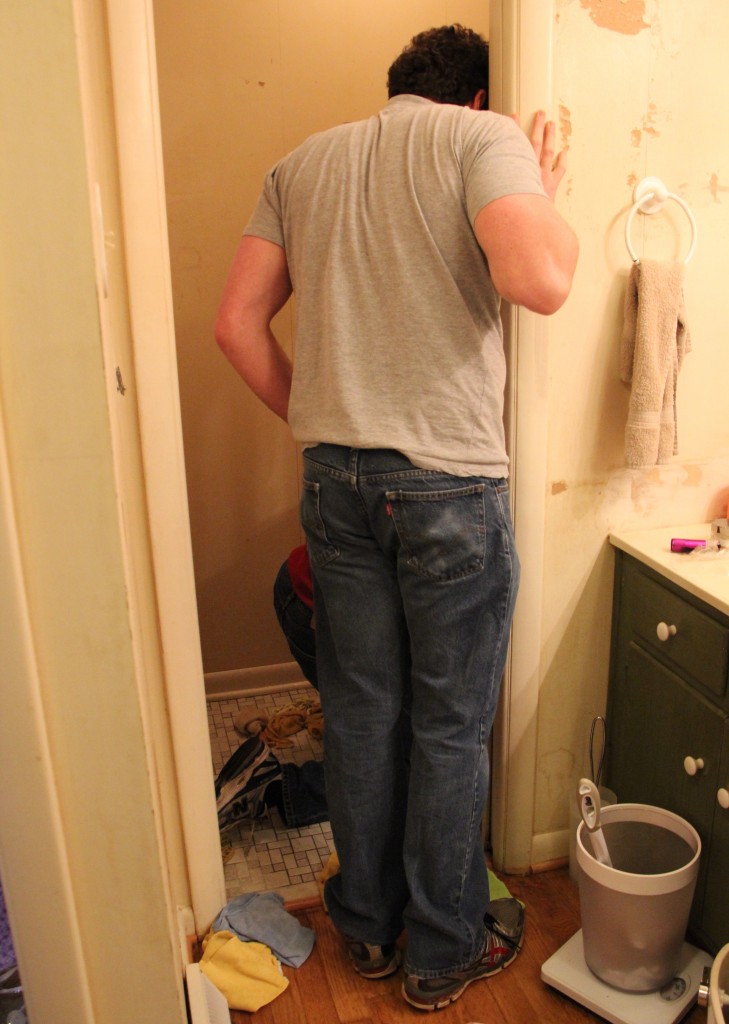 There's Chris, diligently observing and soaking up knowledge while my dad wrested out the old toilet and put in the new one, a Kohler Cimarron…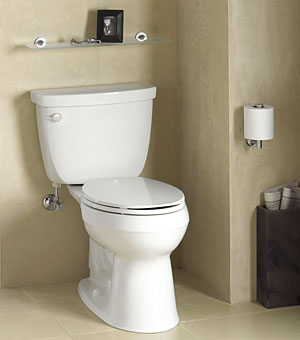 If only our bathroom looked as polished as the one in that photo!  Our bathroom, as you can see from the picture above, needs some love and TLC.  I did my best to be careful when I removed the old, nasty wallpaper but it's hard to remove it when the previous owners didn't prime before applying it.  Hence, the large sections where part of the drywall came off and lots of wallpaper glue remaining.  This is what the hall bathroom and main entryway looked like, too.  It took a lot of work to get them up to snuff: sanding the walls, patching the rips with drywall mud, filling in holes with spackle and sanding those down, applying GARDZ sealer to keep any remaining glue from seeping through the paint, priming it, then painting.  I can't wait to repeat the process in this room.  Actually, I can't wait for the process to be complete… doing the process isn't a lot of fun :-/
We're really glad to have a new toilet in there.  It works MUCH better than the last one, and we learned a few things in the process.
What else did my parents do while they were here?  Glad you asked!
Raked leaves and did some trimming in the yard
Cleaned out gutters and brushed off the roof
Installed (and taught me how to install) GFCI outlets in both bathrooms
Put in new light fixtures in the hallway bathroom
Changed out the switch in the ceiling fan so that we don't have to pull it 15 times while simultaneously praying and crossing our fingers that it will turn on
Removed a very old antenna that was attached to the side of our deck
Went with us to Home Depot and ACE Hardware to pick up some necessary homeowner tools and supplies, thereby adding to our collection
Visited the Habitat for Humanity ReStore to see why I loved it so much (we came away with 2 matching stand lamps for $18 each, including nice white shades – hooray!)
And of course, the usual stuff like pitching in with dishes, transferring laundry from the washer to the dryer, vacuuming, and entertaining the boys
It wasn't all work, I promise, nor did we expect them to come out here and do any of those things.  However, I wasn't at all surprised.  This is how my parents are.  I can remember going on family vacations where we did clean-up and yard work at the lake cottages we were visiting or rolled up rugs to vacuum underneath them.  My parents have a strong work ethic, and they've instilled that same thing in me.  Hopefully Chris and I will pass it along to our children, too.
Did we do anything fun?  Of course!  Though, in my opinion, doing the work was fun, too 😉  However, here are some of the more traditionally thought of as fun things that we did during their visit:
Toured Colonial Williamsburg (Joe loves to run free through there)
Went to Mad About Chocolate (Chris loves to run free in there 😉 )
Toured the Colonial Parkway
Got in a long bike ride for Dad
Took many, many walks in our neighborhood to discover secret pathways and trails
Visited the neighborhood playground
Went to Charly's Airport Restaurant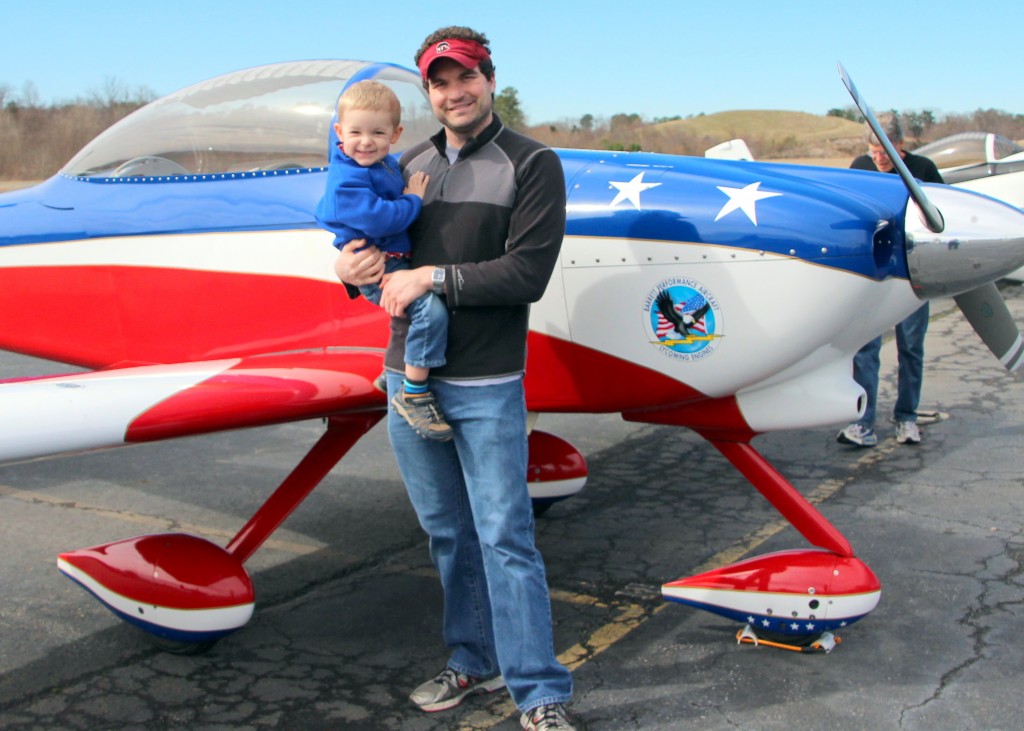 Charly's is a fun, small restaurant – a hidden treasure.  It's at the Williamsburg Regional Airport, a tiny yet busy little airport down a dirt road.  Charly's is the type of place with daily specials, always posted on Facebook the day before (I got a laugh when one of the "specials" was "Whatever Chef Wayne cooks up – we're sure it will be great!").  They are open for lunch only, have indoor and outdoor seating, a playground, and you can take your children out onto the tarmac to view the planes.  Joe has been going through a "hairplane" fascination here lately, so he was in seventh heaven.  We were able to sit and watch planes land and take off.  The food was tasty and reasonably priced.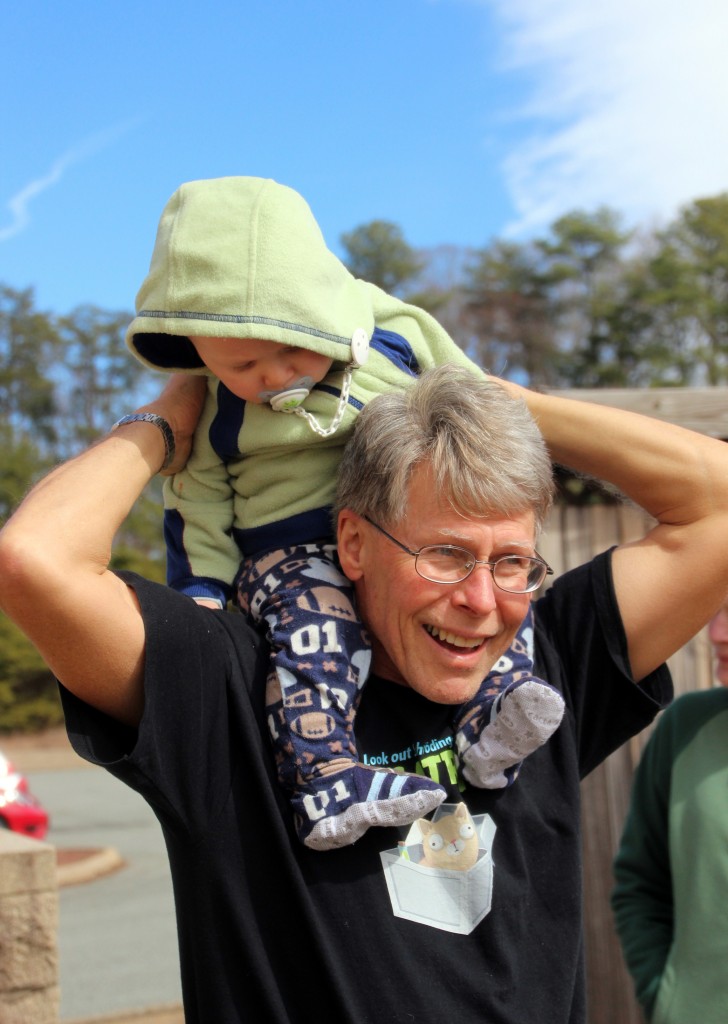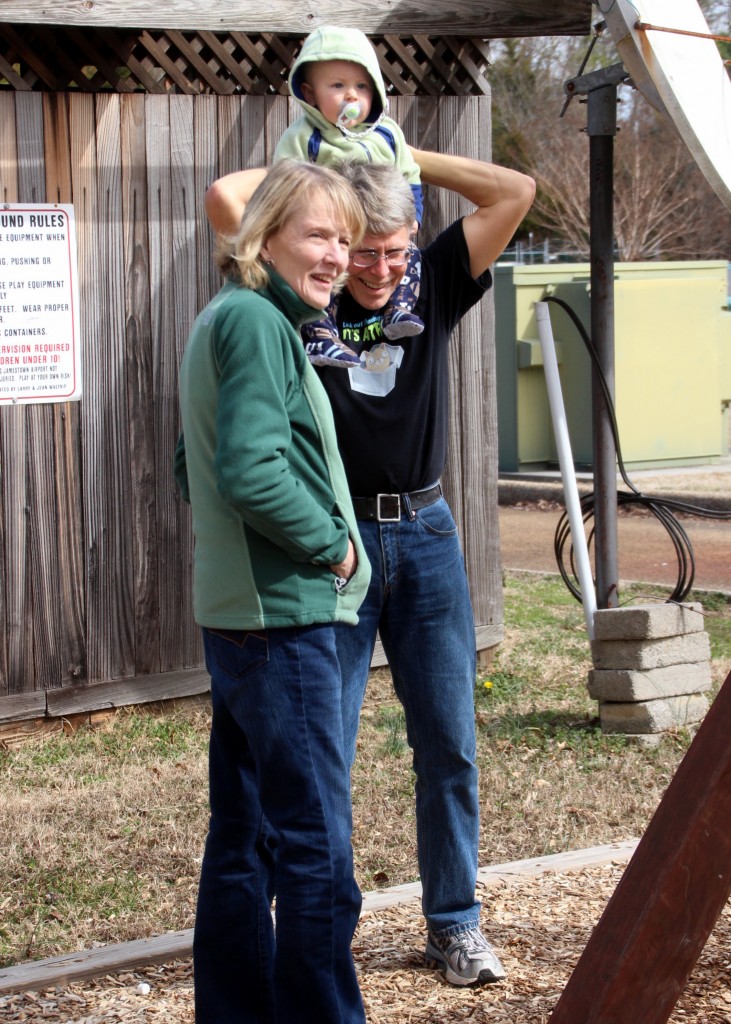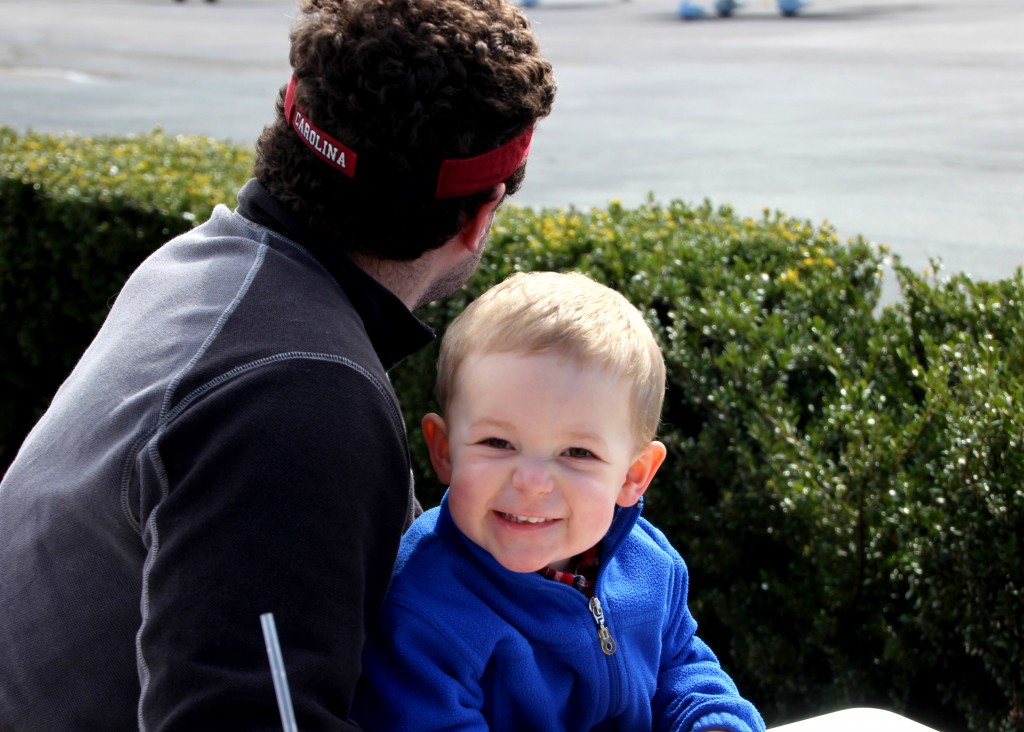 Both Joe and Jack had a wonderful time 🙂
Here we are on one of the many neighborhood walks…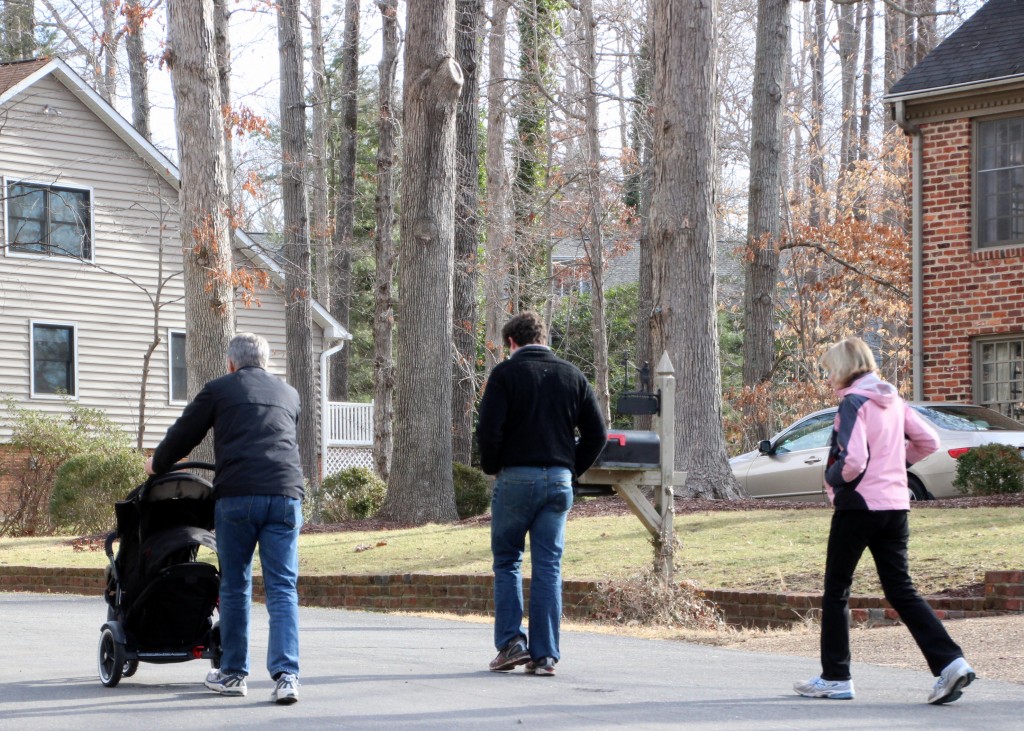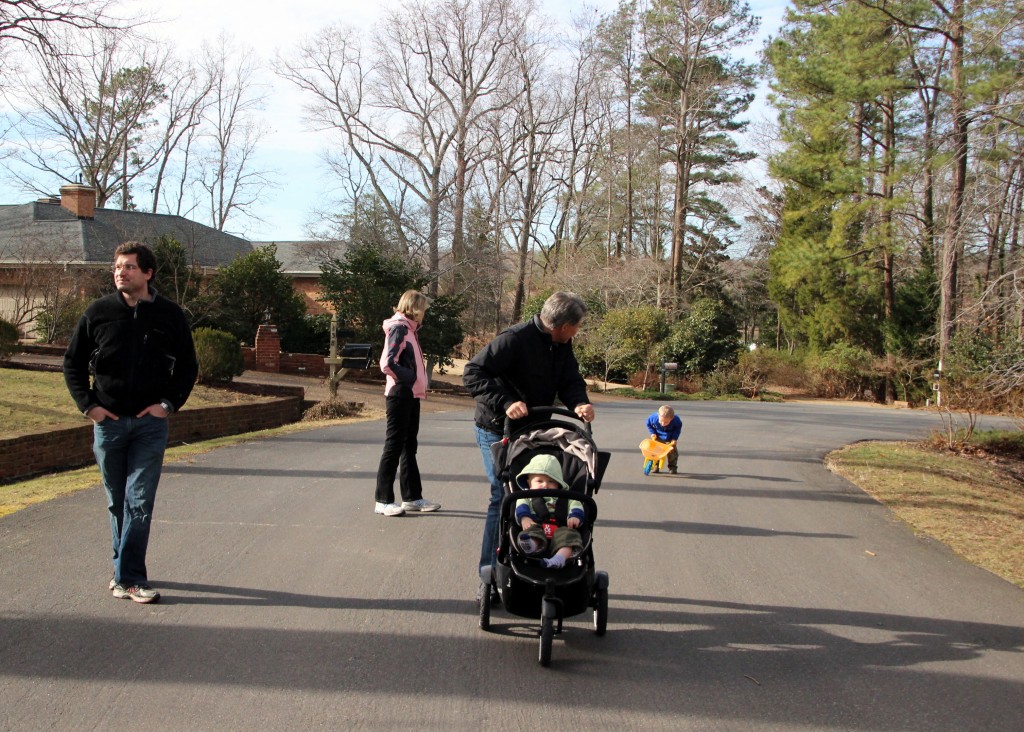 If you look closely, you can see that Joe is pushing a little toy wheelbarrow.  He loves that wheelbarrow.  I found it underneath the crawlspace of our house along with a bunch of other plastic sand toys.  It was love at first sight for Joe.  He pushes it around the yard and in the house, constantly running it into ditches and giving worms rides (gross!).  He did momentarily abandon it on this particular walk – he saw a recycling bin that had wheels added to it and that was just too fascinating to pass up.  He dropped the wheelbarrow by the wayside, took off running for the bin, and pushed that into the ditch despite me telling him to stop! stop!  Little bugger.
We were sad to see my parents leave, but are already looking forward to another visit from them, whenever that may be 🙂