We're planning a mini-vacation from Auckland to Wellington and then from Wellington to Christchurch!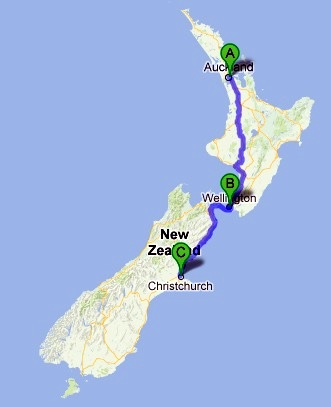 Thankfully we're not driving it.  I'm not sure I could handle that at 35 weeks along (we're planning to leave on the 4th of April).  We have accumulated enough frequent flier miles through Air New Zealand to have our plane tickets covered, plus some more leftover.  We'll spend Thursday and Friday in Wellington, then board the Interislander Ferry to Picton…
At Picton, we'll board the Coastal Pacific line via KiwiRail which will take us to Christchurch all along the coast via Blenheim, Kaikoura (whales!), and the Canterbury Plains region.
Unfortunately, we'll only have a short time in Christchurch (the rest of the day Saturday and all of Sunday, with a Monday morning departure).  Chris is already having to reschedule one meeting and would prefer not reschedule two, and I have an antenatal "refresher" course on Monday night.  I'm still excited to see more of New Zealand and to take another trip to Wellington with the added bonus of seeing Christchurch for the first time.  Friends have already told me what a pity it is that we weren't able to see it in all its former glory pre-earthquake.  Some of the things that I'm looking forward to doing while we're there…
Ride the Christchurch Gondola…
Visit the International Antarctic Centre (Christchurch is, after all, the international gateway to Anarctica!)…
It's a lot to cram in, but I think that we can do it.  If worse comes to worst, I may go to the Antarctic Centre by myself during Joe's nap or something like that.  Hopefully the gondola will be open by the time we get there (supposed to open on the 25th of March, but we'll see).
And Wellington?  What a cool city.  I'm sure we'll spend some time strolling up and down Cuba Street, make a return visit to Te Papa, and check out Peter Jackson's Weta Workshop.
If you have any suggestions for things we must see or do or great places to eat (preferably toddler-friendly), please let me know!