Hi.  My name is Jenny, and I live in a tiny little house.
Okay, maybe it's not tiny, but it's a heckuvalot smaller than where we lived in Massachusetts.  And I'm assuming that in 93 days our living quarters will be smaller still, as we're currently planning to live in Auckland's City Centre area.  Why is it that as we move "up" in the world, our living space shrinks?
There are some things that I won't part with no matter how much our square footage decreases.  One of those things is my book collection.  I have a lot of books and I've read just about every single one of them.  One day I will have a large wall entirely devoted to books, but this isn't that day.  Currently, my books are crammed into two large bookcases and a few have taken up permanent residence are temporarily stored on my nightstand.
I'm a nerd.  My shelves are organized first by category, then by author, and then by size.  Here's an example, albeit a poor one.  I don't have quite enough space on this shelf to fit everything that I want (and this doesn't even include the 4 other mystery books I have on my nightstand), so things are a bit crammed.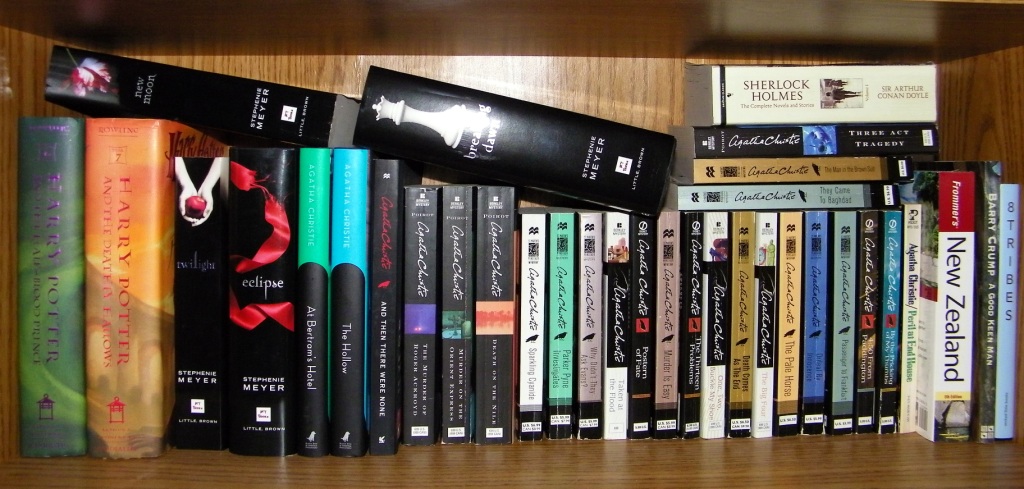 Yes, that is the entire Twilight set.  Don't judge.  See my Agatha Christie collection?  I love Agatha Christie's books.  There are 2 or 3 more in my bedroom as well as the 2nd volume of Sherlock Holmes.  I love Sherlock Holmes.  Wedged into the end is my pathetic collection of books about New Zealand – Frommer's "New Zealand", Barry Crump's "A Good Keen Man", and "8 Tribes: The Hidden Classes of New Zealand" by J. Caldwell and C. Brown.  Even more pathetic is that I've only read one of those three books in its entirety.
Not all of my shelves are devoted to reading material.  Our place has limited storage, so our board games go on one of them.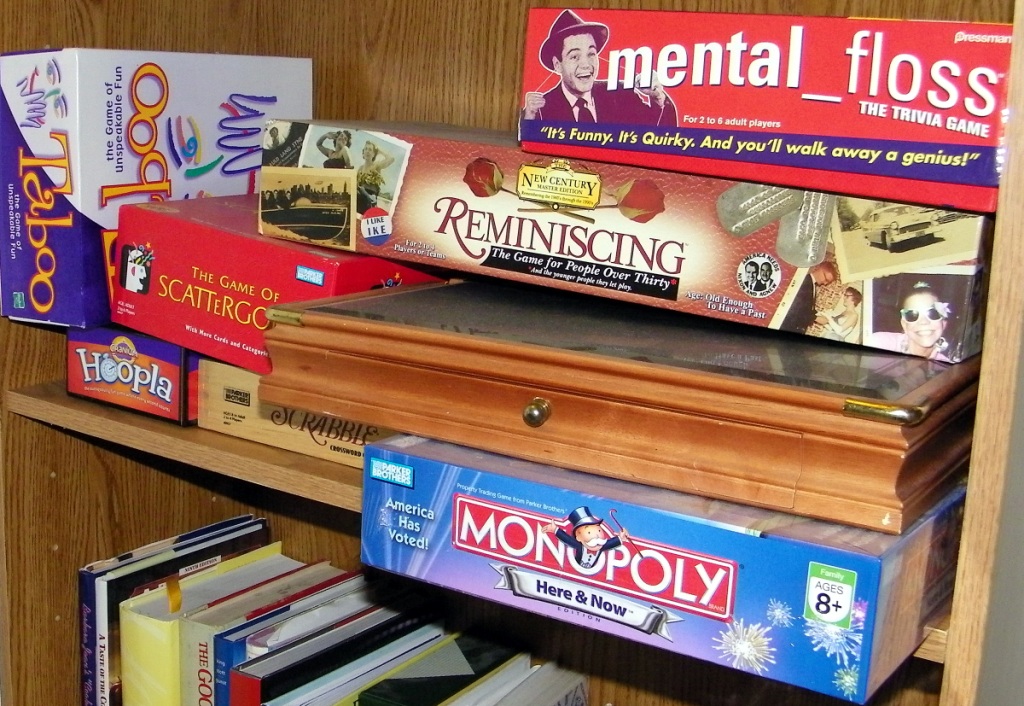 That would be Taboo, Hoopla (which I have never played), Scattergories, Scrabble (my favorite game), Monopoly, a chess/checker/backgammon set (what is backgammon, by the way?), Mental Floss (Chris always beats me at this one), and a game called Reminiscing that is apparently designed for people over 30, which we are not.  We used to have Catchphrase, but it mysteriously disappeared.  I think some friends permanently borrowed it.
Then there's our media collection.  There are a lot more movies that I would like to buy, but every time I think about purchasing one I remember that it'll be one more thing to bring across the ocean.  Netflix will have to suffice for now.  Here's one of our shelves (pardon the poor photo quality):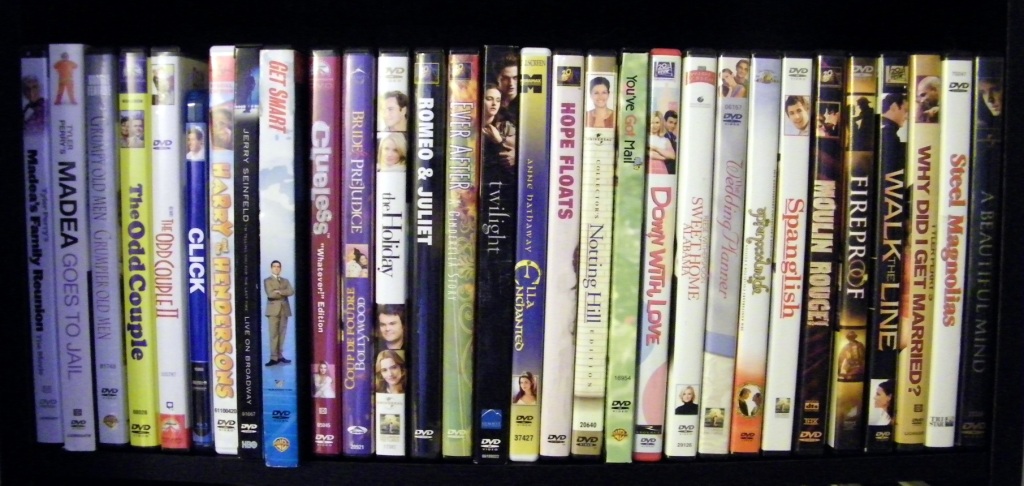 For those of you without eagle-eyes, here's what's on this particular shelf:
Tyler Perry's "Madea's Family Reunion" (I love Terry Perry)
Tyler Perry's "Madea Goes to Jail" (not my favorite TP film, but I bought it on principle)
"Grumpy Old Men" & "Grumpier Old Men"
"The Odd Couple"
"The Odd Couple II" (OK, so I have a crush on Walter Matthau & Jack Lemmon.  Who doesn't?!)
"Click"
"Harry & the Hendersons" (you know you envy me)
Jerry Seinfeld's "I'm Telling You For the Last Time" (you need to watch this, if only for the parts about superhero male thinking and Halloween candy)
"Get Smart" ("Aaaaaaaah!  Oh good!  You heard me!")
"Clueless"
"Bride & Prejudice" (Jane Austen with an Indian twist)
"The Holiday" (one of the few movies with Cameron Diaz in it that I actually like)
"Romeo & Juliet" (hello, former high school crush)
"Ever After" (continuing with our romance theme…)
"Twilight" (don't be a hater)
"Ella Enchanted" (because I love Anne Hathaway)
"Hope Floats" (because I love Harry Connick, Jr.)
"Notting Hill" (opening credits to music by Elvis Costello is reason enough to buy the film)
"You've Got Mail" (perky Meg Ryan with Tom Hanks, who reminds me of my husband because he's so sweet and smart and cute!)
"Down With Love" (if you haven't heard Ewan McGregor sing, then you're missing out.  Just wish it didn't have quite so many sexual innuendos…)
"Sweet Home Alabama"
"The Wedding Planner"
"Princess Bride" (no movie collection is complete without it)
"Spanglish" (I love this movie.  It has such a great ending, and Adam Sandler does an amazing job in a non-comedic role)
"Moulin Rouge" (more of Ewan McGregor singing…)
"Fireproof" (not the best acting, but a great story)
"Walk the Line" (bought this on a whim and I still don't like it.  If you want it, email me and I'll send it to you)
Tyler Perry's "Why Did I Get Married?" (one of my favorite movies)
"Steel Magnolias" (cry every time I see this one)
"A Beautiful Mind" (if you've ever seen photos or video of the real John Nash's son, then you know how good of a job Russell Crowe does in resembling him both in looks and mannerisms)
I hope that you've enjoyed this little tour of my shelves.  Maybe next time you'll get extra lucky and I'll show you what I keep in our laundry cabinet… or pantry!  Until then, I hope that all of you, my lovely readers, have a wonderful day 🙂