I'm still enjoying having access to a full, complete kitchen once again.  My cooking and baking senses have gone into overdrive, and Chris and Joe (and lets face it, me as well) are reaping the rewards.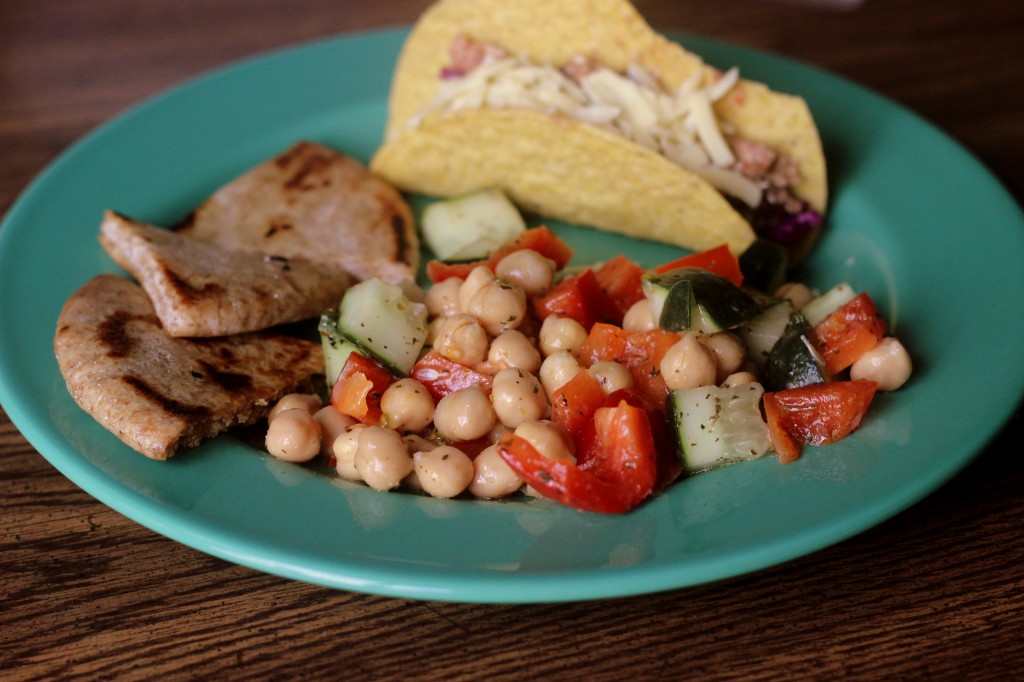 This is a photo of two meals that I made recently.  The first is the one in the background and is unfortunately blurry – Slow Cooker Chicken Black Bean Tacos from Skinnytaste.com. I didn't realize how much of a difference adding red cabbage could make to tacos but trust me, it takes them from fine to fabulous.  Joe was a big fan, which always makes me happy.
As usual, I made a few modifications to suit our tastes.  You can click on the link above for the original recipe.  Here's what I did to change it up:
Use lime juice as suggested in lieu of red wine vinegar
Don't add as much chili powder (Joe can't handle the extra heat)
Double the recipe and up the crock-pot time by 1 hour – this yielded 16 tacos which made dinner, lunch leftovers, and extras to go with the next night's salad
Shred the chicken on a plate, then return to black beans and mix together
Start the layers with coleslaw on the bottom
Top with shredded cheese, homemade salsa, hot sauce, or whatever else you like
These go well in taco shells but also in a tortilla or in a pita… I actually preferred them the next day when the chicken mixture was cold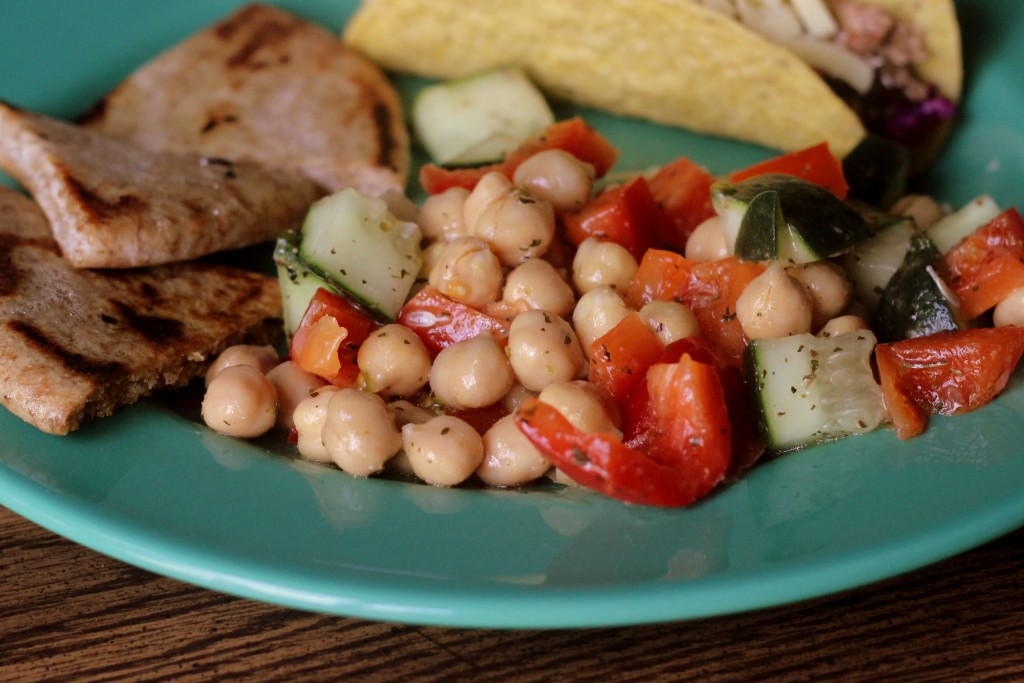 Next up is Chickpea Salad.  I came across this gem on Fit Pregnancy and oh my, is it delicious.  I left out the butter lettuce and olives, but other than doubling it kept it exactly the same.  It makes a large bowl with enough for leftovers.  Yes, I like to have leftovers.  As my mother once said, "If you're going to make a mess, you might as well make a big one".  Joe was a fan of this recipe, and it goes well with the chicken tacos.  I made it with the toasted pitas but didn't double those (I figured that we could do without the carbs).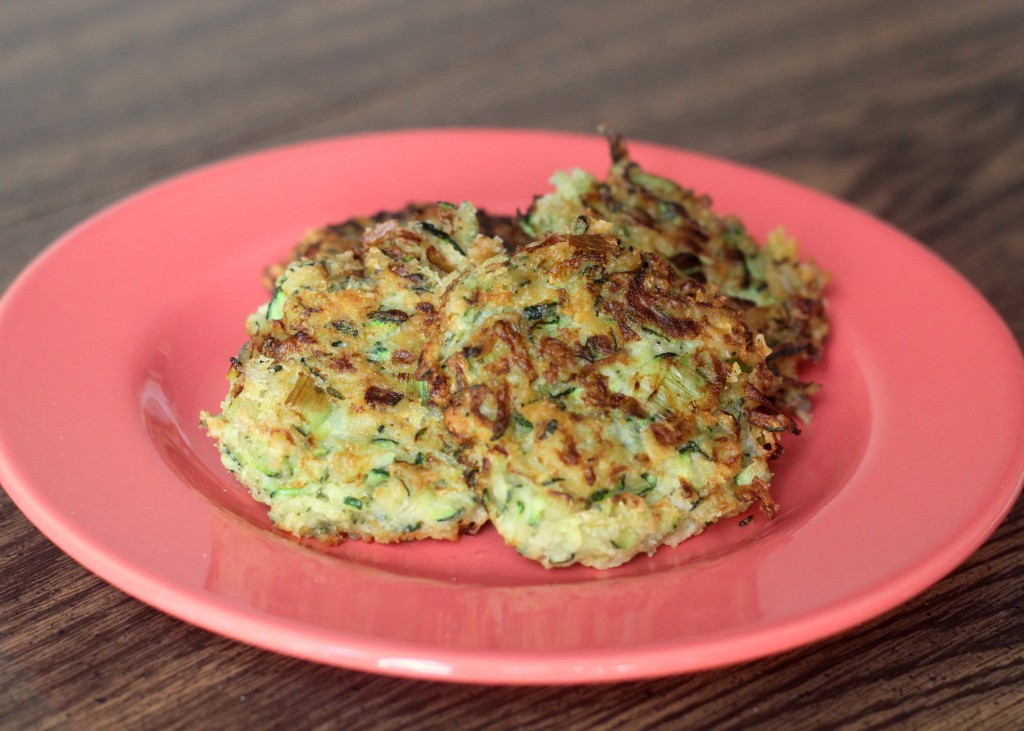 These were some zucchini fritters that I threw together using leftovers.  We were in a rush for dinner and I wanted something easy.  They turned out to be perfect and another Joe-pleaser.  They might sound semi-complicated, but they're simpler than what you'd think.  I added a small amount shredded cheese to suit our tastes and would recommend following her suggestions of serving with sour cream, plain full-fat yoghurt, or lemon juice.  We didn't have those on hand and while they were yummy without them, one of those additions would have been nice 🙂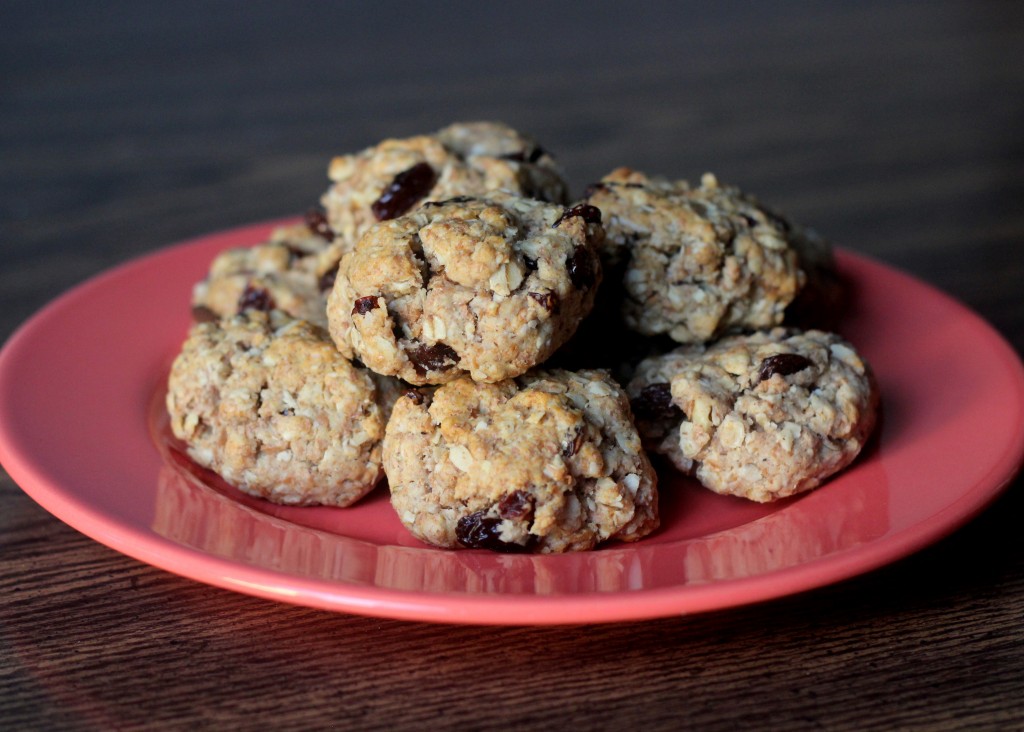 These are (almost) vegan oatmeal raisin chocolate chip cookies.  Almost, because I added some decidedly unvegan dark chocolate chips.  Mid-mixing them up, it dawned on me: these are vegan.  Vegan, as in no dairy and no eggs.  Which means that this pregnant mama can safely indulge in some raw cookie dough.  Yahoo!
Yes, I doubled them and yes, they make a lot.  I put most of them in the freezer for things like giving to friends, bringing to parties, etc. (okay, okay, I admit that they're also for when we've I've got a chocolate craving!).
Based on doubling the recipe, here are my substitutions:
Use 5 C whole wheat flour instead of 5 C spelt flour
Use 2 C raisins + 1 C dark chocolate chips in lieu of 3 C raisins
Add the optional finely chopped walnuts
Use 1/2 tsp cinnamon + 1/2 tsp allspice instead of 1 tsp cinnamon (don't skimp on the cinnamon – I usually add a bit extra)
Use 1 C real maple syrup, 1/2 C mild liquid honey, and 1/2 C warm water in place of 2 C maple syrup (I ran out of maple syrup so had to make up something on the fly – turned out pretty well, though I'm sure you could use syrup only and they'd be great)
Use the coconut oil.  I've made these with sunflower oil and they're good, but the coconut oil gives it a little something extra.
These cookies are kind of dry, in my opinion.  If you're mixing them up and you think that the dough is too crumbly (like I thought), then add some oil a little at a time until you reach the desired consistency.  Don't be afraid to use your hands to mix the dough.  Another note: these don't spread out much.  I had them in nice little spheres on the cookie sheet and they came out as slightly flattened nice little spheres, a bit like biscuits, as you can see in the photo.  No worries – I just pressed the next batch down a bit and they were fine.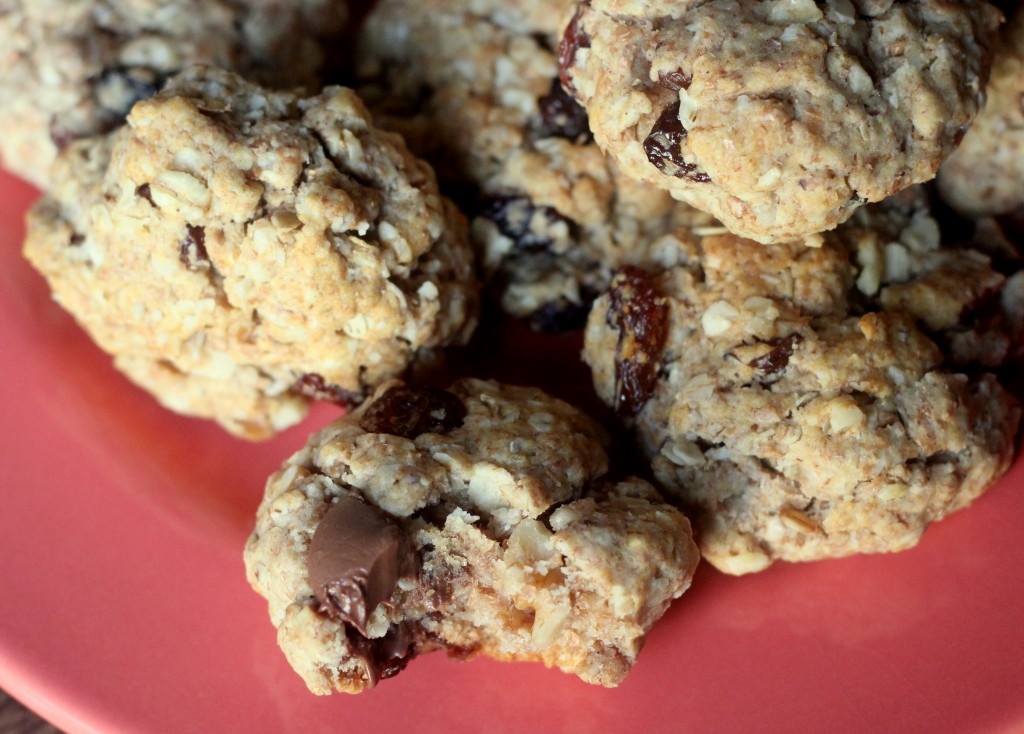 What's been cooking in your kitchen lately?