Good morning everyone!  Don't forget to enter my giveaway if you haven't done so already!
Today is "Happy Budget Day" in the Practically Perfect household, and I'll tell you why – I'd recently read Mrs. Newlywed's post about their budget, and I kept thinking about it.  I decided to email her 2 weeks ago and ask for her template, and she was kind enough to send it to me.  I went through and filled things out, deleting and adding  categories as needed.  And today, September 1st, is the great day where we actually start using it!  Yay!  I know, I know – getting excited about a budget? Who does that?  Well, I do.  I reminded Chris that he needed to start saving his receipts, because I'm planning to do the day-by-day tally as well.  I think that's easiest in terms of making sure that we're not overspending.  Chris has been pretty helpful with the budget prep.  He looked over my original and made some suggestions, and he's glad that we're going to be tracking our spending, too.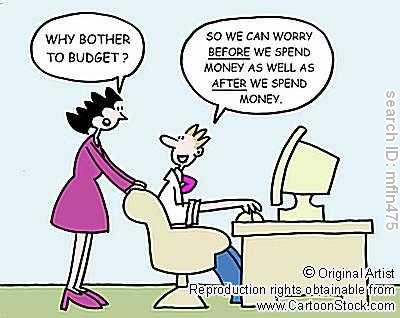 A little info about our finances.  We try to live off of only one income.  I say "try" because in the past, we haven't been quite as aware of whether we're actually doing that.  We've monitored our spending on a week-to-week basis, but not had any specific goal in mind.  Now that we have an actual budget, it'll be easier to make sure that we're actually doing that.  So, we live off of Chris' salary and mine goes into savings.  We have 3 credit cards but we carry no credit card debt.  We have one card that gives us great Marriott points, another with a good cash-back reward program, and another card because it was the only one that Costco would accept.  I know that some people think that credit cards are terrible or that you should only have one.  We've read and been told by our financial advisers that it makes more sense to have at least one credit card, but that 2 or 3 is preferable in order to build good credit quickly.  The key is to  always pay off the balance each month… on time.
We have a small student loan of about $5,000 for when I went back for my 2nd bachelor's degree.  We didn't have to take out the loan, but because of interest rates it made better financial sense to have a loan as opposed to taking money out of our investments.  If we had to, we could pay it off right now, but it still makes better financial sense to leave our investments as they are and make payments on the loan.  We'd like to have this paid off before moving to New Zealand in May and, Lord willing, that is what will happen.
We don't have any car payments.  I drive a 2003 SUV that was actually an early graduation gift from Chris' parents when he got his BA and MA.  Chris drives a '99 Malibu that I bought used and paid for in cash when I graduated from college the first time.  It's a perfectly fine little car for getting around town, but if we weren't planning to move to NZ we probably would've taken advantage of the Cash for Clunkers program and gotten something better.  As things are, we'll probably donate it when we move to New Zealand as opposed to selling it, which is what we plan to do with the SUV.
Our rent payment is less than 25% of Chris' monthly income.  That's just good financial sense – your home expenses (rent or mortgage) should not be more than 25%-30% of your total income.  We put 10% towards tithe as well.  Our other monthly bills include electric, internet, and our cell phone plans.  We decided against renewing our cell phone plan this year, so it's on a month-to-month basis.  We didn't want to sign a 2 year contract with only a year left before moving out of the country.
You may have noticed that I didn't list TV as one of the monthly bills.  We have a nice HD flat-screen, but we don't have any channels.  That's by choice.  When we were first married in December 2005, we went without TV channels for almost a year, and it was fine.  After about a year of marriage, we moved to a place that had about 20 free channels, and we definitely watched them.  I didn't care for that.  We'd get home at the end of the day and watch TV for like 2 hours.  It seemed like a waste of time and I felt like we weren't talking as much as we used to.  When we moved to Massachusetts, we decided against getting any TV, and we've continued that practice now that we've moved back to the Midwest.  So if I'm a follower of your blog and you do a TV recap post, I have to tell you that I just skip those.  It's nothing against TV – we actually watch movies or documentaries or TV shows on Blu-Ray or DVD a few times a week – it's just that we don't like spending money on something that we don't use very often.
We I stay connected with the outside world by reading 6 newspapers online a day.  I don't read the whole thing, but I do check the main stories and any special interest sections that appeal to me.  A perk to not subscribing to TV is that we have lots of time to read, and we read a lot.  I probably go through 3-4 books a week in the evenings before bed.  I'm glad that our library is less than a mile away.  I go there a few times a week for books and DVDs.  If you have a library near you and you haven't visited it, I would recommend that you do.  They're free (or in our case only charge 50 cents for movies), and a lot of them are pretty well-stocked in recent releases.  I usually just go online and reserve what I want so that in the next day or two I can walk in, pick it up, check it out, and walk out.  Easy as pie.
Sorry for that little segue, but I find that when people realize that we don't have TV channels they think that we're some type of modern-day Luddites who don't like technology, or that we're morally opposed to it.  Not the case – we are definitely involved in modern culture and aren't sequestering ourselves away from the world.
Back to the budget – I'm excited to start it and I plan on doing a follow-up post in October to let you know how we did.  I think that it will be eye-opening in some areas and pretty unsurprising in others.  I'm interested to see how the idea of our spending matches up with reality.
Alright my lovely readers – I've got to be going.  Have a great Tuesday!