Hello my lovely readers 🙂  Today isn't actually my birthday, but I'm working on the 23rd and wanted to celebrate today.  I've found that as I get older, making a big "to do" about my birthday is less and less important.  Today, all I wanted to be able to do was sleep in, spend time with Chris, have a nice dinner at home, and have a few presents to open.  In that respect, today was a perfect day.
Chris was sweet as usual.  He bought me 2 books that I'd been asking for and 6 DVDs.  However, my favorite gift was a pair of these: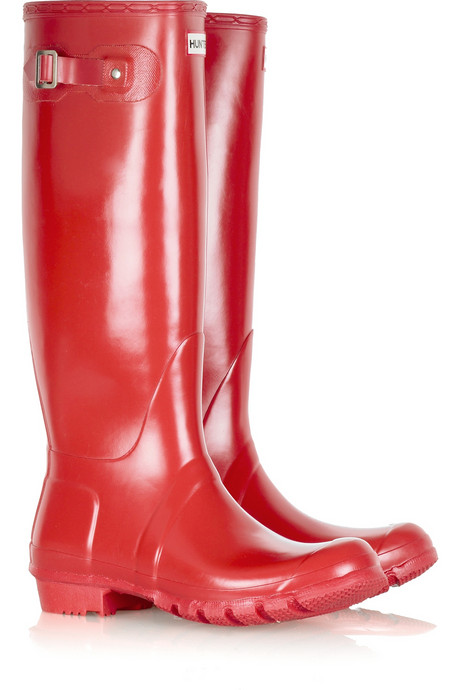 I'll need a good pair of wellingtons (or rain boots, or gum boots, depending on which part of the world you're from!) for when we move to New Zealand.  I'd been looking for a pair since we first found out about our move, and knew that Hunters had a reputation for being the best.  I wanted to get a pair that would last, and  was so pleased with this gift.  Naturally, I put them on immediately and wore them around the house for awhile.  They're comfortable, a great fit, and I love the fact that they're red 🙂
My in-laws sent some sweet, completely unexpected presents, too, of which my favorites were a piece of artwork from Park West Gallery and an Asus Videophone Touch.
I'm hoping to video chat a lot with family once we're overseas.  The Asus Videophone Touch is wireless and comes with an hour's credit of SkypeChat included (yay!).  I'll be able to chat with any of my family or friends who have a webcam 🙂  It's also nice because if someone wants to chat with us, we don't have to be at our computer or have the computer turned on.  We can just set up this phone in the kitchen or living room, and if someone wants to chat, it'll ring like a regular phone.  No need to turn on the computer, get online, and log on to Skype – it'll already be set up.  Big, big thank you to my in-laws for this thoughtful gift.