New Zealand truly is a beautiful country, but just like anywhere, it's got its share of pigs: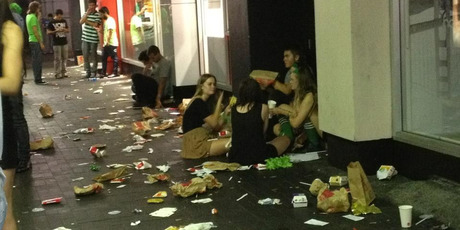 That's a photo via the NZ Herald, showing just how piggy people can be.  This is in front of a McDonald's in downtown Auckland.  It doesn't normally look like this, but add in an event, lots of people, and most likely a fair bit of alcohol, and this is what you get.  The article wrote about people sitting near piles of vomit whilst eating their food.  Dee-sgusting!  It's a really bad representation of New Zealand for visitors.  I feel sorry for the poor McDonald's staff who kept trying to keep the area clean.
And in other news, it is getting wet in Auckland.  What looked to be an Indian Summer has turned into a deluge.  I'm hoping that our autumn will perk up a bit, but for now it's quite damp.  I was walking home from the bus stop after being at work late last night, ruing my decision to go without a jacket.  I did have my umbrella (I've learned never to stray too far without one of those nearby) but still managed to get soaked thanks to driving winds and large puddles that had turned into flowing streams.
It was worse in Whangarei (pronounced, "vahn-gah-ray"), an area in the Northland region of New Zealand: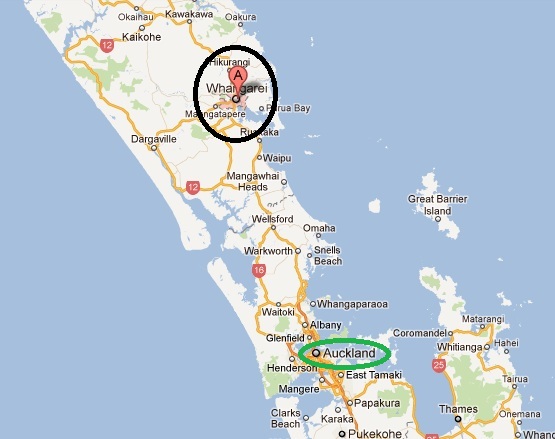 You can see Whangarei circled in the black, and Auckland a bit further south in the green.  They were literally flooded yesterday, with rescuers being kept busy plucking unfortunate people out of the water: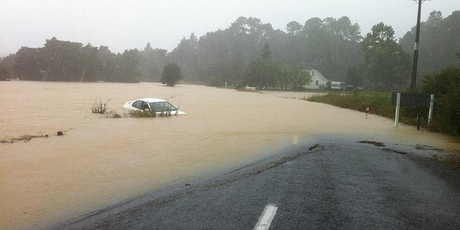 Definitely time to get out the gumboots and brollies!