Yesterday's weather was beautiful – sunny and 60 degrees.  I had clothes hanging to dry on the line and the sun was shining, but I couldn't do much outside because Jack was napping and our baby monitor only reaches so far.  I remembered that I had some blueberries that needed to be used up, so I did a quick online search for blueberry muffins and found this recipe over at Sally's Baking Addiction.  A read-through linked me to her chocolate chip muffin recipe, which is virtually the same as the blueberry ones.  You know me – if I'm going to make 1 batch, I might as well make 2 batches!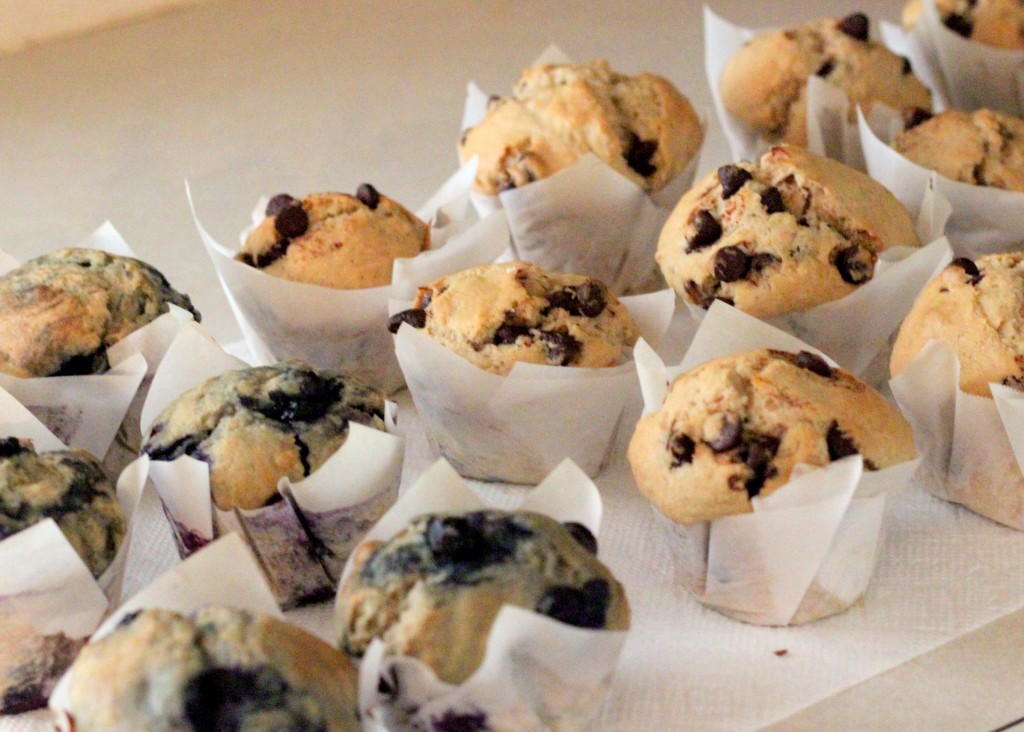 Since these were jumbo and bakery style, I opted against using regular muffin cup liners and made my own parchment paper ones, just like in many bakeries.  They're easy to make and hold a bit more batter – here's a good tutorial if you're interested.  Each parchment paper cup is a 5×5 inch square, and you mist the muffin pan with either some baking spray or water to make the parchment paper stick (just be sure that the paper is pressed flat against the sides so that your muffins don't have big creases with paper in them).
I doubled the batter recipe, then poured half into the bowl that I used to mix up the wet ingredients.  One bowl got chocolate chips.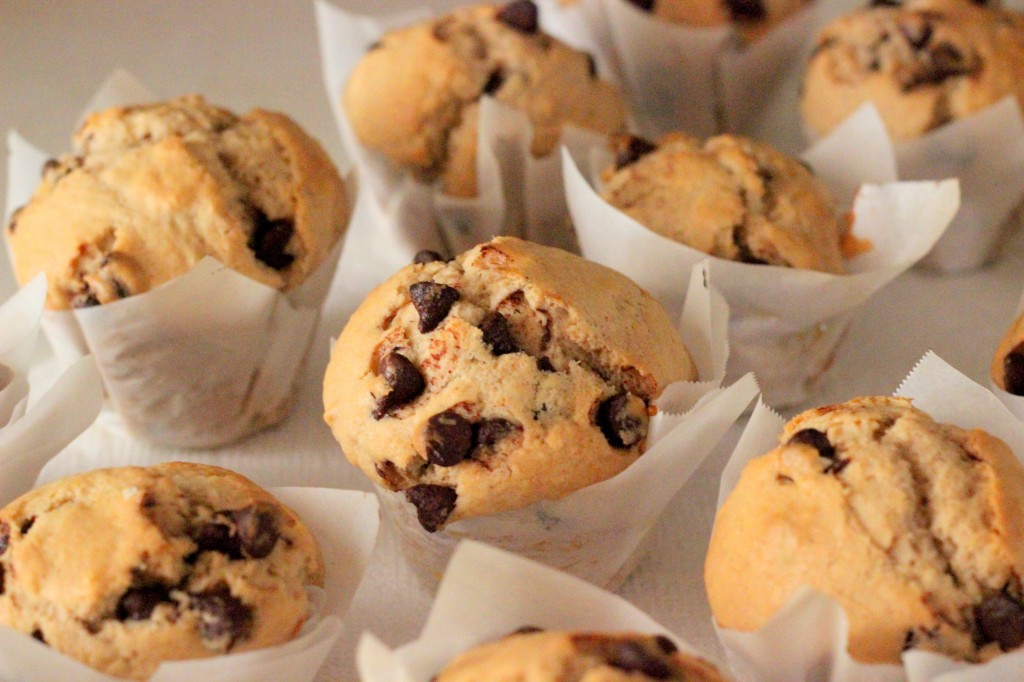 The other bowl got blueberries.
I followed Sally's recipe pretty much to the letter.  The only differences were that (a) I cut the sugar by 25% (so for a double batch, 1 1/2 cups of sugar instead of 2 cups) (b) I left off the sparkling sugar sprinkles, and (c) I made 12 huge muffins rather than 15 – 16 standard muffins, and (d) I measured out my flour in the scale (6 cups of flour = 750g, or roughly 125g per cup… measuring it in a scale is so much easier than doing scoop after scoop, and more accurate in my opinion).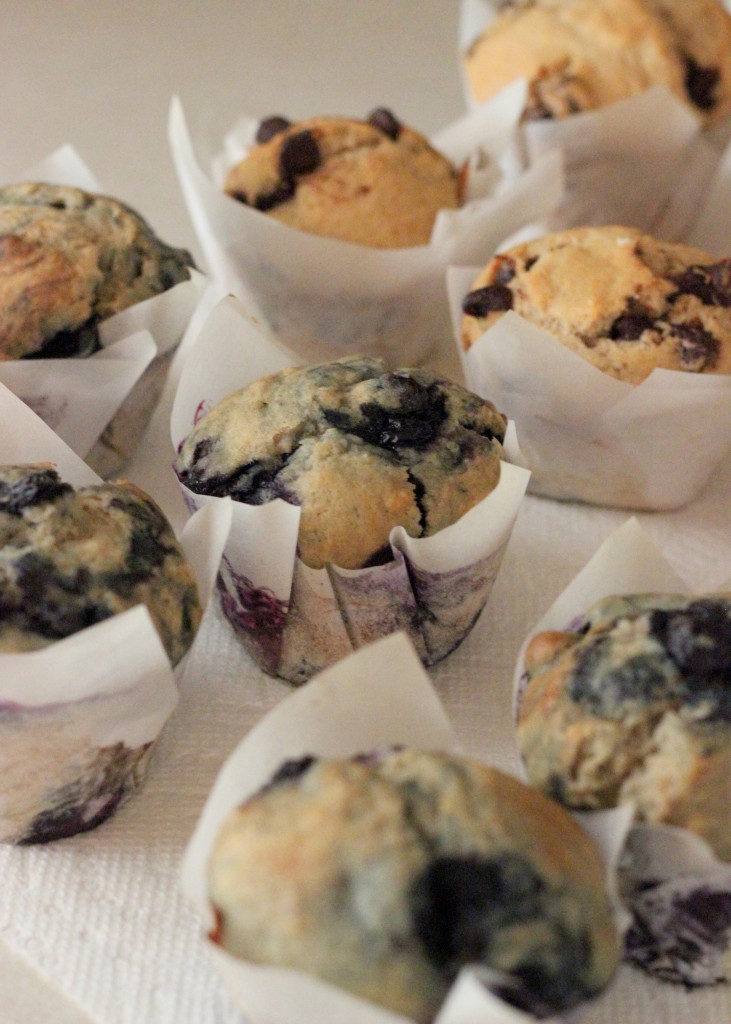 I popped them out of the pans and set them on paper towel to dry (the paper towel helps absorb some of the moisture that is released through the bottom of the muffins while baking).  Once cool, I popped 6 blueberry and 6 chocolate chip muffins in the freezer for a later date.  The rest went into the fridge for special snacks and dessert.  Something about having a giant muffin in it's own parchment paper liner makes the day feel so decadent.  Joe seems to agree.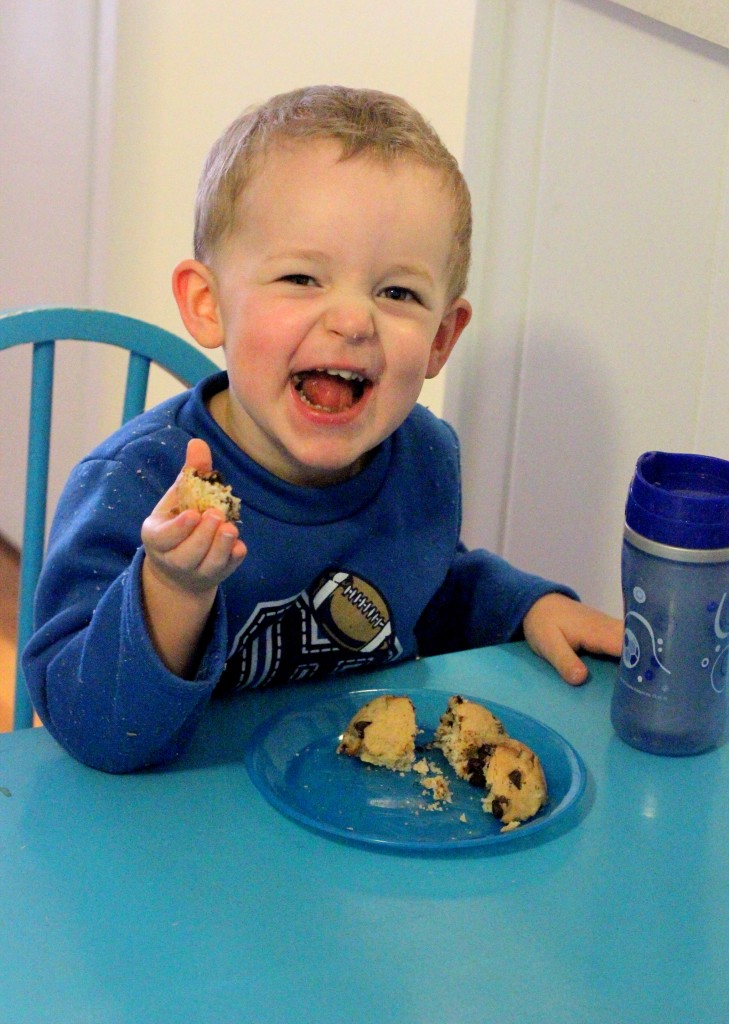 Do you have a favorite giant muffin recipe or a favorite bakery that makes this type of muffin?  Be sure to share in the comments below 🙂