I did my first book review on this blog in September.  I thought it went well and had every intention of doing another one in October.  Well, October came and went, and I didn't do a review.  I had a book, yes, but no time to read it, and therefore no time to review it.  When this month started, I was bound and determined to finish the book, review it, and post about it before November was up.
So, here it is, nearly November's end, and I'm making good on my promise to myself.  Let me first say that I've not read any other reviews of this book, and I'm not being compensated for this in any way.  This is just something that I'm doing for my (and hopefully your) enjoyment!  Without further ado, I give you "Leaving Carolina", by Tamara Leigh.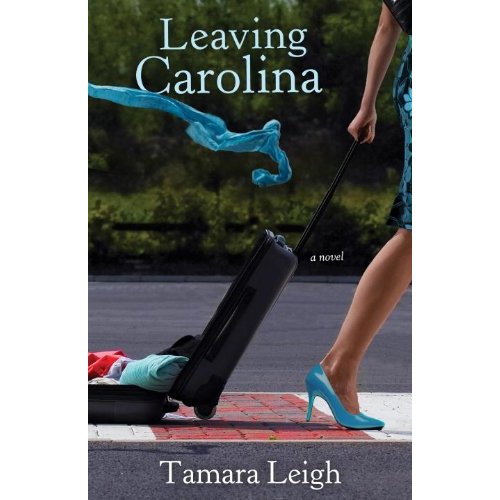 The main character of this story is Piper Wick, formerly Piper Pickwick.  Piper and her mother left their hometown of Pickwick, North Carolina for a new life in California when Piper was 18 years old.  They wanted to escape from their rude, well-to-do relatives and any reminders of the husband and father who had abandoned them.  In the twelve years since then, Piper has made every effort to forget her Southern roots.  She cut all ties and took voice lessons to drop the drawl, even going so far as to shorten her name to "Wick" instead of Pickwick.  Motivated by a desire to disprove the predictions of her cruel aunts, uncles, and cousins, she becomes attractive, successful, and content… sort of.  Through hard work, she's made partner in a large PR firm, is engaged to be engaged to a US Senator (who is also a client), and is generally happy with her life.
Then, she gets a phone call.
Piper's Uncle Obadiah ("Uncle Obe") is having surgery.  As a result of his declining health, he's threatening to change his will in order to make restitution to those his family has wronged while simultaneously exposing the dark, dirty secrets of the Pickwicks' past.  The family lawyer calls on Piper, hoping that her PR skills and relationship with her uncle will enable her to put a positive spin on things, if not totally prevent them.  Feeling guilty over not keeping in touch with Uncle Obe, the one family member who was kind to her and her mother, and thinking of what might happen if her Senator boyfriend finds out about her family, Piper reluctantly makes the decision to fly from LA to NC in order to keep a lid on the family's, and her own, scandals.
Upon arriving in North Carolina, she becomes overwhelmed by reminders of her Southern heritage.  Small-town, small-time, and, unfortunately, small-mindedness seem to still be in place in certain corners of Pickwick.  The family lawyer has already shut his office for the weekend, and Piper has no choice but to stay the night at her uncle's home while he's in the hospital.  She drives to the family estate, only to find the gate locked and barred.  Not to be deterred, Piper puts her shoes in her purse, scales the wall, gets her pant's leg caught in the wrought iron, and nearly faints when her uncle's gardener tries to help her down.  Thinking he's a burglar, she reaches into her purse for the gun she's learned to keep handy while in LA, only to attempt to hold him at bay with a high heel.
The story develops from there.  Piper is convinced that her family hasn't changed.  The last thing she wants to do is let down any of the walls she's built around her heart.  She has no desire to give them a second chance and keeps her mind closed to the possibility that time, distance, circumstance, and God can improve someone.  It's only through some painful self-realization, helped along by the handsome family gardener, that she learns that people can become better versions of themselves.
__________________
I have to admit that when I first started reading this book, I couldn't get into it.  I would read some pages, then put it down for a week or two.  Part of this was my schedule – things were busy with work and whenever I had free time, it was spent doing other things.  I knew that I would have to stick with it if I wanted to finish this before December.  The book was interesting, entertaining, and enjoyable, but I never reached the point where I couldn't wait to see what was on the next page, the point where I was "hooked".  Part of this may be the fact that I'm not from the South and so I didn't feel the same "connection" that a Southern reader might feel.  Part of it may also go back to the same thing I said before – work.  I was so busy that I didn't have a lot of time to enjoy things like reading.  Regardless, I'm glad that I read it, and I would recommend it to others, particularly if you're from the Southeast.
I'm going to rate this book using the same categories as I did before: (1) Interest and Creativity – basically, how interesting was this book? (2) Readability – was the book too long, too short, was the storyline hard to follow? (3) Likelihood of Recommendation – what are the odds that I recommend this book to another reader? (4) Moral Content – whether or not I think that the book does a good job addressing moral or spiritual issues, and (5) Overall.
This book was interesting, but like I said earlier, I wasn't overwhelmingly interested.  In this category, I give it a "B".
Readability – This book was right in the middle of the road in terms of readability.  It wasn't too long, wasn't too short, but the storyline was a bit hard to follow at times.  I would give it another "B" in this category.
Likelihood of Recommendation – Once again, a solid "B".
Moral Content – spiritually speaking, this book didn't address much.  I'd give it a "B-".
Overall – Overall, I would rate this book, not surprisingly, a "B".  It was a good, average book, which considering how many crappy books are out there is saying something.  Just because I wasn't enthralled by it doesn't mean that you won't be, though!
Now that I'm done with "Leaving Carolina", I'd like to pass it along to one of you, my lovely readers.  If you think that you might want to give this book a shot, please leave me a comment telling me what you think of the review.  If you want an extra entry, let me know if you're a follower and I'll count you in twice.  Entries will be closed at noon on Saturday, November 28th, and I'll announce the winner on Monday.  Good luck!