I finished a few little projects this weekend and wanted to share them with you, my lovely readers.
Weekend Project #1: Painting and installing an above-the-commode cabinet in hallway bath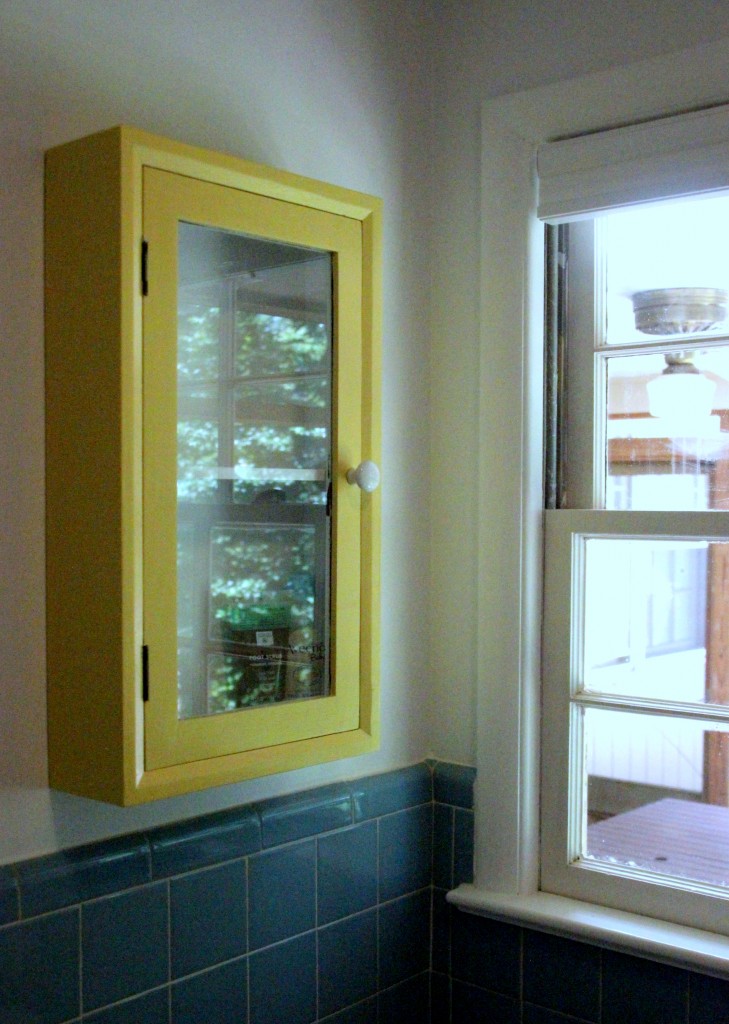 I found the cabinet at World Market the weekend before.  It was originally a dark brown with "whitewash" splotches.  In other words, it was a new cabinet trying to look old.  I didn't care for the paint, but I did like the cabinet itself.  I bought it, took it apart, sanded it, primed it, and painted it yellow to match a small slate wall-hanging that I have in this bathroom.  I took off it's dingy wooden knob and replaced it with one of the original bathroom cabinet knobs (which I'd recently replaced with new glass knobs).  I'd kept the old knobs to give to ReStore or turn into a coat rack or some other such thing.  When I bought the cabinet, I thought it was fitting to use one of the original pieces of bathroom hardware for the new cabinet.
Before this, there was nothing above the toilet.  Just a blank, white wall.  I wasn't sure about a yellow cabinet in a blue bathroom, but it works.  It matches the slate wall-hanging (something I've had since Chris and I were married) and it matches the other picture hanging in there, the one that I bought on our honeymoon in Spain.  And it had an unexpected bonus: it helped me finally decide on a color for the bathroom vanity.  I've been trying in vain to find a shade of blue that would work with both the wall and floor tiles, but nothing did the trick.  Seeing this yellow, however, made me settle on painting the vanity yellow, too.  I know it sounds a bit weird – yellow in a blue-tile bathroom – but I think it will work, especially if I add in some fluffy yellow towels to match.  I'll take a photo of the finished project whenever I get around to painting in there again.
Weekend project #2: Painting trim and hanging shades in dining room windows
This photo is terrible, but hopefully it'll give you an idea of what the windows look like now.  The trim has been painted with 2 coats of Benjamin Moore Super White, and I've installed the new shades.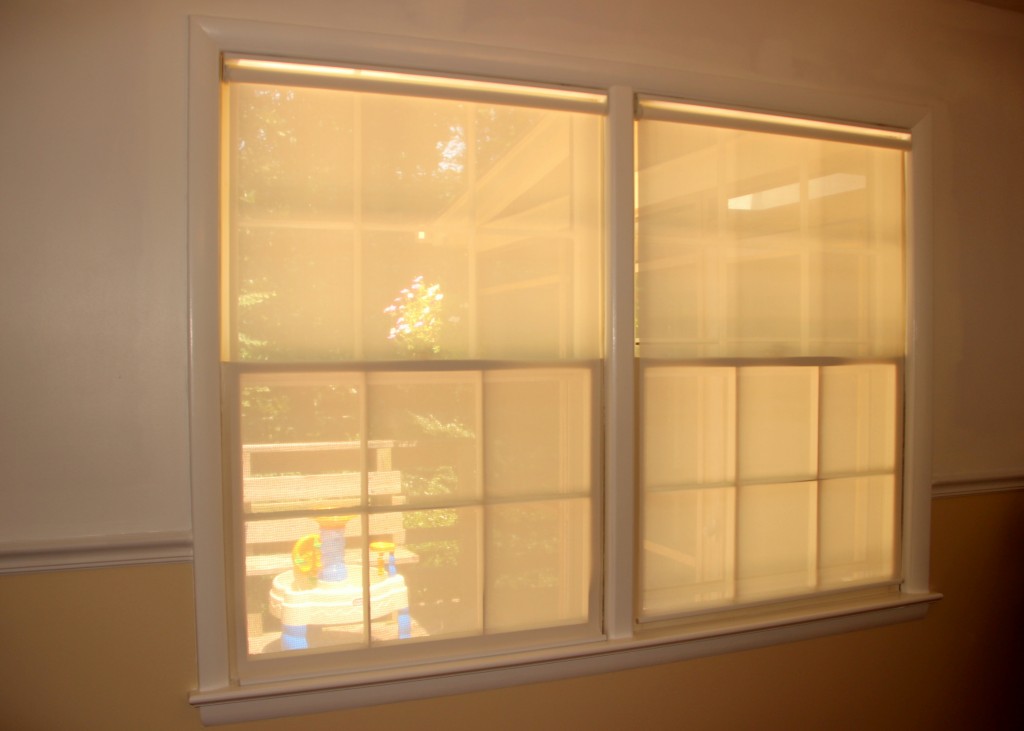 This lighting in this picture is awful, very dim and dark.  Then again, this room is dim, so maybe it's more accurate than I'd like to think.  But the paint is definitely, definitely not this orange.  Oh well, moving on.
The roller shades are installed. They're more sheer than I thought they'd be, but perhaps that's best given how dark this room can feel. From the dining room, you look out onto our deck and the back yard ravine (or wooded slope, whatever you want to call it) so privacy isn't a concern.  Wouldn't want these shades for a bedroom, though!  I still need something "else" for these windows, but what?  A single valance?  Curtains?  I don't like the idea of curtains right now because Jack is a food-flingin' fool at the table.  I've already had to wipe down the new paint job to clean up after him, and I don't want to get panel curtains only to have to wash them each week.  So, I'm leaning toward a simple valance for the moment, something to cover up the tops of the shades.
Weekend project #3: finally cleaning up Joe's 2-step shelf.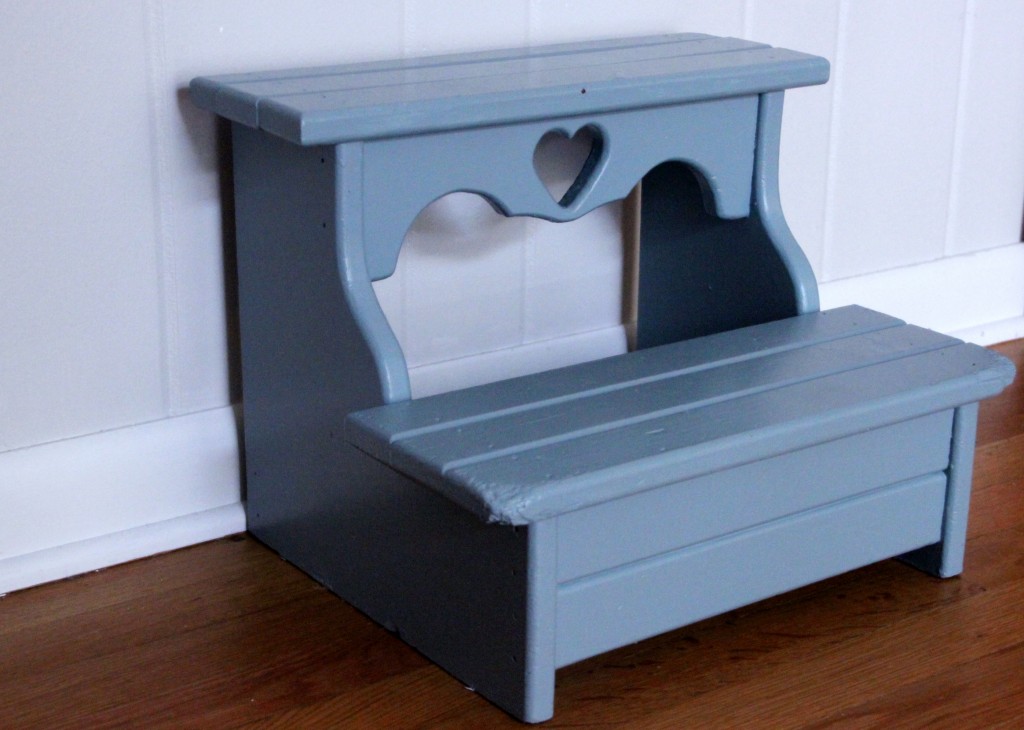 This little thing was a side-of-the-road freebie that I picked up on W&M's campus. It was banged up and beat-up and, to be honest, still looks kind of rough.  But it was free, and all it took was some sandpaper, primer, and leftover blue paint to freshen it up.  Joe loves this step stool and carries it into the kitchen whenever he wants to assist me in my cooking or baking.  Another bonus: one less item in the landfill!
Speaking of freshening stuff up, here's a photo of the storage bench that I got at the ReStore a few weeks ago.  It was $42.50 and when I saw it, I knew it would be great in the toy room.  I went out the next day to buy some MDF board, high-density foam, and used some outdoor fabric to make a cushion.  Here's the end result.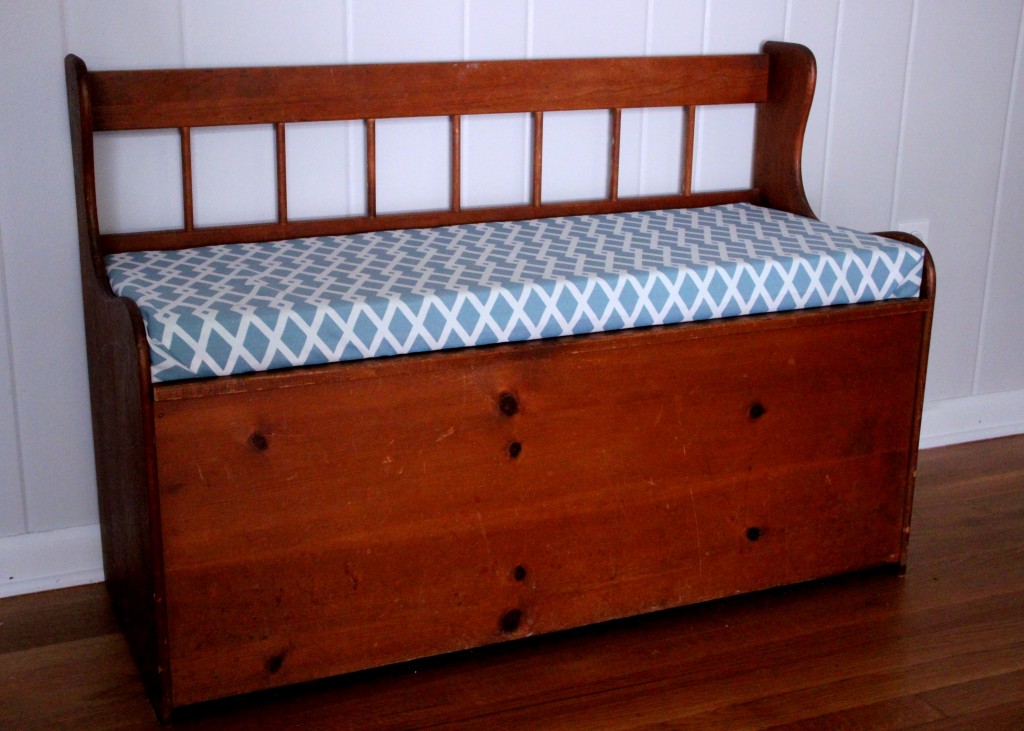 OK, it still needs some TLC.  I also realized that I don't care for the fabric color – you can't tell in the photo, but it's actually more "seagreen" than "blue" and doesn't work with the blue-gray walls.  Also, I want to paint the wood but haven't settled on a color.  Not white.  There's too much white in that room.  White trim, white baseboards, white crown molding.  Maybe a darker version of the blue gray with a different fabric on the cushion, but this will do for now.  Or maybe I'll find a fabric that works and paint it a totally different color, something that ties the room and the fabric together.  Who knows.  I love that it provides even more storage for the toys that seem to overrun this room, as well as some much-needed seating.
Other weekend projects were less about home DIY and more about homemaker stuff!  I made some banana bread for the freezer along with banana bread mini muffins for snacks.  I also put together over 6 dozen meatballs, also for the freezer.  Oh, and hung out with these 3 goofballs.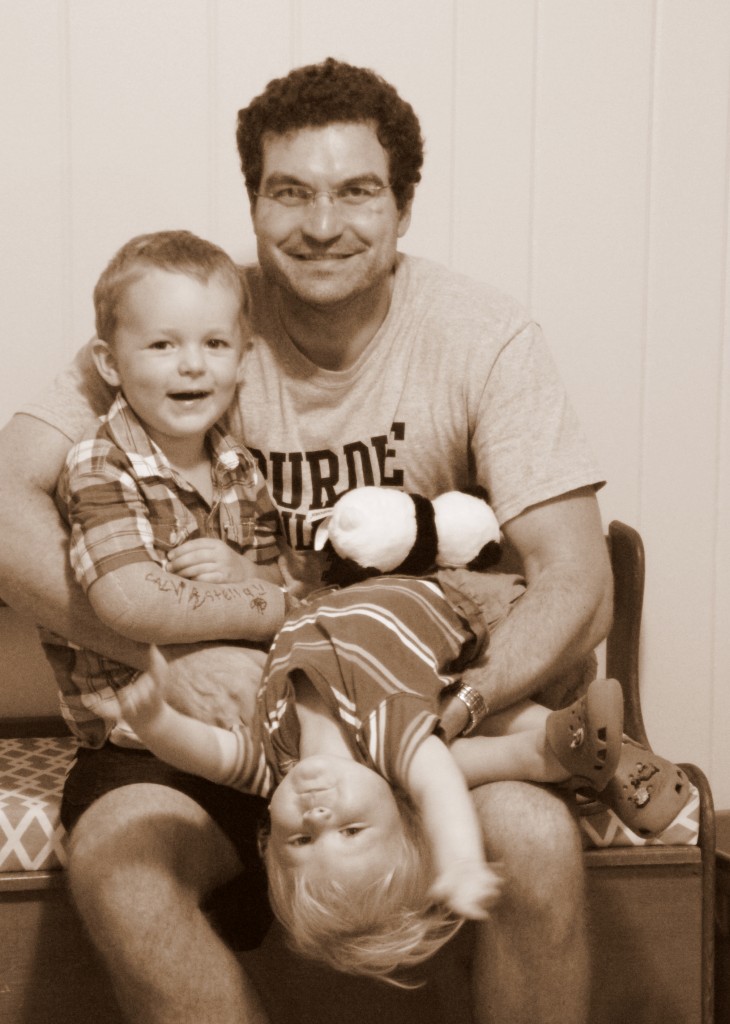 Definitely a full but fun weekend 🙂