Many New Zealand businesses do a great job, in my opinion, of catering to families.
Case in point: the parent room, or family room, or changing room, or whatever you want to call it.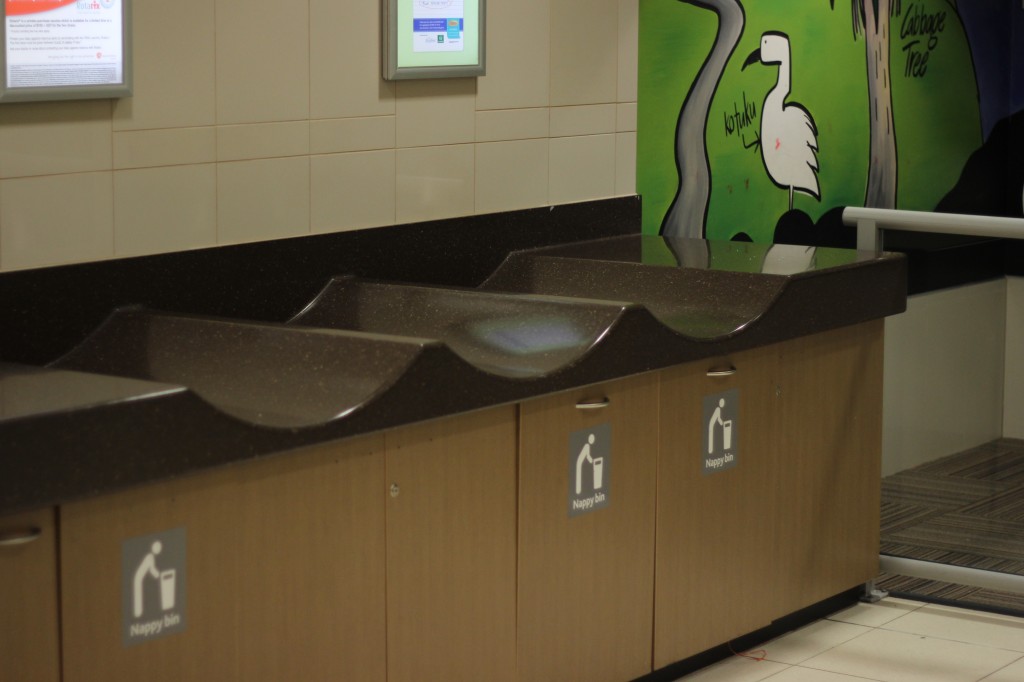 Changing stations with nappy bins underneath
I know that there are changing rooms at many businesses in the States, but it's rare to see changing areas as nice (or as frequently) as what we've seen over here.  I haven't done any sort of statistical analysis, but as far as I recall, most of the places we visit – groceries, shopping malls, cafes, galleries/museums, parks – have some sort of changing area, but usually a bit more than that.
Take our recent visit to a local shopping mall.  I've marveled at these particular facilities (and similar ones at other locations) but had my camera with me this time around.  Please ignore the blurriness – I was attempting to get a few quick shots before another parent came in and wondered what I was doing with a camera.  I didn't want to have mall security called on me or be accused of being a creepster!
There's provisions for nursing/bottle-feeding…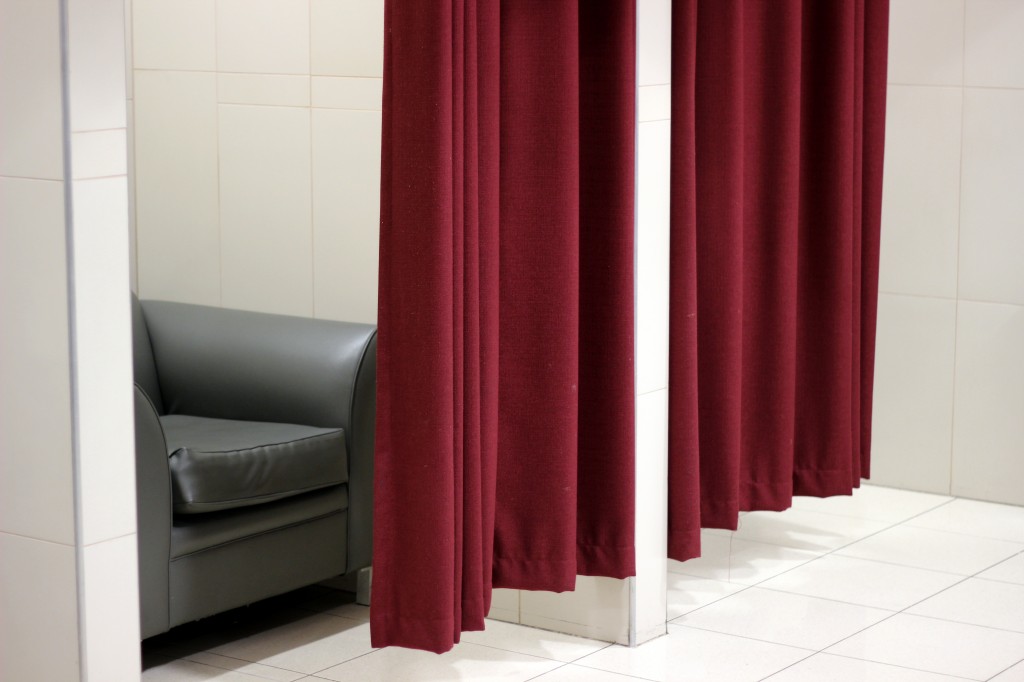 Individual, private nursing rooms with comfy chairs
Or prepping and warming up formula (or bottles of expressed milk)…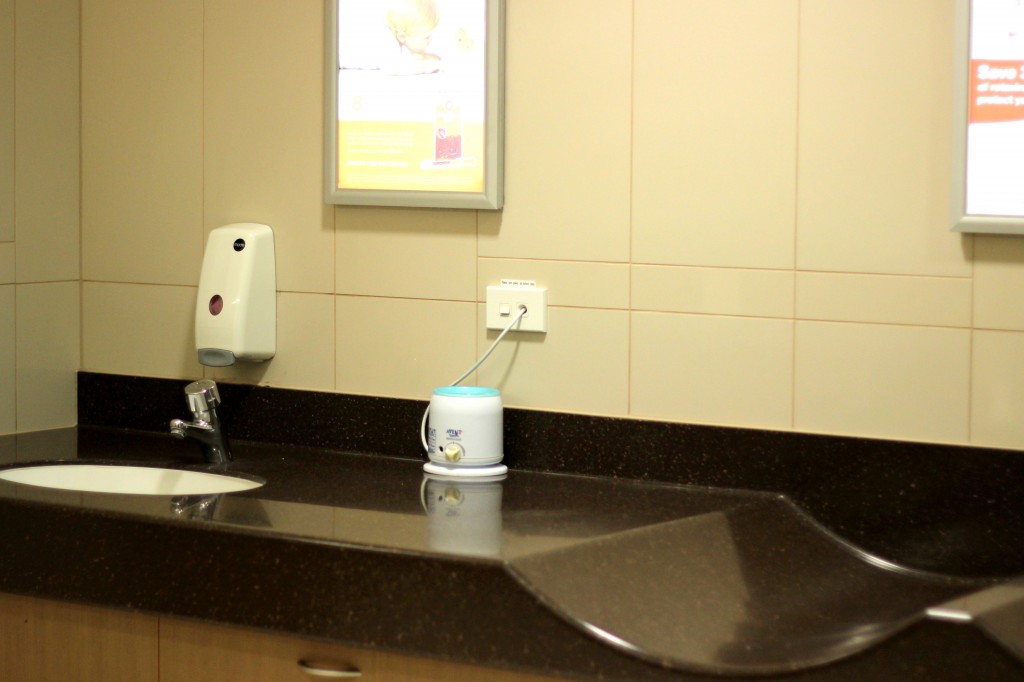 Sink with bottle warmer plugged in nearby
Or microwaving some solid foods…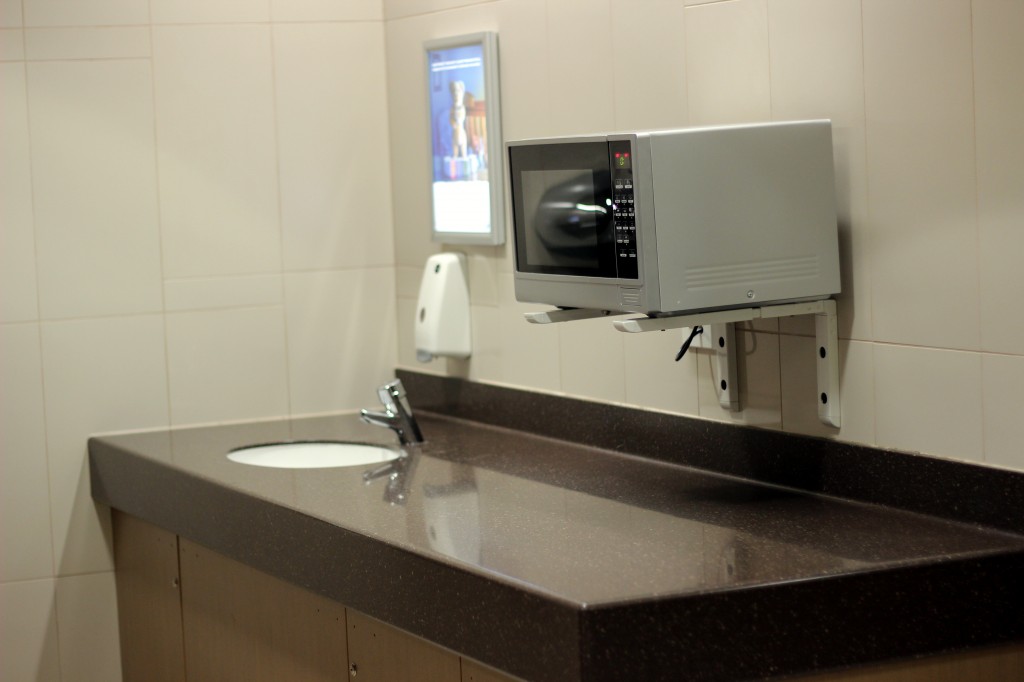 And if you have more than 1 child, perhaps a toddler who likes to go exploring (read: a 2 year old who would have no qualms about flinging back the curtains on those nursing alcoves!) then don't worry – just pop them into the play area with clear, see-through plastic walls.  You can easily keep an eye on them and while you're changing one child, the other can explore the carpeted, brightly painted play space.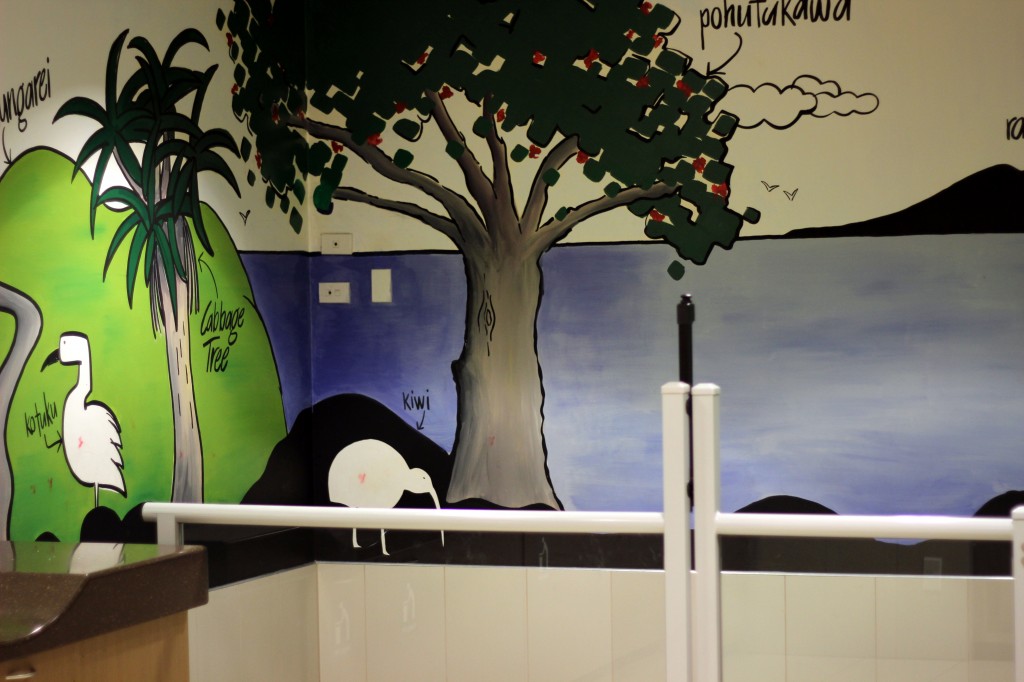 Not the best photo, but you get the idea…
Do you want to meet some friends for a coffee and some shopping but are worried about bringing the baby?  Or perhaps you have quite a few errands to run but you know that it will take for-ev-er with the kiddos.  Don't stress.  Many shopping facilities offer creche services for parents.  The shopping centre that we visited even provided 1 1/2 hours of free creche care.  Free!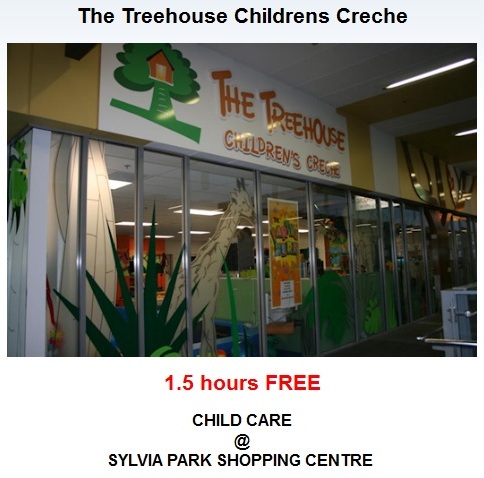 Chris didn't believe me about the free creche.  When I showed it to him, his response was one of awe.  He said, "Well, hey, I'd go just to put Joe in there and have some free time!  I'd go outside and stare at space!  I'd bring a book to read in the parents' room in one of those comfy chairs!"
One guess as to what Chris does with Joe the next time I'm at work… 😉
While this is the only creche that I know of that offers free services (for a limited period of time), there are several that will watch your children for a small fee…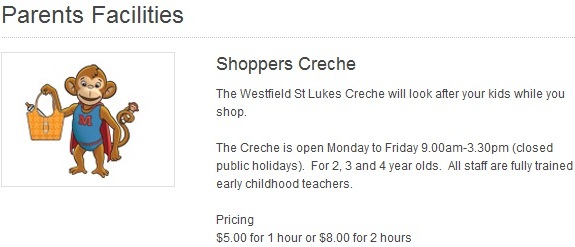 Just one of several in Auckland
While $5 or $8 per child may seem like a lot, it can be worth it.  Or perhaps you have 1 child who loves to shop but another who'd rather hang out in the creche.  In that case, the cost would be quite manageable.
Continuing with our child, family friendly theme, it's also not unheard of for businesses to have play areas in the store, particularly businesses geared toward families.  I've often seen parents deposit Junior or Juniorette in the playpen and then roam a few nearby aisles, looking over frequently to make sure that their wee one hasn't wandered off and is sharing the communal toys.  I've never been entirely comfortable leaving Joe there unattended, but he's happy to go in and be watched by his daddy while I shop.  It makes it easier for me to get in and out of the store, and Joe appreciates the reprieve from the stroller.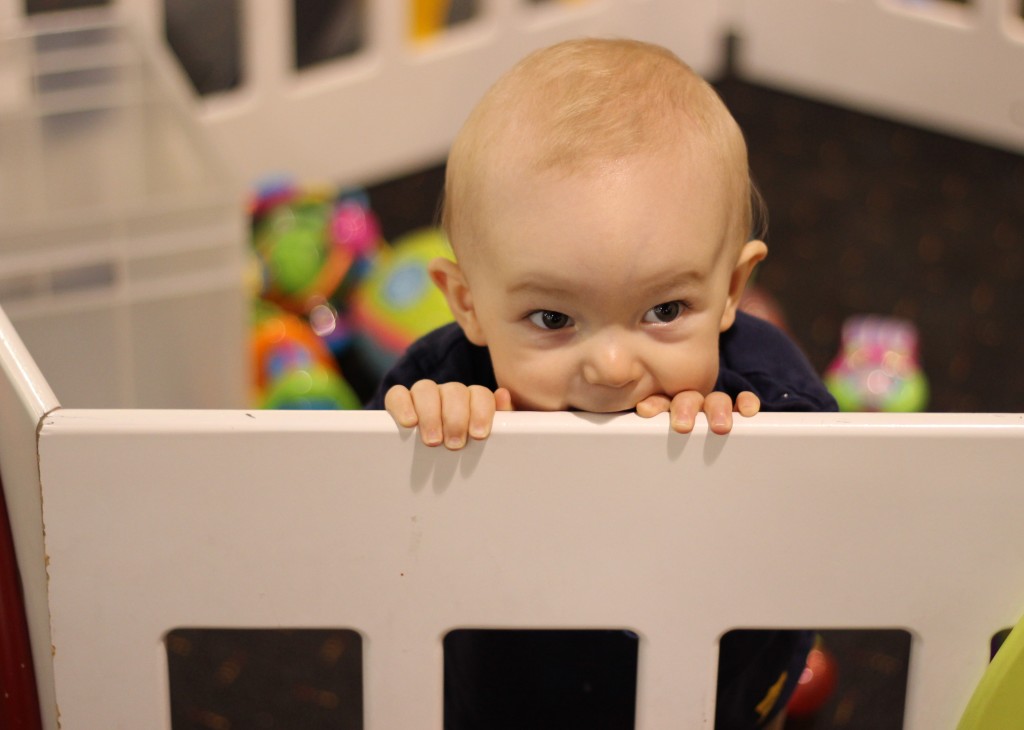 Our little gremlin… teething! Ick! Needless to say he wasn't chewing on that for long!

This focus on families seems to be a part of the employee training.  I've had staffers in high-end department stores, museums, coffee shops, libraries, and more come up to me, checking to make sure that I know where the parents' room is if the need arises.  Buses have special seating areas for parents with small children, some of which are even big enough (if your stroller is small enough!) to fit a child in a stroller + seating room for a parent.  In all of our bus-riding adventures, there was only one passenger who didn't automatically give up his seat (he was sitting in the "parents with small children" area) when I wheeled Joe onto the bus.  I felt guilty asking him to move, but then again, it does say right there on the sign "Please give up these seats for elderly passengers/passengers with small children", and there was a great big stroller symbol painted on the floor.
Of course, we live in Auckland.  Auckland is a big city with a lot of tourists.  I'm pretty sure that the smaller the town, then the fewer the number of parents' rooms.  Nonetheless, even when we traveled way up north to an area considered to be the boonies of New Zealand, we still had no trouble finding a place with a changing area for Joe.
Contrast this to our visit to the States last year.  I had to change Joe in the back of the car in the cold, snowy weather on several occasions.  Why?  Because more than one reputable looking restaurant or rest area either (a) had no changing facilities or (b) the changing table was broken or visibly soiled.
And yes, there are places in Auckland that aren't child-friendly.  Just today I was on a walk with Joe and had to hold him in my lap while I used the facilities at an area park.  I was shocked, because I don't think that I've ever had to do that during any of the times that I've used public toilets in NZ.  There's always either been a pull-down child seat or enough space to park the stroller in the stall.
One last thing: there might be some concern that all of this "child friendliness" would lead to a sense of entitlement and some greedy, demanding parents.  Maybe, but I haven't seen it very often.  The only times where I've witnessed something approaching it were on 2 occasions where Joe and I were waiting for the bus, only to have another mum + bub wheel up beside us and then zoom onto the bus ahead of us, taking up the only stroller seat available.  I chalk that up more to bad manners than anything else.
Again, I'm sure that for all of my experiences with the child-friendly side of NZ, there are many more child-unfriendly experiences that people could share.  Still, overall, I've been impressed.  I hope that the US takes a cue from NZ and ramps it up in that department (and in offering paid parental leave, but that's a blog post for another day)!