How many times have you heard the phrase, "It's important to be a tourist in your own town", or something like it?
I've heard it a lot.  When we first moved to New Zealand, it was fun and easy to be a tourist in Auckland.  Everything was new to us and we wanted to see all of it at once.
Now that we've been here for some time, we've gotten into a rut.  There are some things and places that we see routinely, but others have been neglected.  Forgotten.
It's a shame, really.  Auckland has so many great things to see and do  Now that we have Joe, even the smallest excursion has an extra layer of fun added to it.  We get to see things through his eyes and watch as his world grows.
This past weekend, we decided to play the tourist again and head to Devonport, Auckland.  It's a quick, 10 minute ferry ride from downtown and a great place to visit, whether you have kids or not.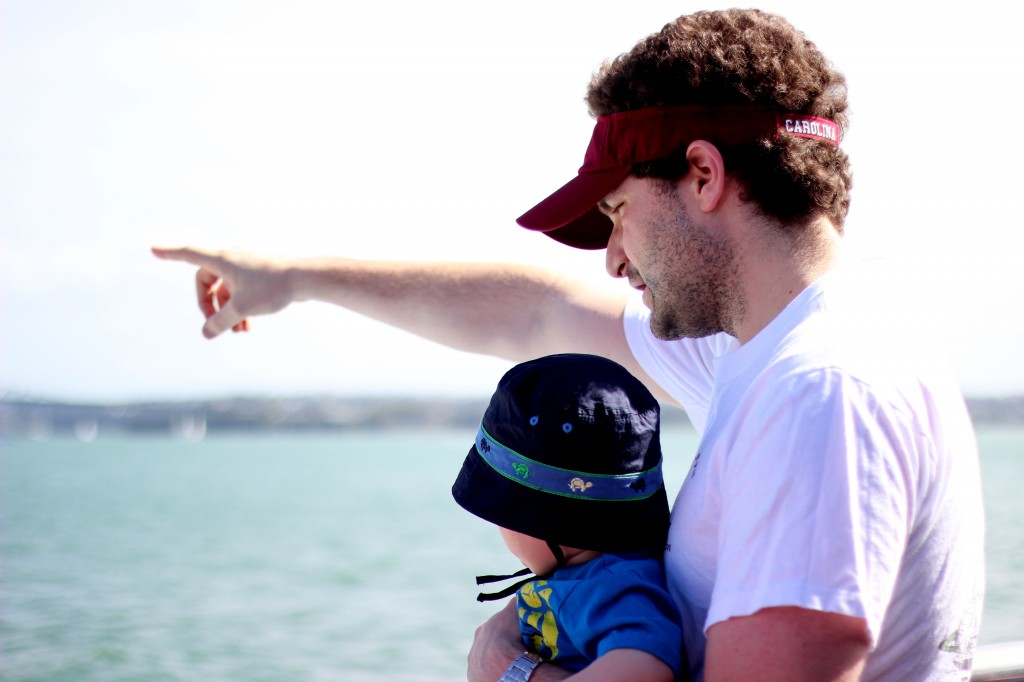 Looking back at downtown Auckland on the way to Devonport
Devonport is a great little neighborhood, accessible by car or by ferry.  It's still considered part of Auckland, but it feels remote and special when you have to cross the water to get there.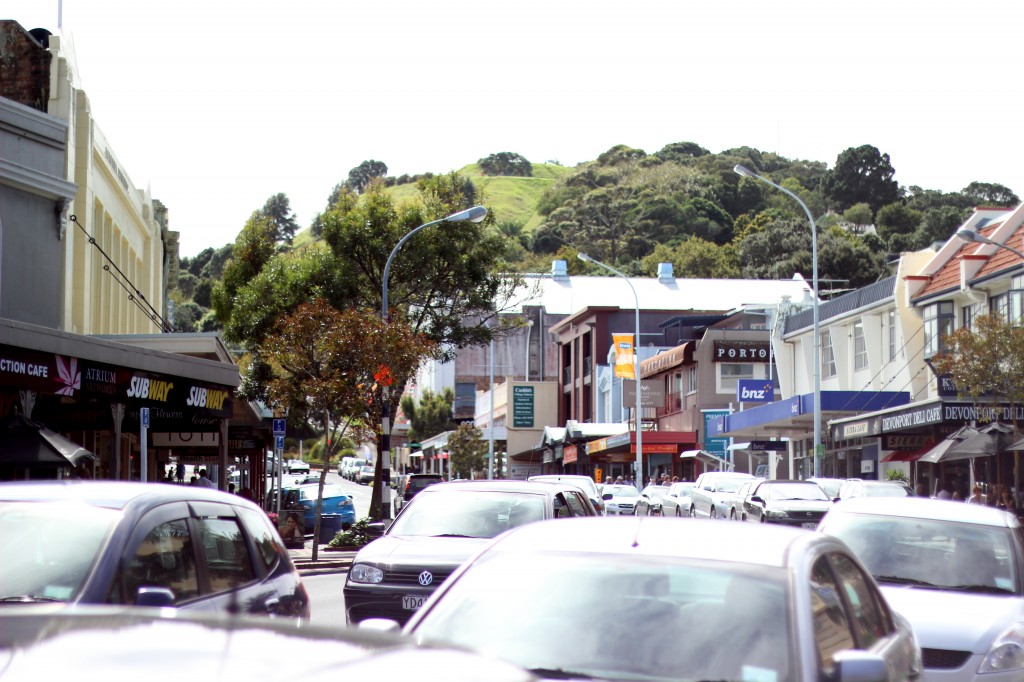 Looking up the street toward Mt. Victoria, and toward "Wild & Woolly Yarns", where I had just purchased some needles and some merino yarn to knit a blanket for Joe… fingers crossed!  Or knitting needles crossed 😉
First up was a quick trip to the yarn store.  That's right – the yarn store.  I've decided that come heck or high water, I'm going to learn how to knit.  I've been beating around the bush since Joe was still in utero, and it's time for me to cut bait or fish.  I bought 8 (50gm) skeins of New Zealand wool, a set of needles, and had the lovely lady at the counter, Fran, write out a very basic pattern for me, with words of encouragement included and the reminder that I can come back if I have any hang-ups.  The plan is to make a small cot blanket for Joe – not a full size, just a half size.  I want him to have something special and homemade and distinctly New Zealand.  I hope that I get it right, and that it's something he treasures.
We grabbed a quick bite of lunch, then headed down the road toward the beach.  On the way, we spotted this guy.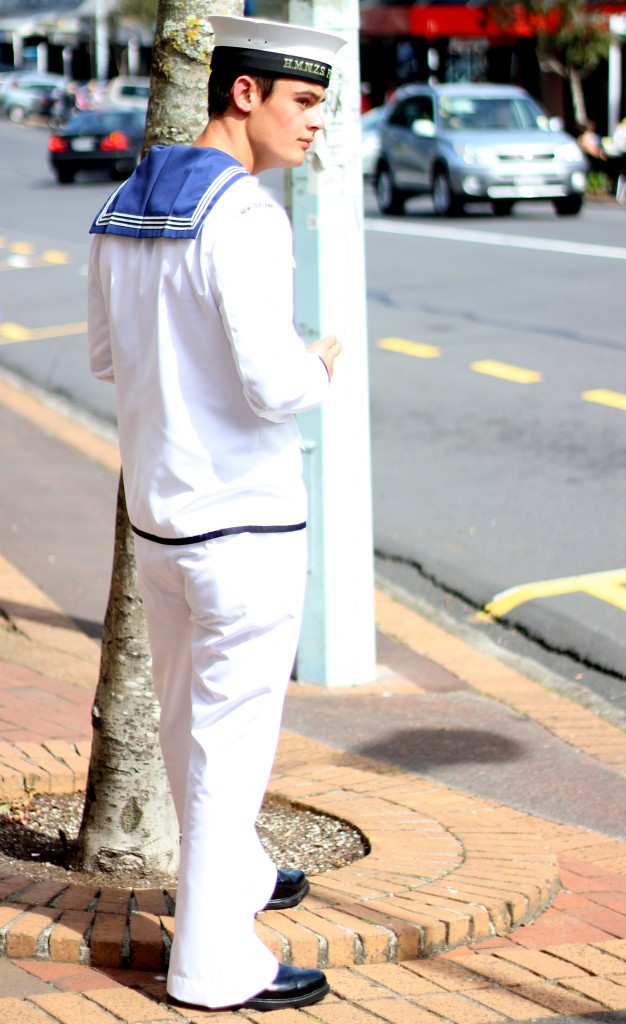 I'm not sure if this guy was a real sailor or going to a fancy dress party.  Either way, he didn't seem out of place in Devonport.  The whole area has a small-town, throwback kind of feel where a sailor would just fit right in.
We eventually made it to the beach.  Joe was tired – side effect of getting him prepared for the end of Daylight Savings Time the following day – but he perked up at the sight of the water, at least for a few minutes.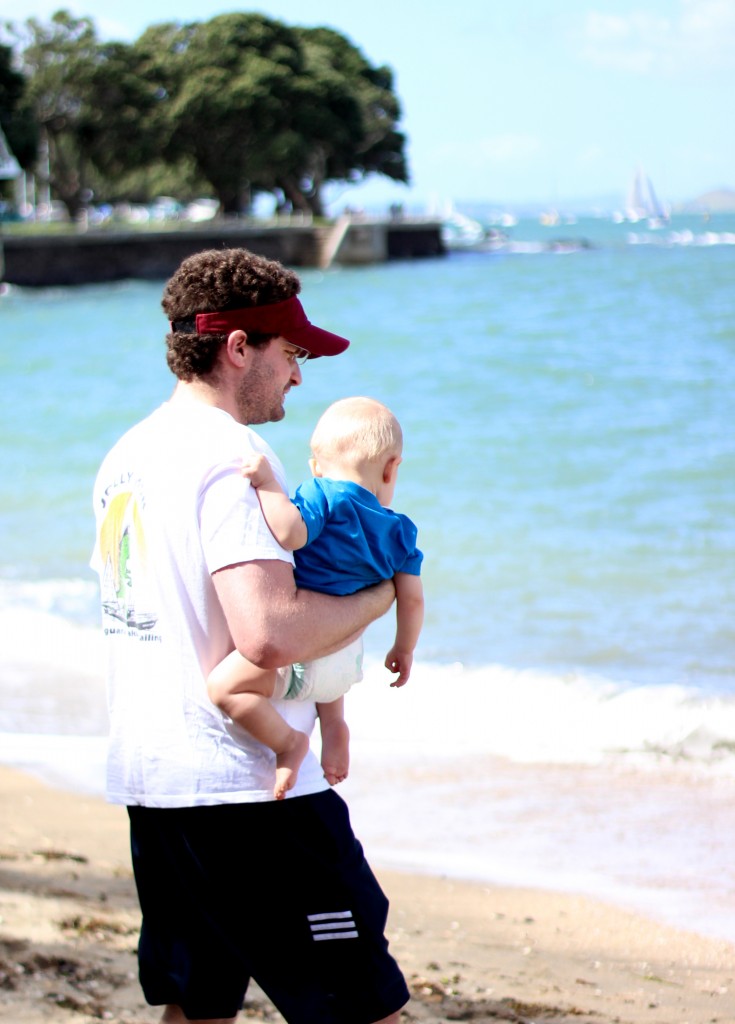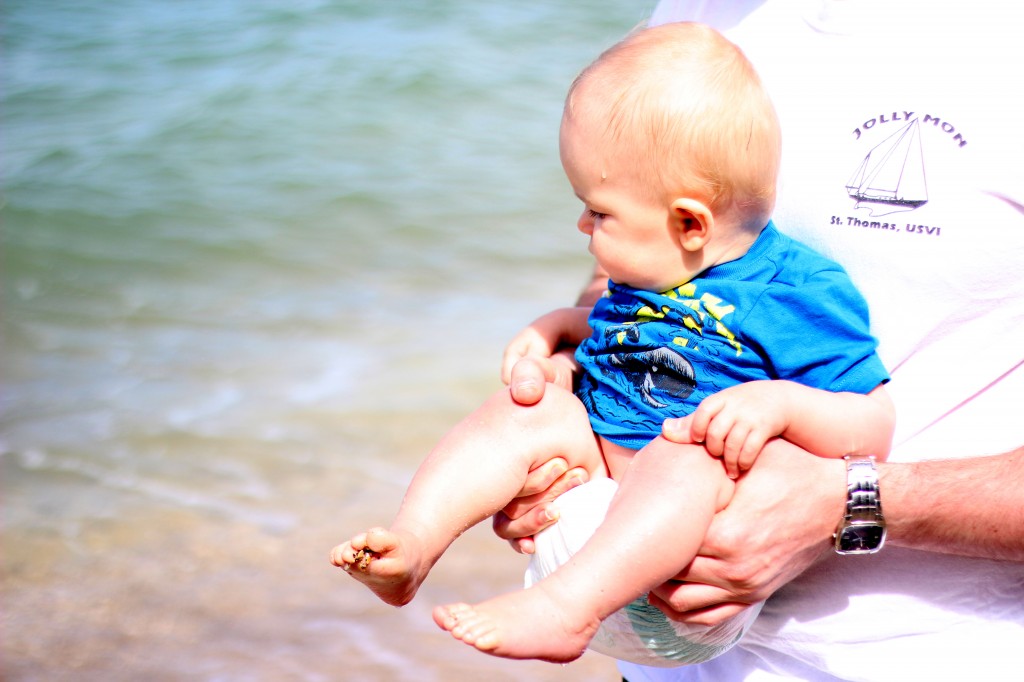 It was a lot of fun, and a great reminder of the importance of playing the tourist in our own town!
**********
What are some of your favourite "touristy" things to do in your hometown?  Are there any tourist attractions where you live that you have yet to see?  If someone were to visit your town, what things would you tell them they have to see?  Now ask yourself, when was the last time you saw those things?