I don't think that I'd ever heard of a toy library before moving to New Zealand.
Of course, that may be in part because I didn't have a child before moving to New Zealand, and the phrase "toy library" probably wouldn't have registered on my D.I.N.K. radar.
Whatever the reason, I certainly hadn't paid any attention to toy libraries until recently.  When I first heard about them from our friend Brooke, I thought that it sounded intriguing and added it to my list of "things to check out eventually" with Joe.
Once Joe transitioned into only 1 nap a day, I was in a bit of a panic.  Used to be, the majority of his waking hours could easily be filled because, well, there weren't many of them.  But once he went to only 1 nap, I was suddenly faced with a longer stretch of "awake time" and not enough things to do to fill it.  I thought back over my list of activities to do with a baby or toddler in Auckland, and "bing", hit upon the idea of joining a toy library.
I did a Google search for toy libraries and found the Toy Library Federation of New Zealand.
It's impressive.  I clicked on the "toy library locator" link, clicked on the "Northland & Auckland" link, and read through the list of toy libraries.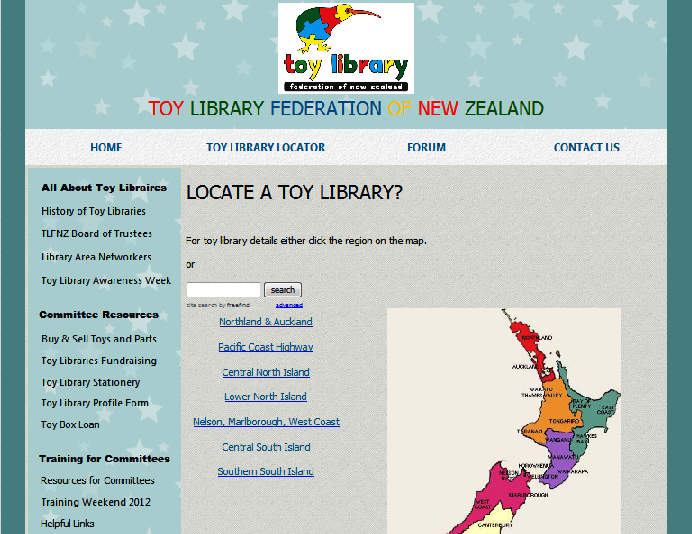 I found the one nearest to us and read the membership requirements.  It sounded like a great idea: pay a one-time joining fee, select the type of annual membership you prefer (there are discounts based on whether or not you want to volunteer in the library, whether or not you hold a community services card, if you're a toy library board member, etc.), and then select up to 4 toys and 2 puzzles at a time, plus the option of paying $2 for DVDs or CDs.  The borrowing time is 2 weeks at our library, but this and the fees vary by location.  When it's time, return the toys in the same condition.  If you're unable to do return them or they've been damaged/are missing parts, then pay a fine or replacement fee.
We headed to the toy library for a visit and Joe was mightily impressed.  So was his dad.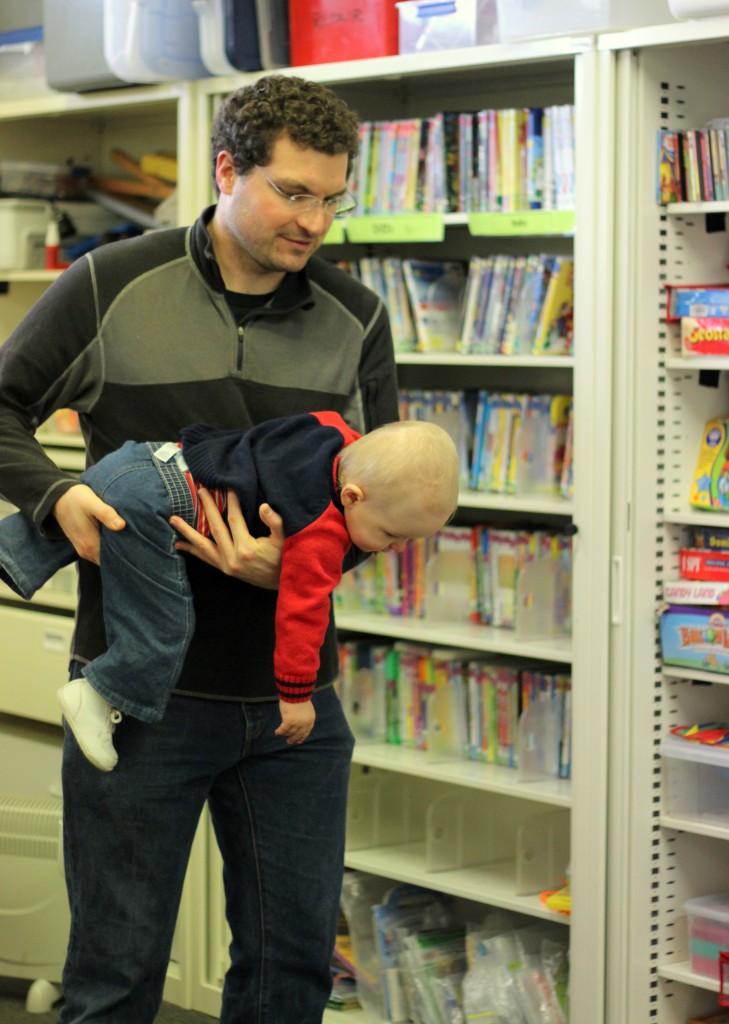 There was quite a selection.  We ended up choosing 3 toys rather than 4, which seemed like more than enough to get started.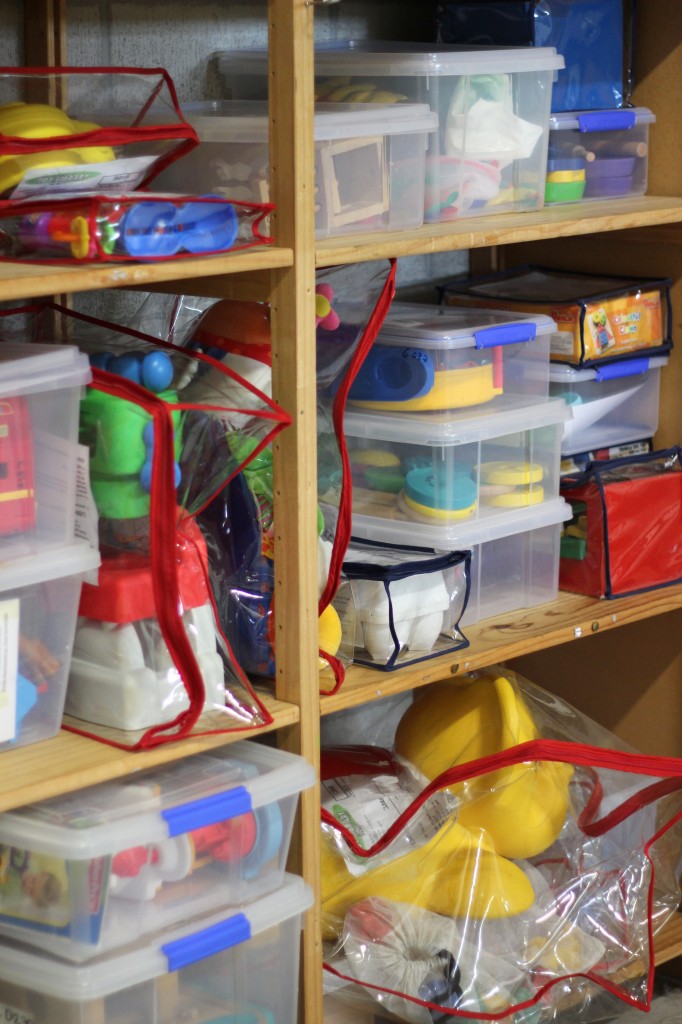 A very small sampling of some of the toys
It was so nice to have "new" toys.  We opted to give Joe 1 toy to start with, then slowly introduce the others over the rest of the week in an attempt to make the toys last for as long as possible.  We did a 2nd visit this past weekend and got our full quota of toys + a puzzle.  Joe is already enjoying his V-tech laptop and "toddler truck":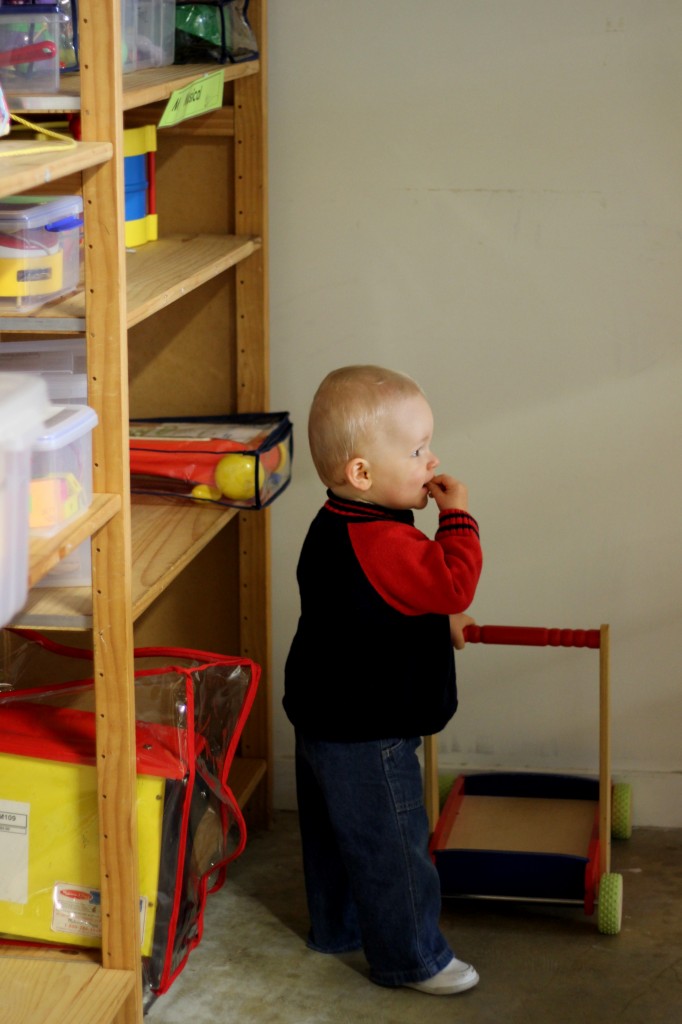 Momentarily distracted from his truck by the friendly librarian
I'm very glad that we have the option of visiting a toy library.  Be sure to check out the Toy Library Federation of New Zealand to find a toy library near you 🙂
Don't live in New Zealand?  Still want to join a toy library?  Check out this list from the International Toy Library Association for a PDF of toy libraries by country.