I'll bet you thought that since I had just moved to another country, that I'd completely forgotten about the monthly book reviews.  Well, you're wrong!  I didn't forget, and this month I have another good one to share with you – "The Bride Collector", by Ted Dekker.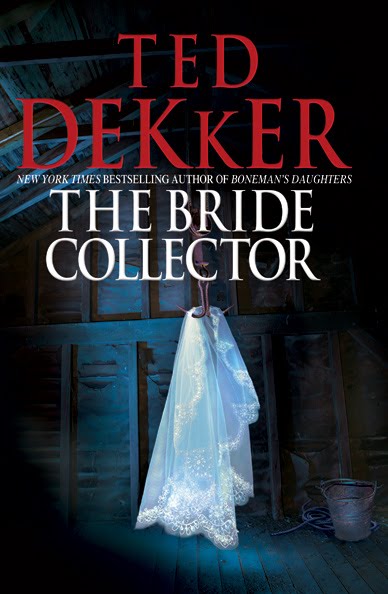 Ted Dekker is known for being primarily a Christian author, but this book is considered a cross-over.  It's a religious author, but there aren't any, what I would call, significantly direct mentions of Christianity.  It's been very successful and has been one of the top 10 New York Times' bestsellers.  Here's the official synopsis from TedDekker.com…
_________________________
He loves them because they are beautiful. He kills them because he loves them.
A virtuoso killer is carving a path of death across the west, intent on killing only the most beautiful women, all in the name of love. He has claimed six victims and slipped through the FBI's fingers, each time leaving behind a hand written note and a bridal veil.
Special agent Brad Raines has hunted the Bride Collector from crime scene to crime scene, but each time finds himself one step behind. Desperate for help, Raines turns to the Center for Wellness and Intelligence, a private home for gifted, mentally-ill residents. There, he finds help in an unlikely group of four who eagerly agree to help him solve the case.
Raines is quickly drawn to an unlikely young woman named Paradise who struggles with psychosis. As they grow closer, he begins to see the world through her eyes. Together they enter the killer's deadly game and begin to close in. But like Paradise, the Bride Collector is supremely gifted and he has a distinct advantage: This is his game.
Now Paradise will be pushed beyond her limits. She will learn what it means to be beautiful and what it means to love, really love. Full of surprising wit and hair-raising twists that will keep you riveted to the end, The Bride Collector will haunt you with a new way of looking at beauty, love and the world in which you live.
_________________________
I've read a couple Ted Dekker books ("House" and "Three") and was excited when this one was published.  It was a refreshing change from what I normally read, and although there were a few cringe-inducing moments (the author gets pretty descriptive), I liked it.  It was entertaining, had some great twists, and did a good job of keeping you on the edge of your seat.  He competently switches the story's point of view from that of the Special Agent, the killer, and Paradise in a way that weaves them together without leaving you confused.
I liked how it it focused on the mentally ill in society, specifically those people who have such unique mental "gifts" that they aren't able to function well amongst the rest of the world.  It was interesting to see how an FBI investigation could possibly rely on the help of someone who would otherwise be written off and excluded.
Paradise presents an interesting character.  She's smart, a leader, independent in an odd sense (she hasn't been outside of the Center for years), and vulnerable.  She wants to be a part of the "real" world, but is scared to death of what might happen to her if she takes the risk of opening herself up to love.
I give this book 2 thumbs up, and I'd love to share it with one of you, my lovely readers.  If you're interested, just leave me a comment.  I'll randomly select a winner and announce it on Monday, May 31st.  The entry is open to all US and New Zealand readers (all 3 of you!).  Good luck!