We have finally moved all of our things into our home-for-the-next-4-months.  We haven't officially moved in yet, as our house-sit continues for about another week, but all of our gear is sorted.
Here's a picture of our storage unit pre-emptying.  This thing was packed to the hilt.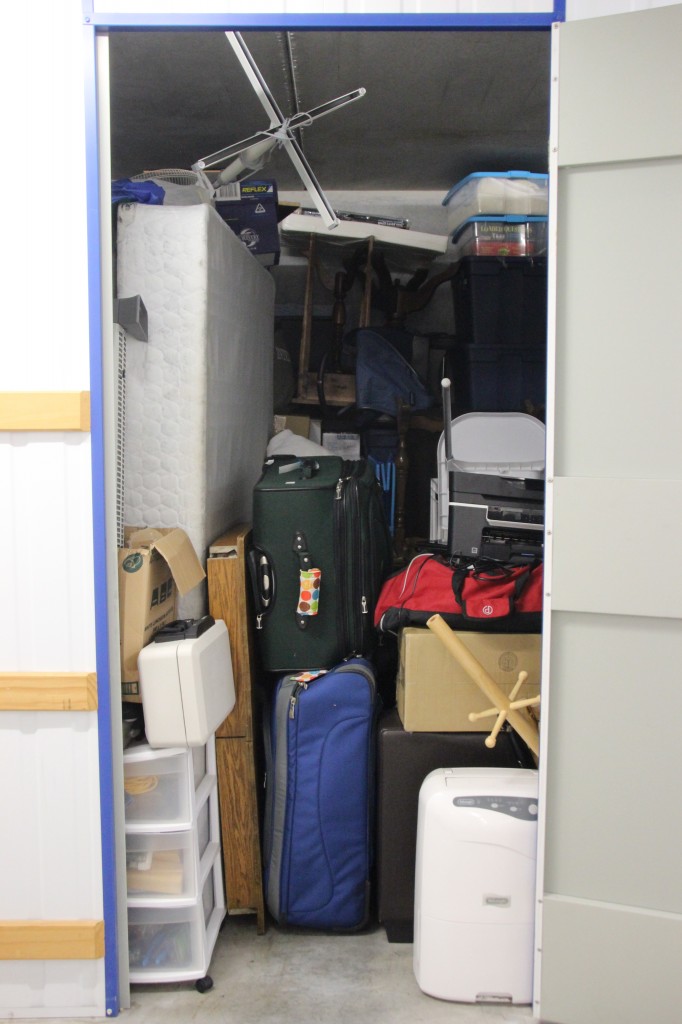 The storage center employee originally tried to get us to commit to a smaller unit.  I have to give her credit for not trying to sell us a space that was bigger (and more expensive) than what our needs required, but I'm glad that I stuck with my gut and said we'd take the next larger size.  There are boxes and furniture all the way to the back, packed to the sides, up to the ceiling, and inside suitcases and drawers.
Here are a few snaps of our place before everything started to arrive.  It's a smaller apartment and yes, it does have a small 3/4 size fridge/freezer, but I'm happy with it for the next 4 months.  It's close to our church, friends, several parks, library, grocery, and both of our places of employment.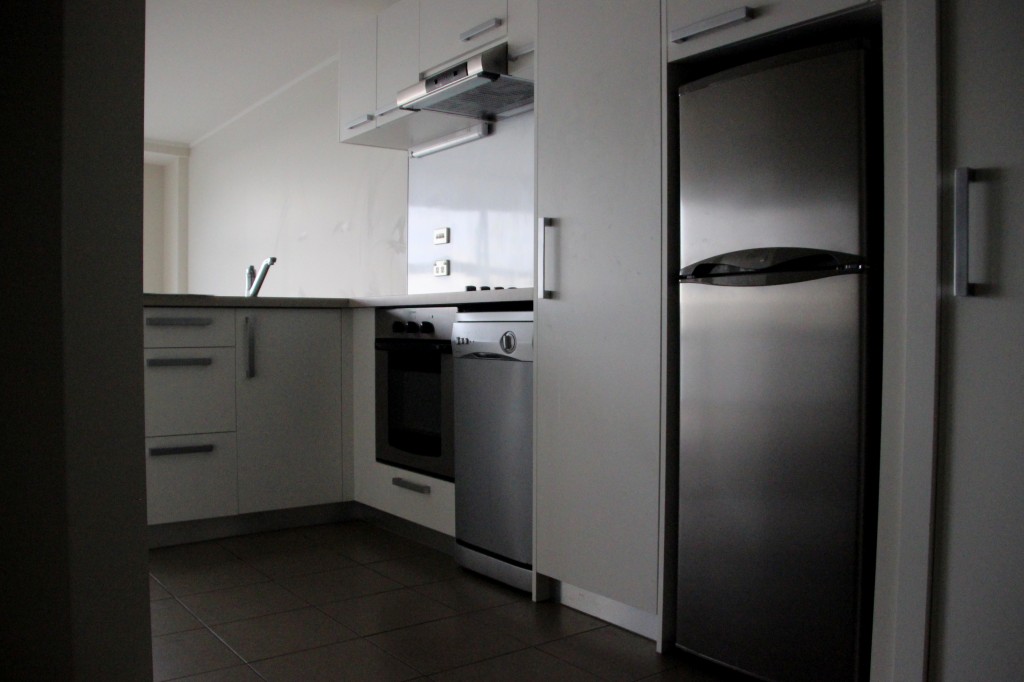 This is our new kitchen. I was standing in the bathroom to take this photo.  And here it is loaded with stuff that's waiting to be put away.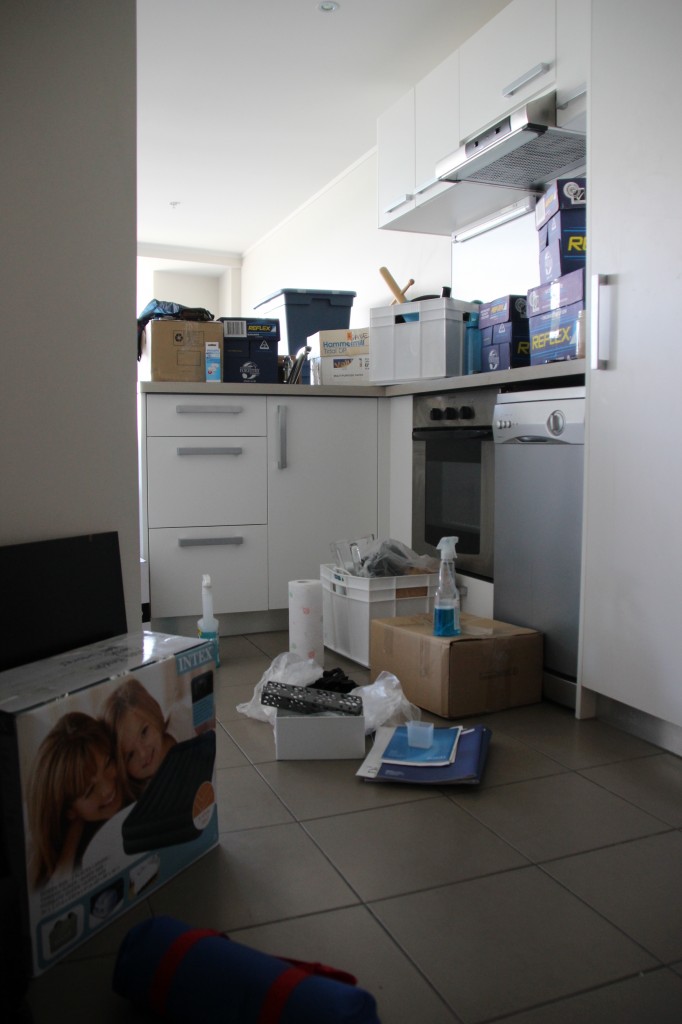 Yikes.  It doesn't look like this anymore, I can assure you.  Almost everything found a proper home.  The only 2 items that had to go on the chopping block were cookie sheets that didn't quite fit in the smaller oven.
Next up, the bathroom.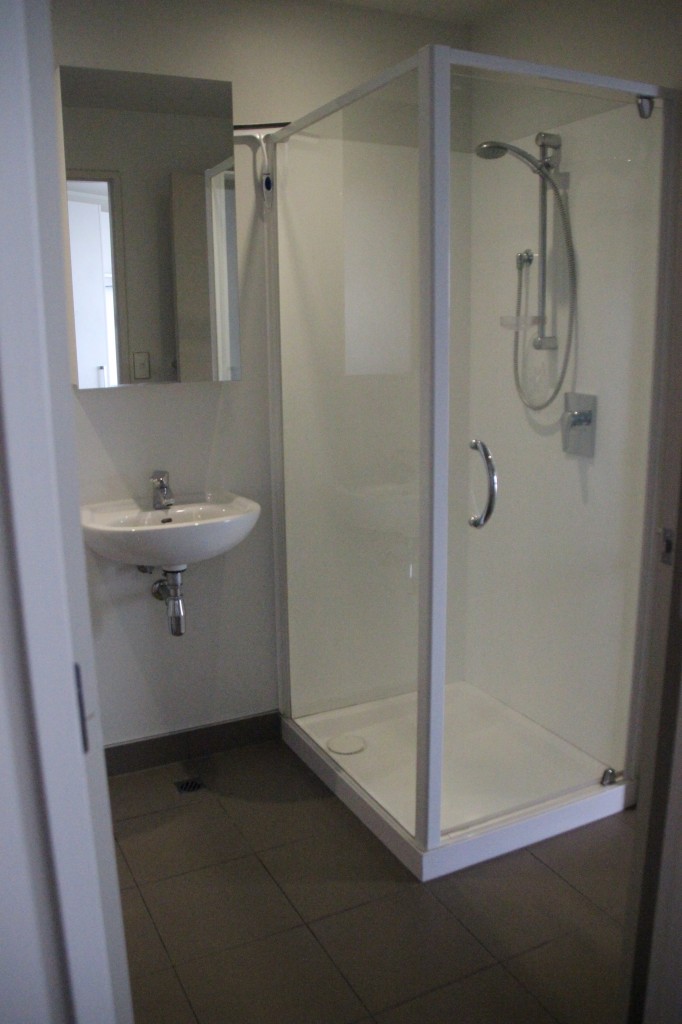 We still have Joe's flexibath, so that will have to go on the floor of the shower.  No tub!  And just to the left of this photo… my washer and dryer!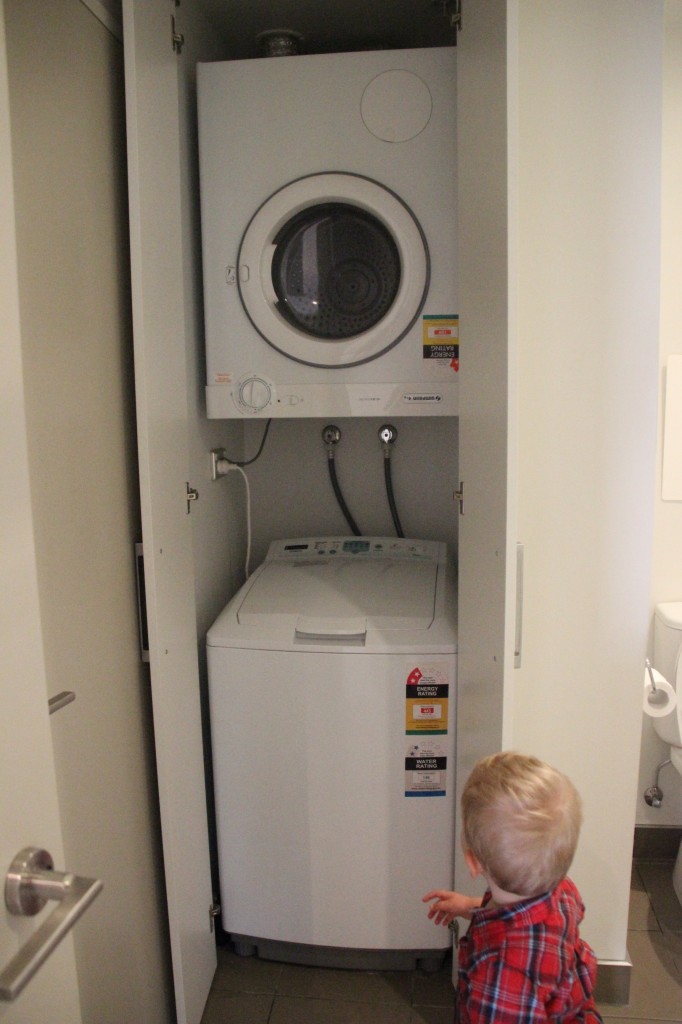 I'm very thankful to (a) have a large washer and (b) have a dryer, period.  Many dwellings in NZ don't have dryers and while I do almost 99% of our drying on the line, I still like to have one for emergencies.  Plus, there isn't as much space in this place as our previous one, so I'm curious to see how well line-drying will go here.
Here's the lounge.  Lots of natural sunlight, though it does get pretty warm in the afternoons.  I'm sure that will be great in winter, but it's summer at the moment!  The bedroom doors are to the left in these photos.
The first door to the left is our room, the second door is Joe's room.  Yes, Joe gets the room with the view.
Here are some photos of the lounge pre-organisation…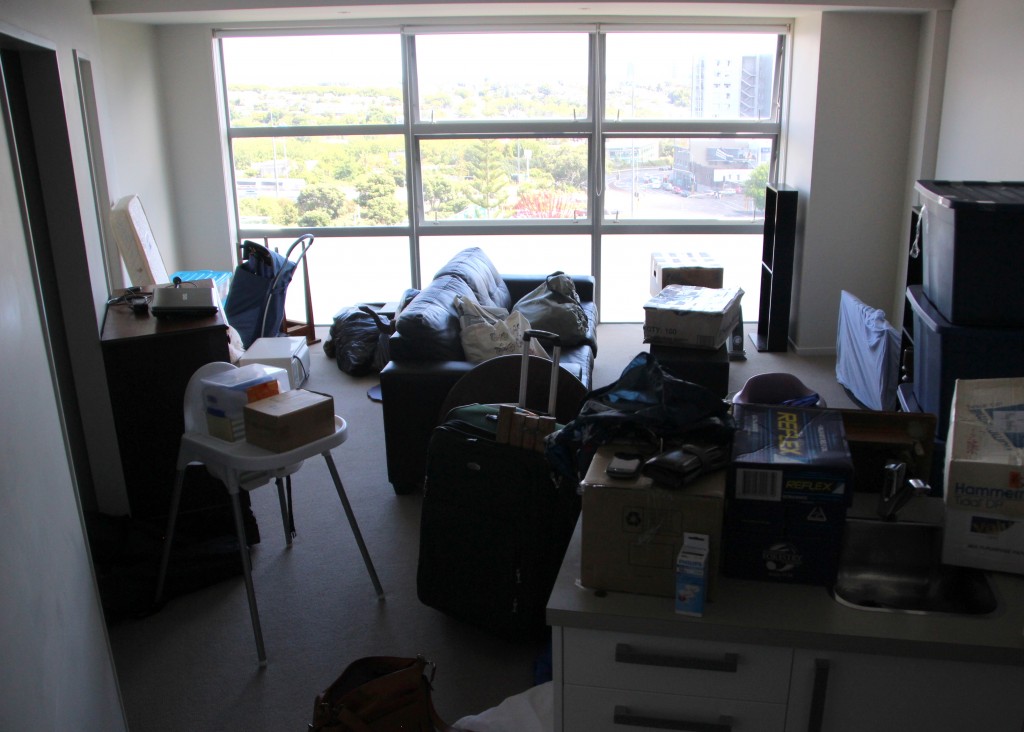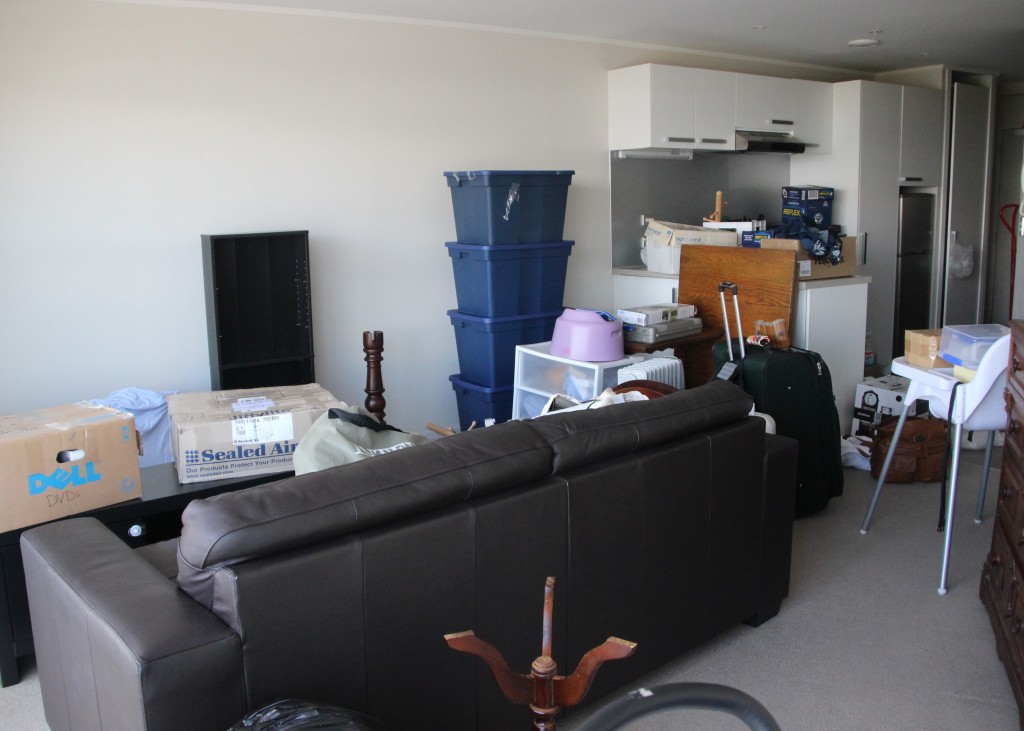 Oh my, what a mess.  I'm glad it's sorted now.  I did most of the organising and putting away after church on Sunday while Chris went back to our house-sit and put Joe down for a nap.  They joined me later and Chris put away the DVDs and took care of the mountain of boxes and the few rubbish bags that had accumulated.  I'm very thankful that he and 2 guy friends from church were able to move all of the heavy, cumbersome items in without me.  I am past the point in my pregnancy of holding up one end of a sleeper sofa, I'll tell you that right now.  After the guys left (they were only able to help out for about 2 – 2.5 hours because of other commitments), Chris single-handedly unloaded and moved everything else out of the storage unit.  Again, I'm glad that I didn't have to deal with that.
So, our room…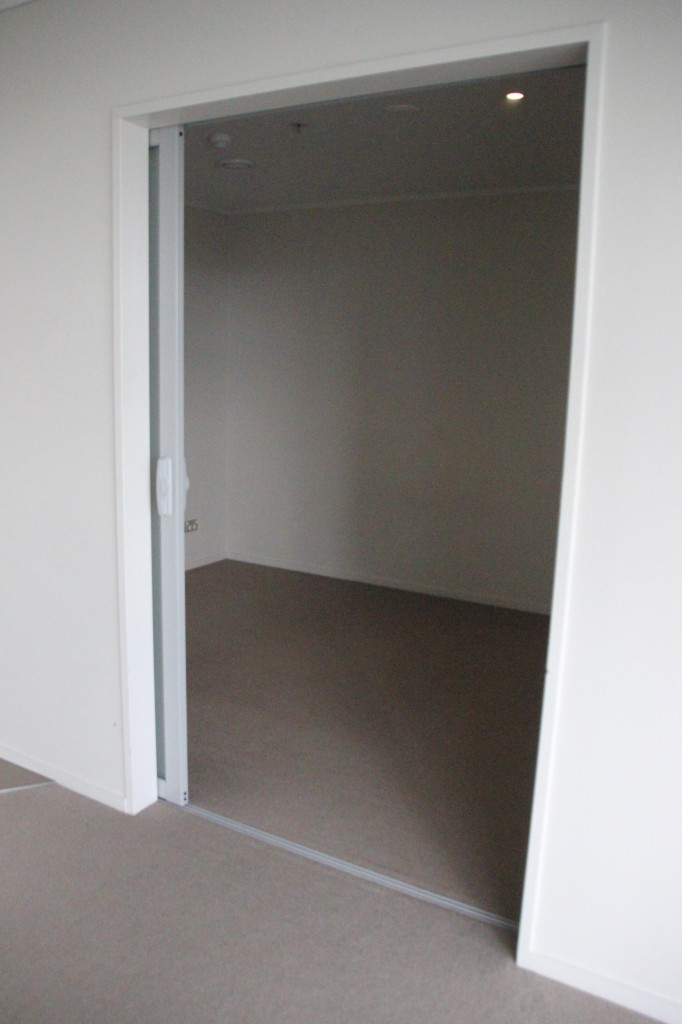 And then again pre-organisation…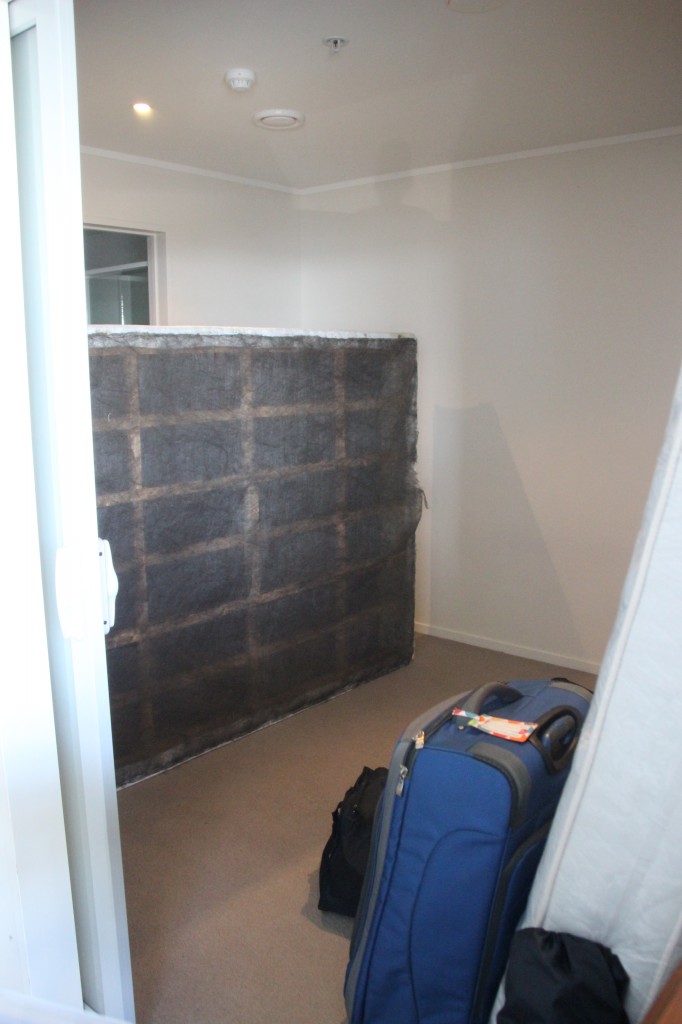 It's still a bit of a mess, truth be told, though the bed is set up and night tables are in there.  I don't know about you, but our bedroom always seems to get the least bit of attention from me.  This particular room is small and has a sliding door entry.  I described it to Chris as a large closet with a closet, but at least it has a connecting door to the bathroom 🙂  Many of the apartments that we looked at didn't have latching doors for bedrooms, but I wanted at least one room (Joe's room) to have a latching door that will keep out noise.  I'm thinking ahead to those middle-of-the-night nursing sessions that are in my not-too-distant future.
And Joe's room…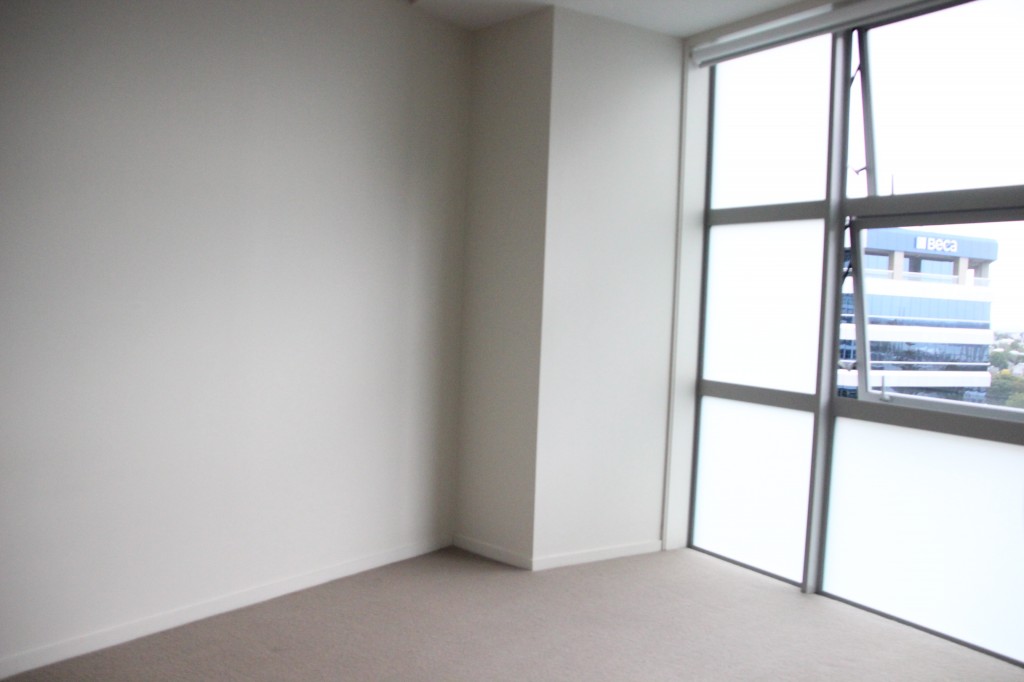 And again, pre-unpacking…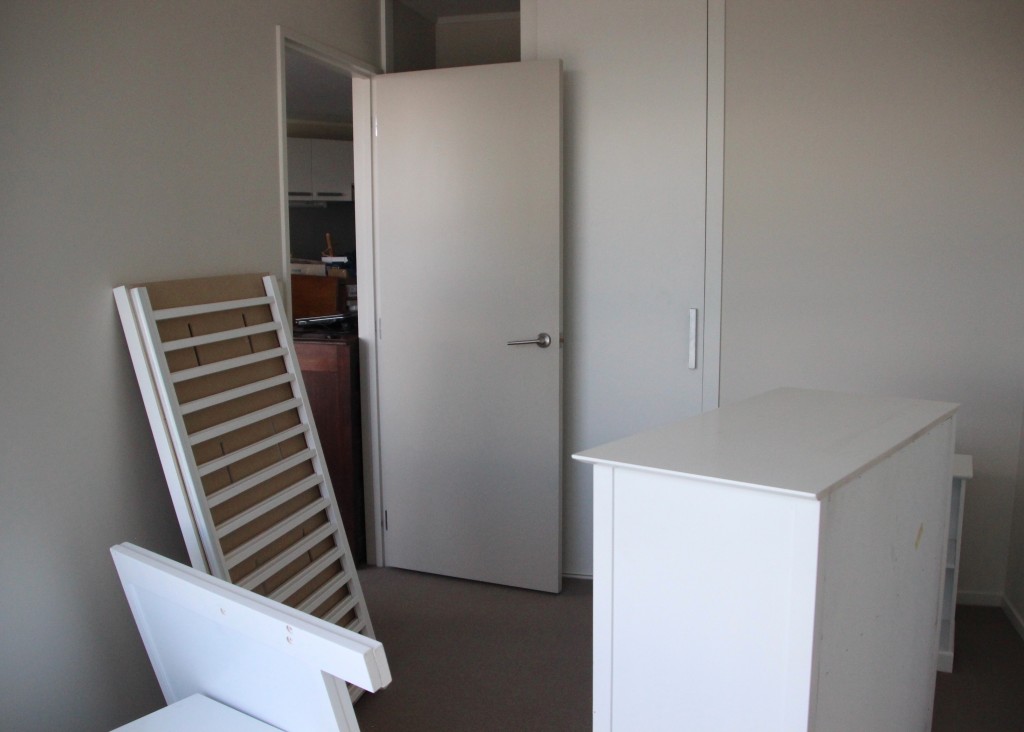 Never fear, those windows don't open any more than they are in the photo, though I am a bit concerned about him dropping things out of the lower window.  That one may have to remain closed most of the time.  There's a small closet in here, too.  I have one of those hanging shelving units in it and it's a life-saver for storage space.  Setting up his room made me realise how much I'm going to miss that cot.  I bought it from Mocka.co.nz and it's been such a great little piece of furniture.  Economical, easy to set up, and the perfect height – not like the cot we're using now which is much higher off of the ground and harder for me to reach into and out of in the later stages of pregnancy.  I'm going to enjoy his Mocka cot these last few months!
I'll try to get around to putting up post-move-in photos, but we were in a rush to get out at the end of the day and I completely forgot.  I still need to do some cleaning, but I don't have any plans on going back until we get confirmation that the lock is fixed.  Yes, that's right – the lock is broken.  It locks from the outside but when you lock from the inside, you can get locked in!  I discovered this on Sunday afternoon when I was there with a dead cell phone.  Chris had warned me that the inner handle of the main door was loose, and it took some Macgyver-style engineering + prayer to get it open again.  Obviously it wouldn't have been a disaster – Chris knew that I was there and I knew that he was planning to come over in a few hours with Joe, but being in a locked apartment and unable to get out is still a hazard!
One more nice little feature of our new apartment (to help make up for the broken lock): the building has an air-conditioned fitness room and a pool.  I'm sure that Joe and I will like being able to nip down for a swim when he and I are going stir-crazy in a slightly smaller living space!