I've been using coconut oil more and more in my cooking.  It's a healthy alternative to vegetable oil, butter, etc., and it tastes great.  I recently came across Iowa Girl Eat's granola bar recipe.  She uses coconut oil, and knowing how much Joe loves to snack + needing healthy snacks to send in Chris' lunch bag, I decided to give these a try.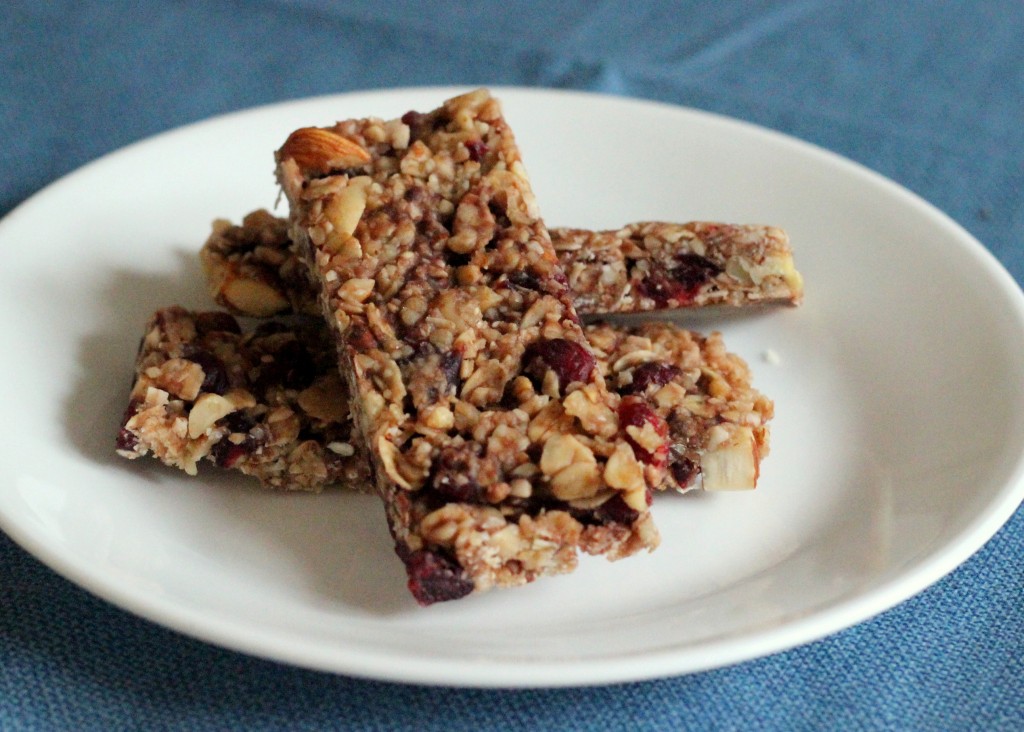 They're delicious and chewy.  They remind me a bit of Quaker Oats Chewy Granola Bars that you can buy by the box.
I loved eating these when I was a kid, but I'm not a huge fan of the ingredient listing…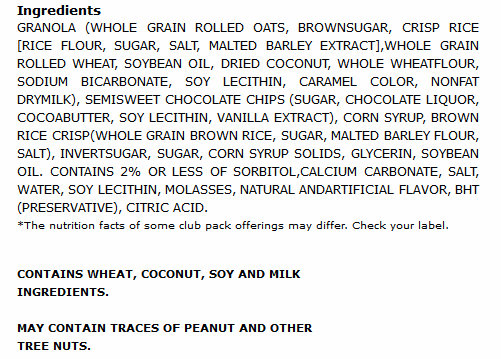 Compare that to this ingredient list…
Old-fashioned oats
Almonds & Walnuts
Raisins
Coconut Oil
Honey
Vanilla & Almond Extracts
Cinnamon
Pinch of salt
They're easy to make, too, and the end results are delicious.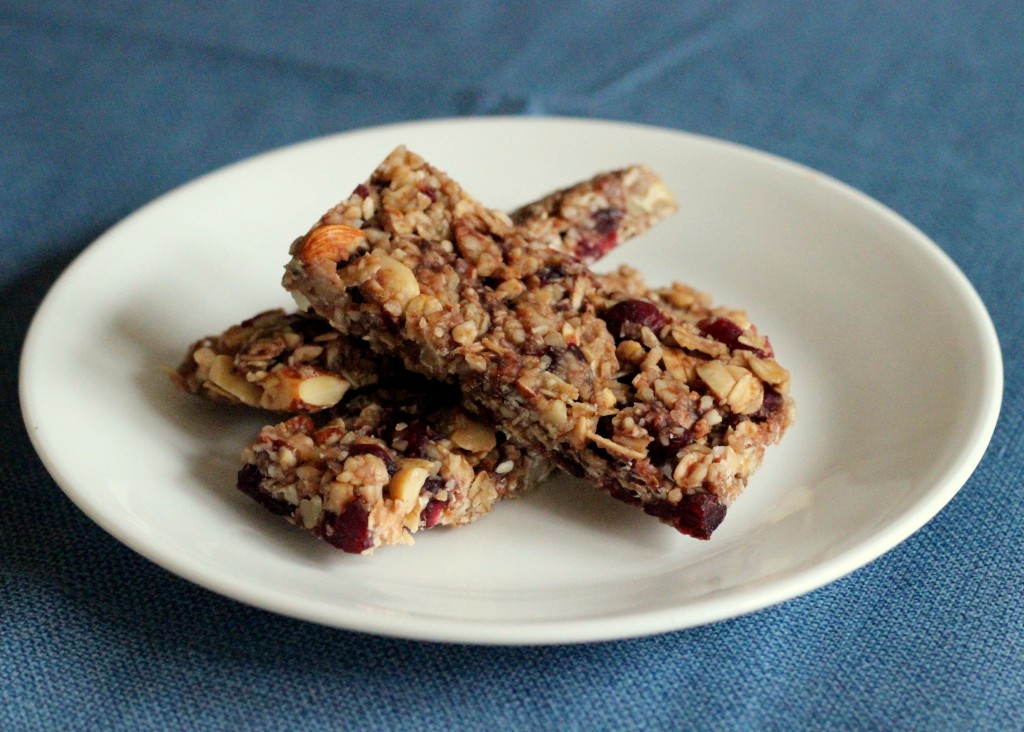 I mainly followed Iowa Girl Eat's recipe, but made a few changes based on what was in my pantry.  If you want to use her recipe (which looks great!) then click here.  If you want to give my version a try, then read on.
Homemade Chewy Granola Bars
Yield: 36 small, thin bars
3/4 C whole raw almonds
3/4 C whole walnuts
1/2 C salted peanuts
2 C old-fashioned rolled oats
1 3/4 C dried cranberries (can also use raisins)
1/4 C dark chocolate chips
3/4 C honey
6 T coconut oil
3/4 tsp salt
1/2 tsp vanilla extract
1/2 tsp almond extract
1/2 tsp cinnamon
Prep 11 x 17 inch rimmed baking sheet (can use a smaller pan – bars will be a bit thicker and you'll have a smaller yield) by lining it with enough parchment paper or plastic wrap to overhang edges and completely fold over top of the pan.
Pour 1/2 C almonds and 1/2 C walnuts into food processor or powerful blender.  Add 1/4 C salted peanuts and 1 C oats.
Note: I have a powerful Ninja blender that works like a food processor in many ways. If you've got the standard variety of blender, I would suggest adding just a bit of the nut-oat mixture at a time so that you don't burn out your motor.
Blend mixture till coarse, but not too fine – you don't want to end up with nut butter.  Texture should be like large grains of sand. Pour into medium bowl. Take remaining almonds, walnuts, and peanuts.  Roughly chop with large knife or a food chopper, then add to nut-oat mixture in bowl.  Add chocolate chips and cranberries, then mix to combine.
Combine honey, coconut oil, vanilla & almond extracts, salt, and cinnamon in medium saucepan over medium-high heat.  Stir to combine and continue stirring occasionally till mixture starts to foam.  Allow to foam for 15 seconds, then remove from heat.  Pour over dry ingredients and mix thoroughly.  Dump mixture onto prepared baking sheet and use spoon or hands to smooth mixture to edges of pan.  Fold edges of parchment paper or plastic wrap over top, and press to smooth out bars.
Place bars in fridge or freezer and allow to harden.  If using fridge, leave them in for 3 – 4 hours till hard enough to cut into bars, but not too hard.  Freezer temps vary – I'd check them after 1 hour.  Cut into 36 bars and wrap individually in plastic wrap, in snack size plastic bags, or put them on a tray in freezer without edges touching then place in large Ziploc bag once frozen solid.  Store in fridge or freezer.
Obviously, I made a double batch of these.  If you don't want that many, cut the amounts by half.  Also, feel free to use a different mixture of nuts (almonds, salted peanuts, walnuts, or pecans).  Just make sure that the total amount adds up to 2 C of nuts.  I used fewer almonds than the original recipe because almonds are a bit more expensive and I thought the peanuts would be a good addition.
Feel free to use some other type of dried fruit, too: cranberries, raisins, cherries, etc.  You can leave chocolate chips out entirely, but I knew that Chris would like the fact that they had chocolate in there, so I added a few.
I'd like to experiment more with these, perhaps use less honey and add peanut or almond butter.  I think that 3/4 C of honey is a lot, and as my mom and I say, "sugar is sugar", whether it's honey or granulated or organic or maple syrup.  It'd be fun to try using less honey and adding homemade peanut butter to get a similar consistency without so much sweetness.
Let me know if you try them.  Chris and Joe both gave them the thumbs-up, so we'll definitely be having these again!