I'm not brilliant in the kitchen, but I will say that if there's one "skill" that I have when it comes to cooking and baking, it's being able to make do with what's around.  I can see ingredients and think, "Hmm… I could probably make _______ with that" and then give it a try.  It's something that I learned from my mom.  Sometimes it works, sometimes it doesn't.  Life is a lot like that.
The other day, I wanted to make some dinner rolls.  I'd gotten the main supper dish sorted.  It was packed with veggies and all sorts of other good things, but we still needed a little something extra… a bit more food on the table…
I turned to the amazing internet and typed in "quick yeast dinner rolls" and came back with a few options.  Naturally, I didn't have all of the ingredients for any of them, but I did have some of the ingredients and decided to give it a whirl…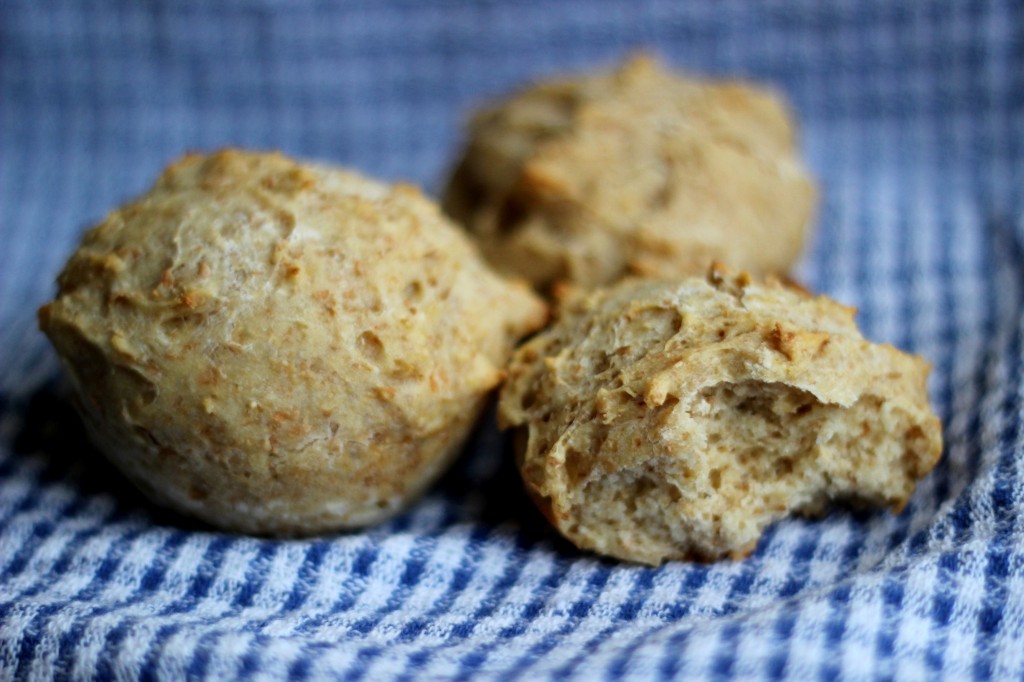 And being me, I would have to misread the directions and let them rise one too many times.  Didn't seem to hurt them all that much, though 🙂
No Knead Yeast Rolls (original, unmodified recipe found here)
Yield: 12 dinner rolls

1 1/4 C whole wheat flour
1 C standard white flour
2 T organic cane sugar
Sprinkle of salt
1 package (2 1/4 tsps) active dry yeast
1 C very warm tap water (uncomfortable to the touch, but not scalding)
2 T avocado + olive oil spread (I used Olivani brand)
1 egg
Mix whole wheat flour, sugar, salt, and yeast in a mixing bowl.  Add water, avocado oil spread, and egg; mix with a spoon till well combined and smooth.  Add in 1 C of standard flour, 1/4 C at a time, mixing after each addition until all flour is incorporated (you may need to use your hands).  Use a spatula to remove any sticking bits of dough from the side of the bowl, cover with a warm, damp cloth and set it to rise in a warm spot for about 30 minutes or till doubled (it took my dough about 40 minutes to double).  After dough has doubled, stir about 25 – 30 times, cover, and let rise again for another 20 minutes (I misread the directions here – you could omit this step and go straight to putting them in the muffin cups, as detailed below).
Stir down the dough with a spoon and, using your hands, pull off some of the dough and put it into the muffin cups.  Cover with a damp towel and return to a warm place to rise for another 20 minutes.  In the meantime, preheat your oven to 400F/205C.
Bake rolls for 15 minutes, or till tops are golden brown.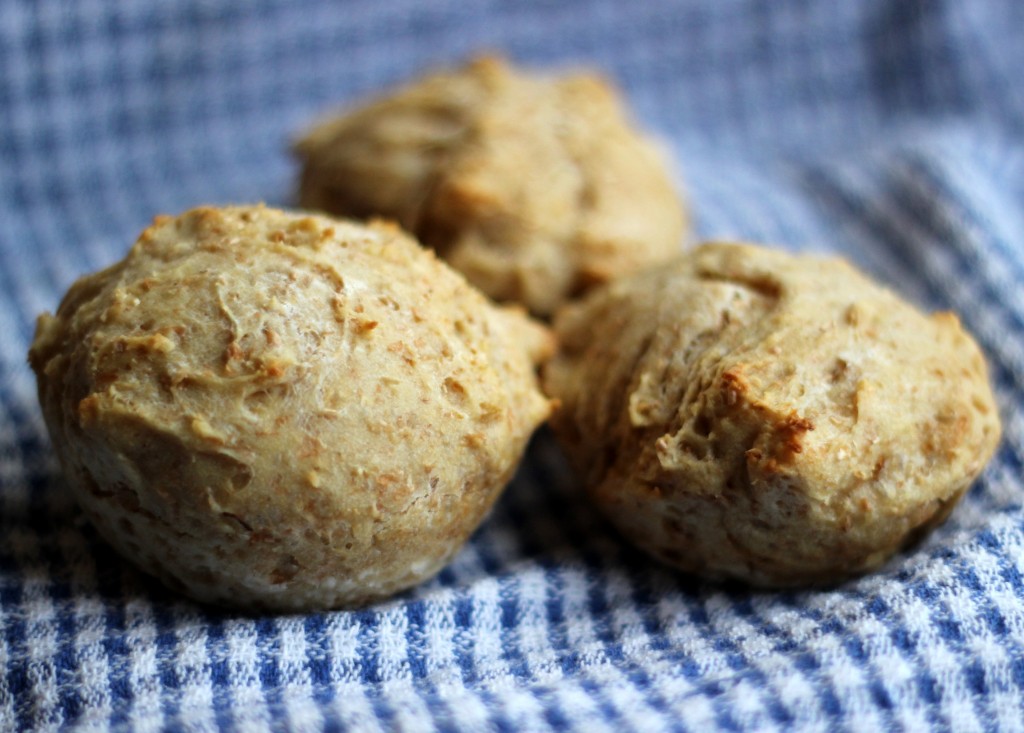 They're good.  Quite good, if I do say so myself.  I was a little worried about using the avocado oil spread in lieu of shortening (which is what was originally called for) but I don't keep shortening around and the Olivani was all that I had.  Chris told me that, of all my recent whole wheat bread experiments, this was his favourite.  I'll take that as a mark of success and add this one to the recipe files.