I was packing Joe's gear for our swim lessons on Monday morning when I realized, "Hmm… there's nothing here that's great to take for a snack."
Joe's lessons are at 9:30am, which is prime morning tea time.  I've found that if I wait to give him a snack after lessons, he's grouchy and not as energetic in the water.  Food and timing are big deals to this little guy.
What to do, what to do… I decided to whip up some mini muffins and bring those along.  It was just before 8am, so I had plenty of time.  I scoured the internet and combined a few different recipes to come up with this one…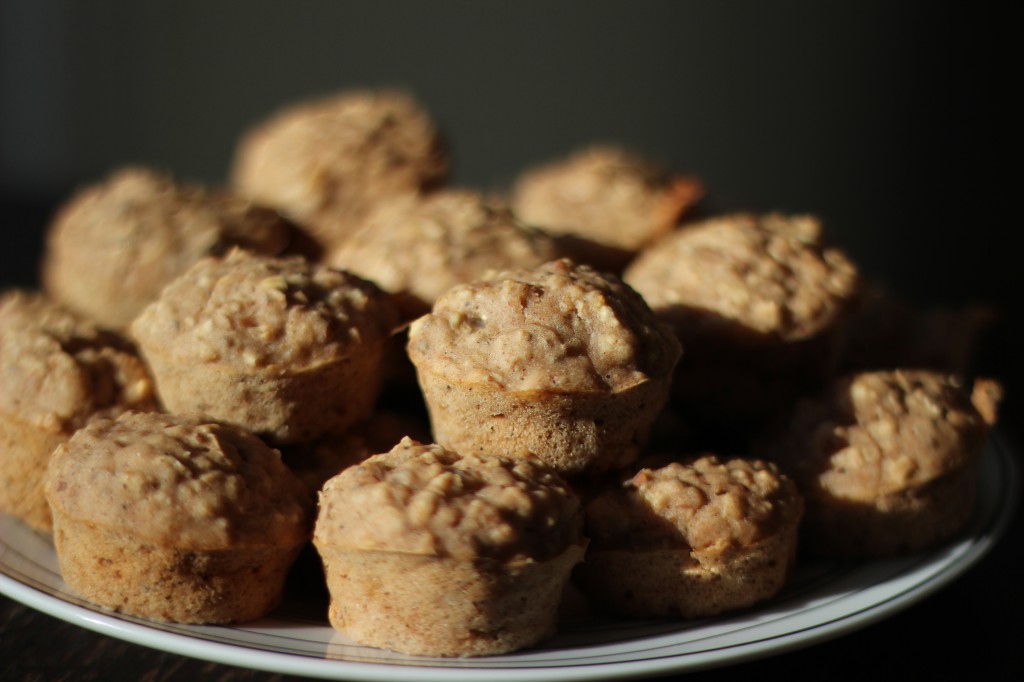 Early morning mini muffins
Oatmeal Applesauce Mini Muffins
1 C almond milk (if using wholemeal flour, increased to 1.5 C milk)
1 C rolled oats
1 T chia seeds
3 T warm water
1 C flour (can use plain or wholemeal, but see note next to milk)
1/4 C honey
2 tsp baking powder
1 tsp ground cinnamon
1/4 tsp ground nutmeg
Preheat oven to 190C/375F.  Spray mini muffin tin with non-stick spray or line with baking cups.
Combine milk and oats in large bowl and allow to sit for 15 minutes.
Meanwhile, combine flour, baking powder and spices.  Stir together with a fork.
When 10 – 12 minutes have passed, combine chia seeds with warm water in a cup and swirl once with a fork or spoon.  You want the seeds to soak for at least 3 minutes but no more than 5 minutes.  Pour in with oats and milk.  Add honey and applesauce, stirring to combine.
Pour flour mixture in with oat mixture and stir till ingredients are moist.  Fill muffin cups almost full and bake for 20 minutes or till toothpick inserted in center comes out clean.
Yield: 2 1/2 dozen mini muffins
Notes:  I made these with regular flour the first time around, but the second time around I decided to use wholemeal flour.  I used the exact same amount of flour but increased the milk from 1 C to 1 1/2 C.  I've found that wholemeal flour tends to make things drier.  It was the perfect substitution.  Wholemeal has a lower GI and I could definitely taste the difference.  They weren't as sweet, but that was fine with me.  Joe gobbled them up regardless.  I would also note that if you decide to use regular flour, you may be able to cut back the amount of honey to 2 or 3 T… it just depends on how sweet you like muffins.  They weren't overly sweet with 1/4 C, but they would have been fine with a little less.  I would leave the honey the same if using wholemeal.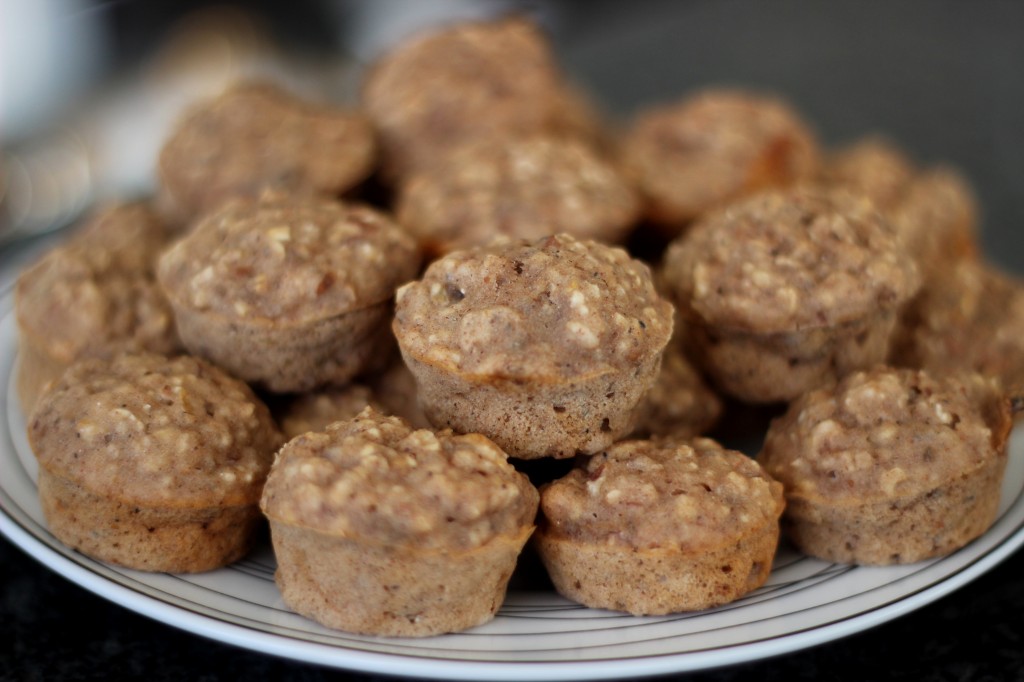 Made using wholemeal flour