I've been experimenting in the kitchen again.  Sometimes it goes badly, but this time it went well.  Really, really well.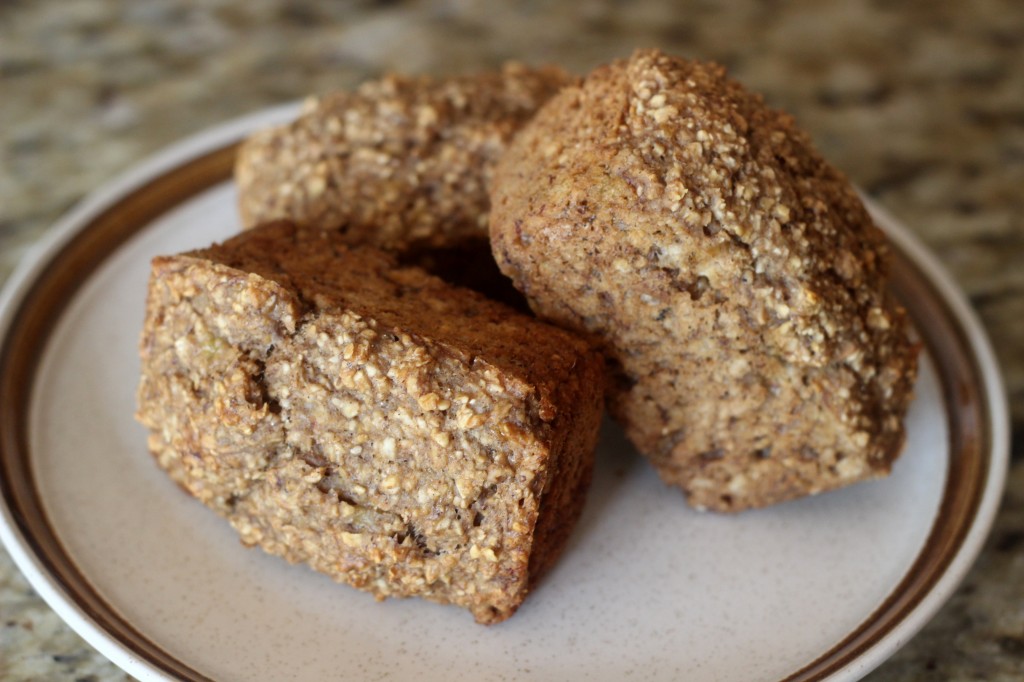 I made up a batch of these Oatmeal Banana Loaves using some applesauce, chia seeds, and honey.  They're made without eggs and they're gluten-free.  They're also delicious.  Not too sweet and with just a little bit of cinnamon and nutmeg.
Oatmeal Banana Applesauce Loaves
Yield: 8 mini loaves or 12 muffins
1 1/4 C rolled oats
1/2 C plain, low-fat yoghurt
1/2 C fat-free or low-fat milk
1 1/2 C oat flour (see tip on how to easily make your own oat flour)
2 – 3 tsp cinnamon (it's a matter of taste)
1 tsp nutmeg
Pinch of salt
2 tsp baking powder
1 tsp baking soda
1/3 C mild-flavored honey
1/4 C unsweetened applesauce
1 T chia seeds
2 1/2 T warm water
2 large, ripe bananas, mashed
2 T vanilla essence
Preheat oven to 375F/190C.
In small bowl, combine rolled oats, yoghurt, and milk.  Set aside for at least 10 minutes so oats can absorb liquids.
In a small cup, combine chia seeds and warm water.  Stir together and let sit for 2 – 5 minutes or till a gel-like consistency (this is your egg substitute – if you prefer, you can just use 1 large egg, well beaten).
In large bowl, combine oat flour, cinnamon, nutmeg, salt, baking powder, and baking soda.  Stir together, then add honey, applesauce, mashed bananas, and vanilla essence.  Add in chia mixture and stir till well combined.
Pour rolled oats and yoghurt mixture into oat flour mixture and stir till a uniform consistency.  Spoon into 8 greased mini loaf pans or 12 greased or paper-lined muffin cups.  Bake for 25-30 minutes, or till tops are lightly browned and toothpick inserted in center comes out clean.
Tip: To make your own oat flour, pour just under 2 C of rolled oats into blender or into food processor with blade attachment.  Pulse until a flour-like texture has been reached.  Be sure to measure out the oat flour, as it may be a little more or a little less than what is called for in this recipe.