I love cookies.  Unfortunately, Joe seems to have inherited this love from me.  His father?  Sure, he likes cookies, but Chris is more of a brownie and cheesecake man.  I'm certain that Joe will love those, too, once he's introduced to them.  But for now, it's a close tie between cookies and cake, the sweeter the better.
I try to make our food healthy while still being tasty.  It's the same with desserts or snacks.  I love oatmeal raisin cookies, but if I can make them a little healthier without sacrificing on taste, then I'm all for it.  This is my version of healthier oatmeal raisin cookies.  No eggs.  No dairy.  Less sugar.  Swapping some of the all-purpose flour for wholemeal.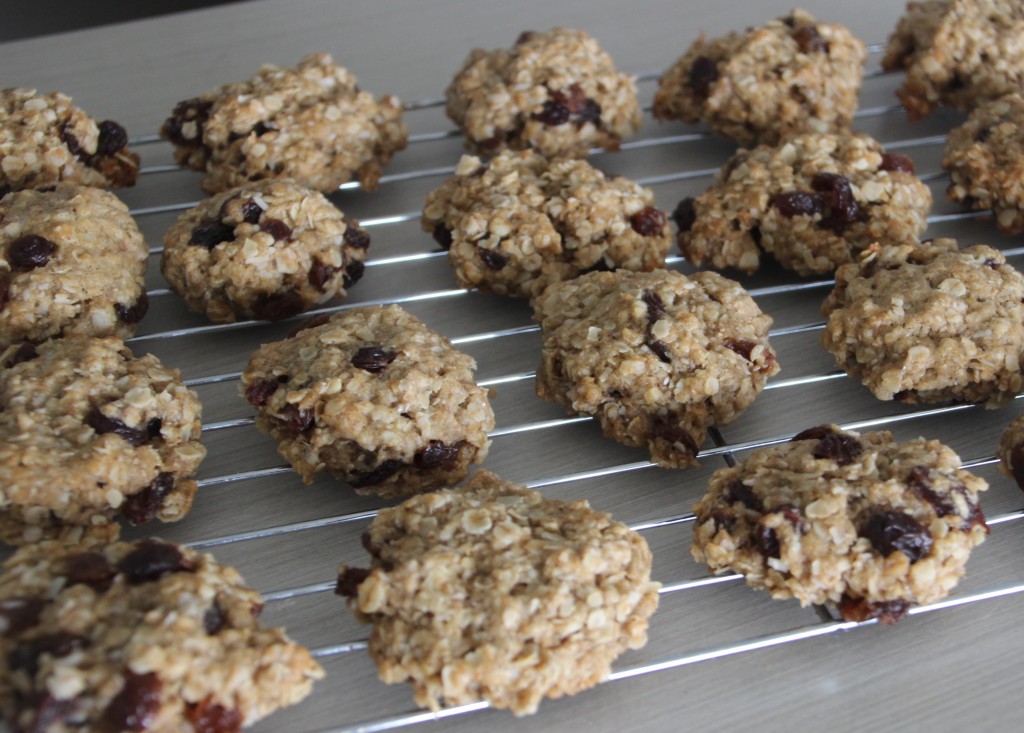 Egg-Free and Dairy-Free Oatmeal Raisin Cookies
1 C coconut oil, melted
1 C light brown sugar, packed
2 T chia seeds
6 T warm water
1/2 C wholemeal (wholewheat) flour
1 C all-purpose flour
1 tsp baking soda
3 tsp ground cinnamon
1 tsp nutmeg
1/4 – 1/2 tsp salt
3 C rolled oats (not quick oats)
1/4 C shredded, unsweetened coconut
1 1/2 – 2 C raisins
Boiling water, enough to cover raisins
Preheat oven to 350F/180C.
Combine chia seeds and warm water in a small bowl, stirring till chia seeds are immersed.  Set aside for at least 5 minutes.
Measure out raisins and cover with boiling or very hot water.  Set aside.
Combine coconut oil, sugar, and chia seed mixture.  Stir till fully incorporated.
Combine flour, baking soda, cinnamon, nutmeg, and salt.  Mix, then add to coconut oil mixture.  Stir till flour mixture and coconut oil mixture are well combined, then stir in oats.
Pour water off of raisins or drain them in a colander.  Add raisins and coconut to the cookie dough and stir.
The dough will be pretty moist.  At this stage you can either put the dough in the fridge for 20 minutes to firm it a little or just do what I did and use a scoop to measure out cookies, rolling into balls and slightly flattening onto a greased baking sheet.  Bake in preheated oven for 12 minutes, till lightly golden.  Allow to sit for 2 – 3 minutes on baking tray before transferring to cooling rack.
Yield: ~3 dozen cookies