This recipe is definitely up there in my top 5 favorite salads: "Avocado, Corn, Tomato, and Red Onion Salad with Lime Dressing".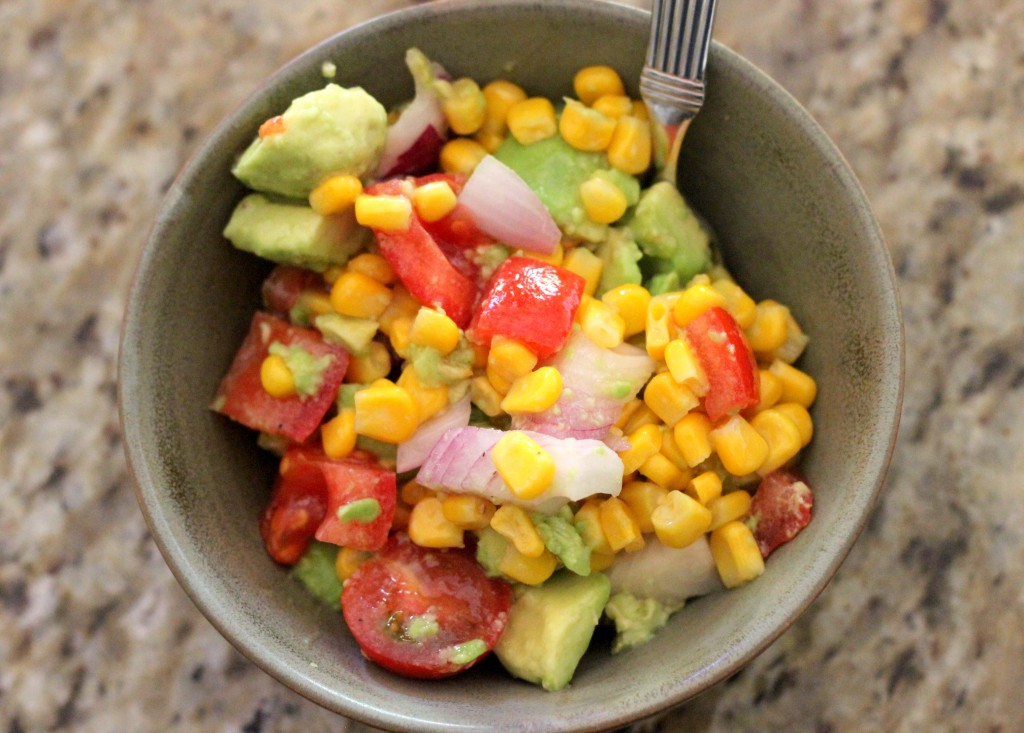 I can never seem to make enough of this dish.  It's always – poof – gone within 24 hours.  Chris will even eat it for breakfast.
Why do I like it so much?  I'll give you 5 reasons: (1) it's easy to make – takes about 10 minutes, (2) it's a lettuce-less salad, and lets be honest – lettuce gets a little boring after awhile, (3) I don't have to heat anything up or use a blender/food processor, (4) it's pretty, and (5) it's filling enough to take the place of a main dish, at least in our house.  Just serve it with some bread + olive oil and you're set.  Oh, and it's incredibly healthy – no sugar, like so many other homemade dressings.
Avocado, Corn, Tomato, and Red Onion Salad with Lime Dressing
For salad…
6 C frozen corn, thawed
2 red onions, finely chopped
2 punnets cherry or grape tomatoes, halved (I've also used diced, regular tomatoes)
3 – 4 large ripe (but not overly-ripe) avocados, chopped into bite-size chunks
Place the above ingredients into a large bowl in order listed.  Don't toss till you add the dressing – you don't want to smash the avocados.  Oh, and in case you don't know what a "punnet" is (I didn't before moving to New Zealand), it's the small plastic basket that fruits and veggies are displayed in at the grocery.
For dressing…
1/2 C extra virgin olive oil
4 T lime juice (or juice from 2 limes)
Salt and pepper to taste (go easy on the salt)
Combine the above in a small bowl and whisk rapidly till well combined.
Drizzle over salad and toss with salad forks.  Store in refrigerator till ready to serve.  If your avocados aren't overly-ripe (i.e., mushy), then the salad can be made 24 hours before you need it.  You don't have to worry about the avocados turning brown thanks to the lime juice dressing.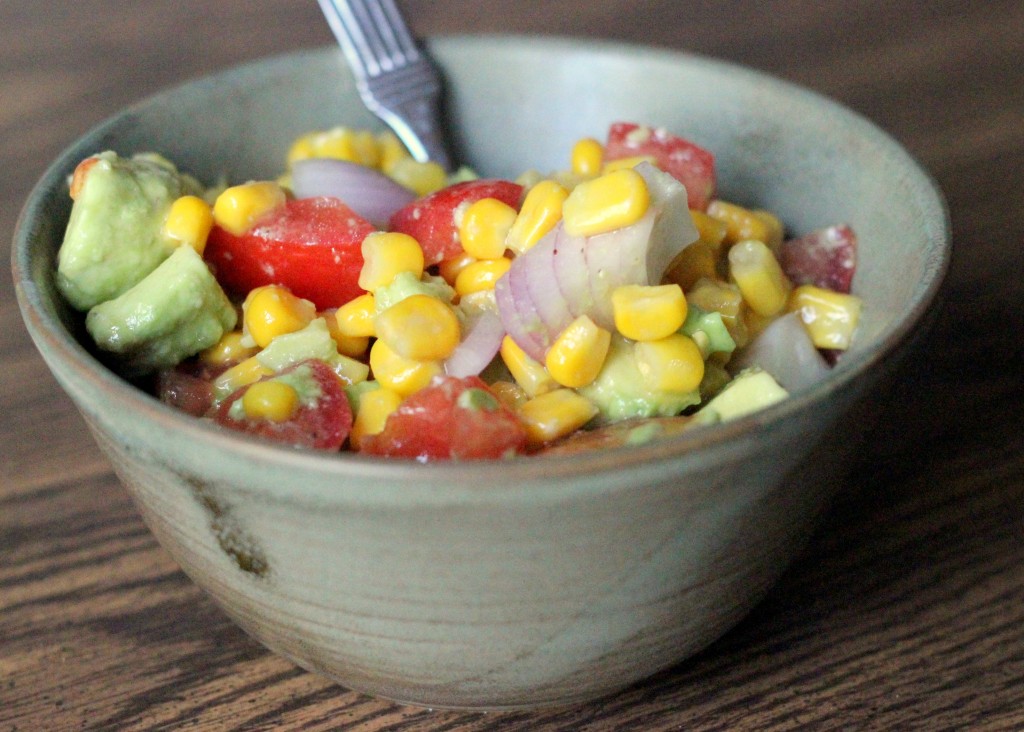 The original recipe can be found here.  I've slightly modified it and written it up above as we prefer.
**********
What are some of your favorite salad recipes?  Do you have a fool-proof, never-fail, go-to salad that you make whenever you're asked to bring one to a meal?  Please share!