I've heard about overnight oats before.  Thought, "Eh, that sounds interesting" and then moved on with my day.
I'm not sure what inspired me this time around, but I decided to give them a try.  Before Joe, Chris and I had a fairly even split as to who decided what we ate.  I did most of the shopping and cooking, but there were days when he would throw stuff together, too.
Now that Joe is here and I'm at home most of the time, the responsibility of cooking and meal planning has fallen to me almost entirely.  Rather than complain about this, I'm embracing it and looking for ways to steer our family toward a healthier eating lifestyle.  Overnight oats is one of those ways.  Food isn't broken down and nutrients aren't lost by heating the ingredients.  Instead, it all stays in one bowl which I get to eat in the morning!
I researched several recipes, but ultimately decided to start with one that seemed the most basic and that did not use any unsweetened yoghurt.  I like unsweetened yoghurt, but I also think that there can be too much of a good thing.
I turned to "Oh She Glows" (a site that's been around for awhile but that has only recently come into my regular rotation) and found a recipe for vegan overnight oats.  You can make these using any type of milk (though if you use cow's milk, they'll no longer be vegan, which is fine with me) and they're sweet enough as is that I haven't needed to add any of the "morning of" ingredients, such as honey, maple syrup, or peanut butter.
I whipped up my first batch, stuck it in the fridge, and the following morning, voila!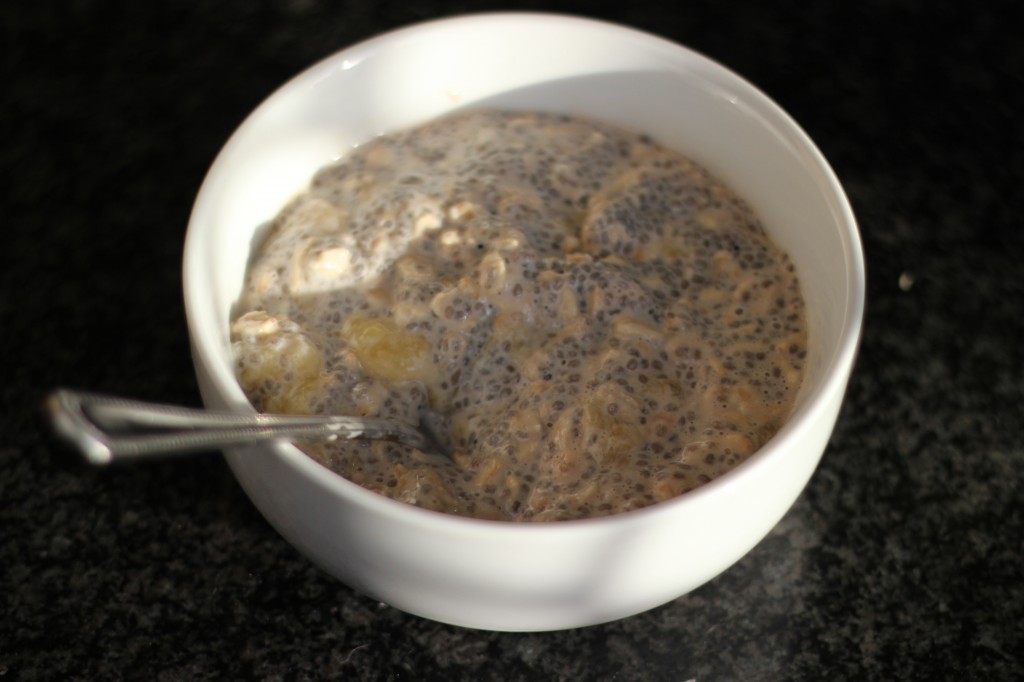 It may not look too appetizing, and the thought of eating cold oats might turn you off, but don't let it.  It doesn't have the consistency of oatmeal, and it's not the consistency of cereal, either.  It's somewhere in-between.  The chia seeds add a really nice bit of texture, and the sweetness from the bananas is just enough.
For those of you who are interested, click on over to "Oh She Glows" for the recipe!
And yes, Chris does tease me when I tell him that I'm "making my oats".  He neighed like a horse once, and from that point on, I've just said that I'm making my breakfast 🙂