I pinned a recipe for "Crusty Bread" from the Simply So Good blog I don't know how many months ago.  At the time I was in the midst of a bread-making bonanza and was particularly interested in recipes that required as minimal involvement from me as possible (i.e., no kneading, no punching down after a few hours, no intricate steps).  This recipe certainly fit the bill, but then after pinning it, I forgot about it.  I remembered it when we moved into our apartment and I unearthed my old stoneware dutch oven.  I decided to give it a whirl…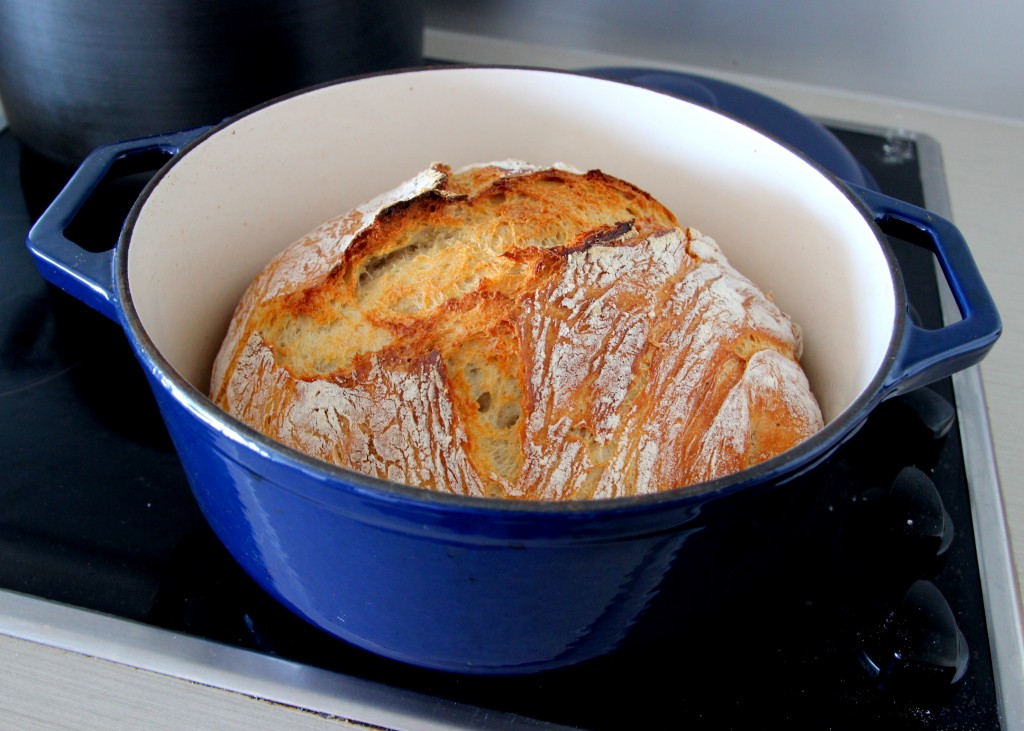 It's delicious, easy, and tastes like what you'd buy at the baker's shop only better.  I've been making 1 or 2 loaves a week for the last 3 weeks.  The recipe is nothing more than dumping 5 ingredients in a bowl, stirring them together with a fork or big wooden spoon, covering the bowl with a damp towel, and letting it sit for 12 – 18 hours.  I usually mix it up at the same time as I make dinner or just after, then bake it the following morning.
Overnight Stoneware Pot Bread
5 C unbleached all purpose flour
1 C wholemeal flour
3 1/2 tsp salt (I usually use a little less than this)
1 tsp instant or rapid-rise yeast
3 C lukewarm water
In large bowl, mix together flour, salt, and yeast.  Add water and stir till a shaggy mixture forms.  Cover bowl with wet towel or plastic wrap, then set aside for 12 – 18 hours (I usually mix this up at dinner or just after, then bake in the morning).
After 12 – 18 hours has passed, heat oven to 450°F (230°C).  Once oven has preheated, place stoneware pot and lid in oven, then heat for 30 minutes.  When there are about 5 minutes remaining, place dough onto floured surface and shape, don't knead, into a ball.  Once the pot has heated, drop dough in and cover with lid.  Bake for 30 minutes, then remove lid and bake for a further 15 minutes.  Turn out onto wire rack to cool.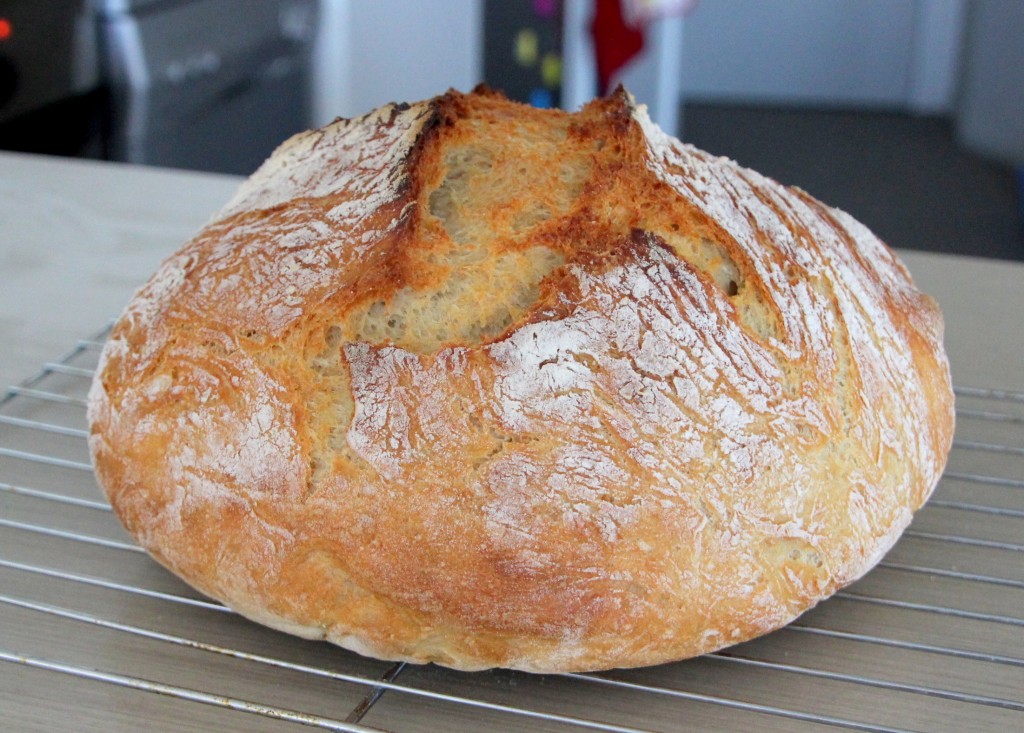 We're big fans of this bread.  The recipe above makes a large loaf.  If you'd prefer a smaller size or have a smaller stoneware pot, then click on the link at the top of this post for the original recipe.  I generally cut a slice, cut that in half, then toast it for breakfast or make PB&J sandwiches for Joe or peanut butter toast for a late night snack.