Now that the toy room/den is mostly complete, I'm moving onto the dining room.  I primed the walls and trim yesterday and have my fingers crossed that I'll be able to apply the first coats of paint tomorrow.
But before doing anything, there was first the issue of the old curtains hanging in there.
Now, I've learned the value of making-over old things so that they can be used like new.  These curtains had their place in our home… and now they have their place in our garbage.
I was grateful for the fact that the house came with the window treatments.  For starters, it meant that I wasn't hanging bed sheets over the windows on the first night of our arrival.  For seconds, it meant that we could live in the house for awhile and get used to it, figuring out over time what kind of shades/blinds/curtains we wanted to put up.  But over time, all of the former window treatments have come down, one by one.  The only treatments remaining are the curtains hanging over the massive 5 panel picture window in the front.  They're still up, but not for long.
I'm still not ready to plunk down money for custom window treatments.  Everything that I've bought thus far has been "off the rack", usually from Overstock.com.  No different with the dining room.  I'm continuing on with "phase two" options, and because I've spent a lot of money on paint, roof repair, an electrician, and hardware this month, I went for something quite basic: roller shades.
Cordless, naturally.  Safety first!  I opted against the uber-economical shades (because they had cords) and got the next most economical option, which was cordless.  Factoring in their prices with the whopping $0.80 remaining in my rewards balance for Overstock.com + a slightly more hefty 15% off discount code, and I ended up buying both blinds for $80 (and that included shipping).  So roughly $40 apiece.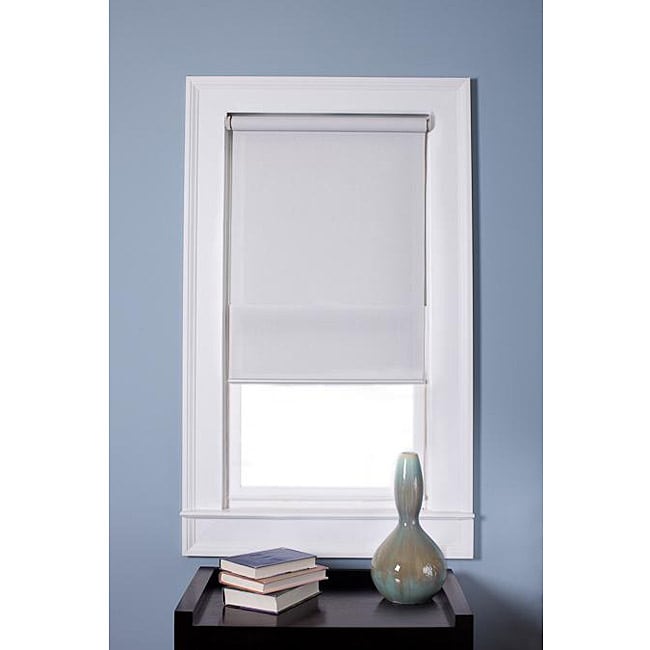 Contrast the price of these to a couple of hundred dollars on custom window treatments, or $200 each for the tension Roman blinds that I liked from Pottery Barn.  My heart constricts just thinking about the first time Joe would get into his head to use them as a modified bungee rope or swing.  A fast $200 down the drain!  Thanks, Pottery Barn, but no thanks.
Added bonus: when (not if) Jack flings food from his highchair tray and some lands on my phase two shades, I can just wipe them down and not be too bothered.  I'll probably get a valance of some sort to go up top (again as a phase two interim thing) but hopefully they'll do the job until I can save up/figure out what I want to go there permanently!
Now, I just have to finish painting :-/