We spent Wednesday – Friday in Queenstown last week.  Let me share a little bit about our trip with you…
Our "side" of fries at Pub on Wharf… more like a giant bucket 'o chips!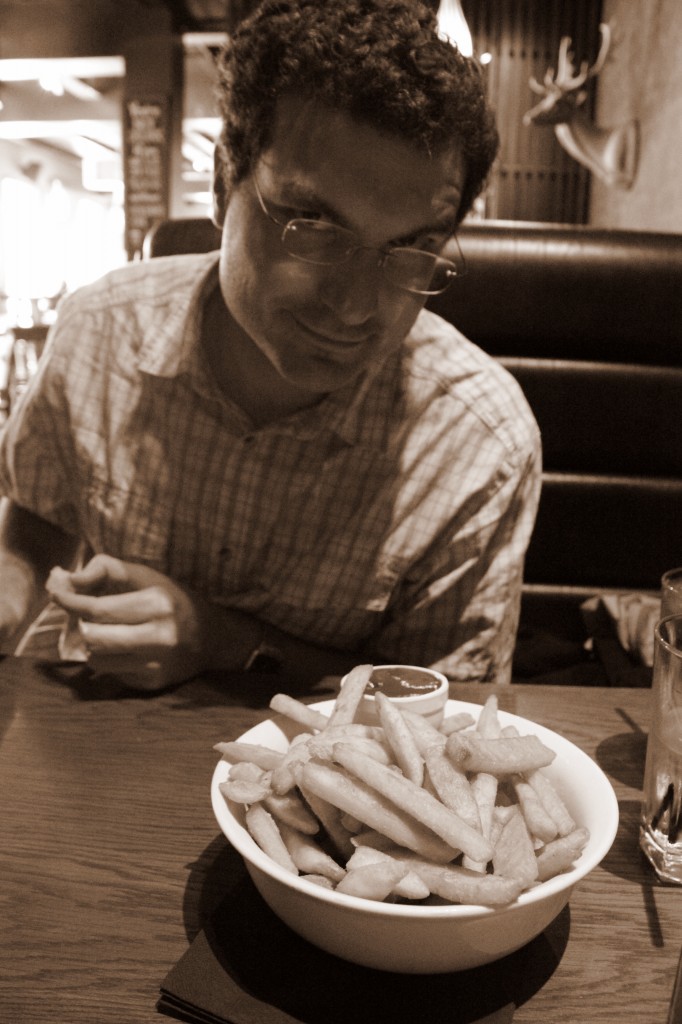 Somebody was very happy about all those carbs…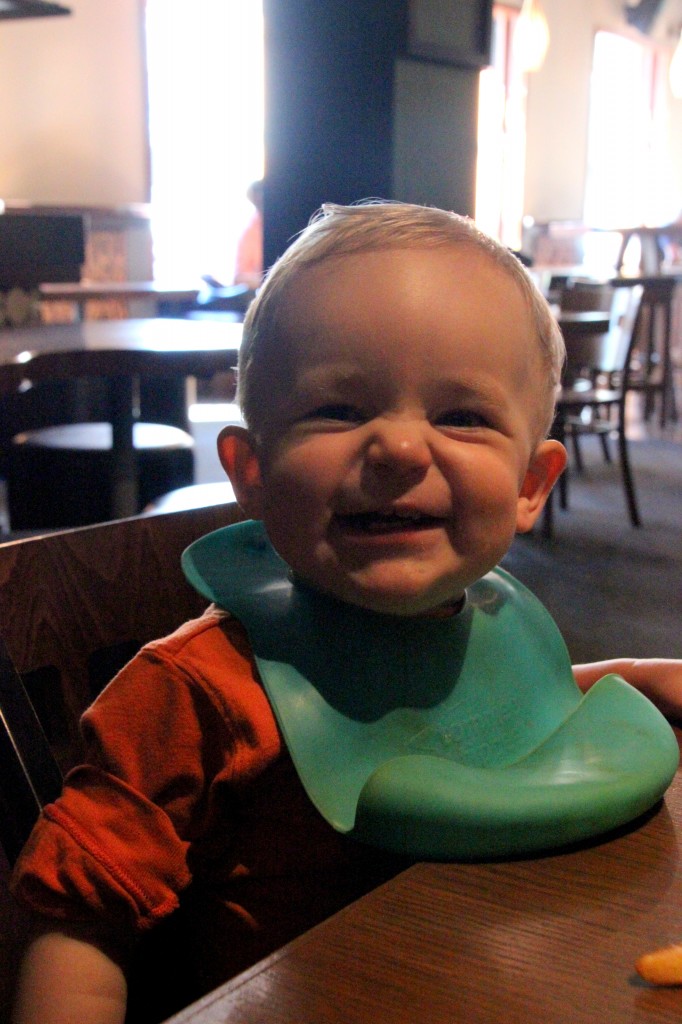 Actually, I think he was just happy to see some food.  We were hungry.
The flight into Queenstown?  Ugh.  I'm not sure if it's this pregnancy or what, but I have never come so close to throwing up mid-air.  There was some pretty nasty turbulence coming over those mountains.  You know it's bad when one of the flight attendants cuts short their landing safety routine and nearly runs to their seat, all while yelling, "Seatbelts!  Seatbelts!"  We were so close to The Remarkables mountain range that the pilot warned us ahead of time and told us "not to worry".  Ha!  I had to repeat to myself "You will not throw up, you will not throw up!"
Chris and Joe?  Cool as cucumbers.
See what I mean?  These guys are almost always happy.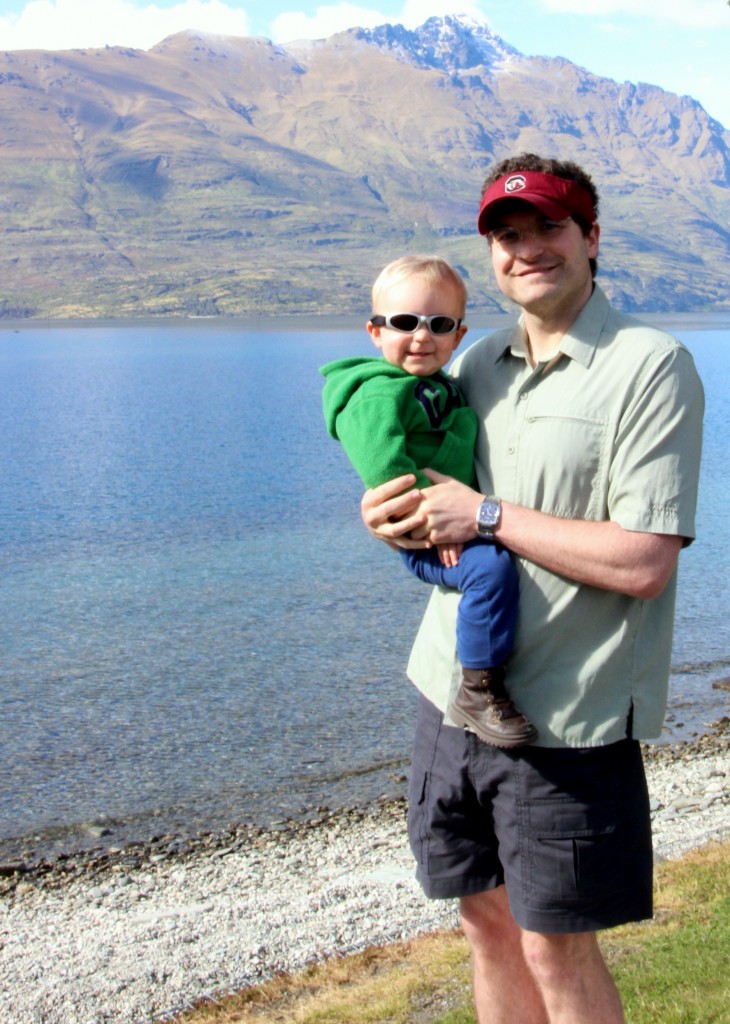 Queenstown is lovely.  It reminded me of Colorado in some respects – lots of hiking gear stores, mountain bikers, climbers, and mountains.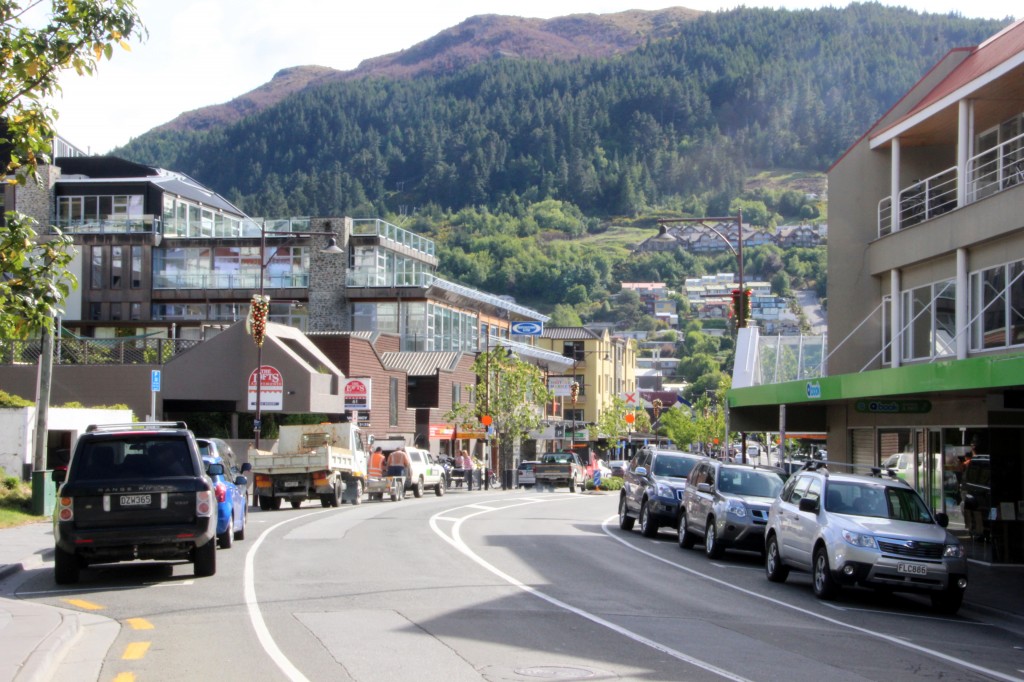 We stayed at the Rydges Lakeland Resort, which was nicely situated with a lake aspect and within easy walking distance of most main attractions.  I recommend signing up for their free Priority Rewards program online – it gets you 10% off the best online rate, a complimentary drink on arrival (mine was consumed by Chris, naturally), 1pm checkout, 20% off dining in their restaurants, and 50% off the internet charges, not to mention points toward future stays.  I found a rate that included a buffet breakfast each morning of our stay.  Since Joe has turned into a human vacuum cleaner and eats everything in sight, we've learned to appreciate the bounty of buffet breakfasts.  Definitely worth it, and bonus of free entertainment when we watched not one, but two different people light their pastries on fire while attempting to toast them (despite the very LARGE sign positioned on the toaster oven warning people not to toast pastries, complete with a picture of a pastry going up in flames).
Another recommendation?  Wherever you're traveling in New Zealand, look for a free Kidz Go booklet (or use their website).  We picked up one of these at the hotel and what a great resource it was.  It had listings for playgrounds, kid-friendly and pram-friendly walks, toilets with nappy changing facilities, was broken down by budget (free, $50 range, $75 range, etc.), and activity style.  We have referenced it several times, both in Q'town and Wanaka.
One of our first activities was the Kiwi Birdlife Park, located just outside the entry to Skyline Gondola.  We saved a few pennies by buying the park entry + gondola as a package.  The nice thing about this (aside from the financial savings) was that you don't have to use them on the same day.  We ended up visiting the park one day and the gondola the next.
Joe loved the park.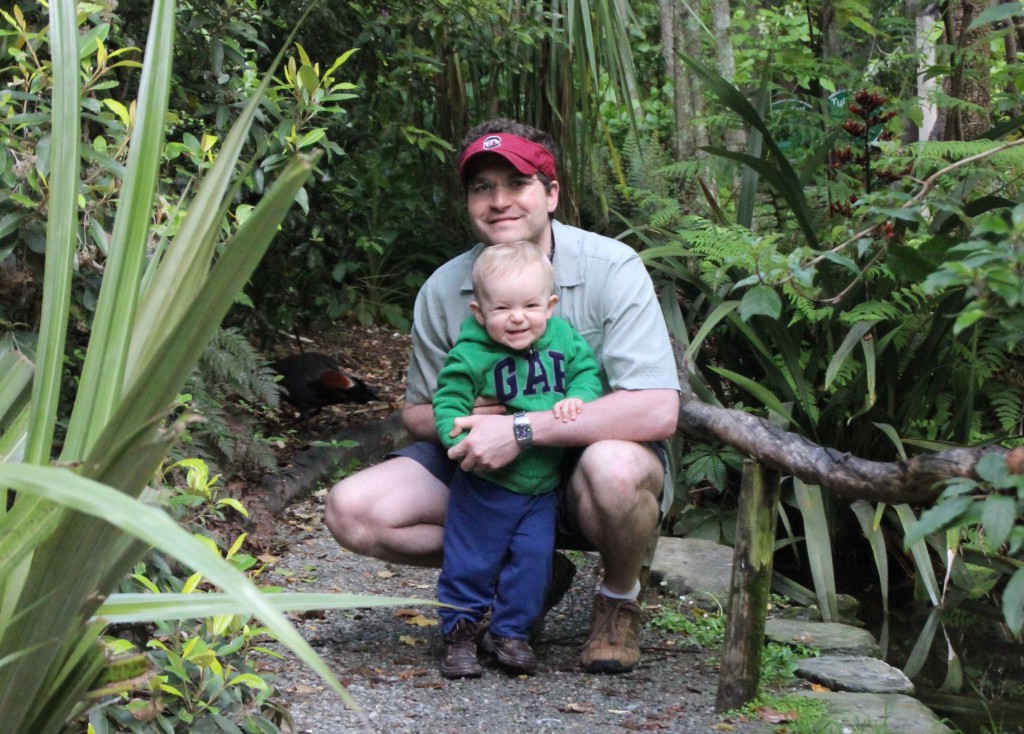 Can you believe that it was built on what used to be the Q'town dump?  That's right – what is now a well-known, successful wildlife rescue is situated on land that used to be filled with refuse and rusting cars.  It was certainly inspiring to see how work, dedication, belief, and time can bring about beauty from ashes.
We were able to see many different types of native (and some non-native) New Zealand birds, reptiles, and small furry mammals.  The highlight was definitely seeing the kiwi birds in the kiwi viewing houses.  We were a bit concerned as to how Joe would do while in the viewing house (they ask you to be very quiet – no talking – and to refrain from taking any photos or video, as kiwi birds are quite shy) but he managed just fine and we were able to stay for the feeding time and then the conservation talk afterward.
Dinner was pizza at Winnie's…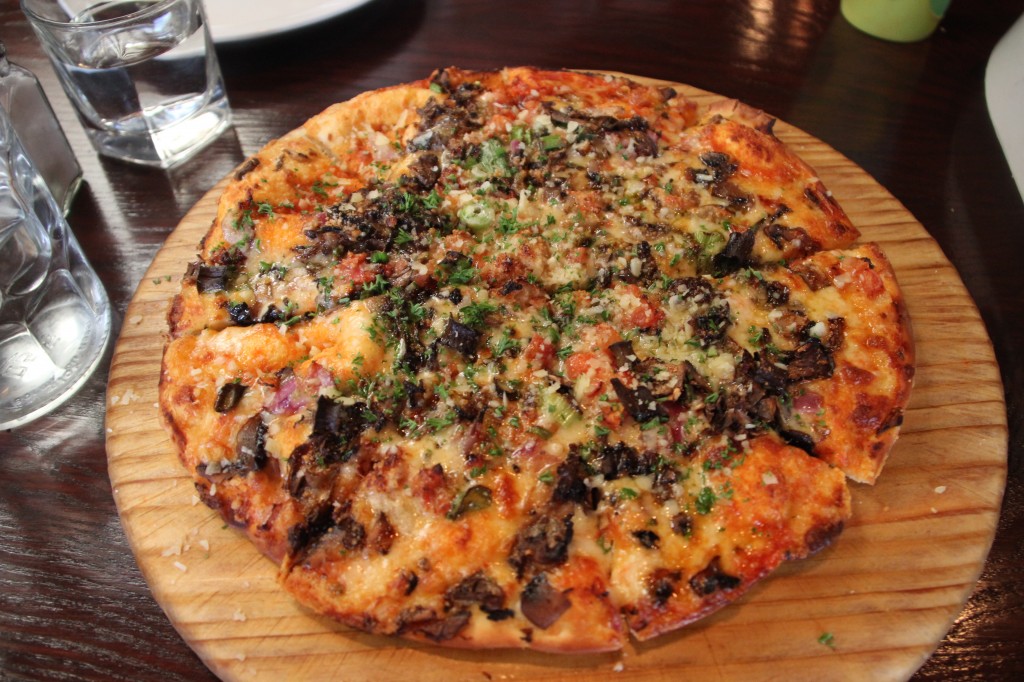 Yet another satisfied customer.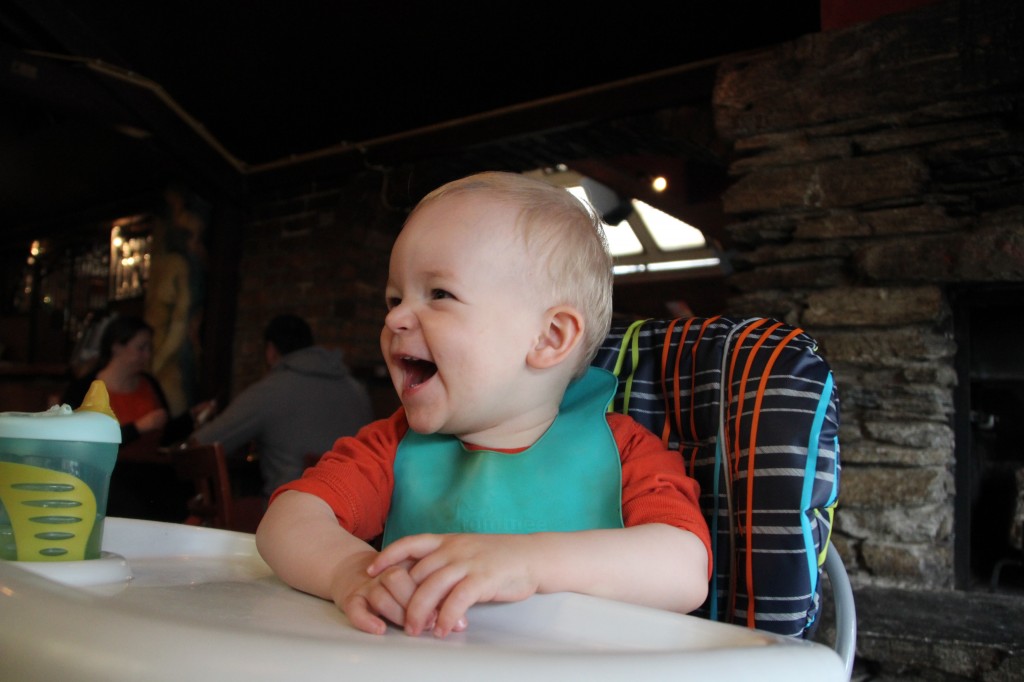 Next day: Skyline Gondola!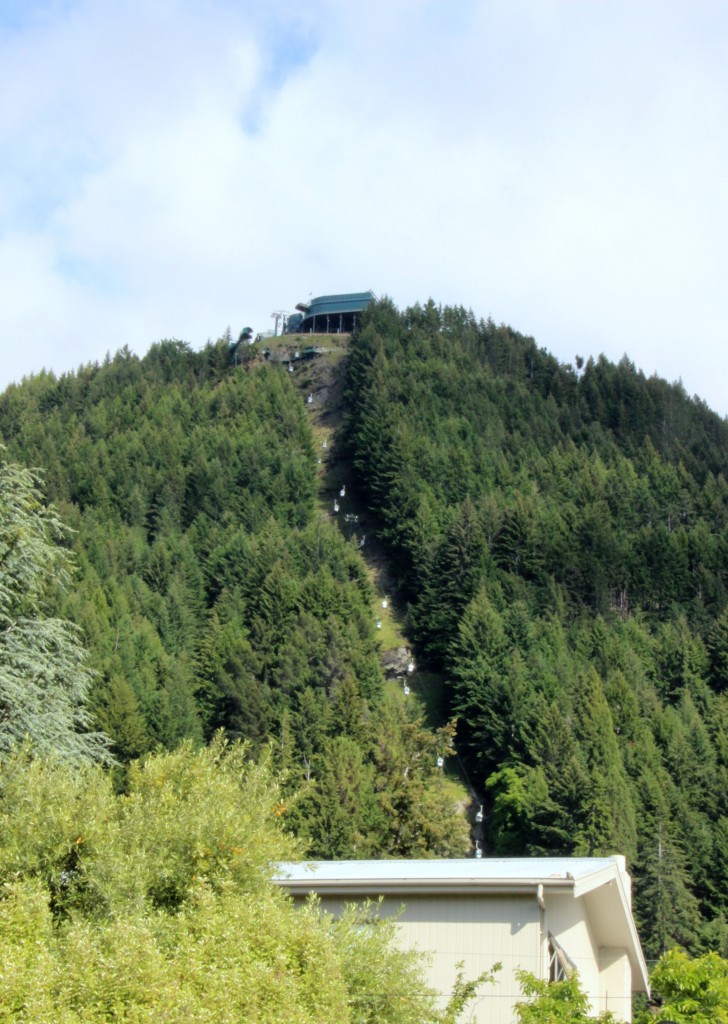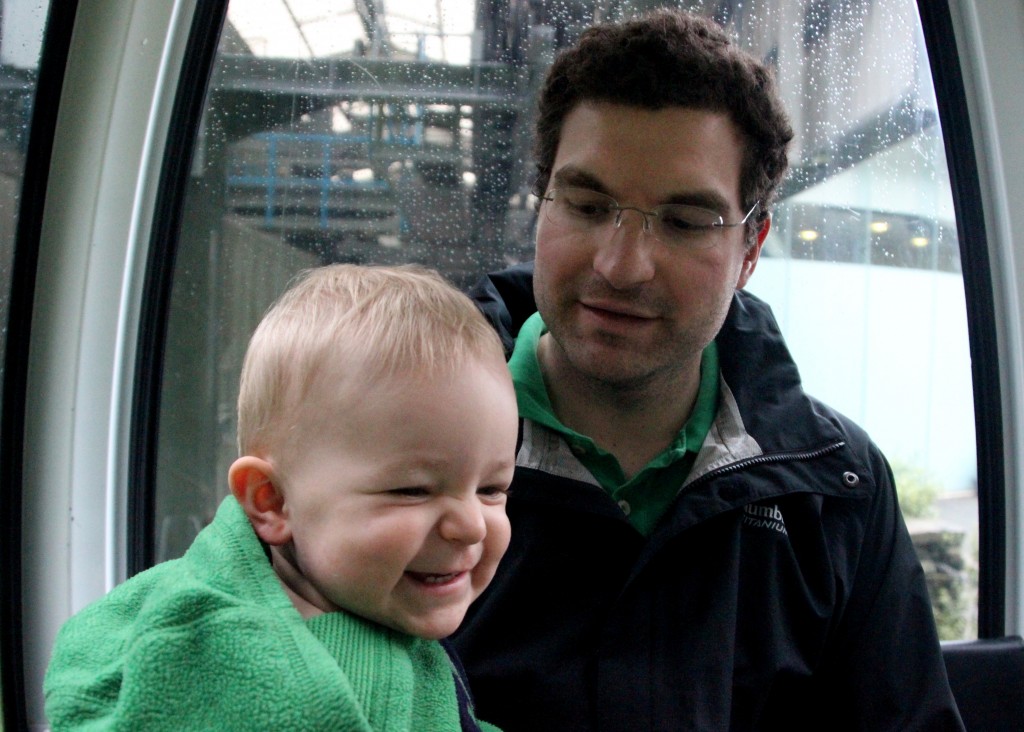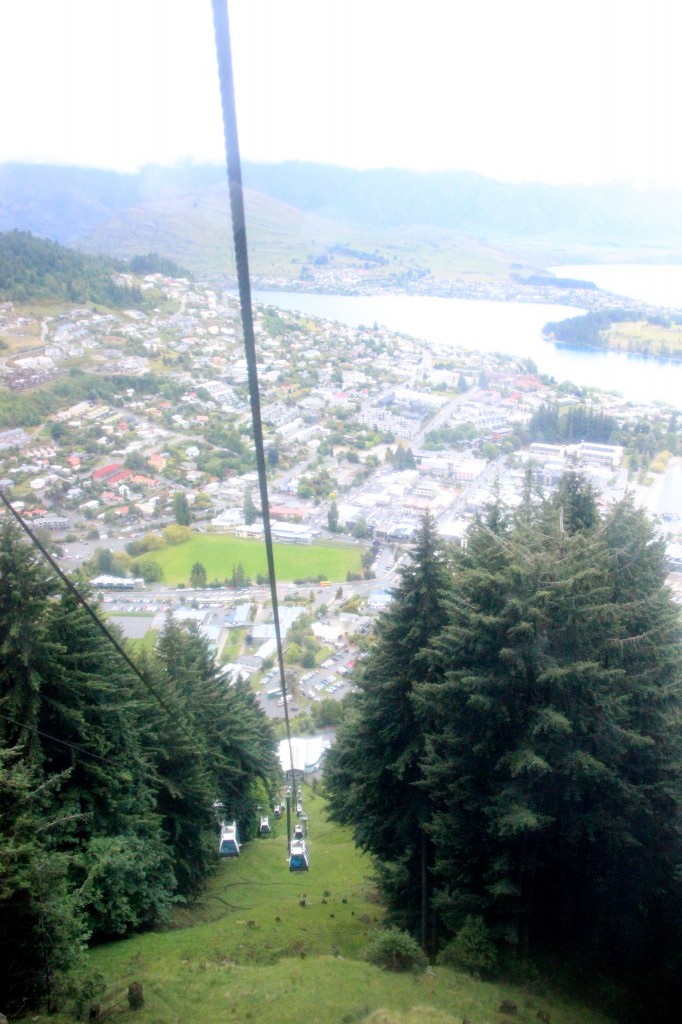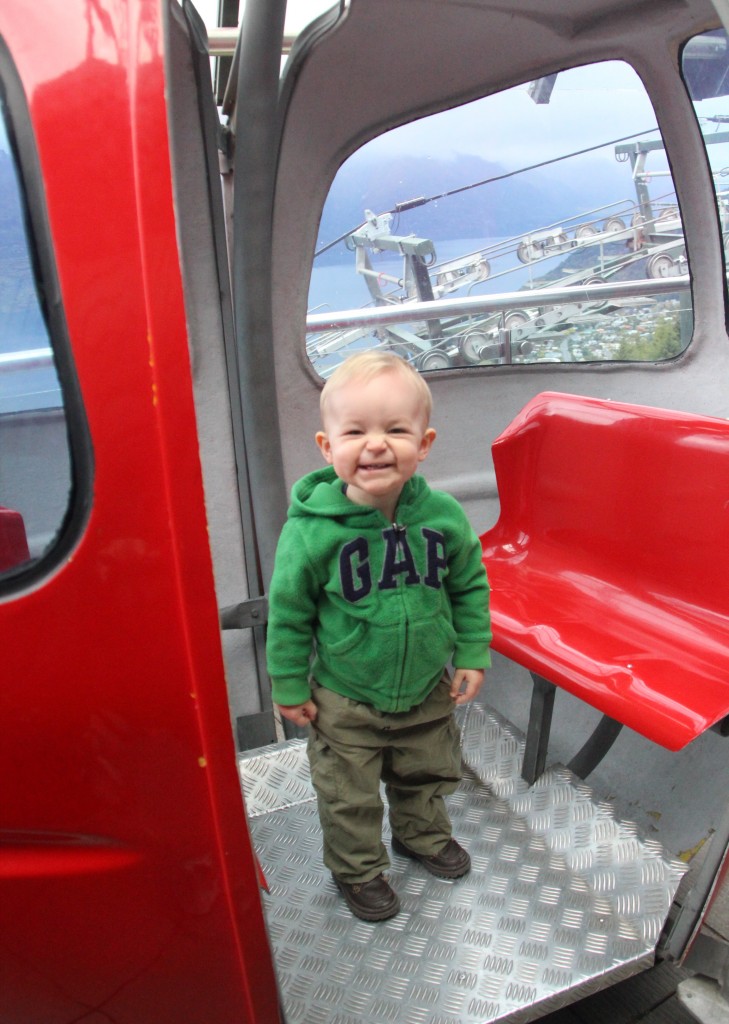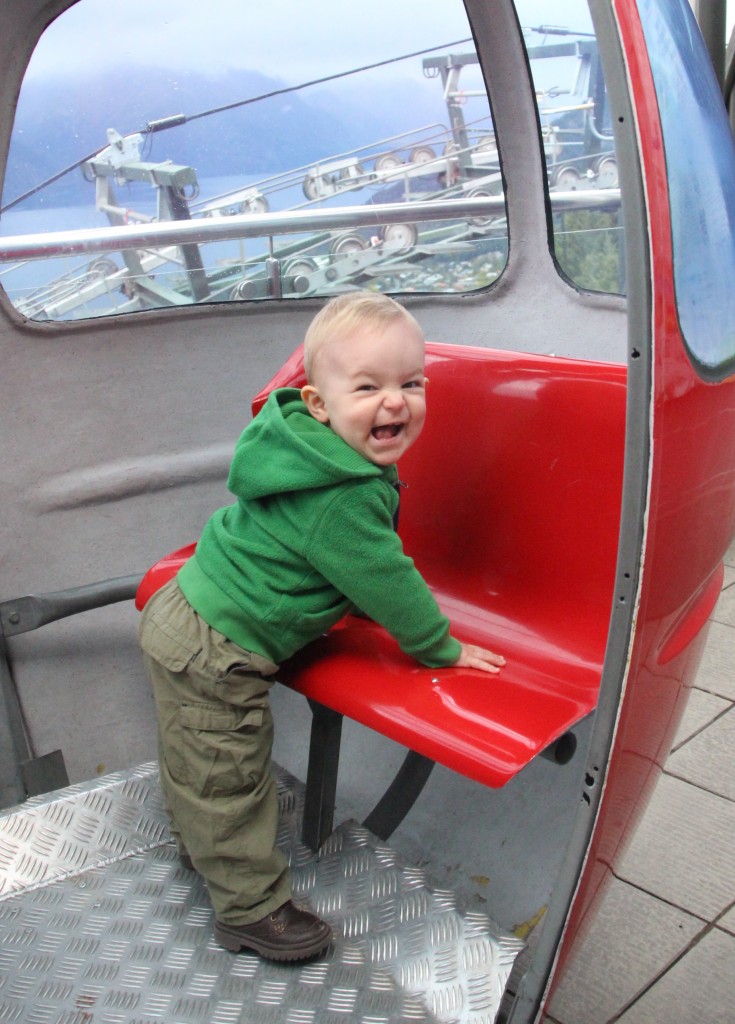 The views were gorgeous.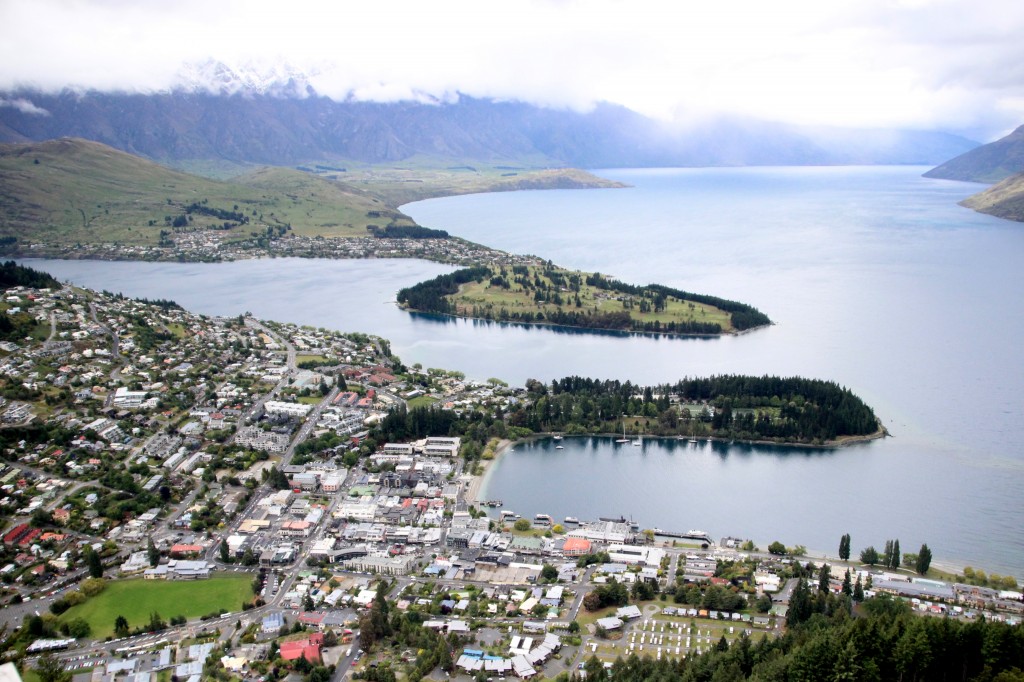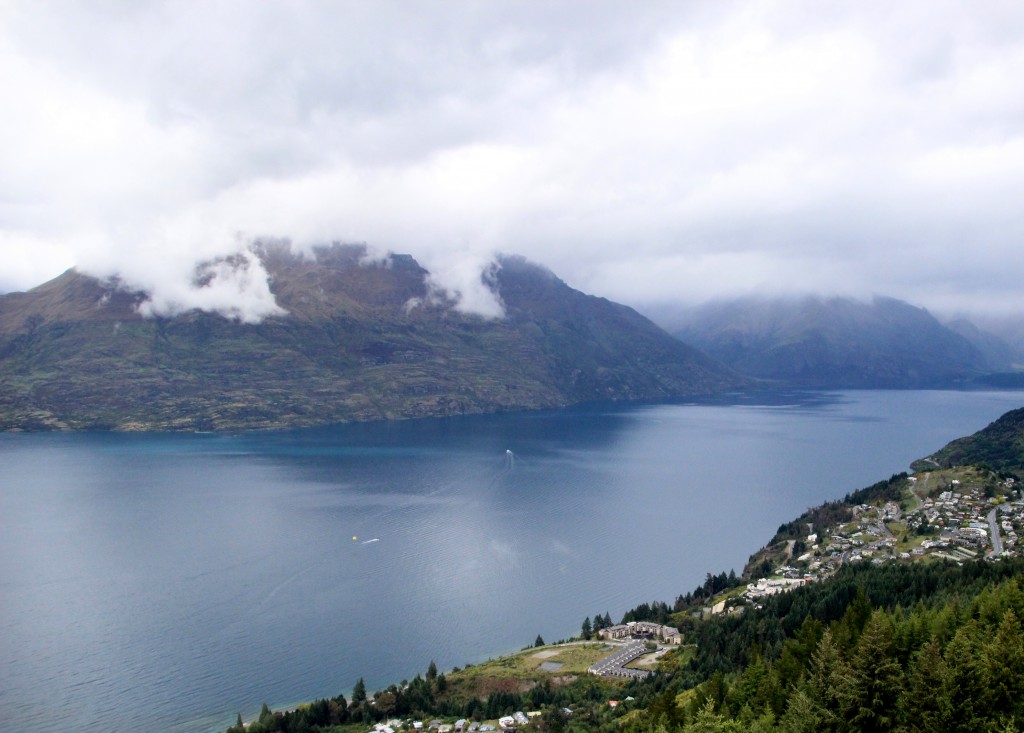 Joe was in a great mood.  We've found that the best way to get him to smile for the camera nowadays is to say, "Don't smile!"  Cracks him up every time.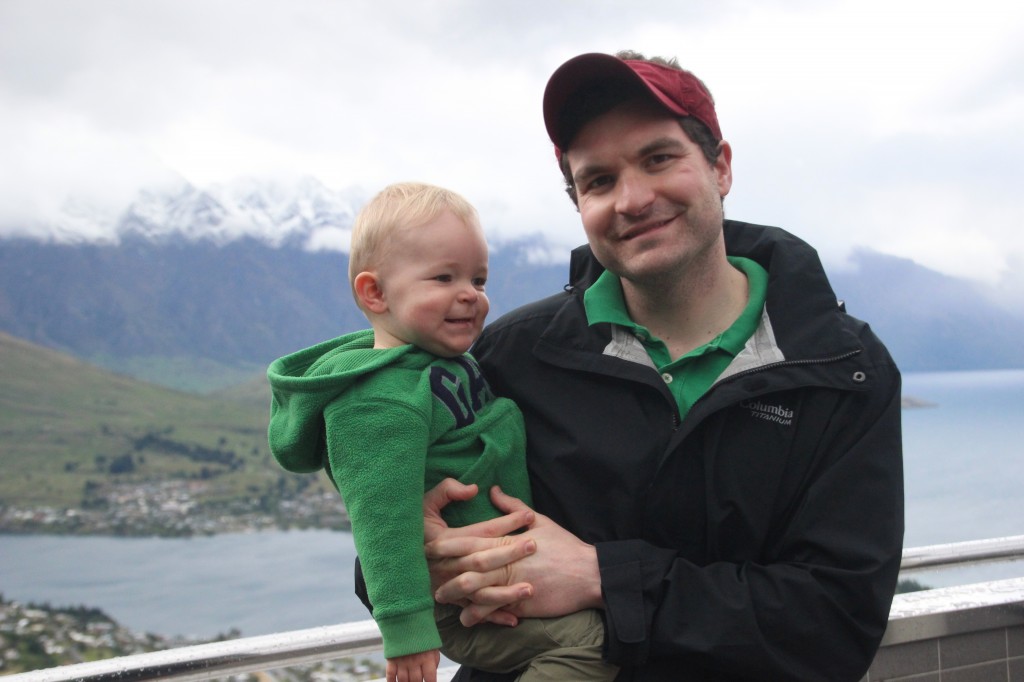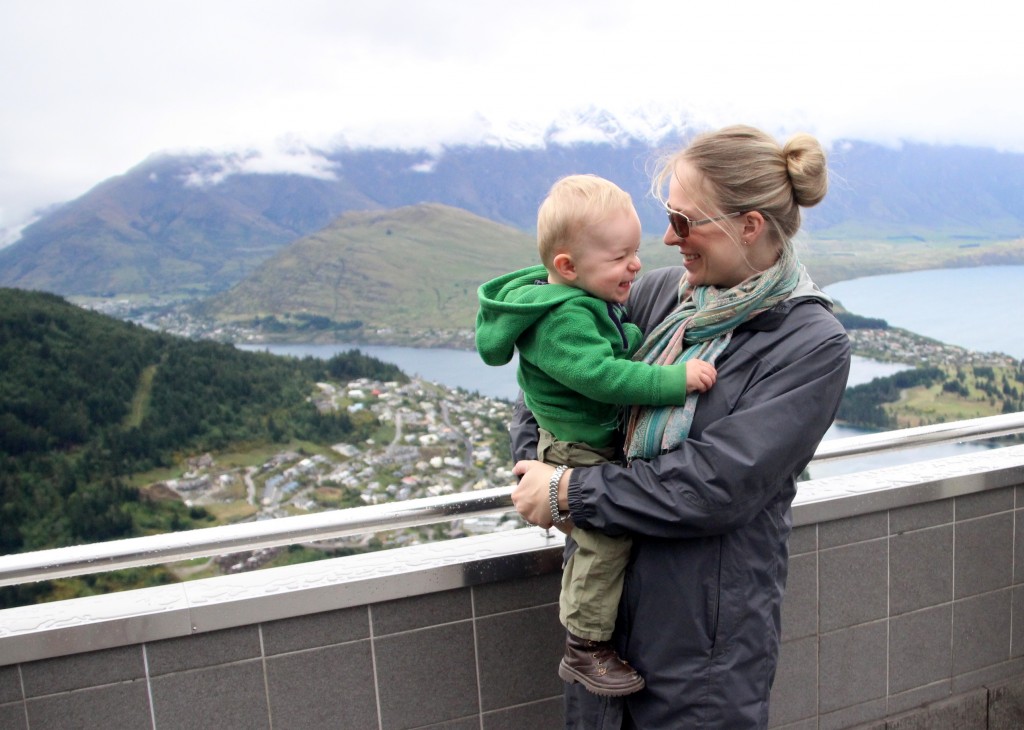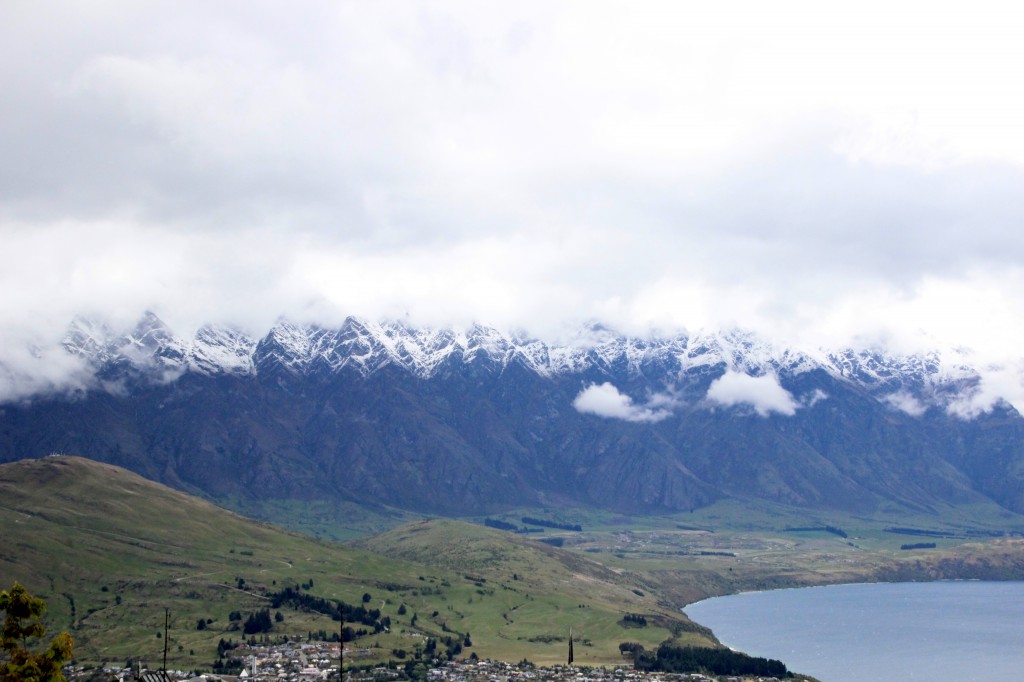 We ended our last day there with a cruise on Lake Wakatipu.  There are several different options for cruises, with one of the more obvious ones being the TSS Earnshaw steamer.  However, I did a quick look-up on TripAdvisor and saw that despite it's high profile, it wasn't the highest ranked.  In fact, Million Dollar Cruises had a higher rating (and was about half of the price).  Give you one guess which one we chose.
The beautiful lake.  Lake Wakatipu is 99% pure water which means that, like distilled water, it won't conduct electricity.  When Queen Elizabeth visited Q'town several decades ago, she was reportedly quite impressed with the clarity of the water.  It truly is a beautiful lake.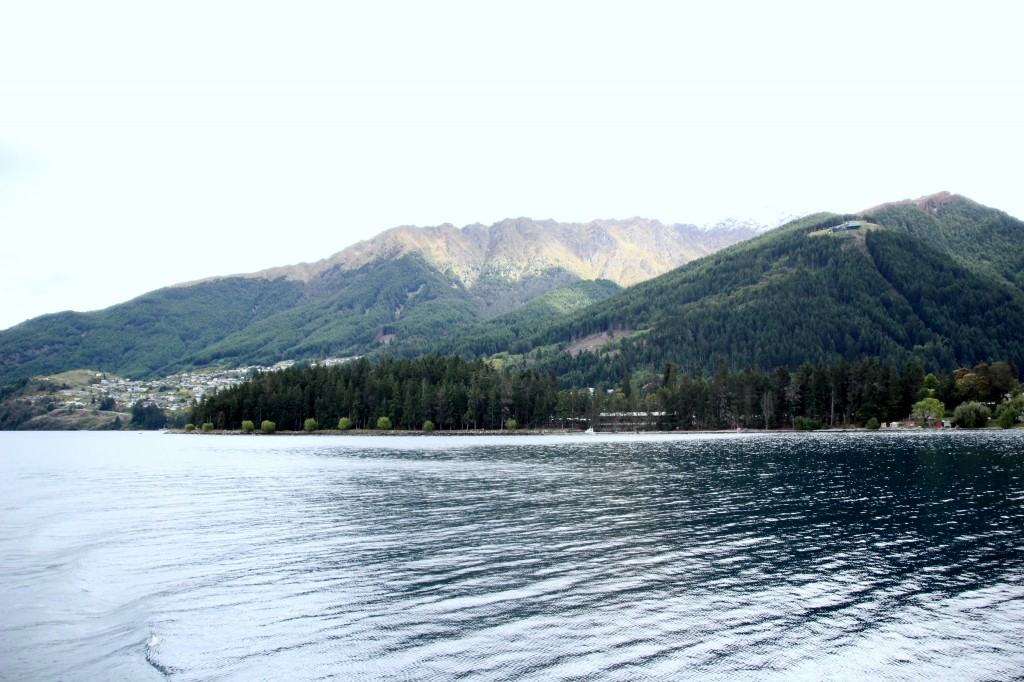 For those who don't know, Q'town was first settled by 14 Europeans (one of whom was William Gilbert Rees, generally regarded as the founder of Queenstown) and 8,000 merino sheep.  How they managed to get 8,000 sheep down there is something that I wonder about – it must have been quite a feat.
Joe loved the cruise, but then he seems to love all sorts of different types of travel.  He had a fabulous time steering the boat, but then he began to press the buttons and the captain had to take over.  Is anyone surprised that Joe went right for the buttons?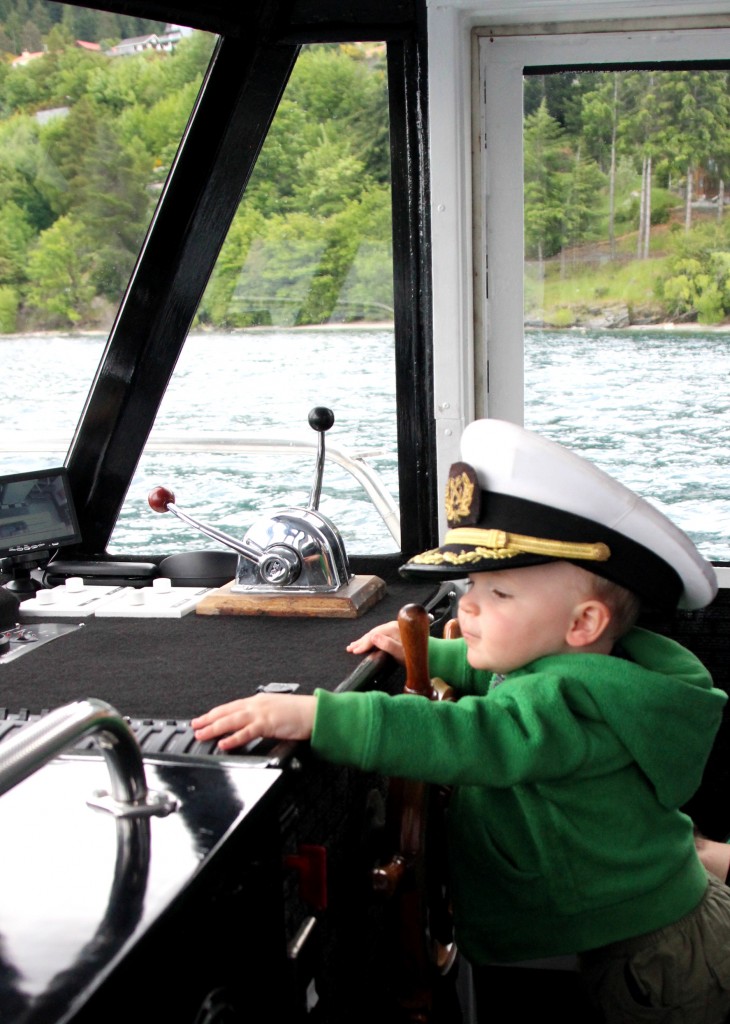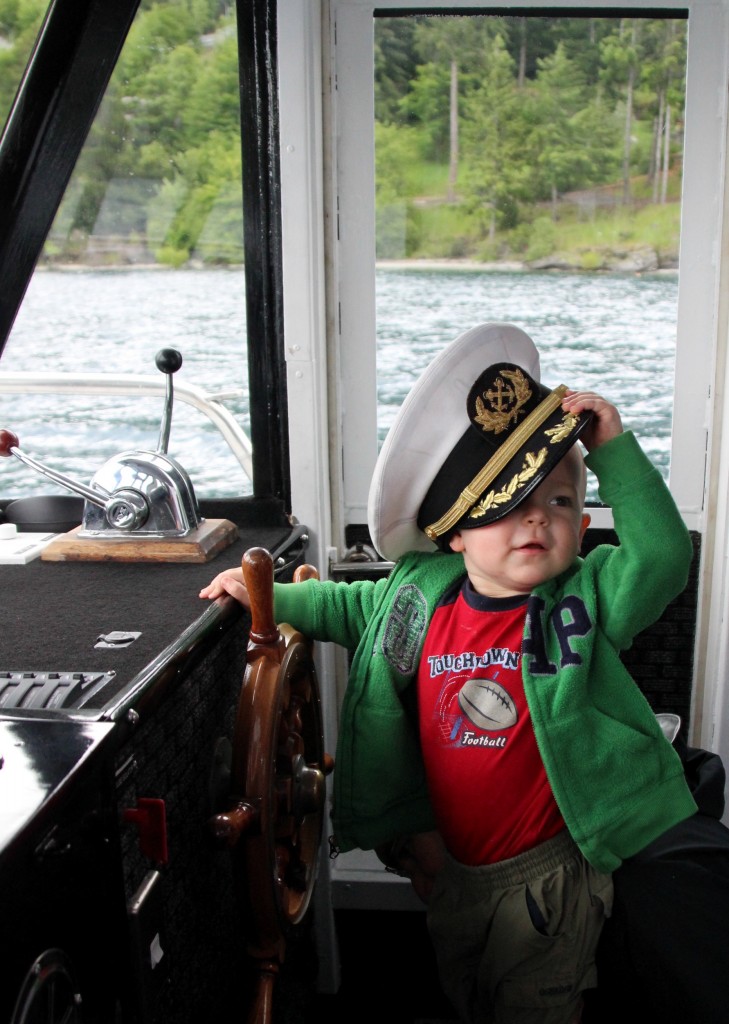 I love that boy!
********************
All good things must come to an end, and that included our time in Q'town.  We drove off to Wanaka, about an hour north of there but still in the Southern Lakes District of Otago.  We drove through the goldrush town of Arrowtown on the way.  We weren't able to do any sight-seeing, but Chris did stop for coffee (for him) and a chocolate milk shake (for me).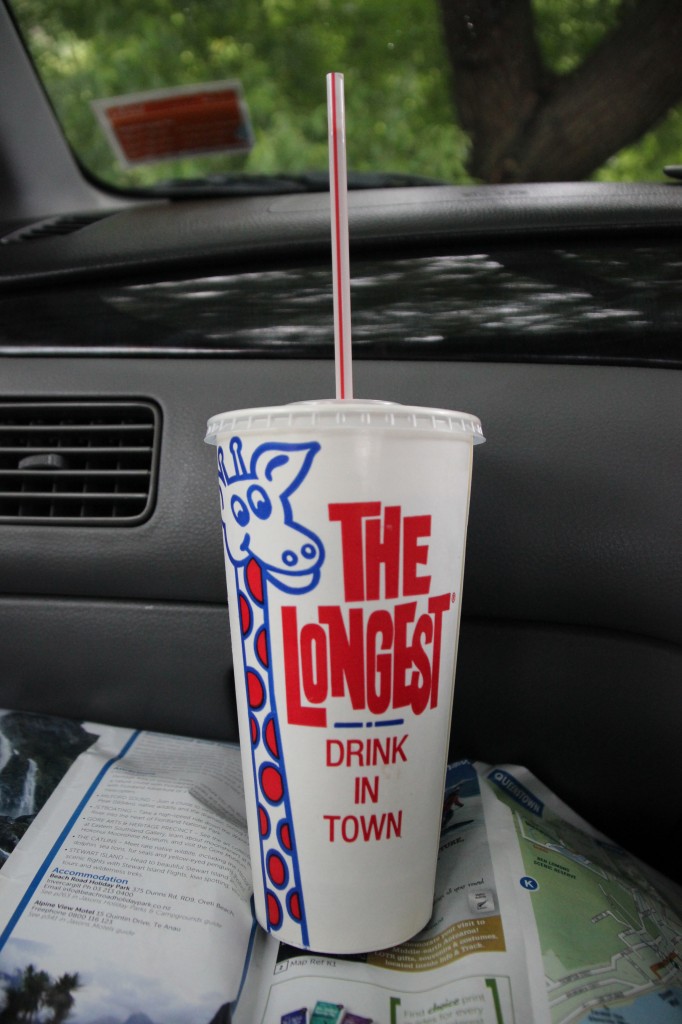 "The Longest Drink in Town" – yet another Kiwi classic

A rainy day in Arrowtown.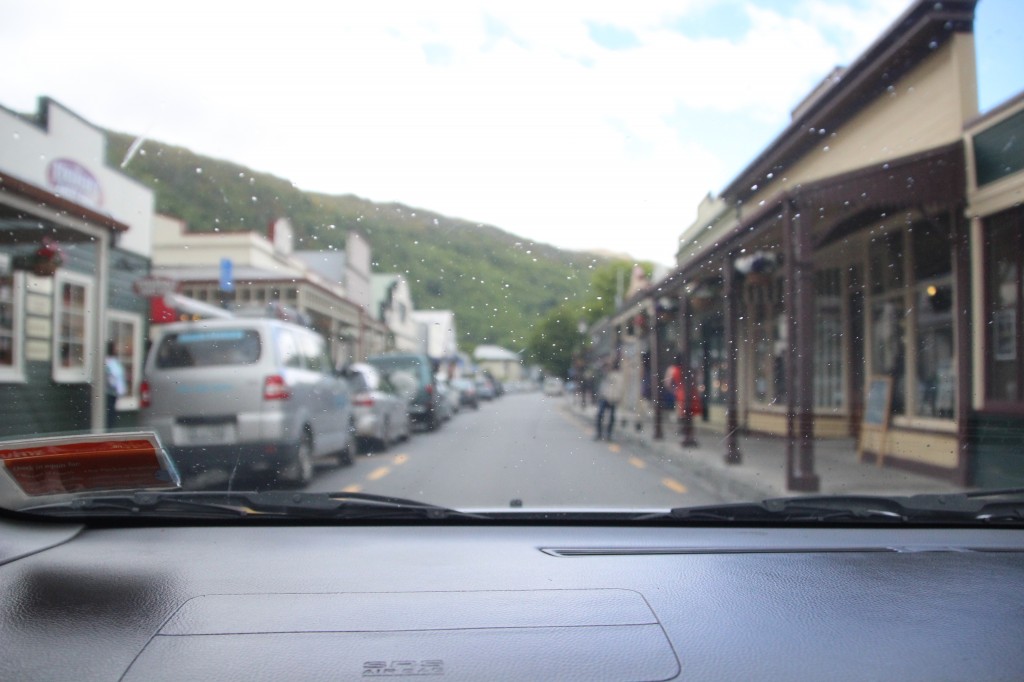 We took the Crown Ridge Road to Wanaka.  Welcome to Middle Earth, my lovely readers.