These bars are the kind of thing your dentist warned you to stay away from.  Sticky?  Yes.  Chewy?  Yes.  Sweet?  Oh yes.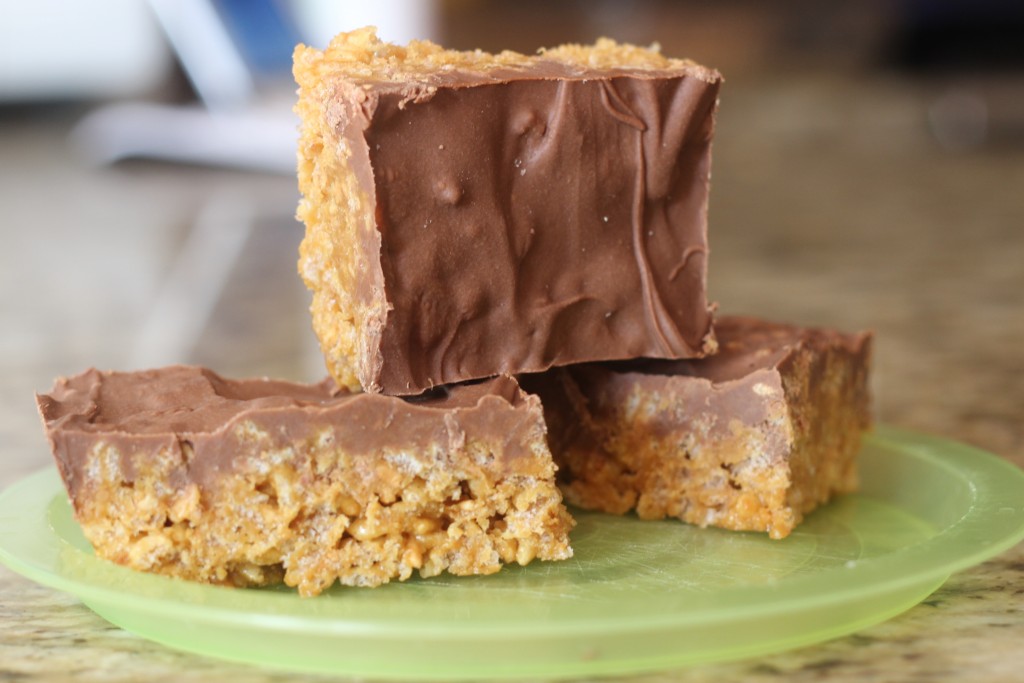 Not-Quite-Scotcheroos
I decided to call these "Not-Quite-Scotcheroos" because they're like Scotcheroos, but not quite.  Not very original, but there you have it.
Why aren't they scotcheroos?
Reason #1 – I can't find butterscotch chips in New Zealand.
Reason #2 – I'd have to go to an import store to get corn syrup.  And I really don't want to (a) go the American import store or (b) buy corn syrup.
Nonetheless, Chris was asking for something resembling Scotcheroos.  I told him that I didn't know how successful I'd be, but that I'd try.  I think that based on the photo above, you all can see that I'm a culinary whiz 🙂  That, and these bars are pretty hard to ruin.
Not-Quite-Scotcheroos
Yield: 18 bars
Spray a 9×13 inch baking dish with non-stick cooking spray.  Set aside.
Measure sugar and syrup into a large saucepan and stir to combine.  Place saucepan over low heat and stir frequently till mixture reaches a moderate boil.  Allow to boil for 10 seconds, stirring constantly and making sure it doesn't burn.  Remove from heat.
Add peanut butter to saucepan and stir till fully incorporated.  Add rice cereal and mix till cereal is evenly coated.  Pour into prepared dish and press down to get a smooth surface.
Pour chocolate chips into a small saucepan and heat over lowest setting possible, stirring constantly till chips are melted.  Remove from heat and pour over cereal mixture, smoothing out across the surface.
Place in refrigerator to set and cool.  Remove from refrigerator at least 30 minutes before you need to serve, otherwise cutting these will be a real nightmare!