One of my earliest memories of dating Chris is of the two of us making a meal together.  During the process, I set out some fish and asked him to "smother" them in butter.  We were just getting to know one another (12 1/2 years later and there's still a lot to learn!) and I quickly found that my Midwestern idea of smothering something in butter was quite different to his Southern definition.  By the time he was finished, those fish looked like they'd been covered in an inch of thick buttercream frosting – they were definitely smothered!
Chris' appreciation for Southern foods and Southern cooking comes from – where else? – his mother.  My mother-in-law, Janice, is a wonderful cook.  She has the ability to create delicious dishes without needing to follow a recipe, adding in what experience and intuition tell her will net an amazing result.  Two of my favorite recipes of hers are her squash casserole and banana pudding.  Her banana pudding is so good that it will convert a confirmed anti-banana-pudding person (me!) into a wannabe banana pudding aficionado.
I think part of what makes me love her banana pudding is the use of heavy cream and half 'n half.  Many banana pudding recipes that I've read instruct the cook to "make the pudding as directed" on the back of the box, using regular milk or water, in some cases.  Janice's version is the fully-loaded, fully-leaded one: no skim milk or water here.  The use of cream and half 'n half amps up the smooth, rich taste (and probably increases the calories by about 4,000 percent), making your savor every bite.  She also makes an "adult" version, which calls for a drizzle of banana liqueur on each layer – this is optional and we usually don't add this since our boys love banana pudding, but it's a fun twist to your traditional banana pudding recipe 🙂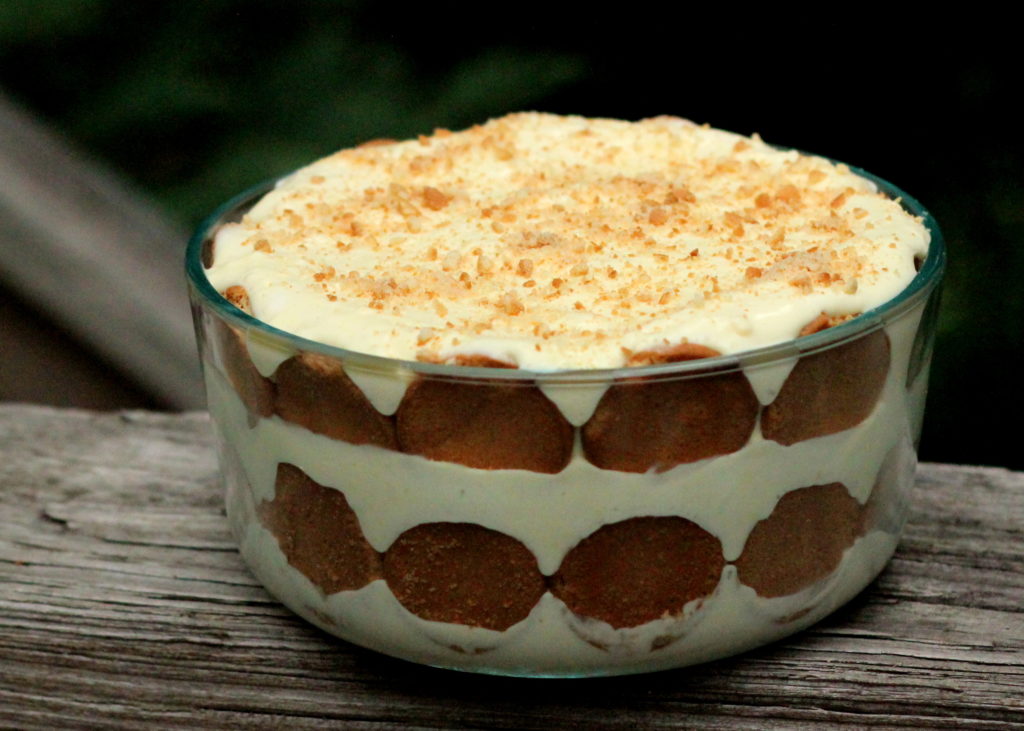 Janice's Banana Pudding
1 small box 

each

of banana, cheesecake, and french vanilla instant pudding

1 container of thawed Cool Whip, creamy version (regular version if unable to find creamy)

2 boxes Nilla wafers (you may not need the 2nd box, but I tend to need a few more than 1 box)

2 – 3 bananas, sliced roughly the same thickness as the Nilla wafers

1 pint heavy cream

1 quart half & half

Banana liqueur (if using), such as Firefly Southern Accents Banana Pudding

1 container (I've used a trifle bowl, a round glass Pyrex container, and a square Ziploc tub depending on the circumstances – use whatever you choose)
Pour pudding mixes into medium-sized bowl.  Add all of the cream and half & half (should be roughly 6 cups of liquid).  Whisk on high with mixer till pudding begins to thicken.
Note: At this point, you can set the pudding in the fridge to store overnight – I usually do this to speed up the process and then assemble the pudding the following morning.
Gently fold thawed Cool Whip into pudding.  Set aside.
Spread a thin layer of pudding on bottom of container. Place wafers with round tops facing inward along the wall of your container.  Add more pudding, enough to reach halfway up the wafer wall.  Place a layer of wafers on top of pudding and then a layer of banana slices.  Drizzle a small amount of liqueur on top of bananas (you don't want to overdo it), then cover with another thin layer of pudding to form the foundation for your next wafer "wall".  Repeat the layers of wafers, bananas, liqueur, and pudding, ending with a layer of pudding.  I usually have enough for 2 full layers, as pictured above.
Top pudding with the crumbs of 2 – 3 crushed wafers.  Alternatively, you can leave the pudding without any topping or, just before serving, make a wheel of Nilla wafers standing upright in the center of the pudding.  Don't top with banana slices – these will brown and look unappealing.
Store in refrigerator for at least 4 hours to give the Nilla wafers time to soften.  Can be made up to 24 hours in advance.  I find that 6 hours of refrigeration is just about the perfect length of time for this dessert.
Depending on the size of container you use, you may have some pudding remaining.  It'll probably be too little for another complete layer but just enough for your own personal mini pudding, as seen below.  Consider this your reward for having made such a delicious dessert – something to be enjoyed once your guests or family have devoured the dish.  Or you can savor it while writing a blog post about banana pudding 🙂