Thank you to everyone who expressed their sympathy regarding my grandmother.  I learned today that she passed away very peacefully.  She was holding my grandfather's hand and simply stopped breathing.  I'm glad that he was by her side.
Joe is still feeling pretty crook.  His temperature has remained fairly steady at 40C/104F.  And I discovered a funny thing today: Joe has a definite preference for what clothes I wear.  I put on a particularly soft, fuzzy sweater this morning and all day long, Joe has been rubbing it and "snuggling" with my sweater.  He'd lift up the hem when I was sitting next to him and rub it on his cheek, saying, "Ooooh!"  So silly!  And as a result, that sweater is covered with dried snotty spots.  Egh.  The boy is apparently trying to drain all the fluid out of his body via his nasal passages.
Since it was a laid-back, stay-at-home kind of day, I decided to cook some chicken (I started them early this morning before Joe was awake) and to make chicken stock.  It's one of those jobs that I can do in bits and pieces but need to be home throughout the process: start the chickens to boil, remove the chickens to cool, reduce and strain the cooking liquid into stock, and then come back when the chickens have cooled and de-bone them.  I took 1lb of the cooked chicken and used it for the following recipe.  It's one of my family's favorite meals and Chris often requests it whenever I ask his input regarding the weekly menu.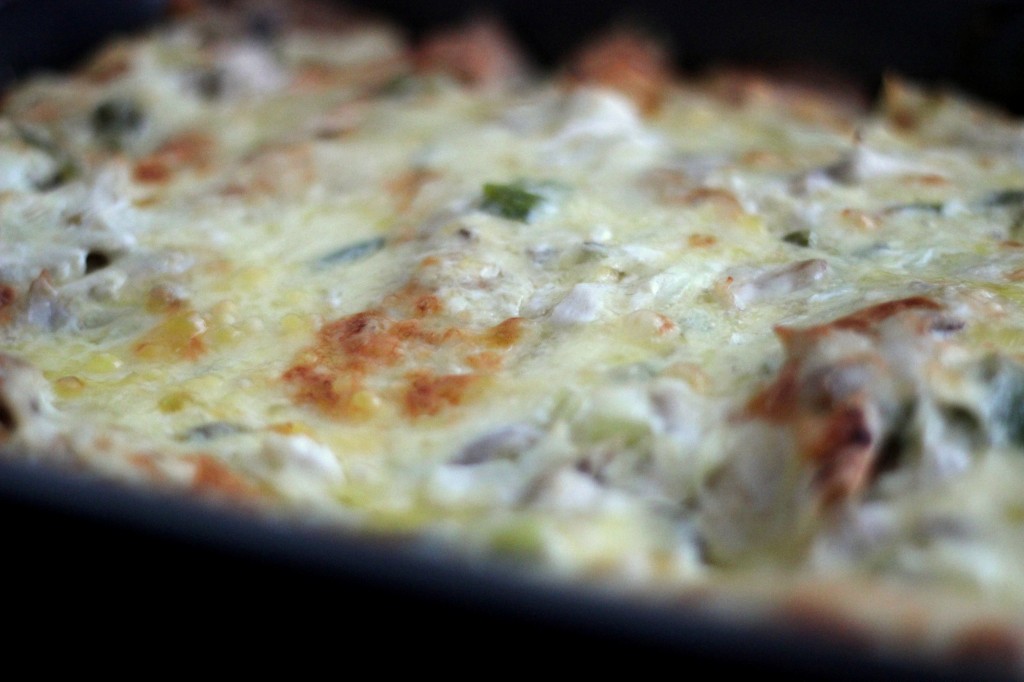 (Really) Good Chicken Enchiladas
1lb diced, cooked chicken
2 C shredded mild cheddar cheese
1 2/3 C reduced fat Greek yoghurt
1/3 C olive oil
1 medium-sized onion, diced
1 medium-sized green bell pepper, diced
1 tsp minced garlic
1 (10 3/4 oz) can reduced-fat cream of chicken soup*
1/4 – 1/2 C finely diced jalapeno rings (or 1 small can diced green chilies, drained)
10 – 12 wholewheat tortillas (8 inches)
Ground black pepper, to taste
1/2 C colby cheese
Canola oil
Non-stick cooking spray
Combine first 9 ingredients in large bowl.  Sprinkle with ground black pepper and stir to mix.  Reserve 1 C of chicken mixture.
Working with each tortilla individually, brush both sides with canola oil and place on hot frying pan for 5 – 10 seconds on each side, turning with a fork or tongs.  Place on plate and fill with 1/4 – 1/3 C of chicken filling.  Roll into an enchilada and place seam-side down into greased 9×13 inch baking dish.  Repeat entire process with another tortilla until all of the filling is used up (depending on how much filling you place in each tortilla, you will use between 10 – 12 tortillas).
Spread reserved 1 C of chicken mixture over top of tortillas and top with 1/2 C of colby cheese.
Cover with foil and bake for 30 minutes at 350F/180C.  Remove foil and increase heat to 425F/220C and cook for another 10 – 15 minutes, or till cheese is browned and bubbling.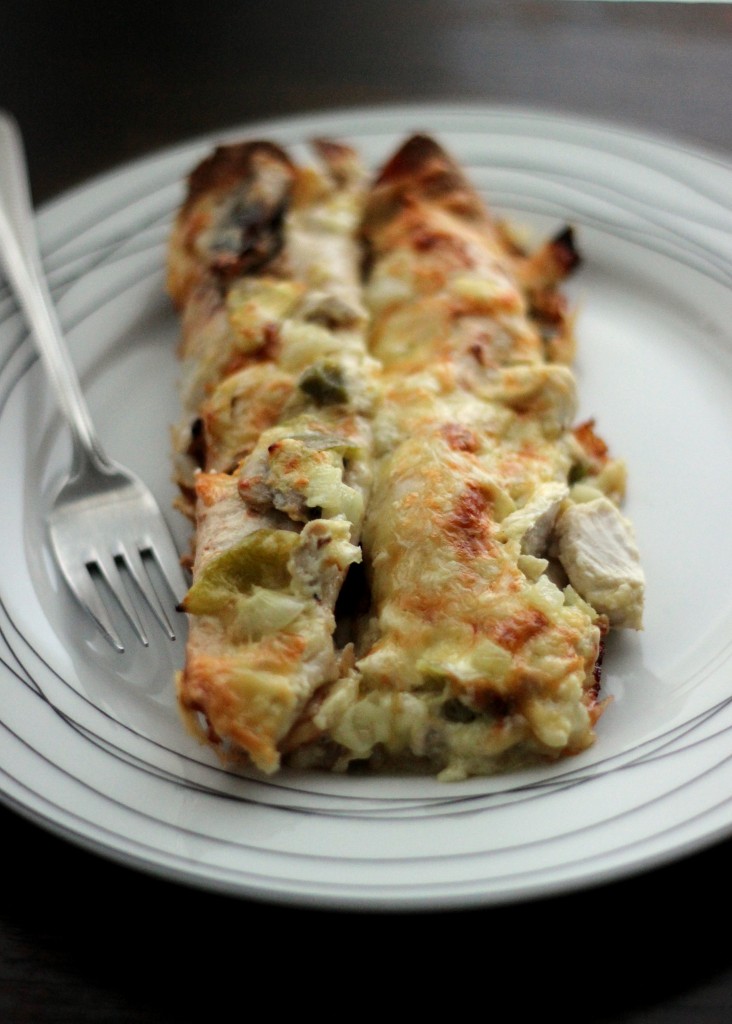 *Can you believe that I forgot to add the condensed chicken soup in these?  Chalk it up to being distracted with a sick toddler.  They still tasted amazing, but not quite as amazing as usual 🙂
A few notes…
If you don't like crisp vegetables in your enchiladas, then saute the garlic, onion, and bell pepper for a few minutes before adding to the chicken mixture.  Personally, I like having a bit of texture.

1lb of diced, cooked chicken is roughly equal to 2 (packed) cups of cooked chicken. I usually have 2 C servings of diced, cooked chicken in my freezer (2 C of diced chicken is also the rough equivalent of 2 medium chicken breasts).
You can substitute the cheese per your taste.  When we lived in the States, I would use Pepper Jack cheese on top and cheddar in the filling.  However, there's no Pepper Jack (or Colby Jack) cheese in NZ.  Other substitutions would be a Mexican cheese blend. I've used regular and reduced-fat cheeses, but I wouldn't recommend fat-free.

Don't use corn tortillas.  I've used whole wheat, flour, and reduced-fat flour tortillas.  I find that whole wheat tortillas do better at holding up when I make this dish earlier in the day.  The flour tortillas are great if you're making it and baking it right away, but not so great if you're making it earlier and then baking later on.
Don't skip pan-frying the tortillas.  This makes all the difference.  Trust me.
Greek yoghurt adds a lot of flavor to the recipe, but some people just don't care for it.  No big deal – just use sour cream instead.

The amount of jalapeno peppers you use depends on how spicy you like your dishes.  Before Joe, I made this with 1/2 C diced jalapeno pepper rings.  Now that Joe eats the same food as us, I've cooled it down to only 1/4 C of peppers and bumped up the amount of ground black pepper.  I find that diced pepper rings taste much better than the 4 oz cans of diced green chilies, but it's up to you!
Having one of these makes dicing the onion and jalapeno peppers so much easier!  I was given one as a wedding gift and were it not for Joe pulling the plastic cylinder out of a drawer and dropping it (thereby cracking it) it would still be in top-notch shape.  Love it.