One of Joe's preferred books these days is a book of nursery rhymes.  He'll bring it to me and say, "Baa, Baa?", as he knows that the first rhyme in the book is "Baa Baa Black Sheep".  Another rhyme in there is "To Market, To Market":
To market, to market to buy a fat pig. Home again, home again, jiggity jig! To market, to market to buy a fat hog, home again, home again, jiggity jog!
While we didn't do any hog or pig purchasing this past weekend, we did go to market… and then to another market!
The first was The French Market in Parnell, or perhaps more accurately, the La Cigale French Market.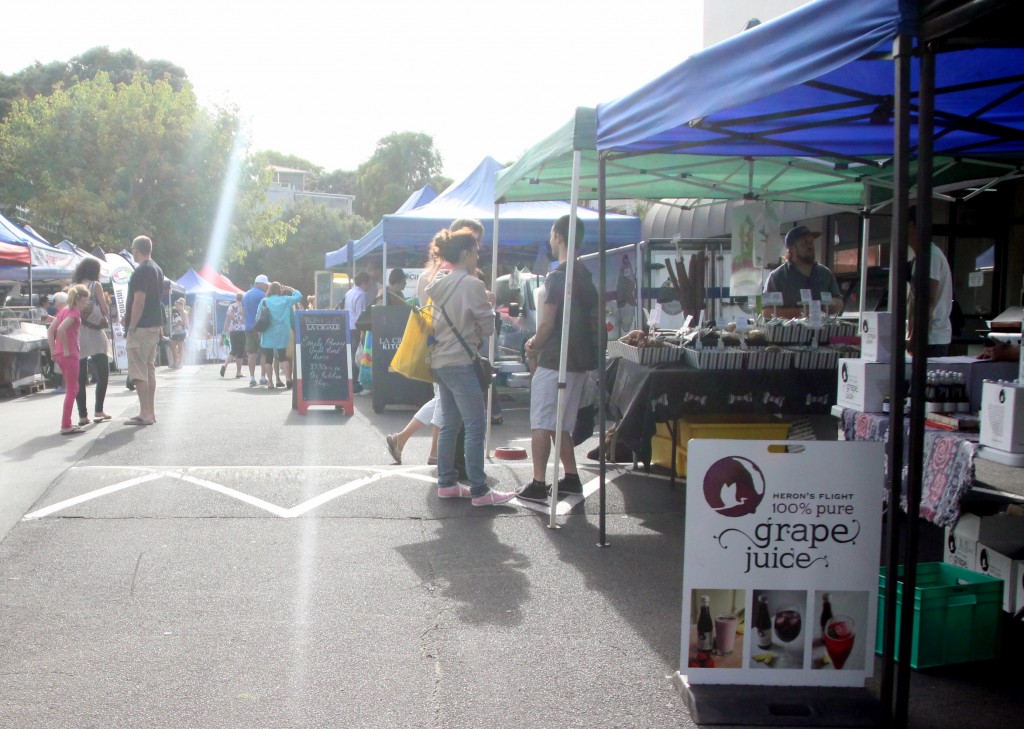 Set against the back of the La Cigale storehouse, this market takes place every Saturday (starting at 8am) and Sunday (starting at 9am) till about 1:30pm.  It was a bustling, busy place.  I've been a few times before but apparently had forgotten to bring Chris with me.  As we were walking amidst the stalls, he turned to me and remarked, "Now this is a farmer's market."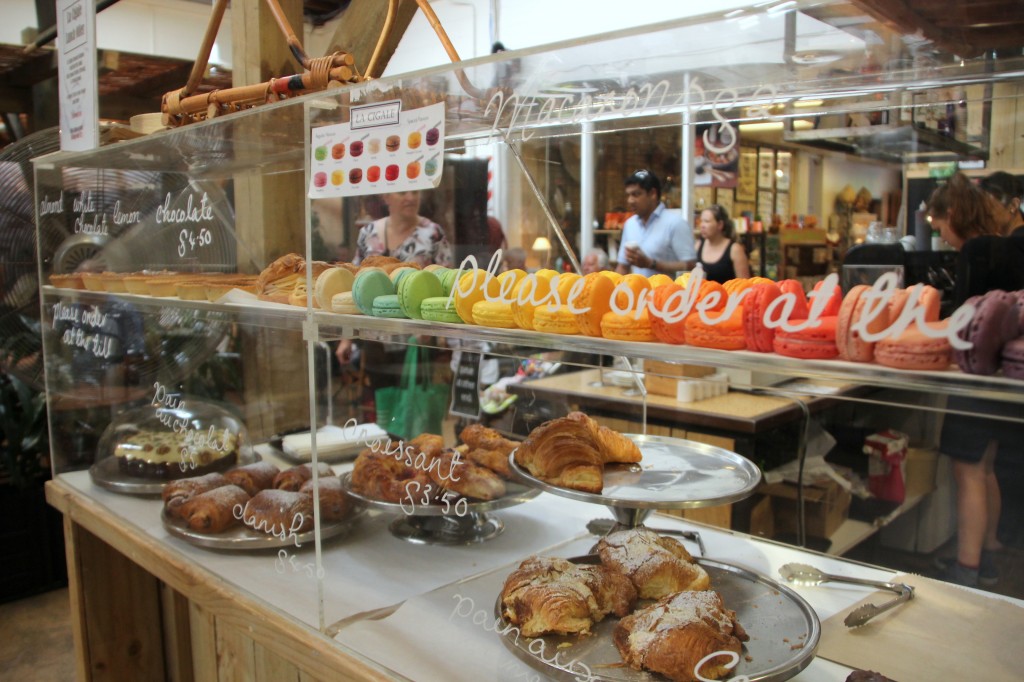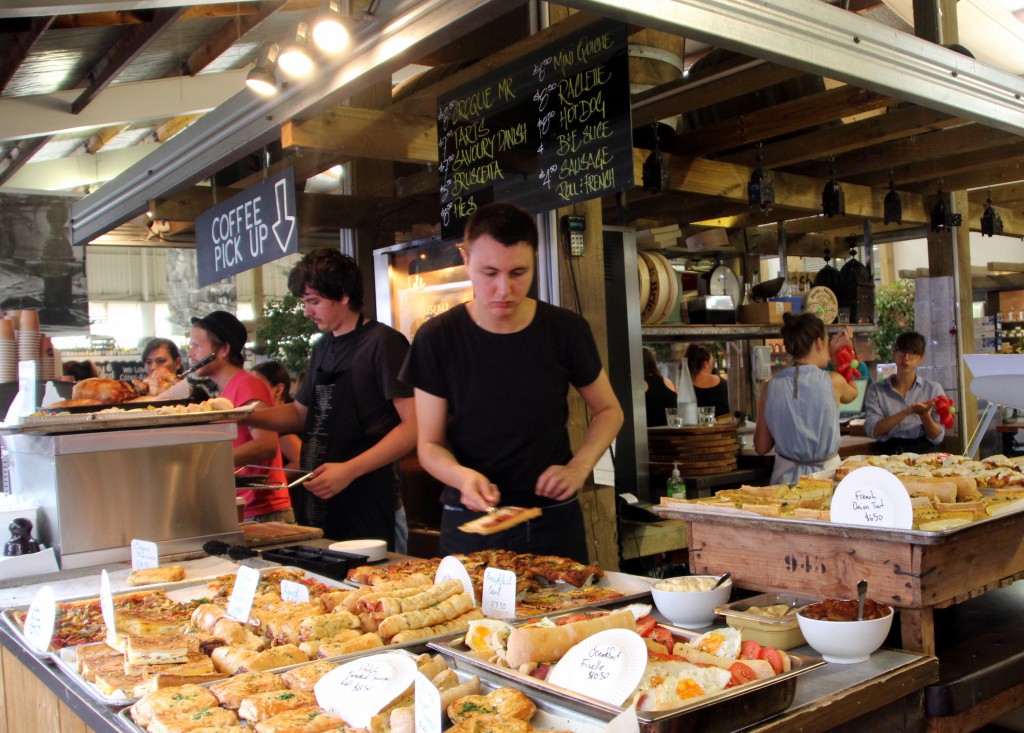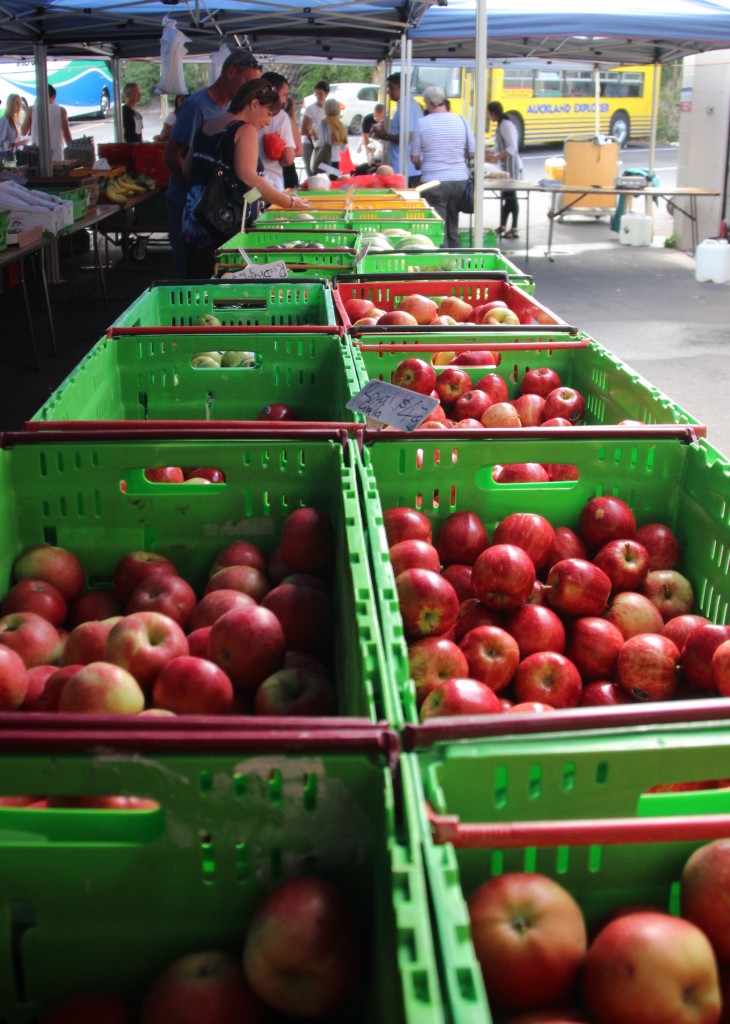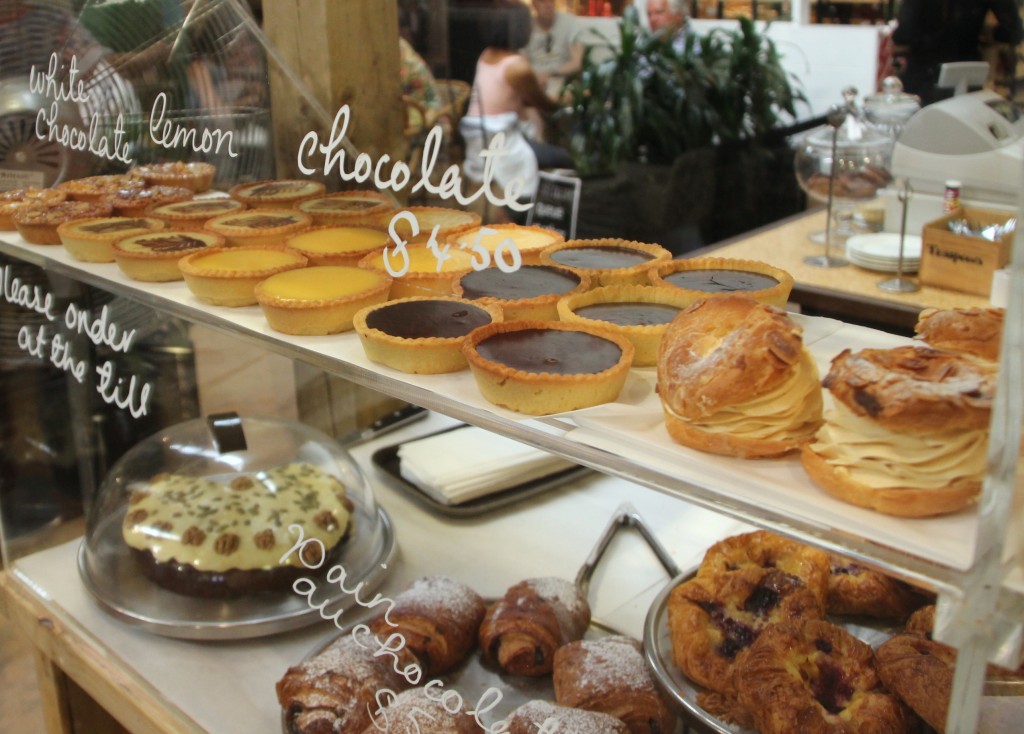 I'm sure that the chocolate, pastries, coffee, wine, and cheese had absolutely no influence over his declaration 😉
And just because I was so impressed by their sheer size, here's a photo of 3 vats of paella that were simmering away: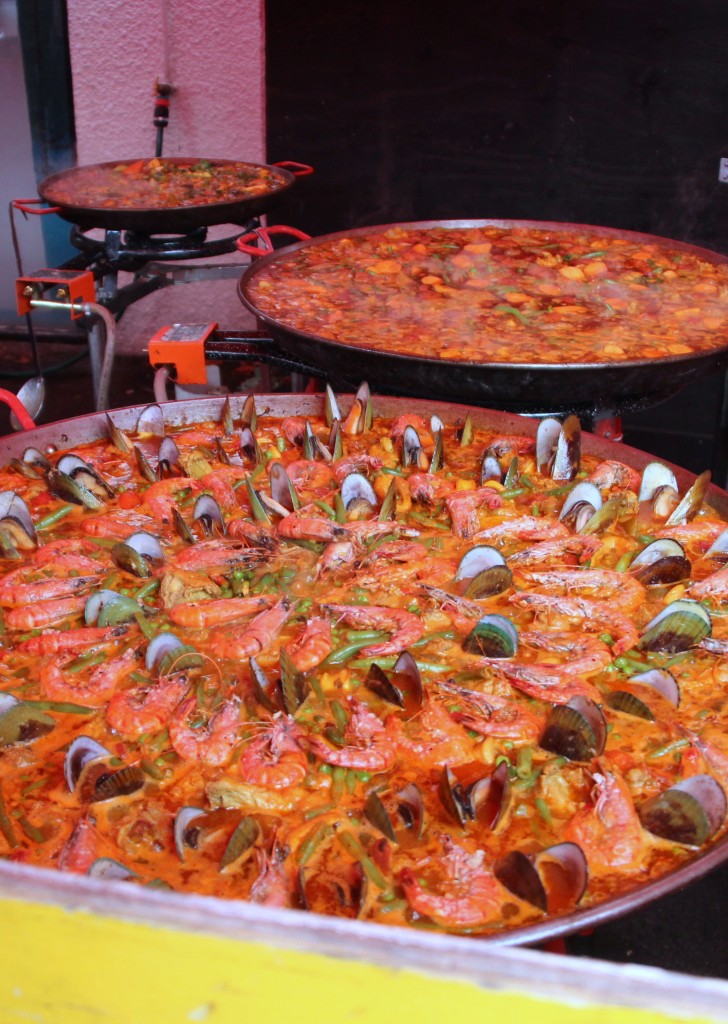 Beautiful, eh?
I wasn't there for chocolate, pastries, coffee, wine, cheese, or paella.  I was there for blueberries.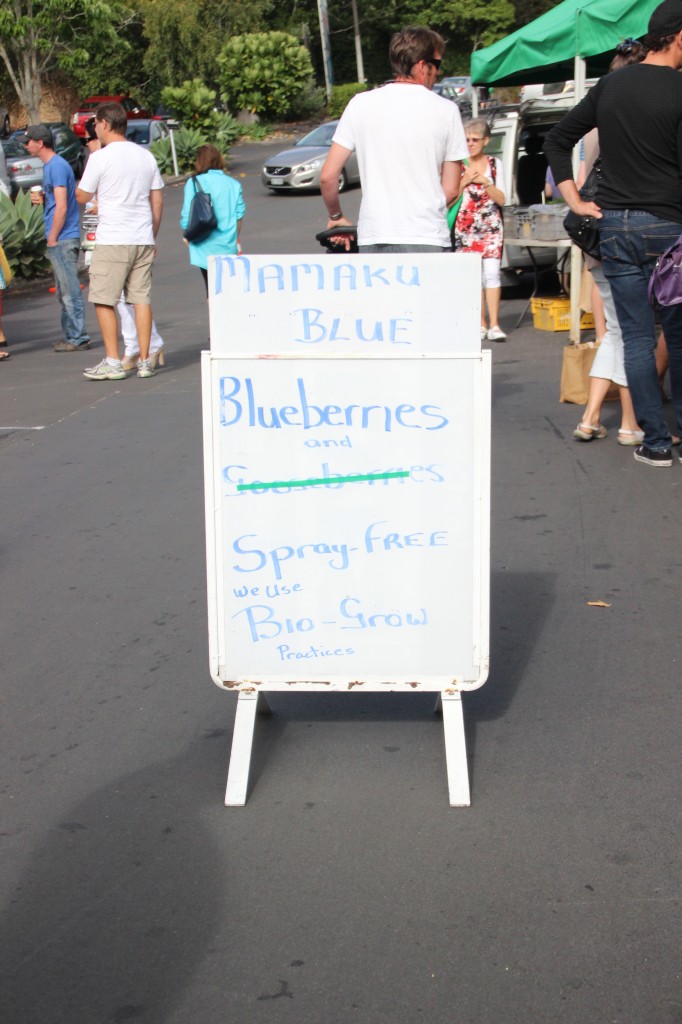 I'd show a photo of the actual blueberries, but the last of them were polished off by Joe this very morning.  I may or may not have helped.  The berries are from Mamaku Blue Blueberry Farm & Winery down near Rotorua.  They're spray-free and delicious.
Later that day, Joe and I took a walk into Ponsonby to Ponsonby Central to visit the Ceres Fresh Market.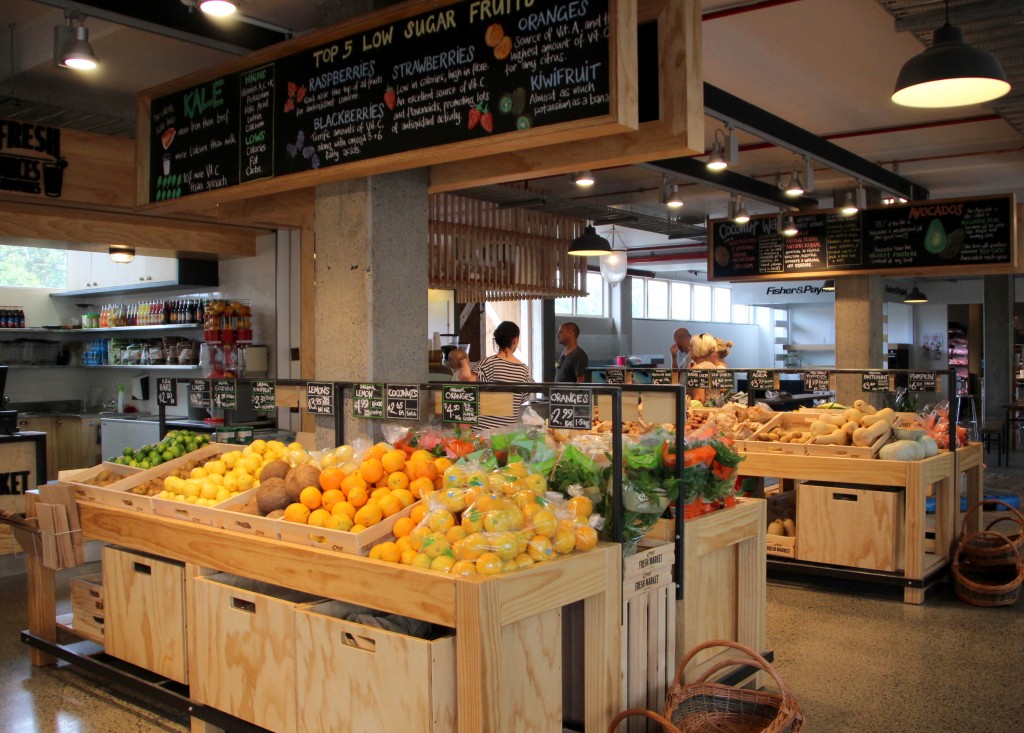 I'd been to this market before but was keen to re-visit it after hearing a rumour that their organic and spray-free produce was better priced than at the grocery.  I went armed with pen, paper, and raisins (the raisins were for Joe) and did some research.  I felt a bit guilty or perhaps suspicious for walking around and writing down prices without actually buying anything, but then I thought, "Wait a minute – why wouldn't they want me to compare?  If they're lower priced, they're lower priced!"  But invisible peer pressure eventually won out and I was "forced" to buy a cranberry juice for myself 🙂
I did a comparison of their prices to my local Countdown and here's what I found (everything listed is organic unless otherwise specified)…
Bananas: Coutndown didn't have them vs. Ceres at 3.99/kg
Plums: Countdown's were $9.99/700 grams vs Ceres at $6.45/kg
Fairtrade Bananas: Countdown didn't have them vs. Ceres at $3.79/kg
Sunrise Apples: Countdown didn't have organic apples of any variety vs. Ceres at $4.20/kg
Carrots: Countdown's were $6.49/kg vs. Ceres at $5.25/kg
Broccoli: Countdown didn't have any vs. Ceres at $2.65/each
Kumara: Countdown didn't have any vs. Ceres at $6.95/kg
New Potatoes: Countdown only had white potatoes at $3.19/kg vs. Ceres at $1.59/kg
Spray-Free Capsicum: Countdown didn't have any vs. Ceres – red at $3.29/ea, yellow at $2.70/ea, and green at $2.29/ea
Oranges: Countdown didn't have any vs. Ceres at $4.50/kg
So, in every instance Ceres beat my nearest grocery in terms of price and availability.  Note that when I say that Countdown "didn't have any", I'm specifically referring to the organic or spray-free options.  Also, I mainly stuck to fruits and veggies that we would be most likely to purchase.  I didn't have the time or inclination to write down prices for everything.  Of course, prices and availability are able to change.  I know that I've seen both organic and fairtrade bananas at my local store in the past, and if you shop at stores other than Countdown then you may find some variations there.  Still, it was interesting to see and certainly something that I'll bear in mind the next time I do a grocery shop.