We're pretty excited to share that baby #2 will be joining our family sometime in mid-May 2013…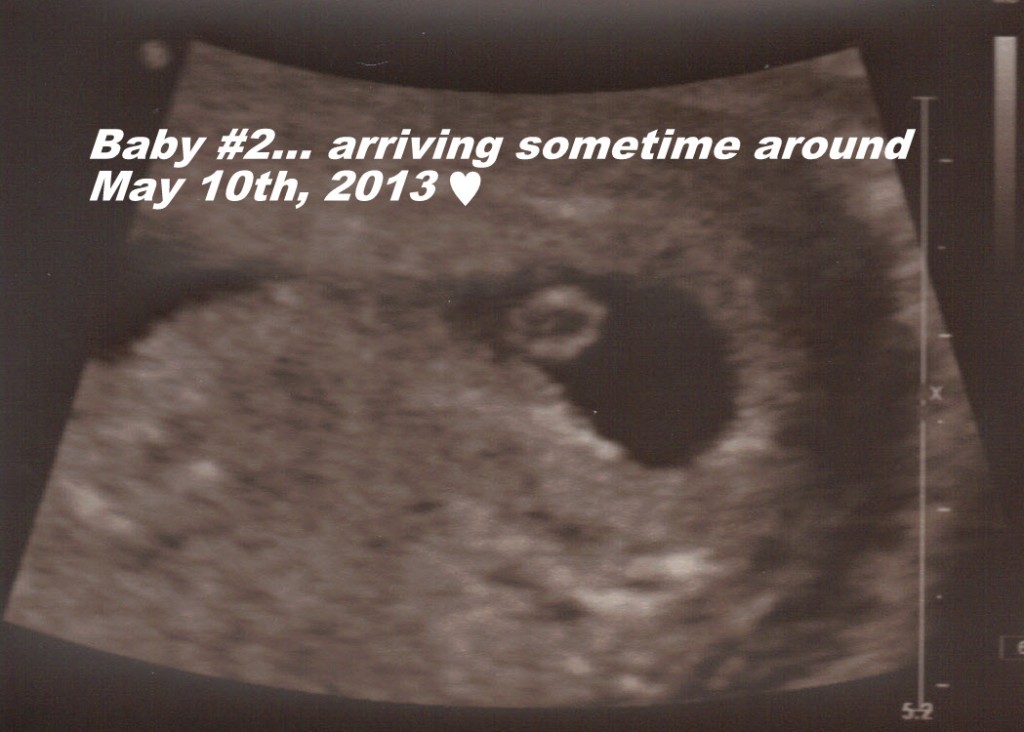 I'm 13 weeks along and feeling pretty well.  I seem to have significantly less nausea this time around, which according to the old wives' tales means that it's a girl.  I also feel different – I can't explain it more precisely than that – which makes me think that this one may be a little sister for Joe rather than a little brother.
I'm very glad that I'll be able to have another baby in New Zealand.  We had actually been trying for awhile without success, and I was starting to get depressed about the whole process.  We had a cut-off date after which point we wouldn't try anymore (I didn't want to fly back to the US with a baby who hadn't had their 6 week immunizations) and I decided to just leave it be and stop worrying about it.
I took a pregnancy test on Tuesday morning, waited 5 minutes, and then checked it.  Only one pink line.  I was sad, but figured it was how things were meant to be and pitched the test in the trash can.  I went about my morning and took Joe to his morning playcare, but on the way back home I began to wonder.  You see, when I took a test with Joe, it showed up negative and I just left it on the bathroom counter, forgetting about it.  When I came back 30 minutes later, there was a definite second pink line.  I wondered if perhaps this might be the same sort of scenario.
I went home, went to the bathroom trash can, pulled out the test, and nearly fell over when I saw that a second pink line had appeared.  I had all these ideas for cute ways to tell Chris about the pregnancy, but each and every one vanished at that moment.  All I could think was, "I need to call him right now!" and so I did.  I got him on the phone and said, "I see two pink lines!  Two pink lines!"
Chris must have thought I was nuts.  "Two pink lions?!", he asked.  "Where are you?!"
Once I calmed down and told him that I wasn't hallucinating – there were no pink lions, pink elephants, or pink animals of any kind – and he figured out what was going on, he got pretty excited, too.
I knew that it would be tough to be pregnant and flying around the world.  It certainly wasn't easy, but when is it ever easy to fly from New Zealand to England via the United States with a 15 month old?  I'm glad that the nausea has been far less, though, and it seems like the fatigue isn't quite as bad.  Of course, that's probably largely due to the fact that (a) I'm keeping most food down and (b) I started taking iron early on to help counteract the anemia.
We'll get back to New Zealand when I'm 17 weeks along.  I've got a midwife appointment a few days after our return.  After that, it's only a few weeks till the 20 week USS and finding out if this little one is a girl or a boy.  I'd be happy either way.