This, my friends, is what happens when you take your peanut butter and jelly sandwich out for dessert.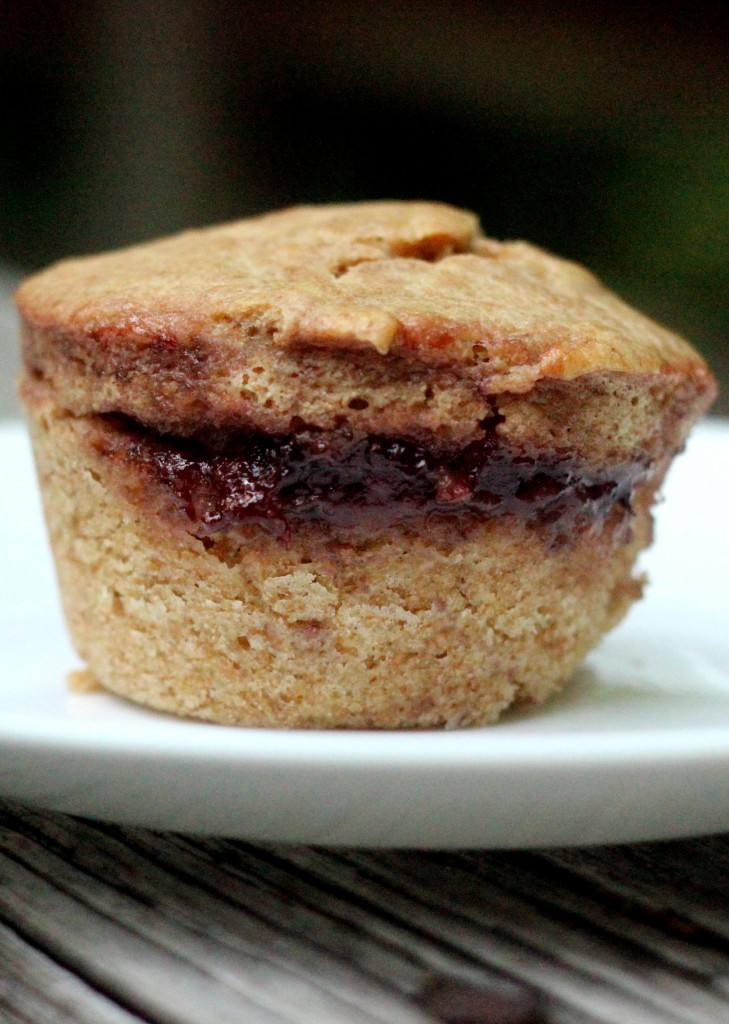 That's right – you get a peanut butter and jelly muffin that's bursting with yummy goodness.
Oh, and did I mention it has no refined sugar?  I didn't?  Well, it doesn't.  I'm guessing you're loving it just a little bit more right now, aren't you 😉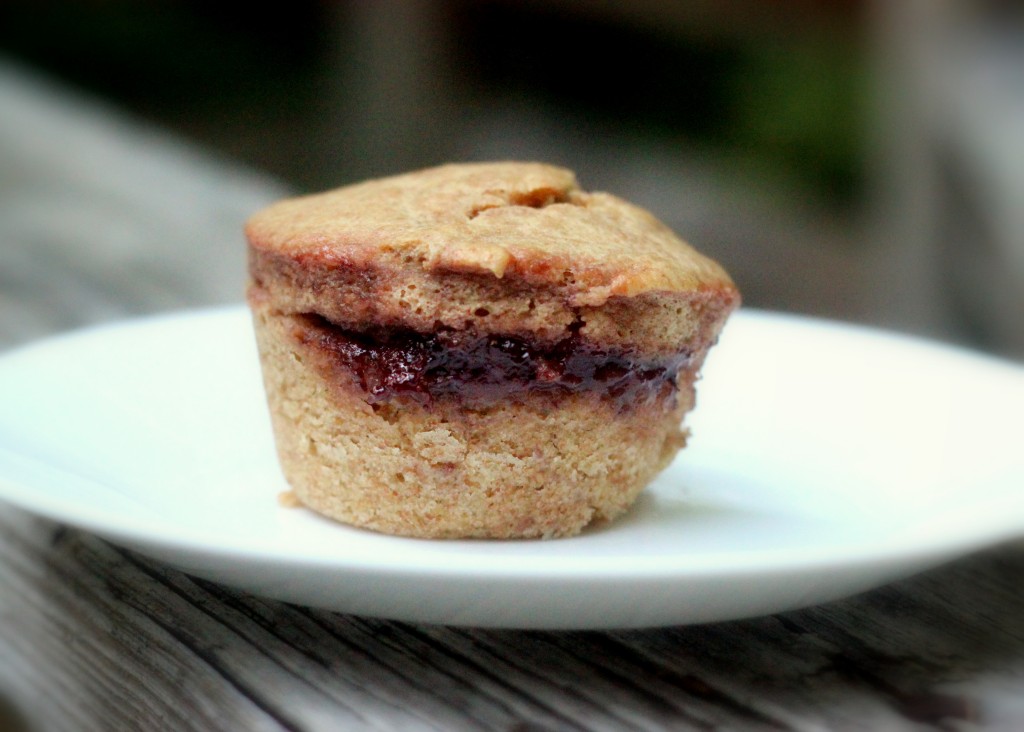 I decided to do some experimenting and try to make a muffin that would (a) let me use my homemade peanut butter, (b) not have any refined sugar, and (c) use whole wheat flour.  I based my version largely on this one et voíla!  Whole Wheat PB & J muffins that are just a bit healthier and taste delicious 🙂
I don't have a link to my peanut butter recipe because, honestly, it's so simple.  Put 1 lb of roasted, unsalted peanuts in a food processor or heavy-duty blender (my Ninja Blender is perfect for this recipe – makes those peanuts into peanut butter super-fast).  Add 2 T of peanut oil + some salt to taste, then blend till smooth, scraping down the sides of the blender as needed.  Store in the fridge.  Easy-peasy and perfect for this recipe!
Whole Wheat Peanut Butter and Jam Muffins
1 2/3 C whole wheat flour
1 T baking powder
1/4 tsp salt
1 C milk
2 ripe, medium bananas, well-mashed (I puree mine in the blender)
1/2 C creamy natural peanut butter
1/2 C canola oil
1 large egg
1 1/2 tsp vanilla essence
1/2 C no-refined sugar jam (or whatever type of jam you have in the fridge)
Peheat oven to 350° F.
Combine all of the dry ingredients in a medium bowl.  In a smaller bowl, combine all of the wet ingredients except for the jam!  Whisk the wet ingredients together, then pour into the dry ingredients.  Stir till just combined.
Line a standard muffin tin with cupcake liners (or spray with non-stick cooking spray).  Put scant 2 T of batter into each muffin cup.  Place 1 heaping tsp of jam in the center of each cup, then cover with another 2 T of batter.  Bake in preheated oven for 35 minutes.  Allow to cool for 15 minutes before removing from pan, and enjoy!
Note: These muffins freeze well – just put them in a large Ziploc bag or freezer-safe container.  Allow to thaw in fridge or heat one up in the microwave for a snack 🙂