Joseph and I decided to skip Mainly Music this morning and instead took a nice walk down to the Viaduct Harbour and Wynyard Quarter.
Joe was in a bit of weird mood.  I think I was, too, though it was mostly from working last evening and being up so late/early.
It was a gorgeous day – lots of sunshine but cool.  And no rain!
We walked down Queen Street and crossed over Customs, past Britomart.  We meandered into the Auckland Ferry Building just for fun, though there's not much to see inside unless you're heading out.  I think I'll take Joe on the ferry to Devonport here in the next week or two – it's such a quick, fun trip 🙂
Joe walked around for awhile, but like I said, he was in an odd mood.  He kept leaning his head up against my leg.  I picked him up and he just wanted to cuddle, poor guy!  He perked up a bit and we headed down to the Wynyard bridge – a pedestrian bridge that connects Wynyard Quarter to part of downtown Auckland.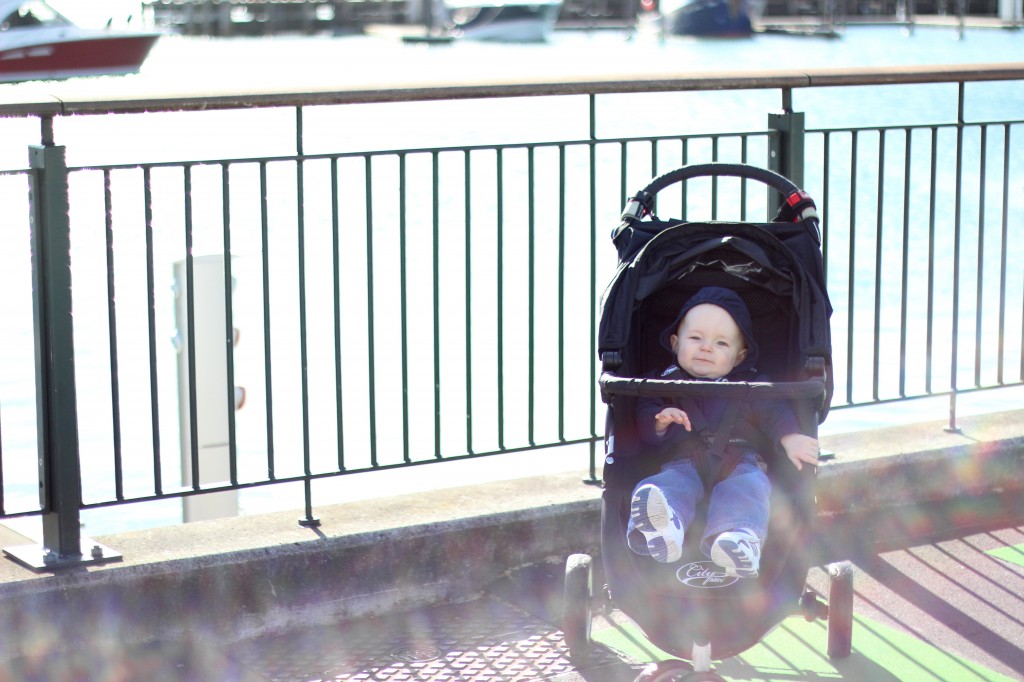 Something wonky was going on with this photo, but I still like it.  Joe was sitting in his pram, waving at me and smiling.
We walked on for a little more, eventually reaching the bridge.  I thought about walking Joe across with him out of his pram, but then thought better of it.  That bridge can raise quite suddenly to let boats in and out of the harbour.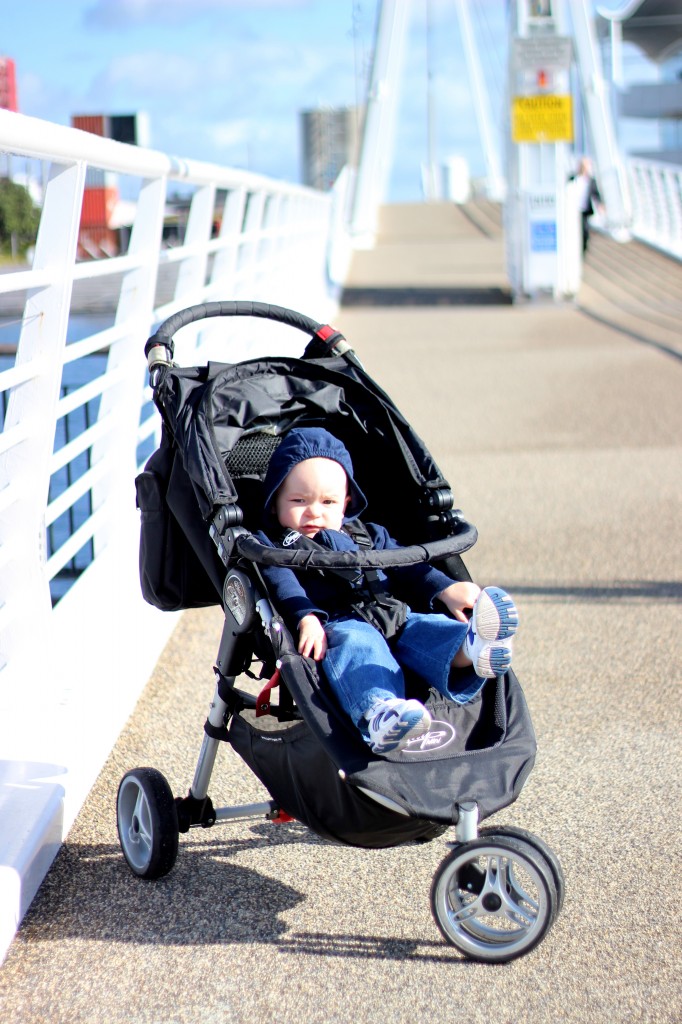 Joe, kicking his heels up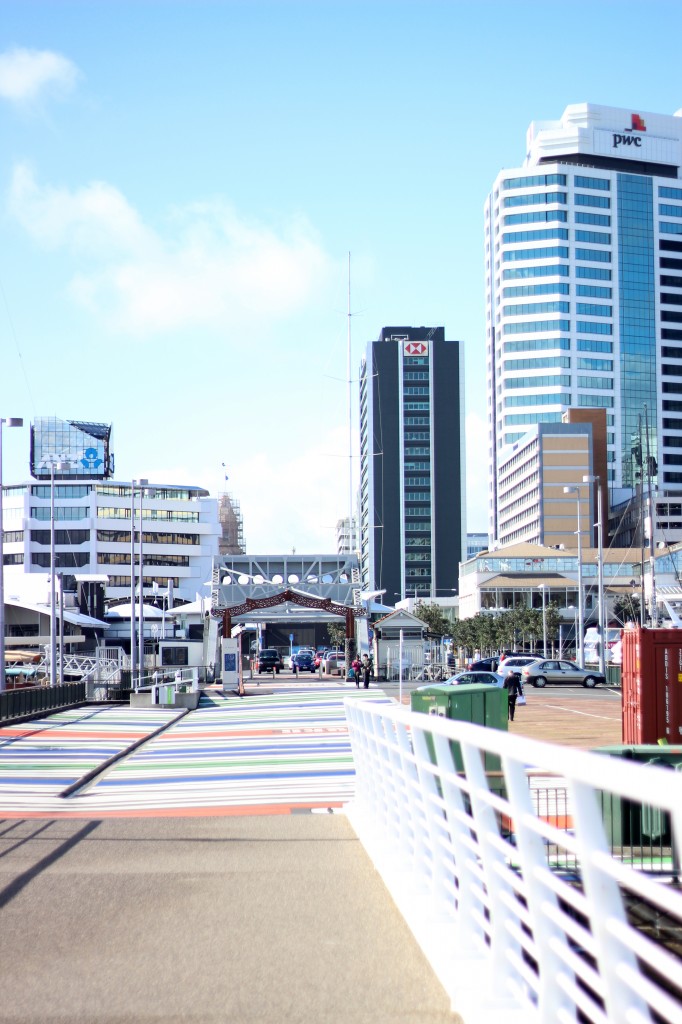 Looking back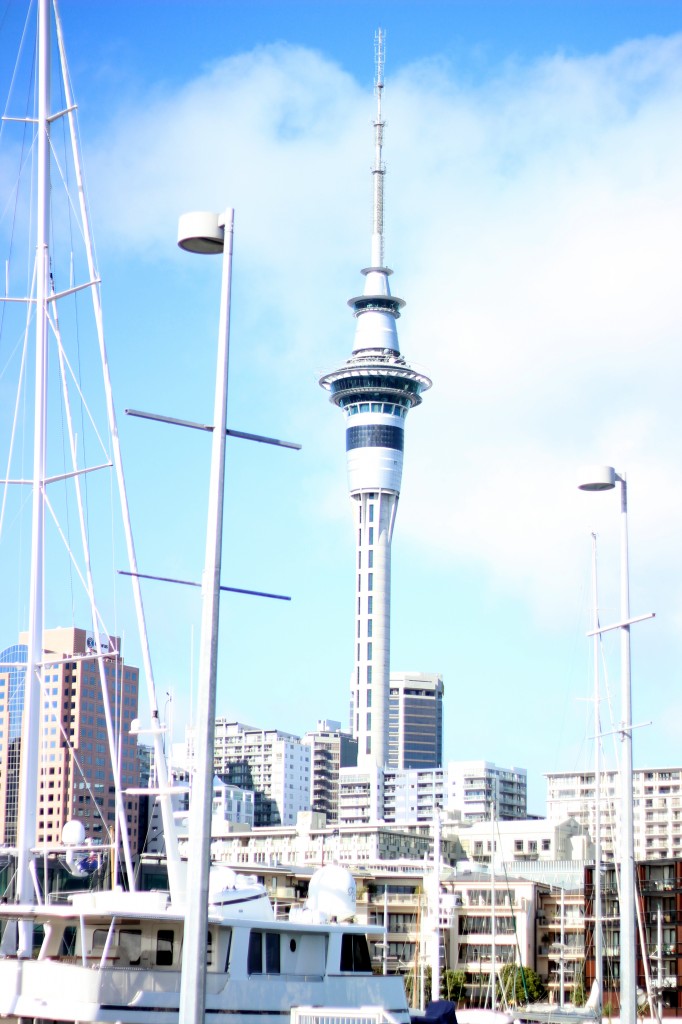 The Sky Tower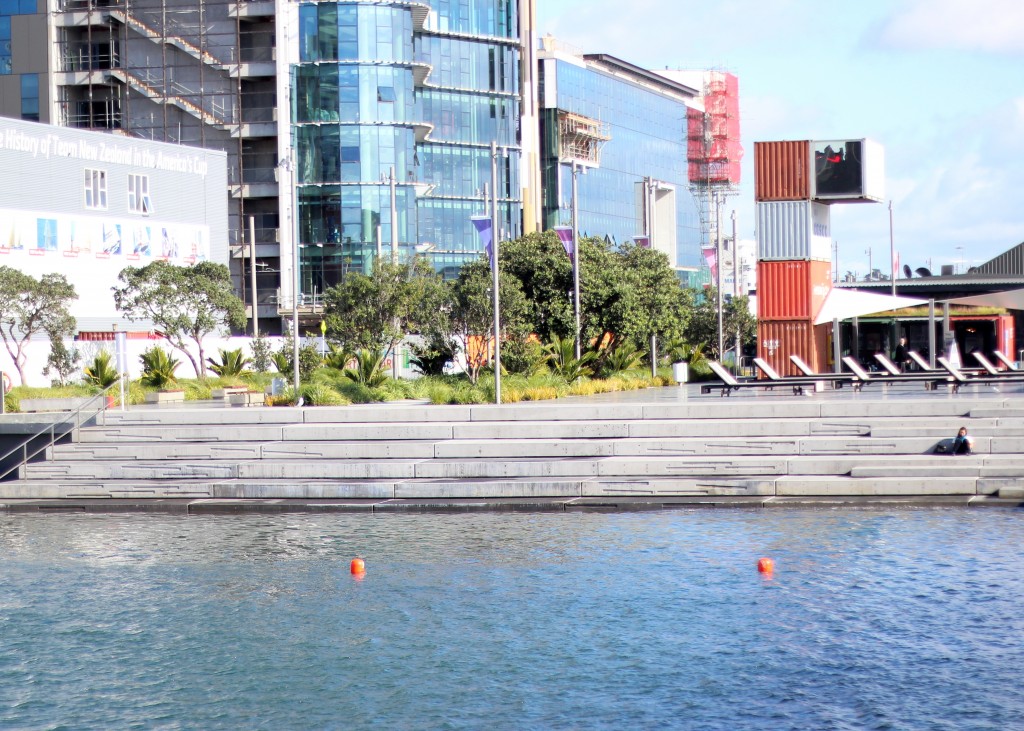 Steps leading into the water – a bit too cold to put our feet in!
I was so glad that I kept Joe in the pram.  It was right after taking the above photo that the sirens sounded.  Yipes!  Time to scurry off the bridge so that it could raise and let a boat out.  I know that it (probably) wouldn't raise with us still on it, but it still freaks me out.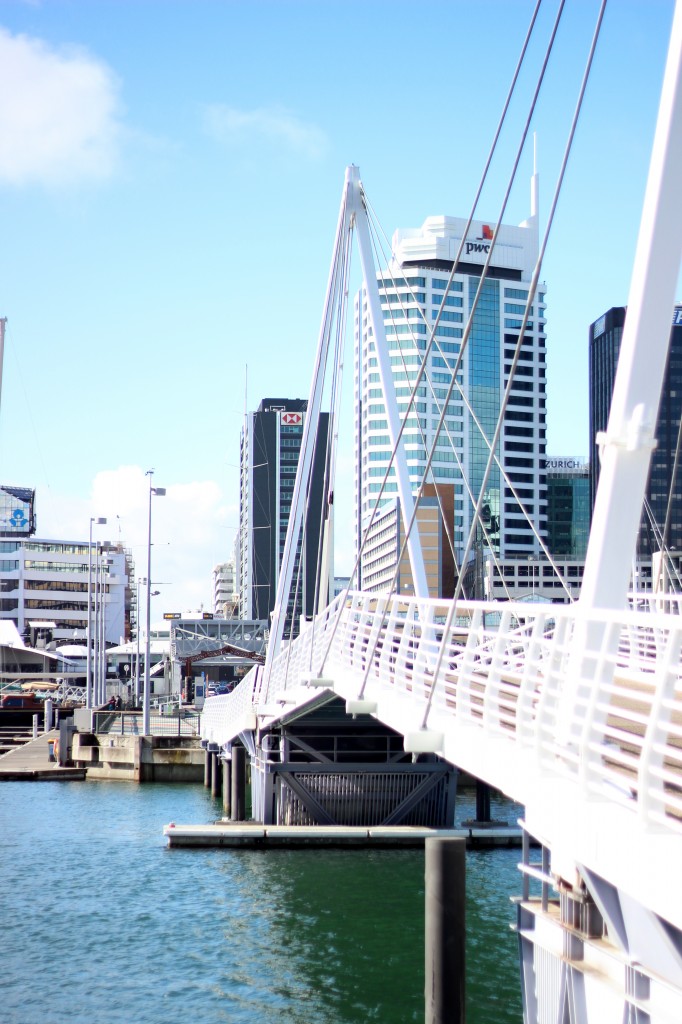 Just about to raise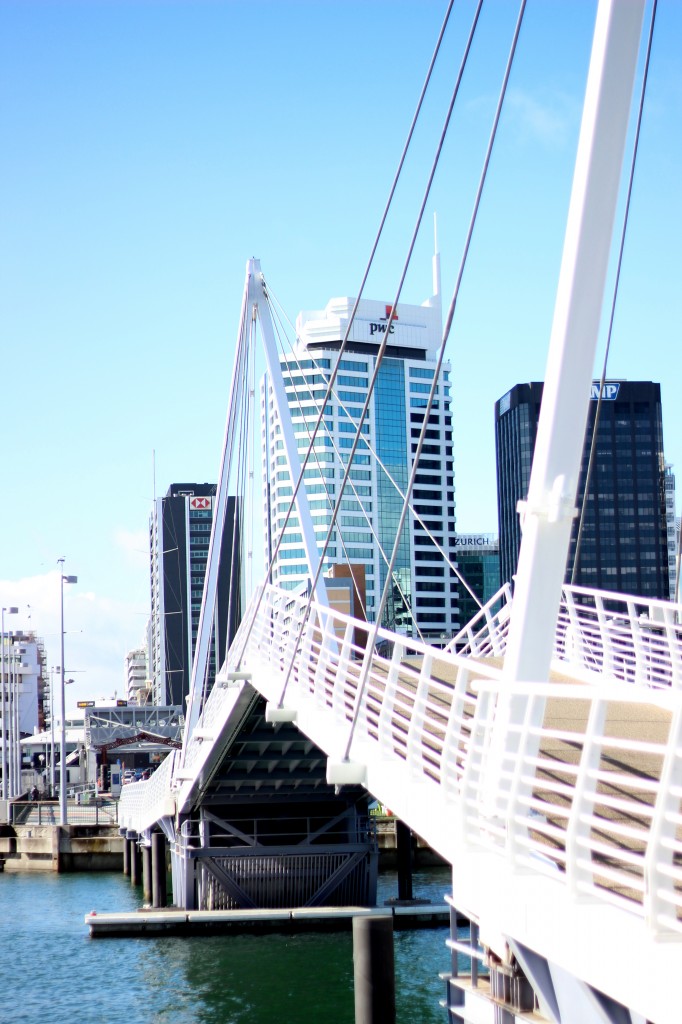 Up she goes!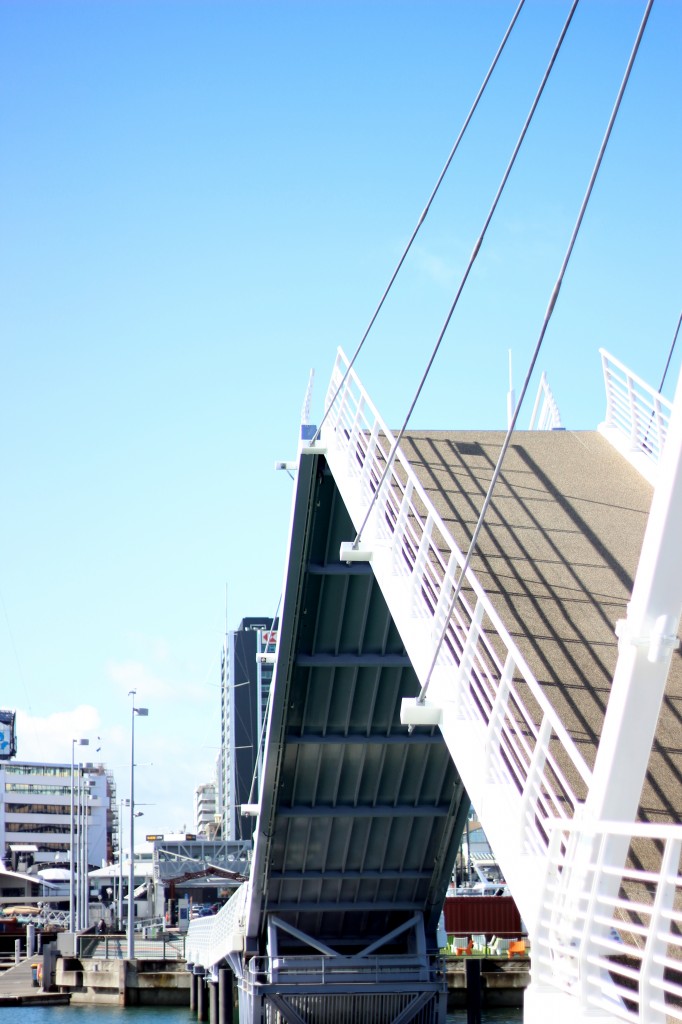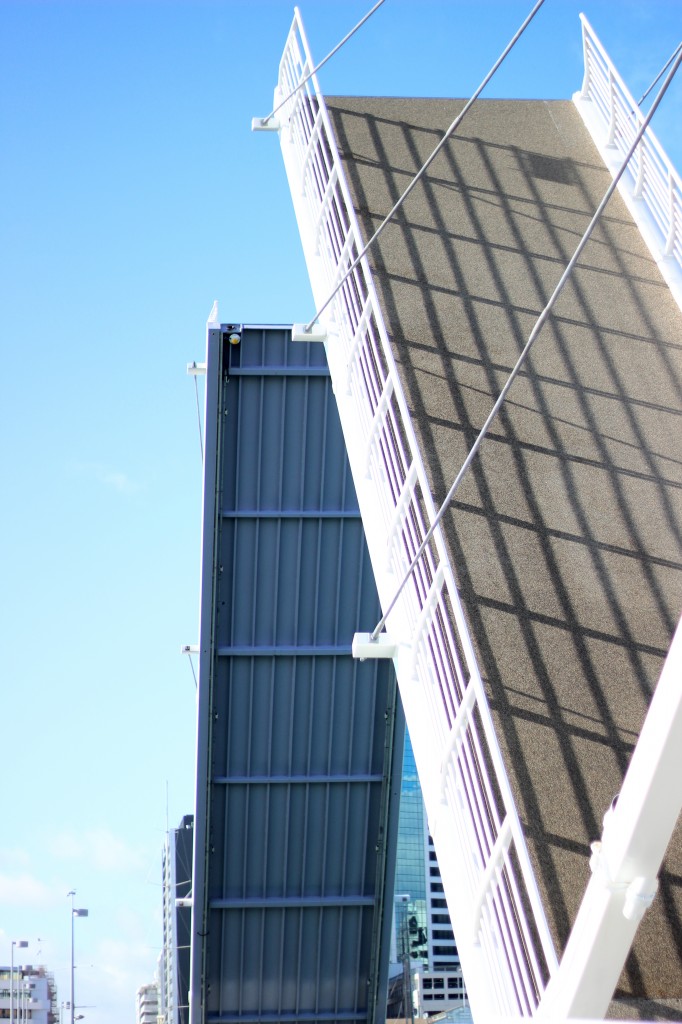 I'm glad that Joe and I weren't on the bridge at this point 🙂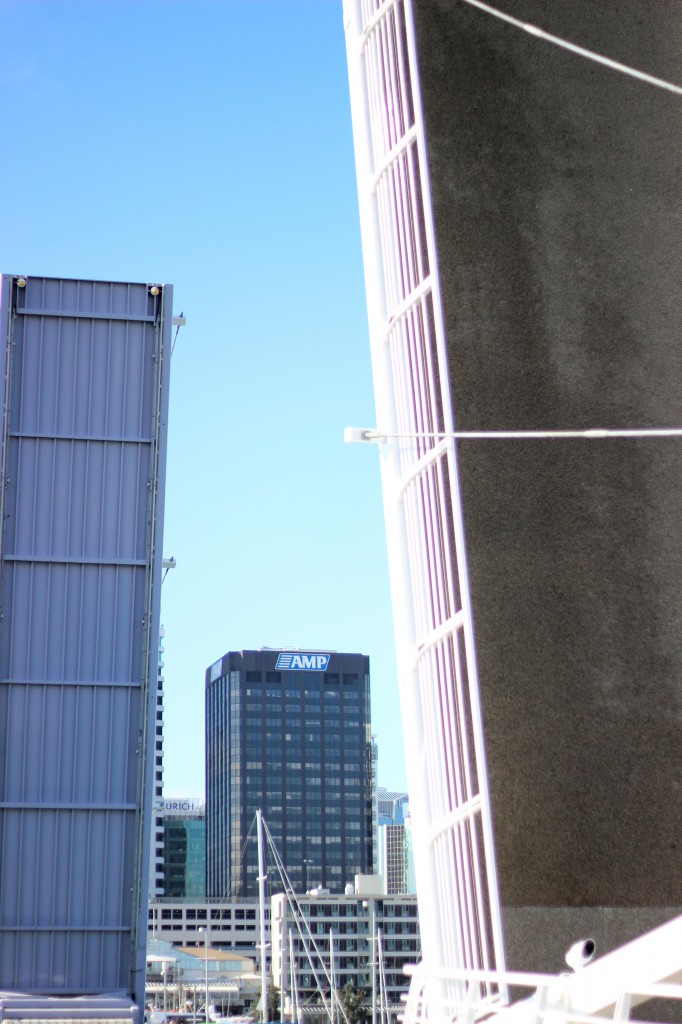 Or this point!
We headed on down to the playground.  Joe got out of the pram again and was pushing his own stroller.  I was cracking up, walking behind him as he pushed merrily away.  He did a pretty amazing job, too.  I only needed to correct the steering every once in awhile.  I did wonder what the people walking toward us must have thought – me laughing, a pram looking as though it were rolling on its own with no baby in sight.  It was cute to see him so intent on his task.
He grew tired of it eventually, so back into the pram he went.  He wasn't too thrilled about having another photo session, but he was strapped in and couldn't do anything about it 😉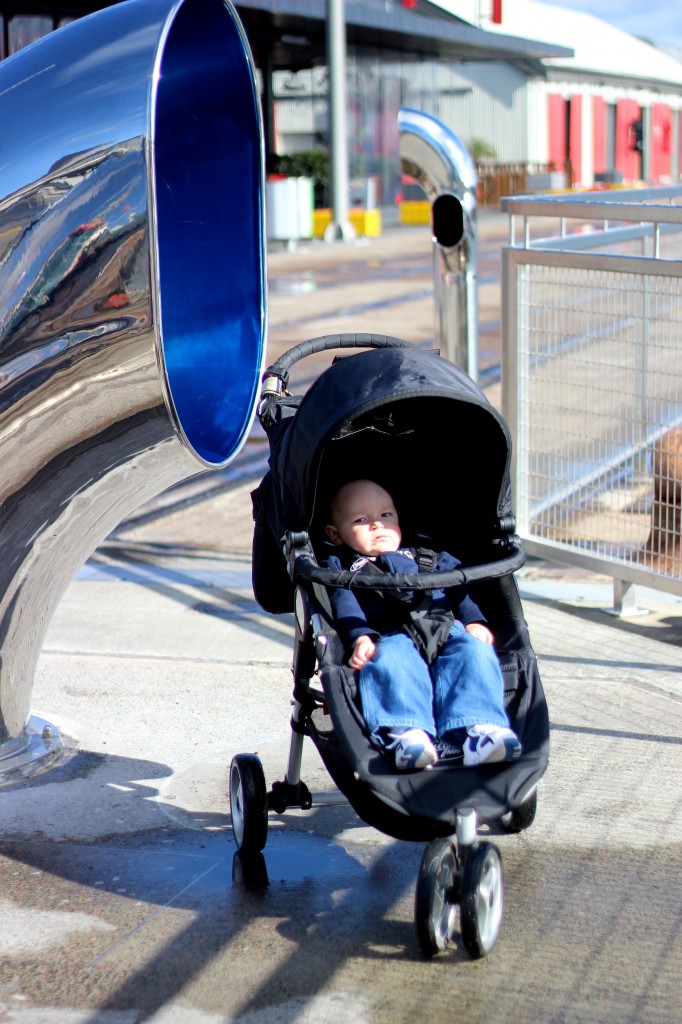 Doesn't he look thrilled?!
It was fun, but toward the end it was definitely chilly.  Joe played in the giant sandbox but I realized that he hasn't had much to do with sand, and he let that show.  He wasn't at all comfortable walking around on it.  That just means we'll have to spend plenty of time at the beach once summer rolls around.
We caught the City LINK bus and headed back home.  I really like using the City LINK, mainly because it's free for HOP card holders (and children under 5 years old).  The bus "kneels" so that I can easily wheel the pram on and off, and there are reserved seats toward the front that fold up so that I can have Joe seated in his pram on the bus.  Many of the buses in Auckland are like that.
It's great to live so near the water.  I'm glad that we were able to take advantage of that today!