Last night was night #3 of feeling like we were back to the newborn stage with Joseph.  Up at least every 2 hours?  Of course.  There was no sleep for me till after 2am this morning, and then he was up at 6:30am.  Sigh.  And yawn.  I'm ready for his fever and congestion to vacate the premises.
After nights like that I'm especially thankful for having breakfast made in advance.  It's so nice to be able to pull something out of the fridge or freezer, heat it, and serve.  It's even nicer to know that it's healthy, homemade, has no preservatives or weird chemicals, and that my little boy will eat it without any complaints.
I saw the following recipe making the rounds on Pinterest (Are you following me?  You should!) and decided to test it out…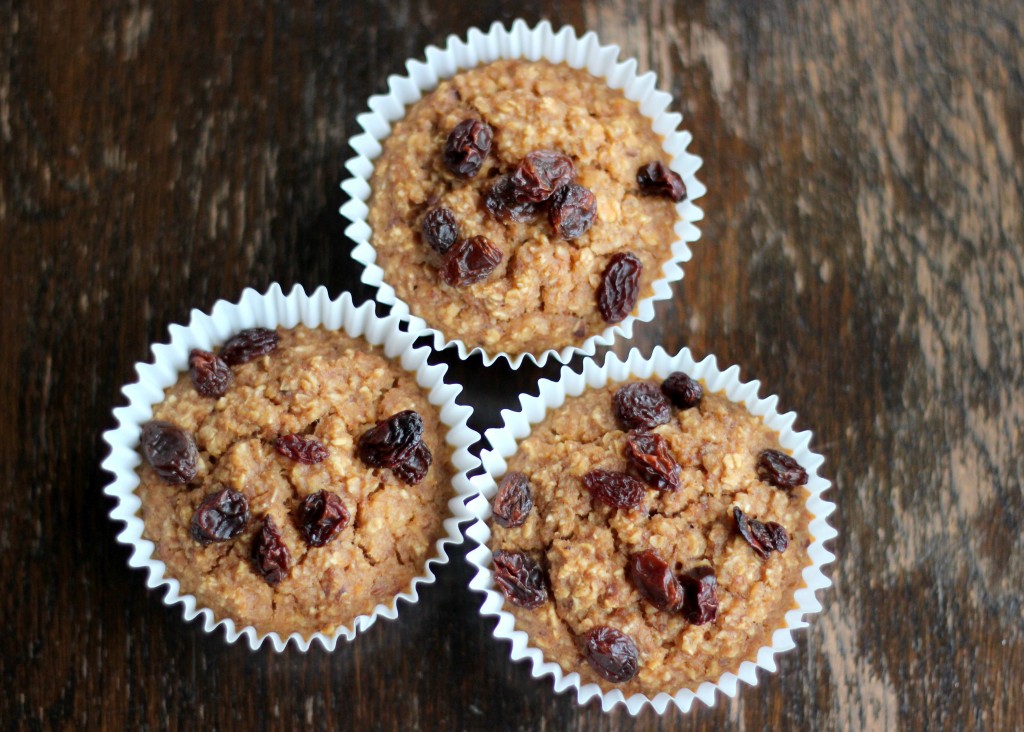 Our family gave them a big "thumbs up".  In Joe's case, it was more like a fistful of oatmeal raised in exultation, which was then quickly crammed into his mouth 🙂
You can find the original recipe by clicking here – be sure to check out her blog in general for other great recipes.  She's got some good suggestions for modifications to this recipe or you can make it the way that I did.  I couldn't find flaxseed, ground or not, at our local grocery, so I fiddled with it and used other ingredients instead.  If you decide to try them (or have made them before) be sure to let me know what you think!
(Recipe after the photo)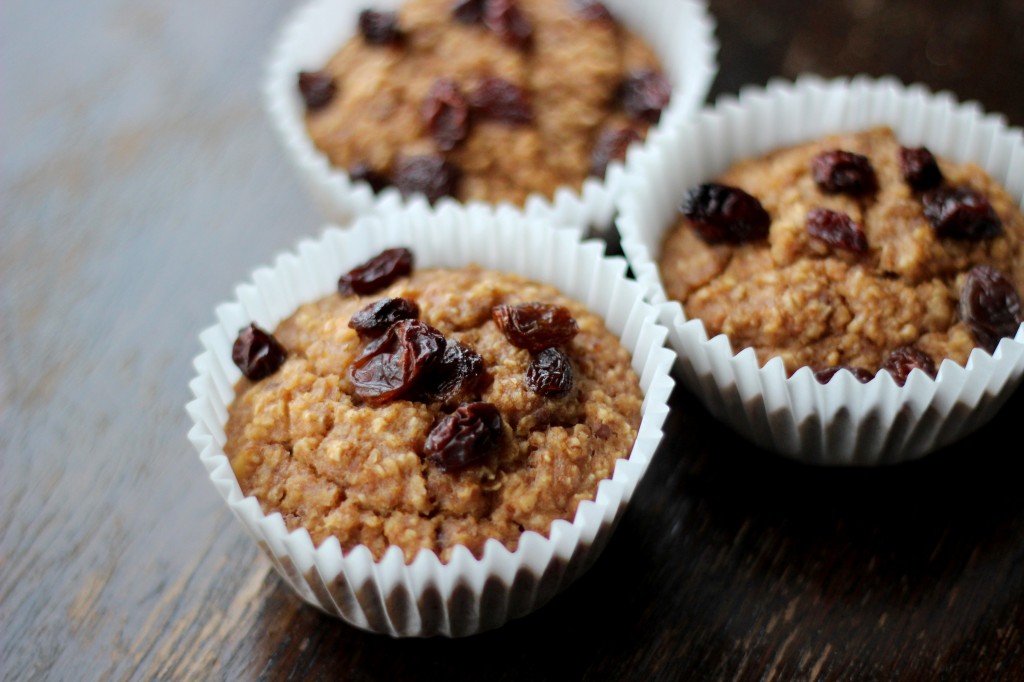 Make-Ahead Individual Oatmeal Servings
2 eggs
1 tsp vanilla extract
2 C unsweetened applesauce (here's a link to my applesauce recipe)
1 banana, mashed
Scant 1/2 C honey
5 C old-fashioned rolled oats (I've also used wholewheat oats which result in a more chewy texture)
1/4 C ground LSA (linseed, sunflower seeds, and almonds – original recipe used ground flaxseed but our grocery doesn't carry flaxseed)
1.5 T ground cinnamon
3 tsp baking powder
1.5 C almond milk
1.25 C milk of choice (too much almond milk would make these quite sweet – I used trim/skim milk)
Toppings of choice: I made them plain and with raisins, but others have used walnuts, chocolate chips, berries, etc…
Preheat oven to 180C/350F.
Mix first 5 ingredients in a large bowl.  Add remaining ingredients minus the milk, stirring well to combine.  Add in milk and stir till fully incorporated.  If you're adding fruit "toppings", such as berries, add these into the batter now.  Other toppings will be dropped onto individual servings later in the process.
Line 18 regular-sized muffin cups with paper liners, then spray liners with non-stick cooking spray.  Partially fill muffin cups with batter (she recommends using a 1/4 C measure – I used a dough scoop similar to this
and added 2 scoops per muffin cup).  Place any desired toppings onto individual muffin cups.
Bake for 30 minutes or till toothpick inserted in center comes out clean.  If freezing, allow to cool somewhat before placing in freezer container or Ziploc plastic bag.
Notes
Please be sure to check out the original recipe for further suggestions.  I found that placing the oatmeal servings into Ziploc bags while they were still warm helped to preserve the moisture.  You can thaw these by placing in refrigerator overnight.  Alternatively, take directly from freezer, remove liners, and re-heat in microwave (she suggests pouring a little milk over them, but we didn't have to do this).
I decided to make some of these into mini muffins and decrease the baking time accordingly.  My reason for doing this?  I had one standard sized muffin pan and one mini muffin pan.  I really didn't want to make one standard muffin pan, wait for them to cool, and then refill and bake some more (I ended up having to do that anyway since there was leftover batter).  The mini muffins turned out very well and were great snacks for Joseph.  Chris remarked that they were a lot like regular muffins and were probably one of the best "healthy" mini muffin recipes that I'd ever made.  Nice.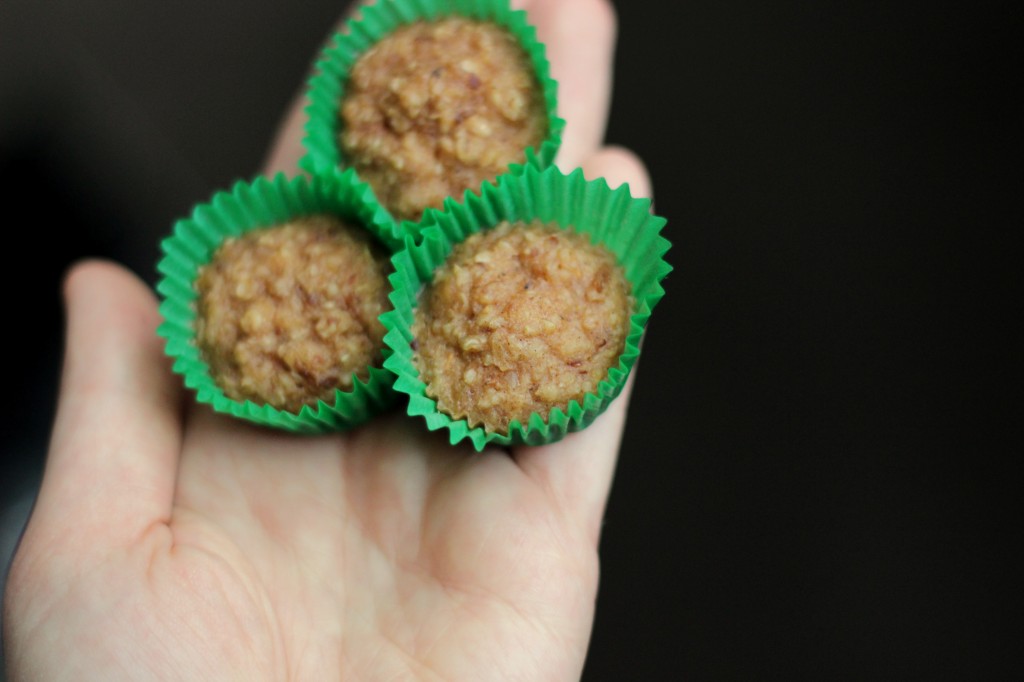 How are you guys doing?  What sort of morning life-savers do you have on stand-by when you didn't get much sleep the night before?  Are there any great make-ahead breakfast recipes that you rely on?